Join the 10,000+ WooCommerce Stores that use
WooCommerce Shipping Plugin for FedEx
FedEx Compatible Solution: Seamless FedEx Account Integration

Migration to FedEx RESTful APIs – Upgrade your shipping & tracking experience


Get real-time FedEx Shipping rates

Generate FedEx Shipping Labels Manually or Automatically as soon as the order is placed

Generate FedEx return labels

Get assistance from the PluginHive support team for FedEx Label Evaluation

Real-Time FedEx Shipment Tracking

Custom Email Notifications to Customers & Store Owners

Supports both Domestic and International Shipping

Show delivery estimates for FedEx Services

Schedule Pickups for your FedEx shipments

Supports Bulk Shipment Creation

Supports FedEx LTL Freight.

Supports SmartPost Services

Multi-Vendor Support with Dokan Multi-Vendor Plugin (requires WooCommerce Multi Vendor Shipping addon)
WooCommerce Shipping Plugin for FedEx with Print Label is a WooCommerce WordPress plugin that helps you completely automate FedEx shipping. The plugin displays shipping rates on the cart/checkout page, helps you pay postage & print labels from within WooCommerce, automatically identifies boxes to pack the items and enables shipment tracking.
WooCommerce Shipping Plugin for FedEx is a
FedEx certified plugin
Get FedEx Real-Time Shipping Rates for WooCommerce
WooCommerce Shipping Plugin for FedEx with Print Label calculates and displays real-time FedEx shipping rates based on the destination address.
Get all the available Domestic as well as International FedEx Shipping Services on your WooCommerce cart and checkout page.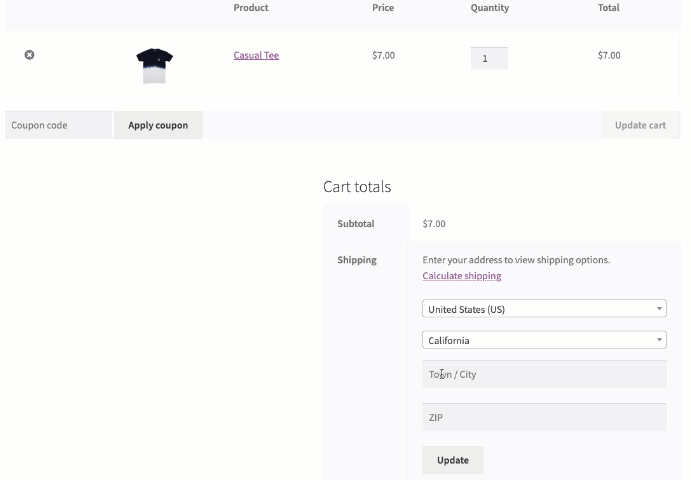 PRINT FedEx SHIPPING LABELS RIGHT FROM YOUR WOOCOMMERCE DASHBOARD
Generate and download 100s of FedEx Shipping labels with just one click with the Bulk Shipment Generation feature.
Select all the orders for which you want to generate FedEx Shipping Labels and click on Print Shipping Labels.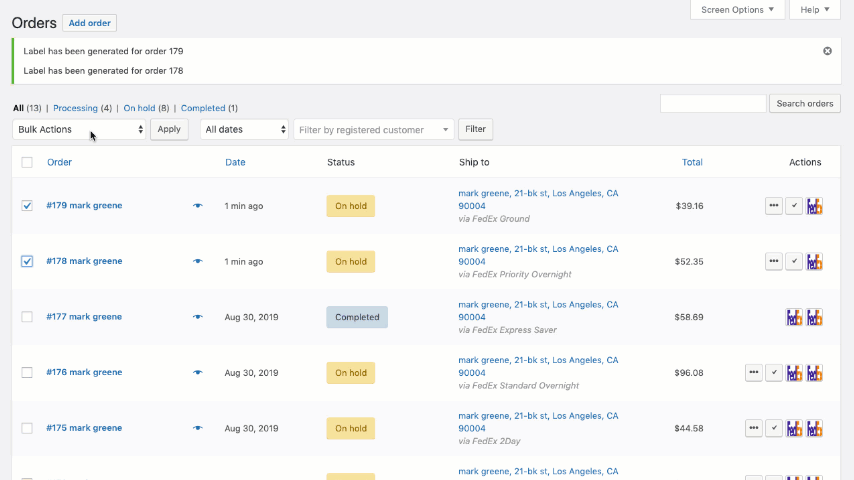 SEND FedEx TRACKING DETAILS TO YOUR CUSTOMERS
Tired of your customers asking about their packages? WooCommerce Shipping Plugin for FedEx with Print Label automatically sends email notifications to customers with updated tracking details.
The tracking details contain the Shipping Date as well as the FedEx Tracking ID to let customers effortlessly track their packages.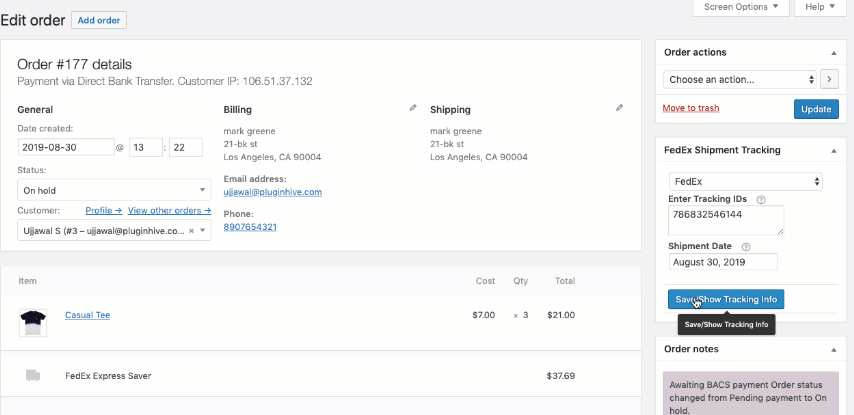 Main Features of WooCommerce FEDEX plugin
Live FedEx Shipping Rates
Get real-time shipping rates directly on your WooCommerce cart page, checkout page, and individual orders page based on the product weight, box dimensions, shipping destination, and more. You can choose to return either list rates or account-specific rates.
Domestic & International Services
Automate shipping rates from FedEx domestic and international shipping services. The plugin displays the shipping rates based on the availability of the shipping service to the destination address.
Track All Your FedEx Shipments
Automatically Generate and attach FedEx tracking numbers to all your orders while generating shipping labels. This way, you can keep an eye on all your orders as soon as they are shipped.
FedEx LTL Freight Shipping for WooCommerce
Ship heavy products using FedEx LTL freight shipping services based on your own FedEx freight account. Provide lift-gate pickup and delivery along with Inside pickup and delivery for your orders.
FedEx Address Classification
Classify your customer addresses automatically as residential or commercial. The plugin makes sure to include residential surcharges while calculating shipping rates for a residential address.
Display Estimated Delivery Dates
Provide customers with an estimated delivery date for their orders directly on your cart and checkout page. You can modify the delivery dates based on your preferences and stock availability. 
FedEx One Rate with FedEx Standard Boxes
Provide cheaper shipping rates with FedEx One Rate. Just enable the option and select your preferred FedEx Standard Box for packing.
FedEx SmartPost Shipping for WooCommerce
Enable SmartPost services and send your packages to the remotest areas for your customers. 
Ship Perishables with Dry Ice
Quickly ship perishable products with dry ice. All you need to do is enable the dry ice option and enter the weight of the dry ice you want to use to ship your products.
Schedule FedEx Pickups 
Request pickups for all your orders from within your WooCommerce store. Choose from different FedEx pickup services based on what serves your business requirements. 
FedEx Insurance
Safeguard your precious or antique products with FedEx insurance. Enable the insurance option and enter a declared value for your products.
Cheapest WooCommerce FedEx Shipping Rates
Enable your preferred shipping services or display only the cheapest shipping rate on your WooCommerce cart and checkout page.
Alcohol & Wine Shipping FedEx
Ship alcohol and wines to your customers without any hassle. The plugin supports FedEx alcohol shipping and provides a seamless shipping experience between alcohol licensees.
FedEx Commercial Invoice
Generate all the required documents for your shipments for a more relaxed shipping experience. The plugin generates a commercial invoice for all your international shipments with just one click. 
Weight & Volume-Based Packing
Combine cheaper shipping rates with the packaging efficiency with weight-based product packing. Take your savings to another level with built-in volumetric weight support for your shipments.
HazMat & Dangerous Goods Shipping
Ship prohibited products easily via FedEx. The plugin supports HazMat Shipping along with Dangerous Goods shipping to make shipping easier for you. 
Minimum & Maximum Shipping Cost
Set a minimum or maximum shipping cost to be displayed to customers on your WooCommerce store. The shipping cost will always be in the minimum to a maximum shipping cost range.
Return FedEx Shipping Rates in Base Currency
Get live shipping rates from FedEx and display them on your WooCommerce cart and checkout page in your WooCommerce currency.
FedEx Hold At Location
Full-fledged FedEx shipping solution for your WooCommerce store with FedEx hold at location feature to help you safeguard your parcel till it reaches the customers.
OP900 Form for HazMat Shipping
Ship dangerous or prohibited products with all the details listed in the official FedEx OP900 form for Hazardous Material shipping. 
COD Collection Type
Provide FedEx COD service on your WooCommerce store. The plugin supports Cash, Cheque, Guaranteed Funds or Any of these modes of payment. 
WooCommerce Shipment Tracking
Email Notification
Send customized email notifications to your customers containing the shipment tracking details such as FedEx tracking number, date of shipment, and a tracking link to let customers know the whereabouts of their orders.
Customize FedEx Shipping Services
Display your preferred FedEx shipping services on your WooCommerce cart and check out page with a customized shipping method name. For example, Expedited Shipping, Standard Shipping, and more.
Multiple Parcel Packing Methods
Configure the plugin to automatically determine how items should be packed. You can choose to calculate shipping based on order total weight, pack items into boxes by weights and dimensions, or pack them individually.
Print FedEx Shipping Labels
Manage returns on your store by sending customers a FedEx return shipping label. Generate the return within your WooCommerce store or let customers generate the print return label from the My Accounts page.
FedEx
Return Shipping Labels
Manage returns on your store by sending customers a FedEx return shipping label. Generate the return within your WooCommerce store or let customers generate the and print return label from My Accounts page.
Automatically Print FedEx Shipping Labels
Print FedEx shipping labels automatically as soon as the customer places an order. The plugin generates labels for the services selected by the customers, or you can set a default domestic and international service.
Generate & Print FedEx Shipping Labels in Bulk
Automate shipping on your store with one-click shipping label generation and printing from within your WooCommerce store for all your orders. 
FedEx Shipping Label Size & Formats
Generate professional shipping labels in all the supported formats and sizes – PDF, PNG and Gif formats for a regular printer, and EPL, ZPL and DPL formats for thermal printers.
Customize FedEx Shipping Services & Packages
Generate shipping labels whenever you want with your preferred packages as well as FedEx shipping service for all your orders.
FedEx Shipping Labels via Emails
Send shipping labels to your customers or vendors via a customizable email. This way, they can quickly get the shipping labels and proceed with the shipment.
FedEx Shipping Automation for WooCommerce

TRUSTED BY WOOCOMMERCE STORE OWNERS GLOBALLY
This is an AMAZING plugin for e-commerce! The team is great with support. This plugin is far superior to anything else that exists. If you operate on the WooCommerce platform, you need this to streamline your operation. Thank you plugin hive for the FedEx WooCommerce WordPress plugin!!
The WooCommerce Shipping Plugin for FedEx with Print Label is great. It handles all of the ins and outs of the WooCommerce shipping process so you can focus on selling. It's easy to use and their support team is phenomenal! They've been very responsive which is extremely important for someone new to WooCommerce selling.
This plugin works great, but the best thing about this plugin is the FANTASTIC support we received after purchasing. We had a customization request that was addressed quickly and professionally. We also had an issue today that was taken care of within 2 hours. The team at PluginHive is AWESOME!
WOOCOMMERCE FedEx SHIPPING PLUGIN ALLOWS YOU TO
GET FEDEX REAL-TIME SHIPPING RATES
Display live shipping rates on your WooCommerce cart/checkout page automatically using your own FedEx account.
ADJUST FEDEX SHIPPING RATES
Adjust FedEx shipping rates to add handling charges or provide shipping discounts.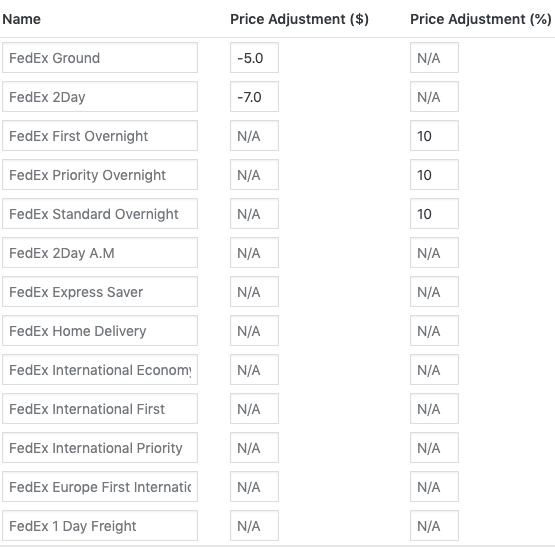 MANAGE FEDEX DOMESTIC, INTERNATIONAL & FREIGHT SHIPPING
WooCommerce FedEx Plugin supports all FedEx Shipping Services including Domestic, International, Freight, SmartPost, FedEx One Rate, and more.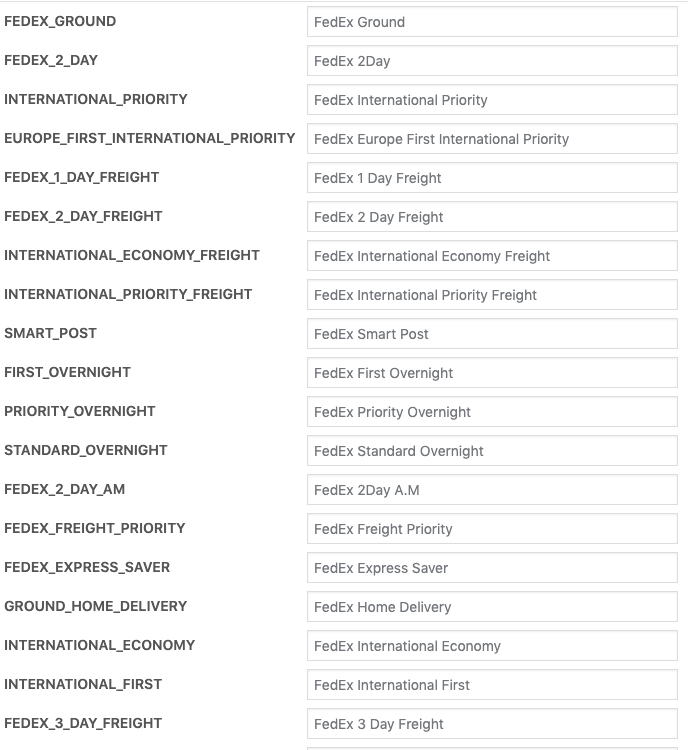 USE CUSTOM SHIPPING BOXES &
FEDEX STANDARD SHIPPING BOXES
WooCommerce FedEx plugin supports FedEx Standard Boxes for packing. You can also ship your parcels with custom weight and dimensions.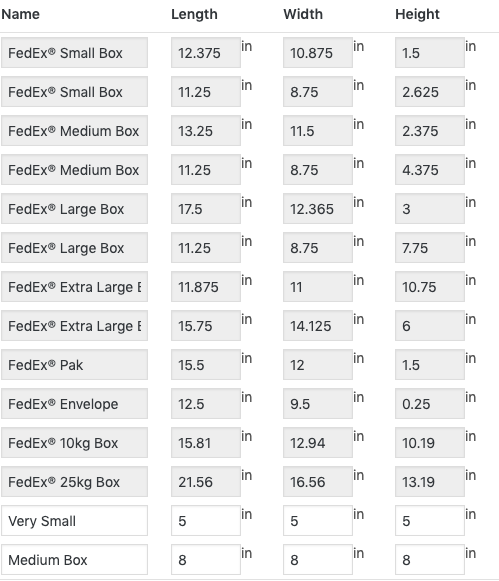 PRINT FEDEX SHIPPING LABELS IN ONE CLICK
Automatically generate and download official FedEx Shipping labels from within your WooCommerce store without any hassle.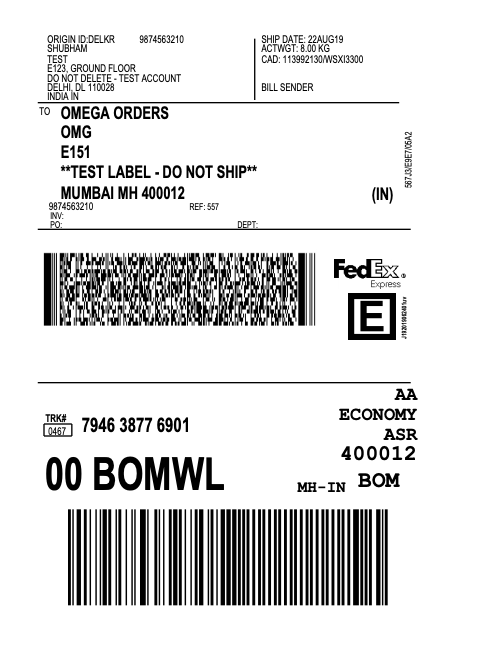 SEND FEDEX TRACKING DETAILS TO CUSTOMERS
The plugin automatically sends FedEx tracking details to the customers via the Order Completion Email for easy tracking.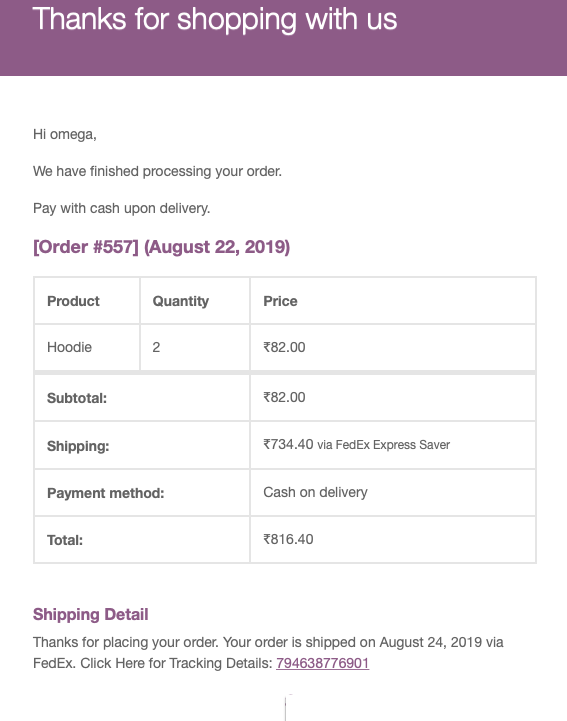 WooCommerce shipping plugin for FedEx Integrates with
WooCommerce Multi-Vendor Shipping
Automate FedEx shipping for your WooCommerce multi-vendor marketplace. The plugin is extensively compatible with the leading multi-vendor plugins like Dokan, WCFM, WC Vendors Pro, and WooCommerce Product Vendors. 
FedEx Shipping for WooCommerce Multilingual Stores
Get a one-stop shipping solution for your WooCommerce Multilingual store. The plugin is extensively compatible with WPML.
Shipping Rates in Multiple Currencies
Display live FedEx shipping rates on your WooCommerce store in your preferred currencies. The plugin complements the top multi-currency plugins like WooCommerce Multi-Currency, Aelia Currency Switcher, and more.
Compatibility with WooCommerce Measurement Price Calculator
Sell and ship your products sold in quantities based on their dimensions, square footage, volume, weight, and more using FedEx.
WooCommerce Multi-Address Shipping
Ship to multiple addresses using your FedEx account. The plugin works well with the WooCommerce Multi-Address plugin to provide a seamless shipping experience to you and your customers.
Ship Simple, Bundled, Mix & Match or Bookable Products
Ship different types of products from your WooCommerce store, thanks to the plugin's ability to ship Simple, Bundled, Mix and Match as well as Bookable Products.
Prashant Singh
"I have interacted with many technical support over the years including Zoho, Salesforce, Shopify, and more but Plug-inHive customer support have been phenomenal in resolving the issue. I was impressed by how professional and diligent they were in resolving the issue."
Supported FedEx Services & Countries
FedEx Domestic Shipping Services
FedEx First Overnight

FedEx Priority Overnight

FedEx Standard Overnight

FedEx 2 Day

FedEx 2 Day A.M.

FedEx Ground

FedEx Home Delivery

FedEx Next Day Early Morning

FedEx Next Day Mid Morning

FedEx Next Day Afternoon

FedEx Next Day End of the Day

FedEx Express Saver

FedEx Same Day City

FedEx Same Day
FedEx SmartPost Shipping Services
FedEx Freight Shipping Services
FedEx 1-Day Freight

FedEx 2-Day Freight

FedEx 3-Day Freight

FedEx International Economy Freight

FedEx International Priority Freight

FedEx First Freight

FedEx Freight Economy

FedEx Freight Priority

FedEx Next-Day Freight
FedEx International Shipping Services
FedEx International Economy

FedEx International Priority

FedEx International First

FedEx Europe First International Priority

FedEx Distance Deferred
Extensive Shipping Coverage with FedEx
The FedEx shipping plugin supports shipping to all the countries where FedEx operates.
Currently, the plugin is used by customers in,
Europe – France, Germany, Hungary, UK, Bulgaria, Denmark, Sweden, Poland,  Netherlands

North America – USA, Canada, Panama, Mexico, Costa Rica

Asia – India, Israel, Palestine, Israel, Philippines

New Zealand

Australia
Looking for your country?
Check out our Live Demo and see which FedEx services are available in your country.
WHO'S TALKING ABOUT THE WOOCOMMERCE FEDEX SHIPPING PLUGIN?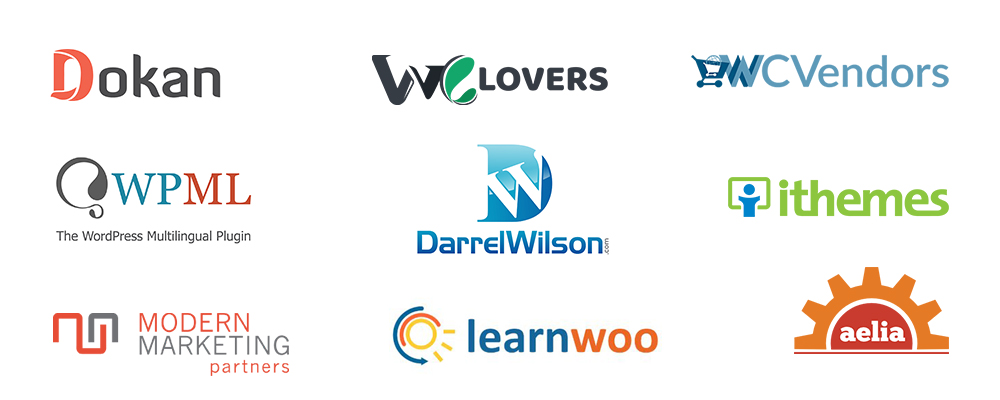 Wordpress Multilingual support
WooCommerce Shipping Plugin for FedEx with Print Label is readily available in:
♦ Spanish
♦ French
♦ English

If your language is not listed here, do not worry. You can easily translate the plugin into your chosen language. Alternatively, write to us at s[email protected], and we will translate the plugin for you.
Note — This plugin is also WPML compatible.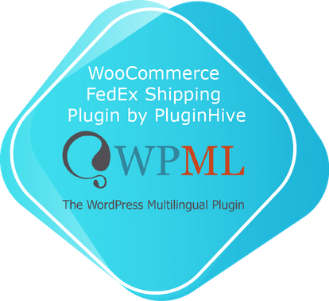 LIVE DEMO
Check out how it works on our Live Front-End & Back-End Demo
DOCUMENTATION
Check out the plugin download, installation & setting up guide.
OTHER WOOCOMMERCE SHIPPING PLUGINS TO CHECK OUT