One of the most successful strategies that could help you boost sales and conversions would be to offer partial payment options. In such a case, buyers don't have to pay the final amount when they purchase an item from your online store. Instead, they pay a small pre-defined amount upfront and then pay the outstanding amount periodically.
Businesses such as hotels, car rentals, e-commerce stores, online auctions, etc., require partial payments. Some store owners even use it to accept pre-bookings, sell event tickets, and highly-priced products.
In this article, we will tell you how you can offer partial payment & deposit options for your WooCommerce products. We will also tell you how the PH WooCommerce Deposits plugin would help you do that. So, let's begin.
The need to accept deposits in WooCommerce
The idea behind having a partial payment option is to increase the sale of certain products that cannot be sold in a conventional way. With a partial payment option, customers don't have to pay the full price for products. That way, they can pay some money now, secure a product, and then pay the rest later.
Why you should choose a WooCommerce Deposit plugin?
With WooCommerce coming into the picture, online store owners can set up partial payment options on their website using a WooCommerce Deposit plugin. So selling certain products like holiday packages, expensive items, rentals, or services that require a deposit becomes much easier.
You have to identify your target audience accurately before trying out different strategies to improve your sales. Once you have a clear understanding that customers would prefer partial payment options, you can go ahead with the right WooCommerce Deposit plugin.
Benefits of using a WooCommerce Deposit plugin
There are several benefits of offering a partial payment option on your WooCommerce store page. Let's take a look at some of them.
Let your buyers purchase more valuable products
Offering a partial payment option on your store might be one of the simplest strategies to encourage customers to purchase expensive products on your site. If you have multiple expensive products on your site that tend to show higher rates of cart abandonment, you can try out this strategy.
There are chances that customers are not purchasing these products due to a lack of money at a particular time. Being able to pay for the products in multiple payment plans would be a preferred option for a lot of such customers. Thus, the plugin would help to reduce cart abandonment on your store and optimize the conversion rate.
Improved customer loyalty
Having an option to make partial payments for the products they love would help certain customers to take special interest on your site. If they find that the partial payment plans help them purchase products that they couldn't afford otherwise, they might even come back to your site more often. Eventually, this will result in better customer loyalty in your store.
More interest, more income
If you are able to offer an installment plan with interest, it might be an added revenue source for your customers. By setting up different flexible payment plans you can count that as a valid income on your store. A few good WooCommerce Deposits plugins let you set up a custom percentage interest rate.
WooCommerce Deposits plugin by PluginHive
The PH WooCommerce Deposits plugin enables you to let your customers pay a deposit for product or service and pay the outstanding amount later. The plugin provides you complete control over the payment break-up as you can accept both partial and full payments.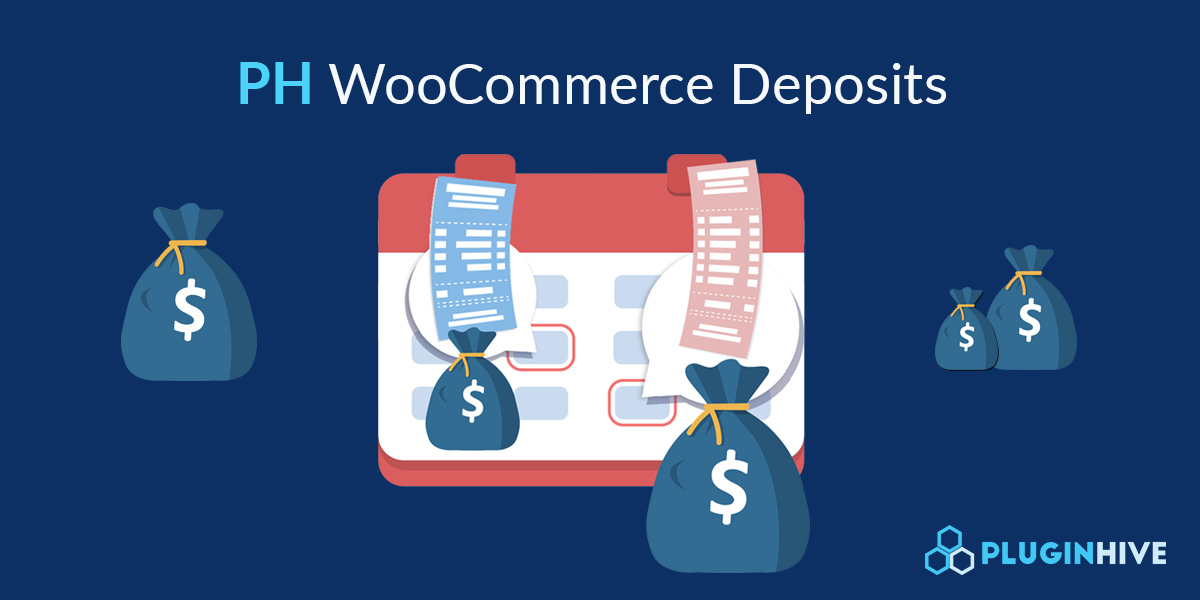 You can accept a fixed amount or a percentage as a deposit or create your own payment plans. Such extensive payment flexibility helps you serve people who do not wish to pay the full price straightaway.
When customers opt for the payment plan, the plugin sends timely email notifications to them about the pending payment. The plugin lets you customize the reminder email template and schedule the email delivery as per your comfort. Similarly, you can create custom buttons to appear on the cart and checkout pages.
Coming over to the management part, the plugin has an option to automatically create new orders/invoices for the balance payments or generate balance payment invoices when needed. It also provides a view to check the balance payment details.
The plugin can be used by all WooCommerce stores that sell or rent products or services requiring a partial payment system. It works really great with businesses that deal with bookings like online car rentals and holiday bookings.
How does the WooCommerce deposit process work?
Now let's take a look at how it appears to the customer. Let's take the example, where we want to set up a partial payment option for a renewed mobile phone.
The cost of the refurbished phone is pretty hefty and is priced at $1,368. So we're offering the customer the chance to pay a 50% deposit while purchasing it for the first time.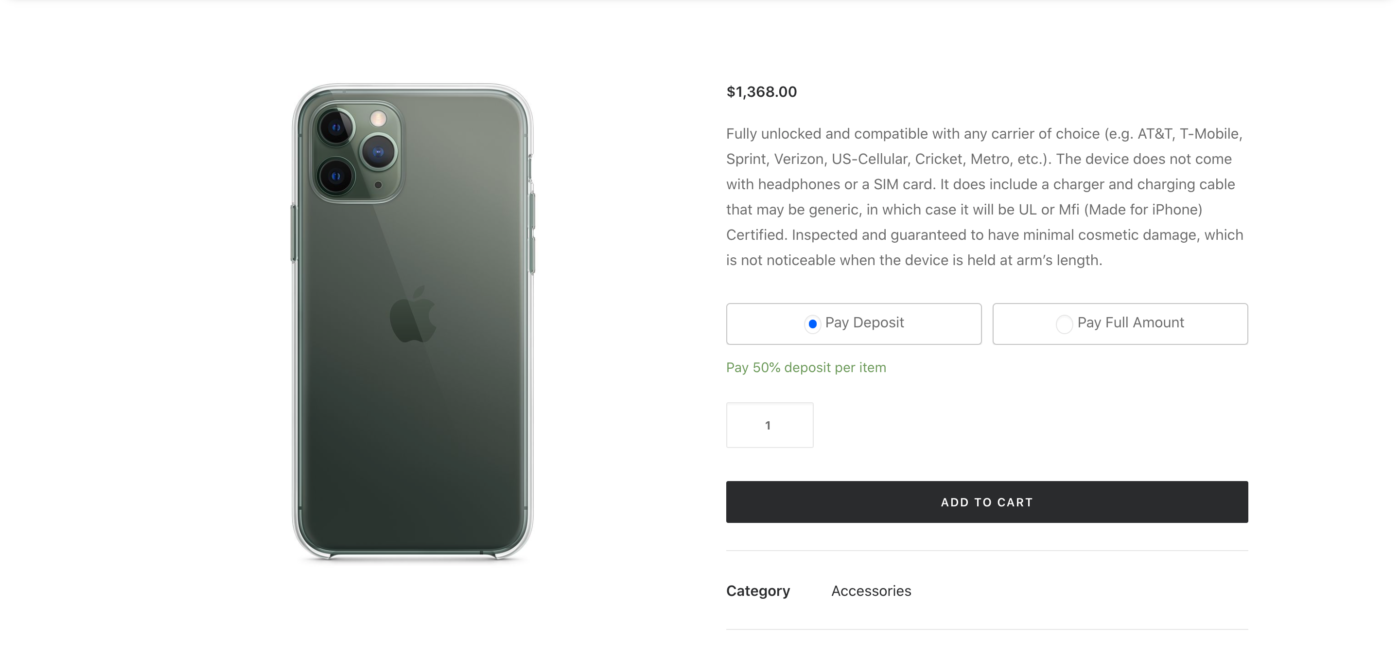 You can see that the customer has the option to choose whether to pay the deposit or to pay in full. In this example, the default payment method is set to 'Pay Deposit'.
Standard WooCommerce cart and checkout process
Let's imagine that the customer is going to buy the above mobile phone and pay the deposit. We see the product in the standard WooCommerce cart but the costs have been divided up.
You can see that the product appears as a standard line item in the cart but only half the price, $684, is payable. The remaining balance, the second $684, is recorded below the product name.
A new line in the totals table shows the amount of the second payment. It's all really clear and simple for the customer to understand.
Once the customer has paid the deposit for the item, WooCommerce sends out the standard emails to you and to the customer with the order details. The plugin also creates a second, scheduled order for the final payment.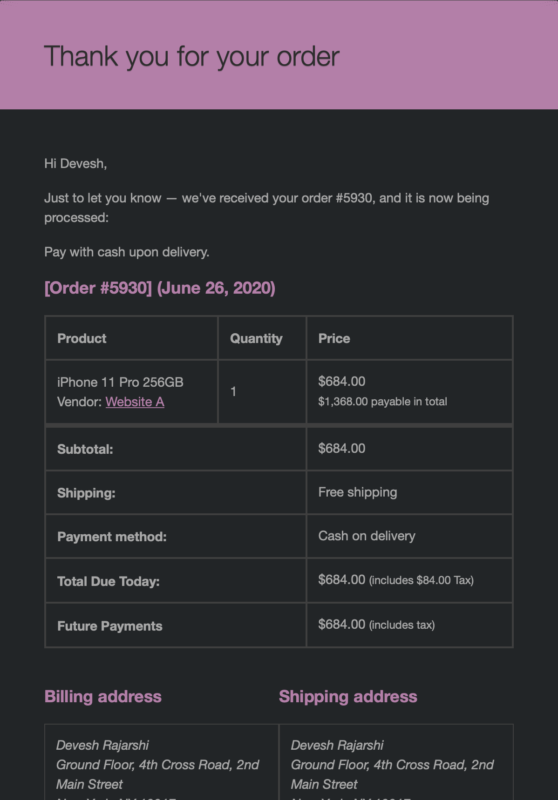 Managing WooCommerce orders with deposits
Orders that include deposits are treated just like standard WooCommerce orders. The payment statuses are the same and they appear in your dashboard along with any other orders.
Note that products, where a deposit has been paid, will have some extra metadata, showing the value of the deposit, the full price of the product, and the remaining balance.
Accepting deposits for your bookings
Let's look at a specific scenario where you might want to accept deposits.
Online tour booking businesses are gaining a lot of traction these days because of the ease in the booking process for you and your end customers. However, in some cases, people prefer paying a small amount/token to book the tour because of the limited seats allowed per tour.
Now imagine that you own a Safari tour business where you let out tours including the safari ride. In such a case, setting up a partial payment option would allow customers to deposit a part of the total amount to confirm their availability.
Since it's a booking where your customers will select a date, number of people, and added amenities like a buffet lunch, you'll also require an additional WooCommerce Bookings plugin.
As you can clearly see in both the images, customers are only expected to pay a relatively small deposit of $145 to secure the tour for their selected dates. They can pay the remaining amount when the tour is over and are satisfied with the experience.
Final words
In this article, we looked at what deposits are and how they might benefit a WooCommerce store like yours. We also looked at how to configure the WooCommerce Deposits Plugin and we stepped through a couple of examples – accepting deposits for an expensive mobile phone and on a safari tour.
You can check out the WooCommerce Deposits Plugin to know more about its features and capabilities. And if you have any doubts or need any help setting up partial payments on your WooCommerce store then please let us know. We'll be more than happy to help you out.
Good luck! 🙂