eCommerce businesses don't get to meet their customers face-to-face. Instead, they must rely on the shipper to guarantee purchases arrive on time and safely to their customers. In essence, a large portion of your customer satisfaction relies on the person delivering your products. If your business sells expensive products, ensuring the shipping process is smooth – if not properly insured – is key.
Sometimes items do get lost, stolen or damaged while in transit – even with a reputable shipment carrier like DHL Express. There's always a risk, therefore, in many situations insurance for online businesses must be used to maximize safety. But what kind of insurance should your eCommerce brand use?
For most DHL shipments, parcels shipped domestically and internationally come with automatic liability coverage. In Europe, for example, DHL is legally obligated to cover a specific amount per kg of the shipment for €10 per kilogram. In the United States, it's about $100 per parcel shipped. It depends on where the shipment is being sent from and shipped to. If you already know your parcel is worth more than the minimum, especially if it weighs less and may not get covered by DHL liability, you can purchase additional coverage for an additional fee.
DHL offers two additional services for value protection and security. Depending on your business needs, you may prefer to choose one or both options. Both can easily be integrated into your WooCommerce or Shopify store using PluginHive's DHL Shipping solutions. More on that below. First, you should understand the additional services available from DHL.
---
DHL Shipment Value Protection
DHL offers a comprehensive shipment value protection service considered as covering "all risks" during the shipping process. DHL provides competitive pricing for single or multiple shipment coverage. Although there is an extra charge for DHL Shipment Value Protection above the standard shipping rate, according to DHL the protection covers "the freight value & transportation cost against physical loss or damage from any external cause."
Also, the service provides:
"All-risks" shipment value protection with comprehensive coverage that's broader than the industry standard
Competitive terms with no deductibles or excess
Single or multiple shipment coverage
Freight and shipment value protection billing on a single invoice
Cover for high-risk cargo and worldwide destinations including high-risk locations
A maximum 30-day claim resolution
Your claim is handled locally with personnel who speak the local language, and can settle in local currency
---
DHL Security Services
DHL provides an end-to-end security risk assessment as part of its "tailor-made" security services. These services apply to both warehouses and transportation. In-house experts provide security services aligned with your business's unique needs. It also includes compliance and advisory services based on security programs such as Customs-Trade Partnership Against Terrorism (C-TPAT) and Authorized Economic Operator (AEO). DHL will provide consultancy in security-related areas such as AEO and NASP.
Also, the service provides:
The proactive management of security issues via preventive measures, as well as providing effective investigation where necessary, through the whole supply chain
Transparency with security audit and risk assessment for locations and lanes as part of an integrated security concept
Guaranteed quick response times to security-related incidents
---
DHL Insurance for WooCommerce
You can integrate DHL shipping solutions into your WooCommerce website easily with PluginHive. The WooCommerce DHL Shipping Plugin with Print Label includes insurance options available from DHL as part of its overall features. In addition, your business gains access to compete WooCommerce shipping automation.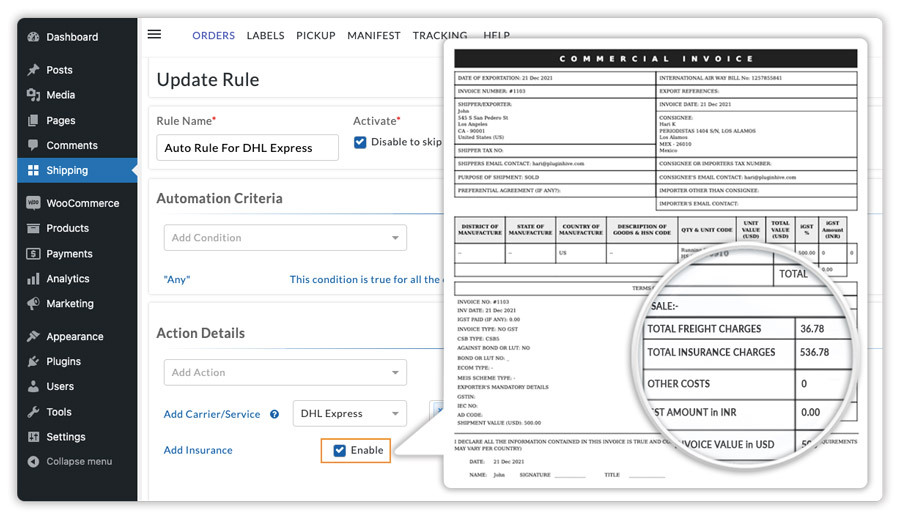 This plugin streamlines your shipping process, improving customer satisfaction and retention. Your postage is automatically paid for through the app and shipping labels are printed quickly and effortlessly.
---
DHL Insurance for Shopify
If your website is hosted by Shopify, you can integrate DHL's Shipping Solutions which includes insurance options with PluginHive's Shopify DHL Shipping app. The application starts at only $9/month and comes with all of the services you'd expect from a costly web developer and more. The application allows you to show real-time DHL shipping rates right from your Shopify Checkout page.
The entire process is automated, including the shipping labels and all the data entry. You can easily find all the services you need right from the app or search through PluginHive's other great applications for the right apps to meet the unique needs of your business.
---
PluginHive allows eCommerce merchants to streamline their shipping process right from cart to customers' doorstep through real-time shipping prices, tracking options, automation of shipping labels and more. Learn more about integrating PluginHive into your Shopify, WooCommerce, or another eCommerce platform by reaching out to our customer support team.