There's a reason why real-time tracking has become so popular – it's because it provides online shoppers with peace of mind that their package is on its way. Indeed, online brands who choose not to go the extra mile by offering order tracking are likely to lose customers to those that do.
Of the many benefits of live tracking; your customer is able to check on updates of their shopping without needing to call or contact your team. Not only does this save your employees time handling more complex problems and the smooth running of your business, but it makes your customers happy and increases the likelihood of them returning to purchase again.
Most shipment carriers offer live tracking in some scope, including Delhivery. By integrating live tracking specific to your chosen shipment carriers right into your web platform, such as Shopify or WooCommerce, you increase the features you have access to and the convenience provided to your business and your customers.
What is Delhivery?
Delhivery is an India-based logistics and eCommerce supply chain company founded in 2011. The company provides express parcel transportation services, including freight and cross-border services. Delhivery is also able to utilize the services of its partners to initiate shipments destined internationally to many countries by air or sea. During the busiest months, Delhivery can ship up to 1.8 million packages per day across multiple sectors.
Tracking has grown and enhanced over the past decade as new technologies are introduced. It is now possible to track parcels live at any moment during the shipment process. Most shipment companies, including Delhivery, have switched to focus on mainly digital systems for recording and tracking shipments – this includes offering APIs to allow for services to be integrated right into an eCommerce system.
---
Delhivery Tracking: How to avail?
Delhivery offers a tracking function from their main webpage. You can search by mobile number, tracking ID, order ID, and LTL shipment. All tracking updates are done in real-time, which is what they consider one of their service qualities. Delhivery especially promotes their live tracking via their Express Parcel Service.
Delhivery Express Parcel promises delivery to over 17000 pin codes within India in 1-2 business days. For more long-distance deliveries, parcels arrive in up to 96 hours.
For businesses, you can register for a business account through the contact form online. From there you will sign the Service Contract and can begin shipping. An added feature for Delhivery is the customizable APIs that can be integrated into an eCommerce platform, such as Shopify and WooCommerce, to be used by brands and customers right from the website.
---
Delhivery Tracking for WooCommerce
If your website is hosted by WooCommerce, you can easily integrate Delhivery's live tracking with WooCommerce Shipment Tracking Pro plugin. This plugin, offered by PluginHive for less than $90, is far less expensive than working with a contract web developer.
You can integrate WooCommerce Shipment Tracking and instantly begin offering your customers an easy way to track their orders from whichever shipment carrier they prefer. If Delhivery is not their first choice due to location or other preferences, other major carriers such as FedEx, USPS, and UPS are also available for tracking from the same plugin. Add live shipment information right to your customer's account and/or the order page and set the plugin up to send automatic email notifications when their order has shipped and more.
WooCommerce Shipping Services, another favourite from PluginHive, will also send order delivery tracking updates to your customers. In addition to this feature, you can also speed up the shipping process even further by displaying live Delhivery shipment rates according to your customer's order and comparing them to other shipping options available. Once the order has been placed, the WooCommerce Shipping Services plugin automatically generates the shipping label for you — no data entry is needed.
---
Delhivery Tracking for Shopify
Shopify offers Delhivery integration among many of the other major shipping companies. Over 2,000 million eCommerce sites use Shopify. You can quickly and easily integrate Delhivery's live tracking into your website with PluginHive's Shopify Shipment Tracking & Notify App. Your customers will benefit from being able to easily track their orders in real-time. The Shopify Shipment Tracking App works with all major shipping companies so customers can use their own discretion at the time of shipping.
The app provides a tracking lookup page right within your Shopify store and will monitor shipments for your business from the easy-to-navigate personal tracking dashboard. For a low monthly price of $9, you'll quickly realize how much PluginHive's applications help your bottom line.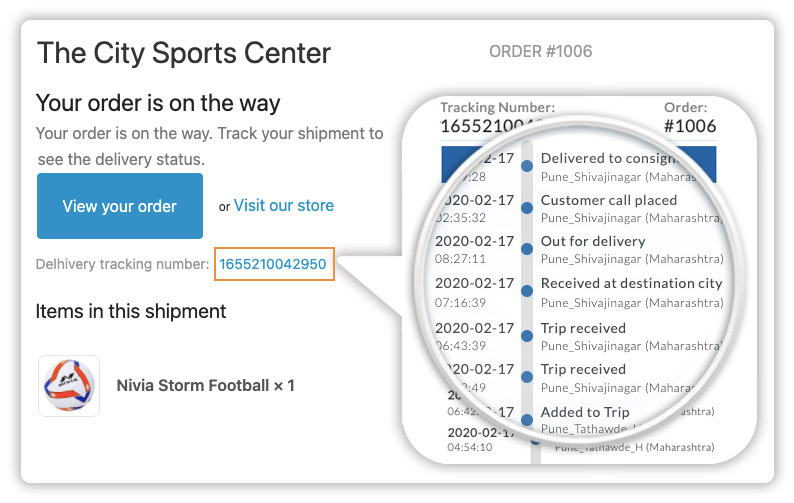 For a complete Delhivery shipping solution for Shopify with rates, labels, and tracking, your brand will also benefit from Shopify Delhivery Shipping solution. This convenient application automates the entire shipping process of your Shopify store. Shipping rates are displayed in real-time at checkout among other shipment options you have provided.
Your business can then pay the postage and have all Delhivery shipping labels automatically paid and printed from your dashboard. And, of course, you can enable live tracking on all your shipments. Your employees will only have one job in shipping. The only thing we have yet to master is the packing of your orders and the sticking of the labels on the boxes themselves — but we trust we'll get there soon.
---
PluginHive allows eCommerce merchants to streamline their shipping process right from cart to customers' doorstep through real-time shipping prices, tracking options, automation of shipping labels and more. Learn more about integrating PluginHive into your Shopify, WooCommerce, or another eCommerce platform by reaching out to our customer support team.