In the fast-paced world of e-commerce, efficient shipping plays a crucial role in ensuring customer satisfaction and business success. As an e-commerce merchant, one of the most reliable and widely recognized shipping options available is FedEx. To harness the full potential of FedEx's shipping services, it's essential to have a clear understanding of how to obtain accurate FedEx shipping rates and delivery times through their official website, FedEx.com.
In this comprehensive guide, we'll walk you through the step-by-step process, enabling you to streamline your shipping operations and provide exceptional service to your customers.
On this page
---
How to get FedEx shipping rates & delivery time
Step 1. Log in to your FedEx account
Visit the FedEx official website and choose your country and language based on your preference.
---
Log in to FedEx using the FedEx User ID and password. This step is required to get the FedEx shipping rates based on your FedEx account.
---
Once logged in, navigate to Shipping --> Shipping Rates & Delivery Times.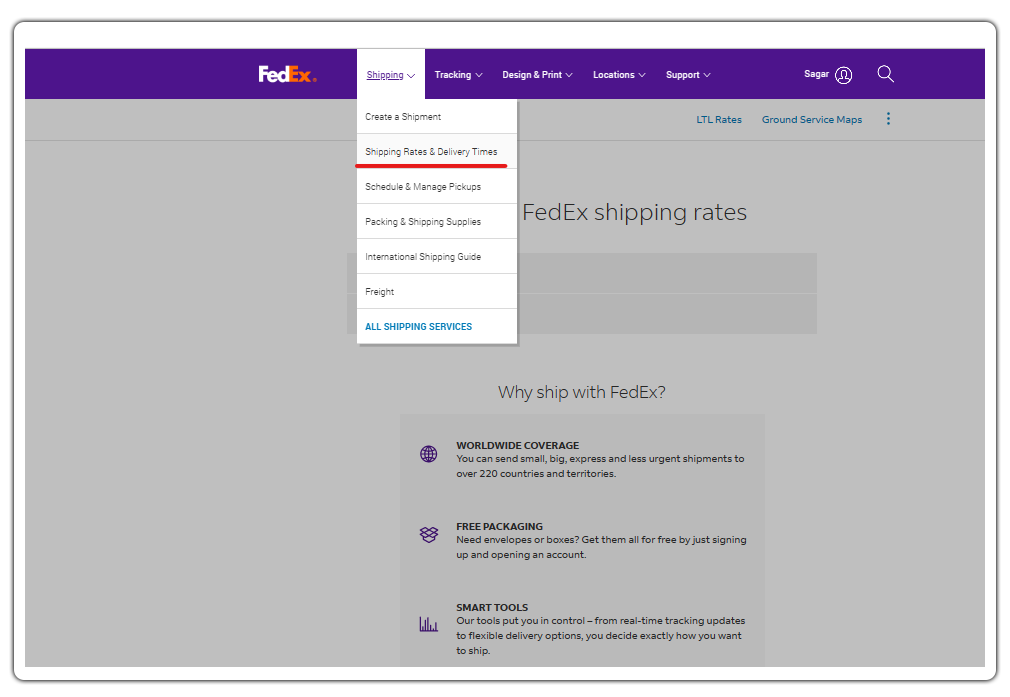 ---
Step 2. Enter the shipper and destination address for the shipment
FedEx requires accurate address details to calculate live shipping rates. This is one of the most important factors that determines the FedEx shipping service availability as well as the delivery times.
Enter the Shipping From and the Shipping To Address.
---
Step 3. Set the Shipping Address Type as Residential, if required
Another factor that affects the availability of FedEx shipping services, cost, and delivery time is the type of address. Shipping to a residential address usually costs more than shipping to a commercial one. Moreover, the delivery time also varies for a residential shipment since Saturday and Sunday deliveries are usually available.
If you are shipping to a residential address, select the option "I'm shipping to a residence".
---
Note

* FedEx applies a Residential Surcharge of $5.3 (approx.) for residential deliveries in the US.
* FedEx Home Delivery is used to ship to residential addresses instead of FedEx Ground

---
Step 4. Add Shipment Liability Cover from FedEx
FedEx requires you to add the declared value for the shipments if you require shipment liability cover. Once you provide proof of any real damages the declared value for a package will represent the highest amount that FedEx will be liable for during the shipment process. This encompasses losses, damages, delays, or misdeliveries connected to that package.
---
Note

* If you use the Additional Cover, an additional surcharge will be added to the final shipping cost.
* FedEx provides free coverage for a declared value of up to $100. The following surcharges are applicable beyond $100 for a shipment originating from the US:
i. $3.90 for shipments valued between $100.01 and $300
ii. $1.30 per $100 of declared value for shipments valued in excess of $300

---
Enable the "Additional Cover" if your shipments require liability cover.
---
Step 5. Select your packaging type and number of packages
FedEx uses the packaging type to determine if you are eligible for the FedEx Flat Rate shipping. You can choose from the FedEx flat rate boxes to save shipping costs or if you use your own boxes, you can also enter the box details to get accurate shipping rates.
You need to select the packaging type and provide the weight and dimensions as shown below.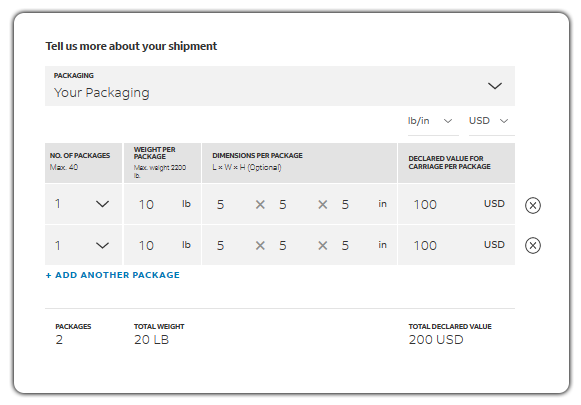 ---
Step 6. Set the shipment date for accurate FedEx shipping rates and delivery estimates
The Shipping Date is generally the date when you are expecting to drop off the packages or for FedEx to pick them up from your warehouse. Hence, it is extremely important that you set the shipment date carefully to get the most accurate shipping rates and delivery time.
In case the shipment date falls on a Thursday or a Friday, FedEx provides an option to deliver the shipments during weekends. The weekend deliveries are provided free of cost using FedEx Home Delivery for residential addresses. However, you can also ship to commercial addresses by opting for Saturday Delivery at a nominal fee.
---
Note

FedEx charges the following fee for Saturday Delivery based on the service:
* FedEx First Overnight, FedEx Priority Overnight, FedEx 2Day (charge is not applied to shipments rated as FedEx Express Multiweight) – $16 per package
* FedEx International Priority Express, FedEx International Priority – $16 per shipment
* FedEx First Overnight Freight, FedEx 1Day Freight, FedEx 2Day Freight, FedEx International Priority Freight – $210 per shipment

---
To check the available FedEx services and shipping rates, select the Shipping Date as shown below.
---
Step 7. Check the FedEx shipping rates & delivery time
FedEx displays all the available shipping services and rates based on the details you have entered. You can also see the estimated delivery days for each service as shown below.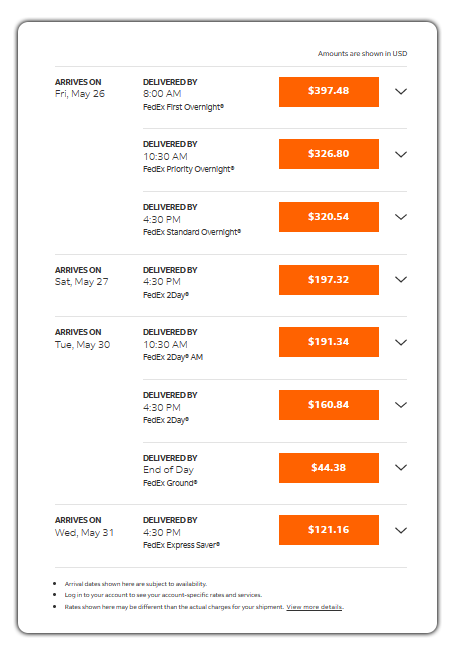 ---
Step 8. Verify the Shipping Cost and Surcharges
FedEx also displays the shipping cost breakdown along with the surcharges. To check the FedEx rates breakup of a particular service, click on the dropdown arrow next to the service. Here you can see details like,
Fuel Surcharge
Residential Delivery Charges
Saturday Delivery Charges
Pickup Charges
Shipment Liability Coverage Charges
Special Service Charges including delivery signature
and many more.
Using the breakdown, make sure you have not added any additional service for the shipment. You can edit the details or enter them again in case the shipping cost or delivery times are not as per your preference.
---
We hope that this comprehensive resource has provided you with valuable insights and practical steps to optimize your shipping operations.
---
FedEx shipping rates & delivery time within your eCommerce store
While accessing FedEx shipping rates and delivery time directly from FedEx.com is a reliable approach, we understand that as an e-commerce merchant, you require access to the FedEx shipping services, rates, and delivery times within your store.
That's where dedicated FedEx shipping plugins & applications can significantly streamline your shipping process.
---
---
There are shipping solutions available for popular e-commerce platforms such as WooCommerce, Shopify, Magento, and BigCommerce. These plugins seamlessly integrate with your existing store and automate the process of obtaining FedEx rates and delivery estimates.
By leveraging these dedicated solutions, you can save time, reduce manual errors, and provide a seamless shipping experience to your customers. These plugins often come equipped with features that allow you to:
Display accurate FedEx shipping rates & delivery time directly on your store's checkout page
Print FedEx shipping labels directly from your store's dashboard with a single click
Validate your customer's shipping address using FedEx Address Validation
Save shipping costs by using the FedEx One Rate
Let your customers select a FedEx Hold At Location for delivery while placing an order
Send real-time FedEx order tracking updates to your customers via email
and many more, enabling you to manage your FedEx shipments effortlessly.
---
Conclusion
We hope that with this guide you can easily understand the FedEx shipping rates and delivery time. And, now that you know about all the factors that determine your shipping rates and delivery time, you can be a shipping expert for your eCommerce needs. In conclusion, whether you're a small business owner just starting or an established enterprise, integrating FedEx's shipping capabilities directly into your e-commerce platform, can elevate your business to new heights.