FedEx Hold at Location is an alternative delivery option that allows shipments to be kept at a local FedEx location instead of being delivered to residential addresses. This is an ideal option for customers who are not present at home to receive their packages & do not want to risk losing them by leaving them unattended at the door.
What FedEx offers with Hold at Location
FedEx Hold at Location is a smart choice if the customers want to:
Collect packages at any time
With FedEx Hold at Location, customers do not have to stay at home to receive the packages. With 21,000+ FedEx retail locations worldwide, customers have options to conveniently pick up their packages from the nearest location. Furthermore, since most FedEx stores are open late and often on weekends, customers can easily retrieve their orders whenever they wish.
Reduce the risk of package theft
Instead of leaving the packages at the doorstep when customers are not available to receive them, FedEx HAL gives peace of mind by holding packages at a safe location. This avoids all sorts of potential issues, like people stealing the parcel from the porch or parcels being handed to neighbors.
Avoid strangers coming to the doorstep
There are certain times when customers feel uncomfortable about strangers coming to their doorstep. With FedEx Hold at Location, customers can restore their privacy with another drop-off location.
Hold at a location is not for Doorstep Delivery
If you are available at home to collect the package and the previous three factors do not relate to you, having your parcels delivered to your doorstep is the most convenient choice.
---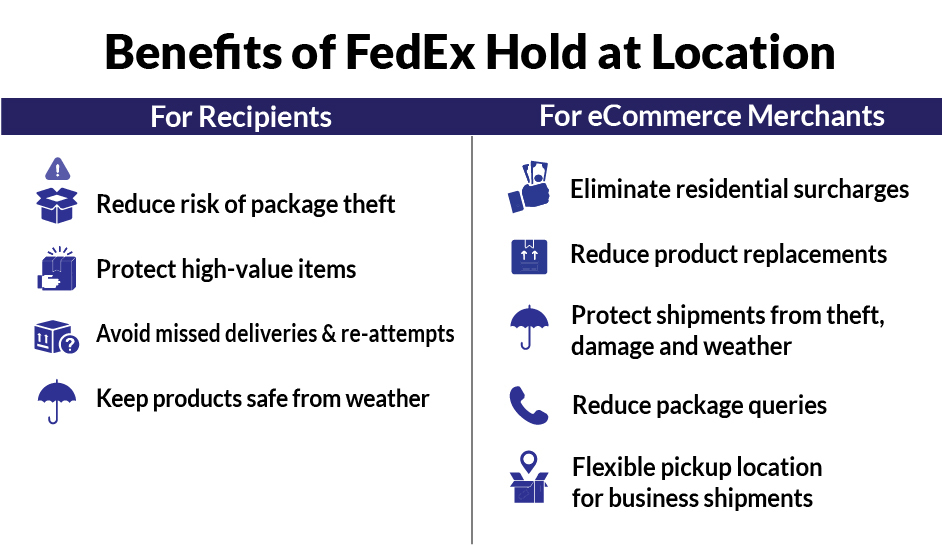 ---
How FedEx Hold at Location helps eCommerce merchants
With Hold at Location, FedEx ships packages to a nearby FedEx Location. This allows FedEx to cut down the shipping charges. And as an eCommerce merchant, you can also save on shipping costs since door-to-door shipping distance reduces and there are no residential delivery fees.
Since FedEx ships large sets of packages together at the FedEx location, it speeds up the delivery. This will help merchants to improve customer satisfaction. Customers will be more likely to return for future purchases, as they can trust that their items will be delivered securely and in a timely manner.
---
FedEx Services that allow Hold At Location
The following shipping services allow the Hold At Location option:
FedEx Priority Overnight® (Saturday service available)
FedEx Standard Overnight®
FedEx 2Day® (Saturday service available)
FedEx 2Day® A.M.
FedEx Express Saver®
FedEx Ground®
FedEx® International Connect Plus
Hold at Location service is available for certain international shipments. Services include
International Priority (IP), FedEx International Priority®, FedEx International Priority® Express, FedEx
Regional Economy®, FedEx Regional Economy® Freight, International Economy, International Economy Freight. The service is not available for FedEx SameDay® or FedEx First Overnight®.
Saturday Hold at Location Service is also available for FedEx Priority Overnight and FedEx 2Day.
---
FedEx Hold at Locations and Business rules associated with Hold At Location
FedEx Authorized ShipCenter® locations
FedEx ShipCenter®
Express Station
FedEx ShipSite
FedEx Office® location
FedEx self-service location
If you are shipping dangerous goods, you need to drop your packages at FedEx Ship Center® locations.
If you are also shipping DG, live animals, tobacco, or other Regulated Material Domestic hazard class goods then FedEx Office, FedEx OnSite locations, and select FASCs do not accept that.
Weight Restrictions
FedEx Office and FedEx Ship Center locations accept larger and heavier HAL packages
than select FASCs and FedEx OnSite locations.
FedEx Ship Center accepts packages exceeding 150 lbs, 119" in length, and/or 165"
length and girth (L+2W+2H) that cannot be delivered to other retail locations.
FedEx Office accepts packages with a maximum weight of 150 lbs, a maximum length of
119" and/or 165" in length and girth (L+2W+2H).
---
FedEx Hold at Location for your Shopify store
If you are running a Shopify store and want to offer FedEx Hold at Location at the Shopify checkout, PluginHive Ship, Rate and Track for FedEx come ready with it.
---

---
---
FedEx Hold at Location for your WooCommerce store
If you are running a WooCommerce store and want to offer FedEx Hold at Location at the WooCommerce checkout, WooCommerce Shipping Plugin for FedEx makes it easy.
---
---
---
Interested in learning more about FedEx Hold at Location? Feel free to reach out for a conversation with our shipping experts today!