Affiliate marketing has become a powerful tool for e-commerce businesses to drive growth, increase brand exposure, and foster customer loyalty. By leveraging affiliate and referral programs, brands can tap into a vast network of ambassadors and customers to promote their products and services. If you're a Shopify store owner looking to harness the potential of affiliate marketing, you're in luck. In this article, we'll explore three of the top Shopify affiliate apps.
On This Page
1. UpPromote – Affiliate & Referral
UpPromote empowers Shopify merchants with intuitive tools for managing and expanding their affiliate teams. Real-time tracking, customizable links, and continuous innovation ensure seamless growth. Join over 90,000 satisfied users and unleash the potential of brand ambassadors to spread your brand's story and products.
Key Features:
Unique affiliate programs with diverse commission opportunities
Customer Referral Program with customizable rewards and discounts
Seamless tracking of referral orders through affiliate links, coupons, and connected emails
Motivating affiliates with powerful options: bonuses, gifts, store credit, and MLM
[New] Automated payment process with Schedule auto-payment using PayPal
Join UpPromote to maximize your brand's potential and elevate your business!
Pricing:
UpPromote provides various subscription plans alongside the Free option:
Growth Plan: $29.99 per month
Professional Plan: $89.99 per month
Enterprise Plan: $199.99 per month
---
2. Snowball – Shopify Affiliate App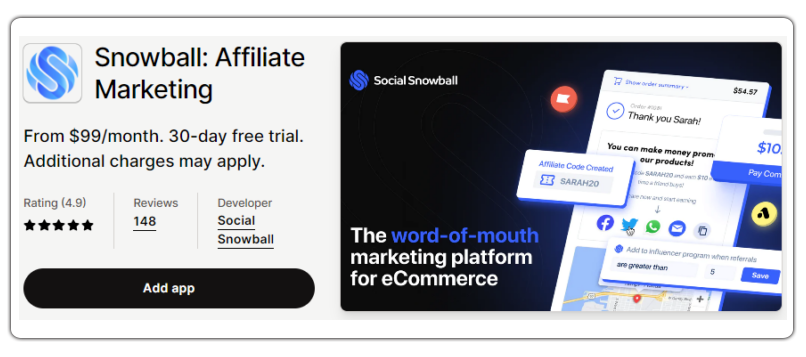 Social Snowball is widely recognized as a powerful word-of-mouth marketing platform. Whether you're looking to transform your customers into affiliates or kickstart a TikTok influencer program, Social Snowball has got you covered. With its impressive features, including referral tracking, commission rewards, and automation, it serves as the ultimate control center for all your word-of-mouth marketing efforts. Elevate your marketing strategy with Social Snowball today!
Key Features:
Automatically turn customers into affiliates upon purchase.
Easily send bulk instant cash or gift card payouts to affiliates with just 2 clicks.
Gain accurate attribution and track ROI for your influencer marketing campaigns.
Prevent affiliate code leaks and coupon abuse.
Quickly create sign-up forms and add affiliates manually with a single click.
Pricing:
30-day free trial
SNOW DAY: $99/month (+ 3% of revenue generated by Social Snowball)
BLIZZARD: $499/month
---
3. BixGrow- Shopify Affiliate Marketing

BixGrow Affiliate Marketing is a powerful app that offers flexible commission structures and an accurate tracking system that automatically generates affiliate links and coupons. Easily reward affiliates with cash or coupon codes, converting commissions into attractive incentives. With BixGrow's 2-in-1 Affiliate program and Referral program, you can unlock the full potential of word-of-mouth marketing, expand your affiliate network, and boost customer retention and loyalty. Level up your marketing strategy with BixGrow today!
Key Features:
Flexible tracking methods: Utilize affiliate links, affiliate coupons, and linked emails for seamless performance tracking.
Turn existing customers into passionate brand advocates through a dynamic referral program.
Simple and transparent commission payout with bill generation and convenient one-click PayPal options.
Recruit top affiliates into your program with a powerful Multi-level Marketing structure.
Looking for alternatives to GoAffPro, UpPromote, Referral Candy, and Affiliatly? Explore our app for outstanding affiliate marketing solutions.
Pricing:
STARTER: Free
SCALE: $5/month
PRO: $10/month
---
Conclusion:
Choosing the best Shopify affiliate app is crucial for your business's success. Whether you're just starting or looking to upgrade your existing affiliate program, these top-tier plans offer a range of features and pricing options to suit businesses of all sizes. Evaluate your needs and goals, and select the plan that aligns best with your business strategy. With the right Shopify affiliate app at your side, you'll have all the tools to boost your sales and drive unparalleled growth for your Shopify store!