Running a successful WooCommerce store requires more than just great products and marketing strategies. Ensuring the security of your online store is paramount to protecting sensitive customer information and maintaining a trustworthy reputation. Fortunately, there are several powerful security plugins available that can fortify your WooCommerce website and provide peace of mind. In this article, we'll explore the best WooCommerce security plugins along with their key features to help you make an informed decision for your online business.
On This Page
1. Jetpack WooCommerce Security

Jetpack WooCommerce Security is a top choice for fortifying your online store's safety. With its
comprehensive security features and seamless integration with WooCommerce, Jetpack ensures
your website remains protected from potential threats. The plugin offers daily scanning to detect
any suspicious activities and promptly notify you via email. With real-time backups and easy
restores, Jetpack guarantees that your site's data is safe and recoverable. Moreover, the plugin's
focus on site performance enhances the shopping experience for your customers, making it a
must-have security solution.
Key Features:
Continuous monitoring to promptly identify downtime.
Daily scanning for potential suspicious activities with email reminders.
Automated problem-solving and access to expert support.
Utilizing Akismet for automatic spam filtering.
Real-time backups and simple one-click restoration.
Automatic blocking of malicious IPs.
Option to enable two-factor authentication for added security.
Conveniently enable or disable plugin auto-updates.
---
2. All-In-One Security (AIOS) – Security and Firewall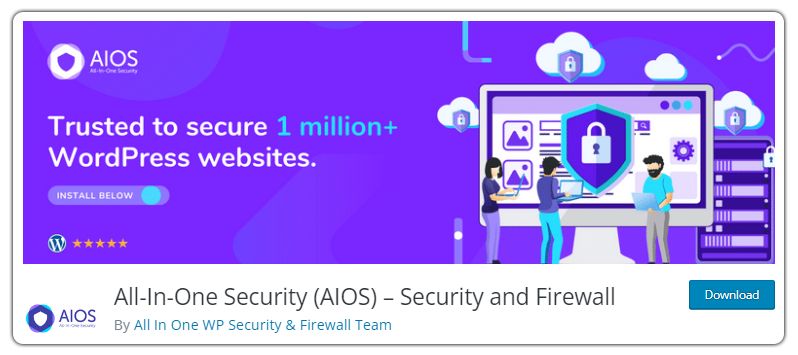 All-In-One Security (AIOS) is a highly sought-after WordPress security plugin that effectively shields your WooCommerce website from perilous threats. With an array of powerful security features, AIOS conducts thorough security audits and proactively monitors potential risks. The plugin's Login Lockdown feature guards against brute-force attacks, while the powerful firewall adds an additional layer of protection to your website.
Key Features:
Safeguard your site with the Login Lockdown feature against brute-force attacks.
Powerful firewall protection for added security.
Detect unauthorized file changes promptly.
Secure your files with backups and easy restoration.
Prevent comment spam and monitor user account activities.
Implement IP filtering for enhanced protection.
Conveniently enable or disable plugin auto-updates.
---
2. WP Activity Log – WooCommerce Security Plugin

WP Activity Log is a plugin that focuses on activity logging and monitoring, making it an excellent choice for gaining more insight into your site activity. This tool is particularly useful for managing a network of sites or a team of users, allowing you to monitor their activity to prevent malicious behavior. With real-time user activity logs and notifications, WP Activity Log enhances your site's security and helps you stay one step ahead of potential threats.
Key Features:
Real-time user activity logs for enhanced monitoring.
Event enabling and disabling for specific actions.
Notifications and reports for important security events.
User activity and site change monitoring.
WooCommerce, Yoast SEO, and WPForms extensions.
Multisite support for managing multiple sites.
---
3. Defender WooCommerce Security
Defender Security is a relatively new but promising WordPress security plugin with over a million downloads. With one-click installation and configuration, Defender immediately starts protecting your website against potential threats. The plugin offers a firewall with IP blocking and other security features for free, making it an excellent choice for enhancing your website's security.
Key Features:
2-Factor Authentication for added login protection.
Brute force attack prevention.
Blacklisting features to counter malicious activity.
Defender dashboard for easy monitoring and management.
Safe repair with file quarantine and restore to prevent errors caused by accidental file deletion
---
Conclusion:
Choosing the right security plugin for your WooCommerce store is crucial for maintaining a secure online environment. The plugins mentioned above offer an array of features to safeguard your website from threats, ensuring the protection of your valuable data and customers' information. By implementing robust security measures, you can focus on growing your business with confidence, knowing that your WooCommerce store is well-protected against potential risks. Invest in one of these top WooCommerce security plugins today and fortify your online store's defense against malicious attacks.