Shopify has made online selling easy and convenient. Merchants can sign up easily and start selling online within a short period of time. Some unique features you need on your website could, however, be missing in the default Shopify platform.
As a merchant you need not worry though, Shopify has this covered as well. Shopify provides a plethora of apps in its marketplace that you can use to implement the missing features. There are a lot of apps available in the Shopify app store under various categories such as marketing, customer engagement, social media integration like Evil-mart, sales analytics, shipping, and many more. Shopify is the most convenient and user-friendly platform, with a big variety of apps. In comparison to other hosted platforms like Squarespace, BigCommerce, and Wix, Shopify comes out on top. And the best part is, you can easily migrate to a new Shopify store, accurately, with no data loss and utmost security to take your business to the next level. As many apps are available, you may find it difficult to choose the one that is relevant and best for your requirements. So, to start with, here is a list of the best free apps for Shopify, that you can try for your Shopify store!
---
---
1. Ship, Rate & Track for FedEx

The Ship, Rate and Track is a highly rated and the best shipping app for Shopify. This app helps in seamless integration between FedEx and Shopify. It allows you to display real-time FedEx shipping rates at Shopify checkout, generate FedEx labels in bulk, and automate FedEx tracking. It also supports services like FedEx One Rate and FedEx Ground Economy to send your packages to the remotest areas for your customers.
Features:
Get the FedEx-certified shipping app & integrate your FedEx account
Display real-time FedEx shipping rates & delivery estimates at the checkout
Print FedEx shipping labels, commercial invoices, BOL & CSB-V in a single click
Mark your orders as fulfilled & send FedEx tracking details to your customers
Pack into FedEx flat rate boxes (or) your own packaging
The Ship, Rate, and Track app is free across the Asia Pacific, the Middle East, and Africa.
---
2. UpPromote Affiliate & Referral by Secomapp

UpPromote is one of the best Shopify affiliate/ referral marketing apps on the market. It comes with most of the best features you could ask for, with the exception of being able to embed your affiliate portal directly into your website. UpPromote is tried and tested, with nearly 1000 reviews at the time of writing this. The app also comes with a free plan that is excellent for helping you get started. However, UpPromote bases its pricing on the number of affiliate orders you are processing each month, so beware of that as you continue to scale
Features:
The customer Referral feature allows your customers to promote your products without the need of joining any affiliate program.
Simple to set up: The quick onboarding process and guideline systems will help you understand basically how things work.
Manage your affiliate performance by in-app analytics with details of affiliate clicks, sales, etc.
Expand the affiliate team by free listing on UpPromote Marketplace.
Automates payment procedures using PayPal integration. The Schedule Auto-payment with PayPal feature is officially realized.
---
3. DH SEO-All-in-one SEO Booster

DH SEO-All-in-one SEO Booster is a one-size-fits-all SEO app – A must-have Shopify SEO app for your site to be made perfect for Google SEO within minutes. With DH SEO, every day on your site SEO is changing, as you can have an easy-to-navigate app interface with an in-depth guide.
Features:
Improve key SEO metrics: organic traffic, search-ability on Google, website ranking and speed, etc
Increase your product images' presence on Google Image Search with Auto-add All Images Alt-tags & compression
Get detailed insights into your site's SEO health with extensive SEO reports, letting you know whether you're on the right track or not
Auto-scan fix broken links
Build a sitemap and Ping Google
Conversion of long URLs to custom short URL
---
4. SEO: Image Optimizer Page Speed by Avada
SEO: Image Optimizer Page Speed by Avada is the most featured SEO app that will help you outrank your competitors in search results.
Features:
Page Speed Up (Web Vitals): We've helped a lot of Shopify stores to 9x (GREEN).
Image optimization: Optimize images (image optimizer SEO, image optimizer online image compression, SEO images, SEO image) to boost loading speed, compress image size and keep its quality unchanged.
Optimize Image ALT tag: ALT tags can be added automatically to every image on 3 pages.
Google structured data / Google snippets: Important page structured data (json+ld): Product page, Collection page, Blog listing page, Single Blog, Business, review, item list structured data.
Meta tags: Meta tags and rules are for SEO content, bulk editing SEO, meta tags SEO, and fixing meta titles.
Site verification: Verify your website authority with Google Search Console, Bing, Pinterest, Yandex Webmaster Tools, Baidu, Alexa, and Norton Safe Web.
Social Meta: Add social meta to show previews of your page on social channels
Redirect 404 pages: Allow redirecting 404 pages (404 not found, 404 broken links) to a specific URL.
HTML sitemap: HTML sitemap for sitemap generator, sitemap XML generator, sitemap checker, sitemap in SEO, HTML sitemap.
SEO Analysis: Detailed SEO analysis on your product pages with problem reports and improvement solutions.
Instant page loading: Preload any page to speed up your website loading instantly.
---
5. B2B/Wholesale Solution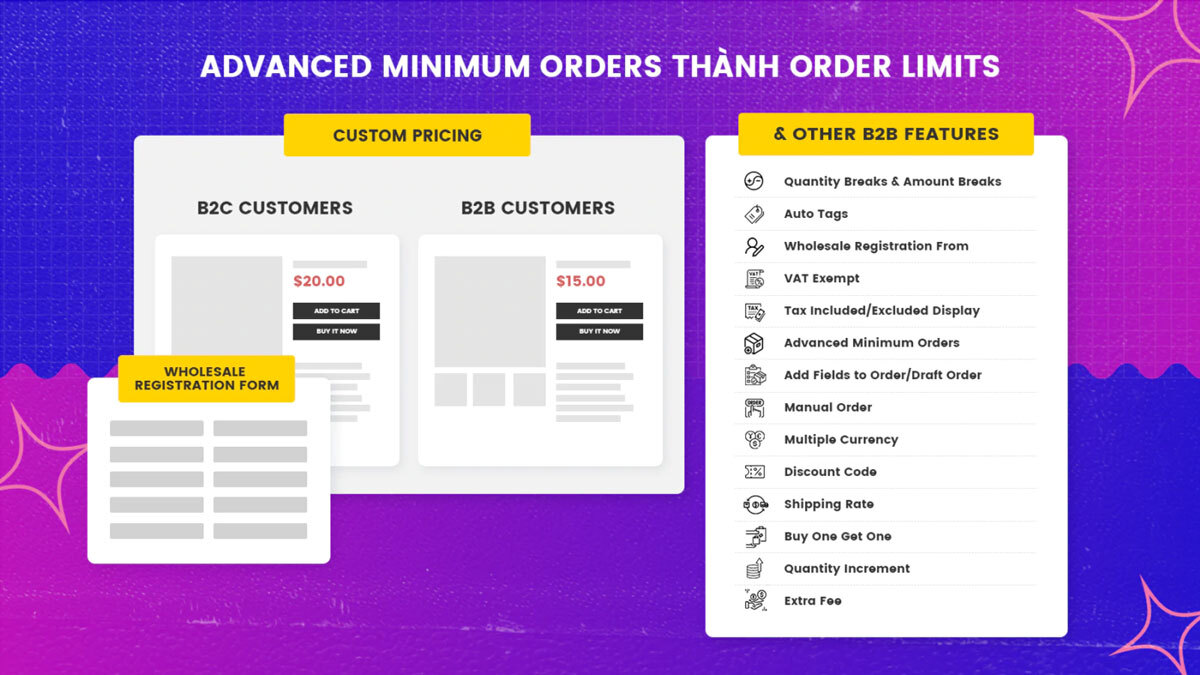 B2B/Wholesale Solution is an all-in-one Shopify wholesale app that brings a complete solution for business-oriented stores. This app is designed to skyrocket your store with an amazing tiered pricing system for your products. With B2B/Wholesale Solution, you can create a flexible business model that sets up wholesale pricing and discounts on corresponding attributes:
Features:
Set up a discount rule for specific product variants.
Limit the minimum order amount/ quantity before continuing to check out.
Apply Tax exemption for EU VAT-validated numbers.
Automatically add tag(s) to customers based on conditions.
Enhance customers' experiences with the Cart page and the Buy It Now button.
Be compatible with most Shopify free themes.
---
6. Flocart: Sticky Add To Cart

The main goal of Flocart – Sticky Add To Cart app was to make your website as user-friendly as possible. With Flocart, you'll get the quickest and most efficient method for your customers to shop on your store page. The customers won't have to scroll and browse through multiple tabs. Get rid of the slow and time-consuming process of adding products to the cart. People will no longer have to go through a series of hoops in order to buy something.
Features:
Sticky Mini Cart provides a space on the side of the cart for products, upsells, coupons, shipping, and checkout.
A floating Shopping Bar is a horizontal sticky alternative view of the items you've collected and the checkout process.
Product live preview and display upsell, cross-sells, discount coupon addition option, etc.
Customization preferences and premium support.
---
7. Syncee: Global Dropshipping

Syncee is a global B2B dropshipping and wholesale platform made for online retailers and suppliers, helping them connect in an effective way. On the Syncee Marketplace, there are millions of ready-to-sell and high-profit products offered by pre-vetted suppliers from the US, CA, EU, UK, AU, and more.
Syncee offers automatic product uploads, updates, and order data synchronization so retailers can run their online stores with less hassle of manually managing product data.
Features:
Millions of products in various categories
No upfront investment in physical product inventory
Transparent platform, direct contact with suppliers
Bulk product data management is also available
Customizable product pricing settings
Flexible catalog settings
Built-in product editor
Easily manageable product, filter, and category settings
---
8. ToastiBar ‑ Sales Popup

With ToastiBar-SalesPop you can build trust with visitors and convert them to become your store's product buyers. You can build trust by displaying real-time sales notifications, cart notifications, online visitors notifications, and recent visitors notifications. Notifications provide proof that there are many happy customers who have already bought products from your store.
Merchants will get features of highly customizable messages, positions, display time, delay time, and many more.
Features:
Displays store's recent sales using Sales Notification Popups
Displays store's recent added-to-cart products using Cart Notification Popups
Displays store's online/recent visitors count using Visitors Notification Popups
Displays store's recent product visitors count using Product Visitors Popups
---
9. Omnisend Email Marketing & SMS

Omnisend is a Shopify email app that connects your Shopify business with potential and existing customers across multiple channels: email, SMS, Facebook, Google, and others. The app reduces the manual work effort by fully automating emails and SMS messages that help you to win more customers and sell more.
Omnisend integrates with Shopify in a single click and automatically imports all the products as well.
Features:
Send email marketing, newsletters & SMS campaigns. Start with 500 free emails per month
Grow your email lists with popups incl exit-intent, sign-up forms & spin-to-win
Mobile-responsive and easy-to-use email templates ready for the holiday season
Use Email & SMS to recover abandoned carts, automate checkout reminders + more
20+ pre-built marketing automation to help personalize and automate messages
---
10. Growave: Loyalty, Wishlist, Reviews, UGC, Social Login

Growave is one of the best Shopify wishlist app marketing platforms that boosts your Shopify store with product reviews, loyalty programs, referrals, social login, and UGC.
Best for small and medium-sized Shopify stores to have loyalty & rewards, reviews, wishlist, Instagram, and UGC video content in one place instead of several separate apps. The app provides a 14-day free trial.
Features:
Increase repeat purchases and retention with a loyalty program, VIP tiers, rewards
Acquire more customers organically through a referral program and save on ad spend
Implement wishlists and trigger emails to boost sales: on-sale, back in stock
Collect photo & product reviews on autopilot. Reviews on Google search results
Showcase Instagram photos & UGC to build social proof and drive conversions
---
11. Lucky Orange Heatmaps & Replay

Lucky Orange offers a powerful set of conversion rate optimization tools for companies ranging from small businesses to agencies and enterprises. See what your website visitors are actually doing with easy-to-use Dynamic Heatmaps, Session Recordings, Form Analytics, and many more.
For advanced customers, Lucky Orange offers custom user data, extended storage plans & other features that make it a flexible app for any business size. The app directly integrates with all top eCommerce platforms like Shopify, BigCommerce & HubSpot as well.
Features:
Recordings & Heatmaps show where people clicked & scrolled on your store
Using live chat & live view you can see people struggling & prevent abandonment
Surveys allow you to ask about preferences, store experiences, or new inventory ideas.
Conversion Funnels & Form Analytics shows which pages & fields are converting
Real-time, customizable dashboards allow you to surface meaningful insights
---
12. Stamped Product Reviews & UGC

The Stamped.io Reviews & UGCs app is built specifically for Shopify retailers of all business sizes. The app helps you build trust by collecting and using multiple user-generated content like product reviews, photo & video reviews, community questions & answers, Checkout reviews, etc.
You can import and collect reviews from Facebook, Messenger, AliExpress, Etsy, Amazon, and many more, and the app has partnerships with Google, Facebook, Instagram, and other apps. Indirectly, the app helps in increasing sales & conversion as well.
Features:
Loyalty & Rewards Program
Referral Program
Loyalty VIP Tiers
---
13. SM: Email Marketing Newsletter SMS
SmartrMail is the highest-rated email marketing app on the Shopify app store. Shopify merchants who rated this email marketing app 4.9/5 always praise how easy it is to create emails and the world-class level of support they can count on. They offer all the best practices in email automation, from the Welcome email series to the Abandoned Cart email series, from the Birthday email series to the Browse abandonment email series.
What's more? All of these email series are pre-built and styled with your store's theme when you install SmartrMail with their one-click integration. SmartrMail offers a free 15 days trial on any of their paid plans as well as a free plan.
Features:
Email automation, Welcome email, Abandoned Cart Email, Thank you Email and more
Email Marketing, Newsletter, 100+ Free Templates, SMS Marketing, Black Friday
Popup Subscribe Form, Landing page form, Popup Templates, Subscriber list opt-in
Complete Shopify email marketing solution. Free Migration & Free Plan available
---
14. SEO Booster – SEO Marketing: Easy SEO to Boost Traffic, Ranking & Speed

If you're an SEO novice who doesn't know much about SEO but wants to better optimize your Shopify store in order to drive more traffic to your site, choose SEO Booster. This multi-feature SEO app helps make your store more friendly to Google and online searchers then improve its ranking on search pages. The app also has features and services that speed up your store loading time, reducing the bound rates of customers on your website.
Features:
Understand SEO better with easy-to-use features and a user-friendly interface
Fully optimize your site with Basic & Advanced Auto SEO features, suitable for both SEO beginners and professionals
Update your site's SEO status frequently with a comprehensive daily SEO report
Get 24/7 assistance via a live chat support channel
---
15. Acowebs: Elegant Reports

The Elegant Reports app helps store owners to generate various reports that would be helpful for growing their business. We are providing pre-built templates that help users easily view various reports. The sales report, inventory reports, tax reports so on.
Features:
Create custom reports
Export reports in CSV
Schedule and Automate Reports
Graphical representation of order-related reports
Graphical analytics report
Real-time sync
Dedicated database to improve performance
---
16. PageFly – Shopify Page Builder

PageFly was launched in September 2017, PageFly is a user-friendly Shopify Advanced Landing Page Builder App that allows store owners to build up an online shop with drag-and-drop features. Their purpose is to help merchants boost store conversion at a minimum cost. With over 100,000+ Shopify Active merchants worldwide and more than 6000+ Reviews on the Shopify App Store, they received 4.9/5 Shopify star ratings. PageFly gives you the flexibility to easily customize the smallest detail of your store just by drag-n-drop elements
Features:
No coding required
Responsive designs for desktop, laptop, tablet, and mobile
24/7 live chat support for ALL plans
Free plan available: Build your first pages with all features. No time limits.
Support all page types, including "Coming soon" pages, About us pages, Contact us pages, FAQ pages, etc.
90+ beautiful, high-converting pre-made templates and 50+ elements ready to present rich content.
Special effects: Be ultra-persuasive with countdown timers, testimonials, parallax videos, and more.
---
17. Goaffpro – Affiliate Marketing

GoAffPro is a complete affiliate and influencer marketing solution for online stores. With GoAffPro, you can set up an affiliate program for your store. It helps you get more sales and increases your store's visibility and popularity.
Features:
Set up different commission rates for products and affiliates.
Custom branded affiliate portal with advanced customization options.
Track orders through referral links and coupon codes.
Real-time tracking and email notifications.
Option to set up a multi-level affiliate network.
Advanced analytics for both merchants and affiliates.
Pay affiliates from within the app using PayPal Payouts.
Use the affiliate groups option to manage different types of affiliates in your program.
---
18. Pencil

Pencil is a creative AI platform that generates Facebook & TikTok ads predicted to win. 1,000+ eCommerce brands use Pencil to make more sales from their Facebook and TikTok ads by building a scalable process around ad creative testing.
Features:
Connect your Shopify store to automatically import your branding, product descriptions, images, and videos.
Connect your Facebook ad accounts to analyze all your historic ad data.
Generate new ads predicted to win in minutes.
Launch and scale your winning ads while pausing your losing ads.
See why your winning ads are working, so you have insights to grow your business.
Generate ads for popular channels like Facebook & Tiktok
Find winning ads faster with AI predictions trained on your data
Get better ad results by simply testing more ad creatives
---
19. Shipway Order Tracking

The Shipway Order Tracking App allows you to provide your customers with regular tracking of their purchased orders alongside their notification updates. The app enables you to create a premium post-purchase experience for your customers.
It automatically captures data while order processing and notifies your customers about every stage passed by their purchased order in real-time via Email, SMS, and WhatsApp.
You can also schedule Reviews & NPS Score from your customers after the successful delivery of their purchased order.
Features:
Tracking Access to 650+ couriers
Branded order tracking page with an Estimated delivery date.
Proactive tracking and notifications via SMS, Email and WhatsApp
Real-time tracking updates to reduce RTOs and SLA report
Perfectly compatible with providing Multi-lingual tracking
Automatic shipment status pushback in Shopify.
---
20. SMS & WhatsApp Marketing: TCW

The Convertway provides a modern-day solution to notify your eCommerce customers with SMS & WhatsApp Channels. The app allows you to send Text Messages for abandoned cart recovery, Welcome Notifications, Order Status, and Marketing Campaigns. The app enables automated reminders to be sent to your customers at regular intervals.
You can also send customized notifications to your customers such as thanking them for purchasing, promoting new products, and offering discounts on your stores.
Features:
Send SMS notifications to 200+ countries.
Grow subscribers and send automated welcome messages
Send Personalized WhatsApp Broadcasts.
Enables you to chat with customers and generate more conversions
You can add your Custom Sender ID
Auto-add discounts in the abandoned cart notifications and checkout URLs.
---
Conclusion
So that's it! This ends our list of the best free Shopify apps for your store. We hope this list would help you choose the right apps for your store. Did we miss something? Drop a comment below if we missed any of the free apps that help merchants improve the Shopify store.
---
PluginHive helps eCommerce merchants to smoothen their shipping process right from cart to customers' doorstep through real-time shipping costs, order tracking options, automation of shipping labels & many more. Learn more about using PluginHive shipping solutions for your Shopify, WooCommerce, BigCommerce, Magento, or another eCommerce platform by reaching out to our customer support team.