When shipping internationally, choosing a top carrier service to get your product to your customers is essential. Thankfully, UPS International shipping provides options and dependability, so you can trust your package will reach its destination.
There are more than a few suitable options for shipping parcels internationally. When you have options, sometimes it can be tough to choose the right one for meeting your business needs. Often, depending on multiple carriers is a great option so you can ship your packages based on each shipment's unique requirements. Having UPS as part of your lineup means you can safely rely on one of the world's top shipping carriers to help grow your business internationally.
You can find out more about PluginHive's UPS and Multi Carrier shipping options that integrate easily with your Shopify, WooCommerce, Magento, or other eCommerce platforms.
---
How to handle UPS International Shipping
It may seem like there are so many steps included when shipping internationally, however, once you've shipped multiple parcels, it will become second nature. It's worth printing out a few extra forms in order to tap into the huge amount of buying power in the world. UPS provides customers with clear steps for successfully shipping internationally.
Complete the UPS Commercial Invoice
The UPS Commercial Invoice is needed for all parcels being shipped internationally with UPS, which are considered more than just "documents." You will need to fill out and print this form with every package or parcel you send. It's important to ensure you know exactly what you are shipping and to be as accurate as possible with your descriptions and data. Don't attempt to "white lie" or skirt around values, etc. of the products you send (declaring a product to be worth less than what it is, etc.). This can result in the product being seized, sent back, or your customer receiving a hefty customs/tariff bill upon delivery.
According to UPS, the form should include:
Complete name and address information for both shipper and consignee
Phone numbers for both shipper and consignee
Terms of Sale (Incoterms)
Reason for export
A complete description of the item
What is the item?
What is the item used for?
Harmonized Tariff Codes, if known
Country or territory of origin (where manufactured) for each commodity
Number of units, unit value, and total value (purchase price) of each item
Number of packages and total weight
Shipper's signature and date
Note: A nominal or fair market value must be stated for items of no commercial value.
---
How to Activate Paperless Invoice for your UPS Account
To activate Paperless Invoice for your UPS account, navigate to your UPS account. Follow these steps to configure it:
Access your UPS profile, go to the UPS homepage, and click on it.
---
---
From there, choose the Accounts and Payments option.
---
---
Under Actions, click on More options and select View Account details.
---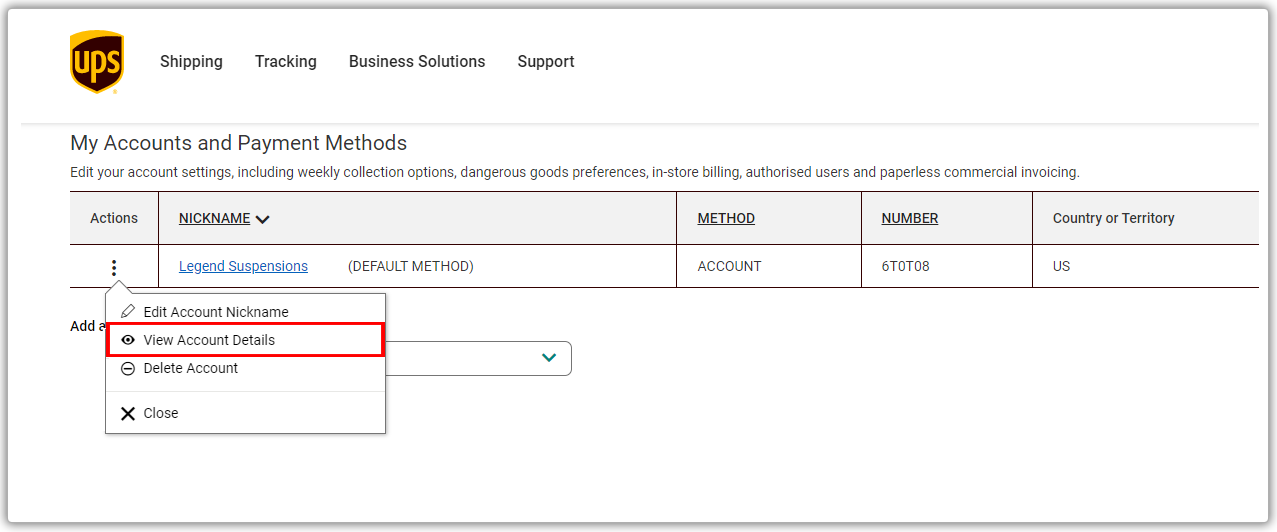 ---
Next, select the Paperless invoicing option, and then click Edit my preferences.
---
---
---
Finally, choose the appropriate option for label generation and save the details.
Enable UPS Paperless Invoice for Parcel Shipping for sending parcels.
Enable UPS Paperless Invoice for Air Freight Shipping for shipping freight items by air.
To upload your own documents like commercial invoices enable the Upload my own forms option.
---
---
---
Ensure You Know Your Destination's Laws and Trade Agreements
Shipping internationally with UPS means understanding the trade laws of both your own country (or the country where your product is shipping from) and the destination country where your package is headed. It's important when shipping to any country to find out what tariffs and other fees are in place. In some countries, certain products are illegal or cannot be shipped across borders. Sometimes these items aren't so obvious. For example, you cannot ship Kinder Surprises (a Canadian chocolate confection with a toy hidden inside) to the United States.
If you plan on shipping many items internationally, it would be beneficial to keep track of your destination countries in a database and to refer to it often as laws and fees can change at any time.
UPS International shipments originating from the United States to Canada or Mexico is common and come with few tariffs and customs fees due to laxity when it comes to trade. However, NAFTA (The North American Free Trade Agreement) which we relied on since the early 90s is no longer in effect in recent years and therefore laws have changed. Now, the USMCA (United States, Mexico, Canada Agreement) is being implemented in North America for trade.
You can learn more about trading within North America and changes that have been made on the U.S. Customs Border Protection website.
Estimate Your UPS Landing Cost
When shipping to consumers, you should make it transparent who will be paying for any duties, taxes, tariffs, and other fees that may be added once the shipment has "landed" in its destination country. You will need to include this in your UPS Commercial Invoice, but you should also communicate it to your customers as well; especially if you are transferring all costs outside of the initial shipment fees to them.
You can predict and calculate potential landing fees using many UPS Shipping solutions before the shipment is even sent. This will allow you to give an idea to your customers of what fees they can expect to pay.
Choose Your UPS International Shipping Services
When do you need your parcel to arrive at its destination? You will need to choose a shipping service that gets your package to your customer when they expect it but also works with your budget and business requirements/abilities. Luckily, UPS has plenty of options that can have your package arrive in as little as hours if needed.
If you're not promising next-day delivery, UPS Ground is the most cost-effective option. If you're ready to ship, you can choose to use the UPS website and click on the "Ship" options where their shipment tool will guide you through the entire process.
Or, you can use any UPS shipping applications as part of your eCommerce website to complete the process automatically when a customer purchases from your business.
Shipping internationally as an eCommerce business is a huge step but it's a great one for reaching every customer regardless of where they live. If you've got a great product, you want anyone to benefit from it. UPS and other shipping carriers work with eCommerce businesses to offer rates and services to make the process simple and cost-effective.
---
Interested in learning more about integrating automated UPS shipping labels into your eCommerce website? Reach out to our customer support team today. We can't wait to hear from you!