When you talk shipping, logistics, or delivery in general, the United States Postal Services may come to your mind at some point in time if not early. USPS is considered a staple for both individuals and businesses in the United States of America. And rightfully so. Their estimates are really cheap (cheapest in the 0-2 Lbs package weight category), provide delivery to most locations including post offices, offer overnight delivery, and "do a lot more" so to speak. So all-in-all, USPS's a great choice for WooCommerce store owners looking for a cheaper shipping option. Well unless of course, you want to enjoy premium benefits (i.e, accurate shipment tracking, one-day delivery, safer package handling, cheaper freight rates, etc,.) provided by carriers like UPS and FedEx. You should check out the comparison between UPS, FedEx, and USPS to really understand the differences. Anyway, if USPS is a yes, then you should be aware of the new proposed postage rates implemented on January 27, 2019. This is why in this article we are going to explore the proposed 2019 shipping rates for users buying postage online. We will also show you how the WooCommerce Multi-Carrier shipping plugin is going to help you display the rates on the Cart/Checkout page. But wait! Before you begin, you should probably understand how to use USPS along with Stamps.com and see how you can save more money. If you already know about it then you may skip the following block.
Using USPS with Stamps.com
If you're now aware of Stamps.com, well, it's software that integrates with your USPS account and essentially allows you to purchase postage and shipping labels online. You can save a lot of time by printing the labels on any regular printer and scheduling the pickup with USPS. With this solution coming into the picture, you can easily get your shipments in the mail without even leaving your office. How cool! The software is available in both an online version and a downloadable version for PC. Although Stamps.com is similar to many shipping software options, it is a bit less functional than the average program. Most notably, Stamps.com only allows you to purchase postage from the USPS, while other shipping solutions give you a wider range of postage options. In addition, Stamps.com only includes the most basic of shipping features. You can purchase postage, schedule pickups, and email return shipping labels, and that's essentially it.
How much does it cost?
If you consider everything, the cost of using Stamps.com for your USPS shipments isn't that much. Stamps.com is priced at a flat rate of $19.99/month (in addition to the cost of postage, of course). The fact that every Stamps.com subscription comes with a free shipping scale when you pay shipping and handling is simply awesome. This does help you save a ton of money.
How does it work?
Although Stamps.com has limited features compared to many shipping solutions, the software still performs well within its limitations. Here are a few of the features Stamps.com offers:
Bulk Printing Options: Print shipping labels for all of your orders at once (available only with the downloadable PC version).
Print Packing Slips: You can only add custom graphics (like a logo) if you're using the downloadable PC version of the software.
Print Postage: You can print shipping labels and stamps. You can also print addresses and postage directly onto envelopes.
Send Return Shipping Labels: If your customers request to return a product, you can create a return shipping label and send it via email.
Schedule USPS Pickups: Schedule pickup times directly from Stamps.com's admin panel.
Purchase Shipping Insurance: Select this option when you go to purchase postage. You can add insurance for your shipments up to $10,000 in value.
Send Notification Emails: Let customers know when their orders have shipped.
View Reports: Establish "Cost Codes" to track your purchases and more.
Print From Any Printer: You don't need to buy a fancy printer to print postage.
SCAN Forms: Include multiple shipments in one barcode.
Thermal Printers: Stamps.com supports the leading brands of thermal printers.
Hide Postage Cost: Send labels that do not display postage costs.
Advanced Services Available: Sign up for Stamps.com's Global Advantage Program which gives you access to services for flats and large envelopes, automated customs forms, instant shipping refunds, and better shipment tracking.
Support: Contact support representatives with email, live chat, and unlimited telephone support.
Benefits Of Stamps.com USPS
With all this talk of "limited features," why would you choose to sign up for Stamps.com? In truth, Stamps.com may not be right for many online sellers. Larger businesses (which often need to purchase postage from multiple shipping carriers) likely require more features than Stamps.com can offer. However, for smaller merchants, Stamps.com might fill a need perfectly. The first benefit of using Stamps.com is the price. At $19.99/month, Stamps.com is cheaper than most other shipping software solutions, especially if you're shipping between 50 and 500 orders a month. In addition, a subscription with Stamps.com gives you access to discounted shipping rates from USPS. What's more, Stamps.com is simple to learn. Because it is a bare-bones tool, there isn't a whole lot to figure out in order to get shipping. What's more, Stamps.com's support is reportedly good, and the company does a great job with its support documentation. You'll be able to find answers to many of your questions with a quick search. Let's now begin with the updated postage rates.
First Class Mail Letters
We have the most popular letter type, to begin with—First Class Mail. It's the most economical way of sending small packages like letters, large envelopes, and lightweight and small packages up to 15.99 ounces. When you compare the delivery times with that of FedEx Envelope or UPS Express Envelope, you'd be fairly disappointed since there's no guaranteed delivery. It typically takes about two to three days for a First Class Mail package to arrive at the final destination.
Updated shipping rates in 2019
The First Class Mail letter (1 oz.) rate for postage purchased at the Post Office is increasing by five cents to $0.55 from $0.50.
Each additional ounce for a First Class Mail letter will cost an extra $0.15 (a decrease from $0.21 in 2018).
First Class Mail Flats/Large Envelope rates are not increasing in 2019, remaining at $1.00 (1 oz.), with additional ounces costing $0.15.
Postcard rates are also not increasing in 2019, remaining at $0.35.
For customers who print postage online (via Stamps.com), the Metered Mail rate will now be a 5-cent discount compared to the Post Office price with rates increasing to $0.50 in 2019 from $0.47 currently.
Each additional ounce will cost an extra $0.15 in 2019, a decrease from $0.21 currently.
The five-cent discount for online postage on a one-ounce First-Class Mail letter represents a savings of 9% for consumers and small business owners.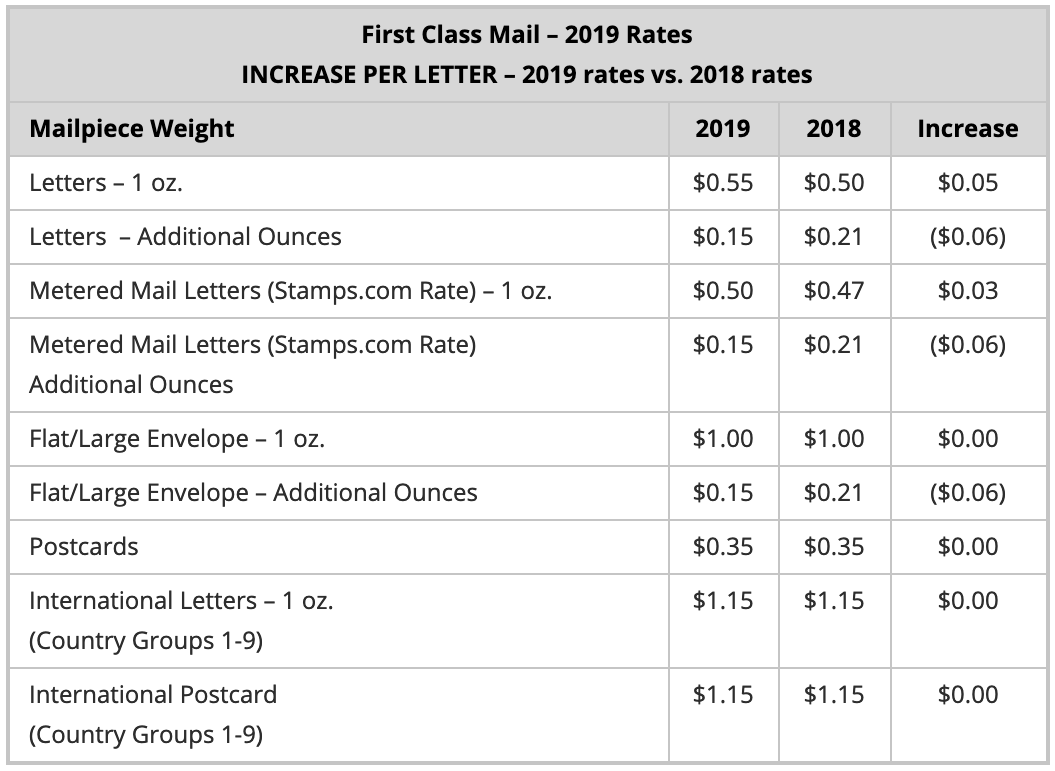 You can easily select the First Class Mail options with the WooCommerce Multi-Carrier shipping plugin. After a successful installation, just hover down to WordPress→Dashboard→WooCommerce→Settings→Multi-Carrier Shipping. Once there, you need to set up the plugin, enter your USPS account details, enter your Stamps.com USPS account details (if necessary), and then define the shipping rules as shown in the image below.
As you can see, the plugin will allow you to display services from both USPS and Stamps.com (in this case, First Class Mail Letter).
Priority Mail Express
Priority Mail Express is said to be the fastest domestic shipping service provided by USPS. Users can use this service throughout the year and comes with the Money-Back Guarantee of one Day. It doesn't compromise on the area covered and thus, ships to most U.S. addresses without any exception whatsoever (that means PO boxes as well). The shipping rate begins at a nominal cost of $25.50 and here are the changes for the year 2019.
Priority Mail Express will see an average increase of 3.9%.
A 1 lb. package going to Zone 8 using Priority Mail Express will cost $36.52 in 2019 compared to $35.04 currently.
The USPS is adjusting the DIM Divisor for Priority Mail Express packages over 1 cubic foot (1728 cubic inches) from 194 to 166.
Commercial Plus Pricing has been eliminated.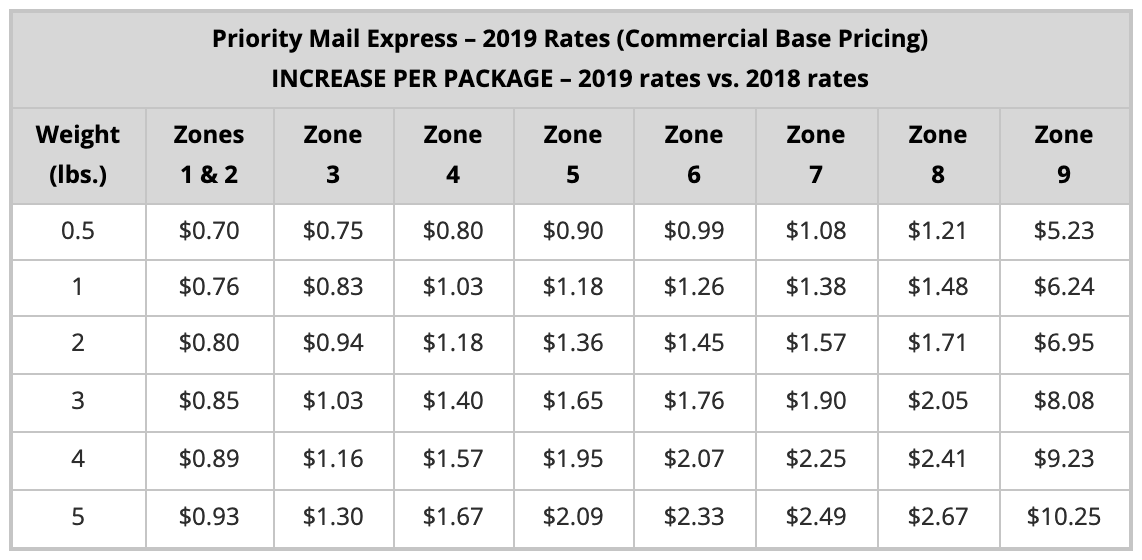 Priority Mail Express Flat Rate
The Priority Mail Express Flat Rate is a type of Priority Mail Express service that includes three mailpieces—Flat Rate Envelope, Legal Flat Rate Envelope, and Padded Flat Rate Envelope. Check out their updated prices below.
Priority Mail Express Flat Rate Envelopes will also see a rate increase ranging from $0.70 to $0.72 depending on the envelope used.
Priority Mail
Priority Mail is another famous shipping service used by many. This service is available on all seven days of the week and comes with fast delivery—1, 2, or 3-Day business delivery. The flat rate prices start at $7.35 and are applicable for all the states with no weight calculation required up to 70 Lbs. Here are the changes in the existing rates.
Priority Mail will see an average increase of 5.9%.
A 1 lb. package going to Zone 8 using Priority Mail will cost $8.25 in 2019 compared to $7.76 currently.
Heavier weights for Priority Mail are seeing a rate decrease. For packages weighing between 11 lbs. and 70 lbs., all shipping zones are seeing lower rates compared to 2018. Cost savings range from $0.11 (11 lbs. Zone 1/2 = $10.67) to $1.37 savings (70 lbs. Zone 8 = $184.51) compared to 2018.
Medium-weight packages (4 lbs. to 10 lbs.), traveling to Zone 5 and higher are seeing a decrease in rates compared to 2018, with costs being reduced by $0.17 (7 lbs. Zone 5 = $15.43) to $0.63 (5 lbs. Zone 8 = $20.40)
The Dimensional Weight (DIM) divisor for Priority Mail packages over 1 cubic foot (1728 cubic inches) is being adjusted from 194 to 166. UPDATE: The USPS has postponed the DIM divisor change until June 23, 2019.
Priority Mail parcels in all shipping zones will now receive DIM pricing for packages over 1 cubic foot. Previously, only Priority Mail parcels being delivered to Zones 5-9 received DIM pricing. UPDATE: The USPS has postponed the DIM zone changes until June 23, 2019.
Commercial Plus Pricing has been eliminated.
Priority Mail Flat Rate Boxes & Envelopes
Now let's see how the various boxes and envelopes are affected by the increase in the rates. Just to be clear here, there are seven kinds of boxes and envelopes that fall under the Priority Mail category. Here's the list.
Envelopes
Flat Rate
Legal Flat Rate
Padded Flat Rate
Boxes
Small Flat Rate
Medium Flat Rate
Large Flat Rate
APO/FPO Large Flat Rate
Now let's check out the changes in the prices for each one of the above package.
Priority Mail Medium Flat Rate Box is decreasing by five cents to $12.80 in 2019 from $12.85 currently.
Priority Mail Priority Mail Large Flat Rate Box is decreasing by five cents to $17.60 in 2019 from $17.65 currently.
Priority Mail Padded Flat Rate Envelope, a popular option for e-commerce sellers, is increasing by $0.45 to $7.55 in 2019 from $7.10 currently.
Priority Mail Regional Rate
This is a special type of Priority Mail service applicable for business owners looking for a cheaper alternative. The prices determined by USPS are based on the nine shipping zones defined within the United States of America. The boxes used here can be used by business owners to ship items traveling places that are comparatively closer to them, thus, saving a ton of money.
Regional Rate Box A
Closer shipping zones (Zones 1/2 through Zone 5) are seeing bigger rate increases from $0.55 (Zone 1/2 = $7.65) to $0.61 (Zone 5 = $8.76).
Packages traveling to farther shipping zones are seeing a smaller rate increase – going up by $0.26 (Zone 7 = $10.55) and to $0.40 (Zone 8 = $11.20)
Regional Rate Box B
Other than Zone 1/2 where the rate increase is $0.64, the increase is relatively small at $0.08 (Zone 3 = $8.50), $0.03 (Zone 4 = $9.40) and no rate increase for farther Zones 5-8.
First Class Package Service
This particular service offers the best rates for lightweight shipments and thus is preferred by most business owners. In most cases, delivery will be within three days to domestic destinations. Many international shipments even include tracking to the destination. Here are the necessary changes.
Overall rates for First Class Package Service will increase by 11.9%.
Zone-based pricing is being added to First Class Package Service in 2019.
Any package going across the country (Zone 8) is seeing a significant rate increase going up from $0.43 (Zone 8 – 1 ounce = $3.09) to $1.43 (Zone 8 – 13 ounces = $5.53)
13 ounce packages in particular are rising across all zones, increasing $0.84 (Zone 1/2 = $4.94) to $1.43 (Zone 8 = $5.53)
Heavier items weighing 15 ounces to 15.999 ounces are seeing a smaller increase, going from no increase at all (Zone 1/2 = $4.94) to $0.59 (Zone 8 = $5.53)
Parcel Select Ground
Another most commonly used shipping service is the Parcel Select Ground. This is one of the least expensive shipping services but also the slowest among the group. No shipment is ever sent without the expectation of delivery, but sometimes the timeliness of that delivery isn't a pressing matter. In these instances, Parcel Select Ground could be the best method for shipping. You can expect the following changes in the shipping rates.
Shipping rates for Parcel Select Ground will decrease by an average of 1.3% in 2019.
For parcels weighing between 3 lbs. and 18 lbs. and traveling to farther zones (Zone 5-9), every cell is seeing a rate decrease in 2019.
Parcel Select Group is also seeing a rate decrease for all zones for parcels weighing between 21 to 70 pounds
The Dimensional Weight (DIM) divisor for Parcel Select Ground packages over 1 cubic foot (1728 cubic inches) is being adjusted from 193 to 166.
Media Mail
Media Mail shipping is a cost-effective way to send educational materials. This service has restrictions on the type of media that can be shipped. Media Mail rates are limited to items such as Books, CDs, DVDs, Scripts (for books, music, periodicals, etc,.), and many similar items. Here are the changes in the shipping rates provided by USPS.
Media Mail rates will increase by 2.95% in 2019.
A 1 lb. package traveling to Zone 8 will cost $2.75 in 2019 compared to $2.66 currently.
Conclusion
You may, for example, choose to save on shipping costs by shipping light packages with the USPS and heavy packages with UPS. Or you may ship everything through the USPS, with the exception of expedited shipments, which you send through FedEx. It all depends on your business model, your average order weight, and your shipping destinations.
---
Do you have anything to add? Let me know in the comments below how you feel about the article. If you need any help in configuring the plugins then feel free to contact our customer support. They will help you out and should get you started with shipping.

Happy selling!