The logistics industry in the United States of America is evaluated to be a $60 billion industry. Countless courier companies (both small and big) distribute all sorts of parcels within the states every single day. The top two couriers, i.e UPS vs USPS, come right up front covering up most of the domestic/regional and international areas. Online stores can take advantage of the services provided by these carriers and meet their customers' expectations. With plugins like WooCommerce UPS and WooCommerce Multiple shipping plugins, you can too integrate these shipping carriers with your website. You can display shipping estimates to your customers, choose boxes and/or parcels, offer order tracking facilities, print labels from the back end, and a lot more. And the process isn't that difficult to come by—just download, install, and set up the plugin; and you're good to go. It's really important to know both the advantages and disadvantages of using a shipping carrier. But luckily you don't have to sit and analyze both the carriers; which is why we've drafted this piece for you. So read along and find out which shipping carrier is the best for you and your business.
General shipping experience with UPS and USPS
When it comes to shipping stuff weighing less than 2 pounds, you'll find USPS cheaper than UPS. If your item weighs really close to 2 pounds, USPS loses its price advantage since you can get great discounts when you negotiate with UPS. USPS is really advantageous when you have a package below 13 oz of weight. It's cost-effective, even when you mail it through First Class Mail. There are specific advantages for each of these carriers though they may not be very obvious. They have deployed strategies to ensure customer satisfaction by meeting the needs and expectations of buyers and sellers. Both these carriers are over 100 years old, but they've managed to successfully adapt themselves to the exacting demands of eCommerce businesses. An example is the 1-3 day Priority Mail feature of USPS. UPS offers ground solutions that are competitively priced. It also offers the SurePost service for better final package delivery to residences buying stuff online. With each carrier leaving no stone unturned, it is hard to pick out a winner.
Change in the shipping rates
For a 12x10x6 package weighing 2 pounds, USPS charges $10.28 which is also the base charge. This is for an 8-zone transit in the United States. For a package of similar size and weight across 8 zones, UPS has a base charge of $13.10 plus a fuel surcharge of $0.69 and a residential surcharge of $3.40 taking the total cost to $17.19. There's no doubt about which is the most cost-effective option here. FYI, FedEx charges even more.
For an 8x8x8 package of a weight of 2 pounds across 6 zones, USPS charges $9.19 which is the base and the final charge. UPS has a base charge of $11.17 plus a fuel surcharge of $0.59 and a residential surcharge of $3.40, taking the total cost to a whopping $15.16.
For a package of the size of 24x12x12 on a four-zone transit and weighing 8 pounds, USPS charges $10.97 while UPS charges $19.80 including the fuel surcharge and the residential surcharge.
So when you're selecting carriers, make sure you realize what the overall cost is for the delivery and not just the base cost. USPS only charges the base cost. It also provides free Saturday delivery and package pickup.
Using UPS for your WooCommerce
Founded in the year 1907, UPS (United Parcel Service) is the oldest of the lot. It has gained its popularity since then and continues to thrive to date. Their unbeatable services offer a high level of security, speed, accuracy, and truly reliable delivery experience to both business owners and customers. In fact, with the introduction of various robust APIs recently, most eCommerce store owners now prefer their in-house comprehensive shipment tracking and label printing system.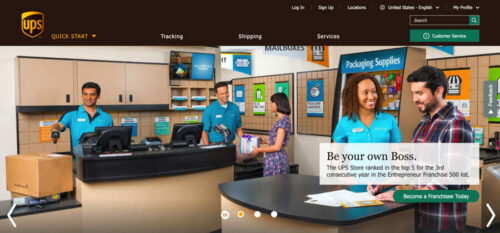 Of course, one has to pay more in order to witness the true shipping and delivery experience and all of this makes for a slight increase in the shipping rates. This could also very reason why most Americans prefer UPS for their shipping needs. There's no hiding the fact that UPS is considered the leader in the package delivery industry. It has the distinction of delivering more packages ordered online than any other carrier in the United States. If you have many packages weighing 21 pounds or above, UPS would be the ideal solution. And guess what: the rates aren't fixed. You can always negotiate them with your Account Manager. You could get discounted rates, depending on your volume of delivery. Make sure you compare the finalized prices with that of USPS because UPS has surcharges that are added to the base price. These things must be discussed with UPS' Account Manager. But while there may be more cost involved than USPS, you can be sure that the delivery time won't be missed. Time-bound packages need to, therefore, be delivered through UPS. It also offers innovative tracking methods. Customers are offered text messages that provide package updates. UPS doesn't offer any free package pickup service though. Confused? Don't worry, I'll show you how to select your carrier. It all depends on what your shipments are. There are factors such as:
The average weight of orders
Maximum and minimum weight of the orders
Types of boxes used for packaging
Size of the merchandise
And, of course, distance plays a major part too. For lightweight items, the right option could be USPS First Class. As we mentioned before, the cost-effective services offered by USPS are ideal if you want to send merchandise that isn't time-bound. There are also cheap services offered by UPS, with its aforementioned SurePost service. Again, this is great for inexpensive packages that are not time-bound. The bottom line is that items that are delicate, precious and time-bound need to be sent through UPS. Here, the satisfaction of your customers matters more and can benefit your eCommerce business better than the cost savings that you could gain from cheaper schemes by UPS and USPS that cannot always ensure timely delivery.
Benefits of using UPS
Prices aside, there's nothing more to argue about and in fact, there's a lot to love about this exceptional service. We go on for hours talking about it but for the sake of this article, let's just go through the primary reasons why companies and online sellers choose UPS for their shipping.
Guaranteed Deliveries
Just like Amazon's Prime deliveries, if you need to deliver a package on a particular date, UPS is the right one to go with. UPS provides ultra-fast shipping services like the UPS Same Day and UPS Next Day, which are probably the fastest shipping services one could ever ask for.
The best thing is if you have enabled the UPS pickup in your plugin settings, you can allow UPS to pick up the packages for you. This will save you the trip to their pickup centers and will help them deliver the packages starting right from your warehouse. As you can see, you can set up the pickup time, company closing time, and even mention the working days. So UPS will know when you are going to ship your packages.
Coming to the guaranteed deliveries, you can choose the premium services right in the plugin settings. You just need to select the services which you'd like to appear on the Cart/Checkout page. You can even make small adjustments to the shipping prices (only if your business case allows you to do so). Choosing the guaranteed shipping services will definitely give you the peace of mind that your packages will arrive on time, which will eventually keep customers satisfied.
Cheapest shipping rates for heavy packages
While USPS is the king of providing the cheapest options for very small and small packages (we'll discuss more on this later), prices increase dramatically for heavier shipments, even for FedEx. Meaning, UPS will give you the best deals when shipping heavy items. So in general, if your package weight is more than or equal to 2-3 pounds, you should consider choosing UPS services. Not just that, UPS will deliver your package quicker (and securely) than any other service around. On another note, if you want to ship large amounts or volumes of packages (or freight), you can easily take advantage of the discounts offered by UPS. Otherwise, you may lower your rates through the UPS negotiation. For that, you need to display proof of your previous shipments which you handled using UPS services. The WooCommerce UPS Shipping plugin allows you to enable the Negotiated rates on the plugin settings as shown below.
Better shipment/order tracking
Now talking about shipment tracking, as mentioned earlier, UPS offers a comprehensive tracking service. It really helps customers find where their packages are starting from the pickup point to their doorstep. Their detailed tracking information will give both you and your customers a sense of security, even if your package is delayed, or you ever lose a package (which is highly unlikely), you would be capable of doing something about it as quickly as possible. In order to stay ahead in the game, you can make use of the shipment tracking feature that comes with the plugin. Once you're in the Orders page, you should be able to see the following,
This essentially helps you send the order tracking details to your customers via an Order completion email. And just so you know, you don't need to enter the tracking number all by yourself. As soon as you Create the Shipment, the plugin will automatically fetch the tracking info and assign it to the order. And once you mark the order as Completed, the Order completion email is triggered.
Superb label printing facilities
UPS allows you to generate and print shipping labels right from your office. So you neither have to ask them about the label nor go to their website and print the shipping labels. With a bunch of eCommerce solutions now supporting UPS Shipping, merchants can now print the labels just by clicking a few times. Once the plugin is installed and activated, all you have to do is change the image type of the shipping label to png. This is because the plugin only supports bulk label generation in the png file format only. You can find the option to change the image type in the plugin settings under the Label Generation tab. The image below shows the option under the Label Generation tab.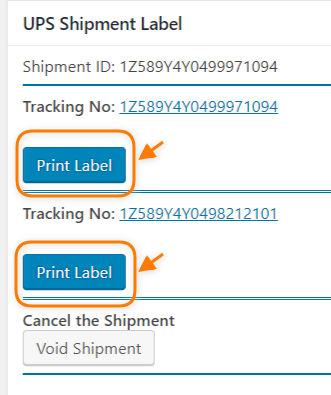 UPS Saturday delivery
With the UPS Saturday Delivery, you can basically deliver packages to your customers even on a Saturday. And UPS can provide this service to you only if require it. Similar to other shipping carriers, say FedEx, UPS also provides Saturday delivery for some of the shipping services—
UPS Next Day Air Early
UPS Next Day Air
UPS 2nd Day Air
UPS Ground
UPS 3 Day Select
UPS Worldwide Express Plus
UPS Worldwide Express
UPS Worldwide Express Freight
With this plugin, you would be able to display real-time UPS shipping rates to your customers. The shipping services along with the corresponding shipping rates are directly fetched from the UPS APIs; you can outright enable or disable certain shipping services. So if you don't want to provide UPS Ground Saturday delivery to customers, you can simply enable it in the plugin settings. Have a look at the image below.
Problems with UPS
While UPS is a great shipping carrier for most users, it isn't actually perfect. A few things about this shipping carrier can really make you sad. So let's go ahead and check out the areas where you might have to compromise when using UPS.
Pricey shipping rates for small packages
Yes, that is indeed true. Shipping services from UPS can cost you a bit more than what other shipping carriers usually offer. There are a few reasons for this, first, the fees and surcharges that UPS add to their base rates can increase the prices drastically. This is especially true in cases where the shipping address is in a residential area and the delivery truck has to reach the doorstep. The prices are even costlier when shipping packages to an international destination (we'll see more on this later in the FedEx section). Another reason why prices are higher is the fact they offer premium shipment tracking features. And indeed, when compared with other shipping carriers, UPS's tracking page is way more informative and thus, results in a spike in the final shipping rates.
Costly pickup services
You need to pay a flat rate cost for the scheduled pickup service to UPS. USPS, on the other hand, offers the same pickups for free of charge, which is another reason why some people hesitate using UPS pickup services. But on the bright side, the pickup prices are way cheaper when compared to FedEx (we'll see more on this later). If you want to reduce the cost of shipping drastically then you could use one of their special services called the UPS SurePost. This is basically a type of consolidated shipping service which extensively uses the logistics from UPS and further uses USPS for the final delivery to your customer. You can save a lot of money on shipping just by using this service. Here's an article that explores more on this topic.
Shipping with USPS
USPS (United States Postal Service) was founded in the year 1971 (same as that of FedEx) and is a public shipping carrier. The good thing about this shipping carrier is no matter what, they will keep on delivering letters and packages to people living in the United States of America. They are well known and it proves to be the staple for both business owners and individuals.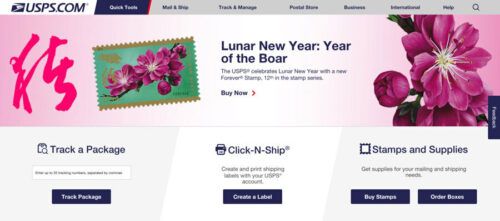 There are always preconceptions and misconceptions in people's minds regarding carriers. One such idea is that USPS isn't quite appropriate for businesses. This is because of its association with holiday cards and bills. However, this isn't entirely true. USPS has significantly improved its eCommerce services. As a result, they've focused on offering low prices for items of lighter weight since these are the ones most often ordered from eCommerce stores. You'll actually find USPS to be the cheapest delivery service out there for any package weighing less than 2 pounds. And, there really is no comparison in the case of packages weighing below 13 oz, since most other carriers have their rates starting from 1 pound or 16 oz. USPS offers First Class Mail for packages weighing up to 13 oz, beginning with .93 if an online shipping solution is selected. It's true that USPS has been focusing on ensuring it is a low-cost carrier. But now they have also worked to improve delivery times. Their Priority Mail has succeeded in improving efficiency. It enabled USPS to provide estimates of delivery dates based on time zones. It is also competitive with its flat rate boxes as well as the regional rate boxes offered for heavier packages. But where you really experience the advantage of USPS is in the cost. USPS does not add surcharges with the base price for residential delivery. The USPS is the #1 shipping option for many merchants, especially those who ship or want to ship small and light products. However, USPS is not perfect by any means. Here's what you should keep in mind as you consider USPS for your business:
Benefits of using USPS
There are a lot of praises to sing about USPS. Here's what merchants love most about the postal service:
Cheapest deal for shipping small packages
Online merchants often want to know what's cheaper: USPS, UPS or FedEx. And while there's no one-size-fits-all shipping solution for every merchant, merchants who are searching for a cheap shipping carrier should look first to their local post office. The USPS is hands down, the cheapest delivery service option for companies that ship small items. The USPS provides the cheapest shipping for many packages under two pounds, and USPS simply can't be beaten for packages under 13 ounces. If you're shipping products under 13 ounces, you should use USPS and nothing else if you want to save money. In addition, many merchants benefit from USPS's flat rate options through Priority Mail. For one price, you can ship products of any weight across any distance; it just has to fit into one of USPS's flat-rate boxes Merchants also save by utilizing USPS's free packaging material. Priority Mail boxes are available for free at the post office, and you can even arrange to have them delivered to your place of business.
More reliable than in the past
While in the past, USPS was infamous for misplacing packages or delaying shipments, in recent years, they have greatly improved their reliability and on-time delivery rates. Deliverability is pretty solid you will rarely lose any package but there are a few occasional hiccups here and there in their system. Basically, when you track a package on their website, it may seem like the package hasn't moved in days, and that can sometimes cause annoying issues. If your concern is lost packages, it seems that concern is now unfounded. Merchants often state that their savings from using USPS more than covers the very few packages that go missing.
Best choice for store owners in the United States
The USPS has a monopoly on mailboxes and PO boxes. They're the only shipping service that does not have to drop off packages at customers' doorsteps. By far the best option when it comes to price, USPS also offers insures overnight delivery. USPS also delivers to most locations such as post office boxes, has pick-up options, a wide array of packaging (some free), and offers insurance for Priority Express mail and Priority Mail as well as tracking for various services. Because the USPS routinely delivers across the country, it excels in getting packages to out-of-the-way destinations. So you can say that they're definitely the king of the lightweight package. Since they try to prioritize every address equally, they'll occasionally surprise you with how quickly they can ship something to "the middle of nowhere," so to speak. If you're looking for a service that will allow you to deliver your packages along with customers' daily mail, USPS is the only way to go.
Choose the Small and Medium Flat Rate boxes
You will have to go for the Small Flat Rate box in order to ship items less than 2 Lbs, and Medium Flat Rate for items equal or more than 2 Lbs. Assuming that you aren't getting hit by dimensional weight, the break-even point between FedEx or UPS Ground and a Priority Mail flat rate medium box is approximately 3 lbs. You can say that FedEx and UPS offer better deals when shipping items less than 2 Lbs. And above 2 lbs, the USPS medium flat rate box is slightly cheaper than FedEx or UPS Ground. The break-even point compared to FedEx and UPS for a large Priority Mail flat rate box is about 5 lbs. And if you need a large flat rate Priority Mail box, make sure it's heavier than 5 lbs. Otherwise, FedEx or UPS Ground will always be cheaper. Now let's sum it all up—If the package weight is more than 2 Lbs, use the USPS Flat Rate Medium box. For the sake of understanding, let's take an example of the following product that weighs 1 Lb.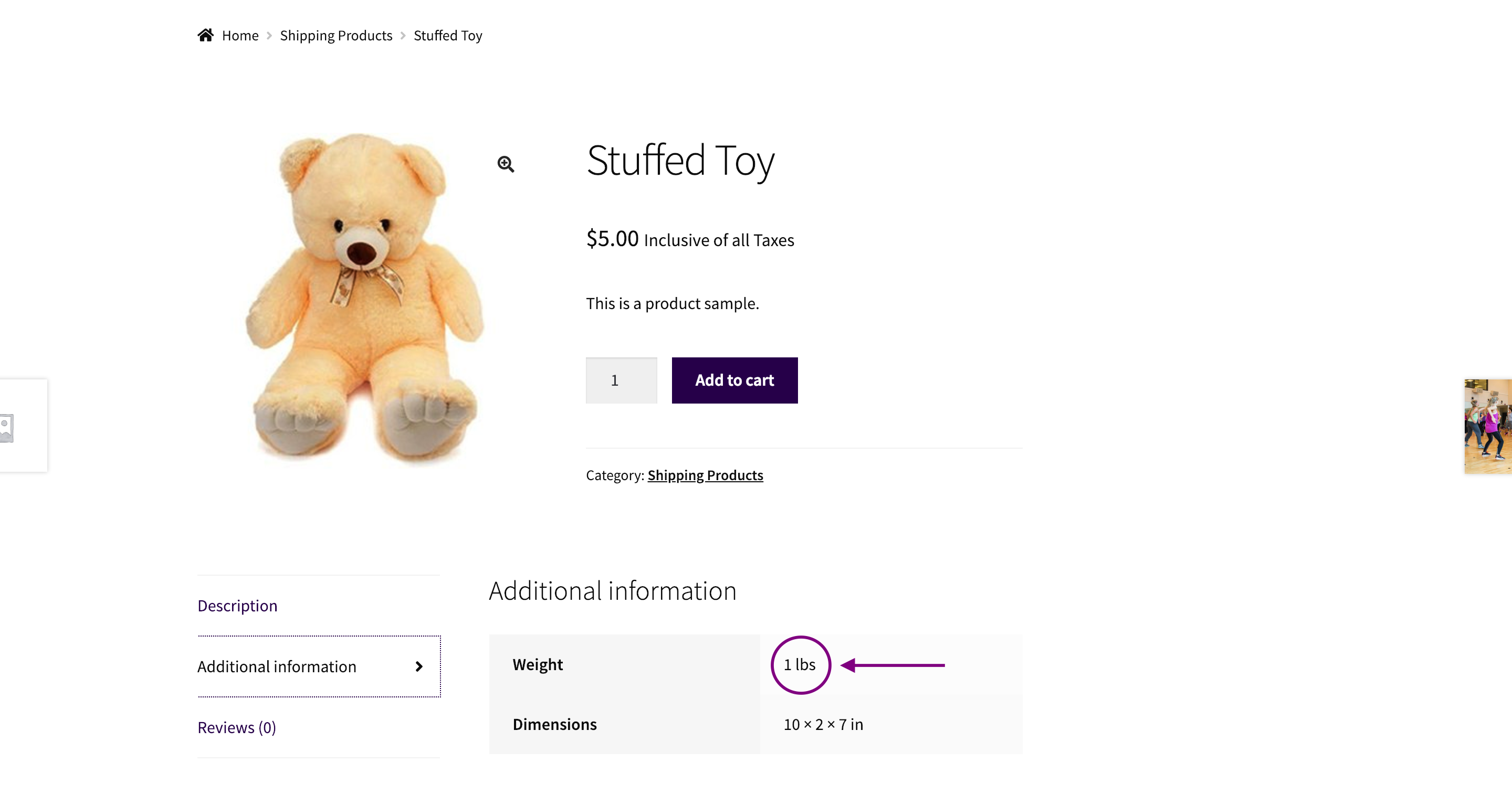 With the help of the Rule Table in the WooCommerce Multi-Carrier Shipping plugin settings, you can set the below rules. If you look carefully, we have selected USPS Small, Medium, and Large Flat Rate Boxes as the USPS services. And we have also selected the FedEx Ground and UPS Ground services.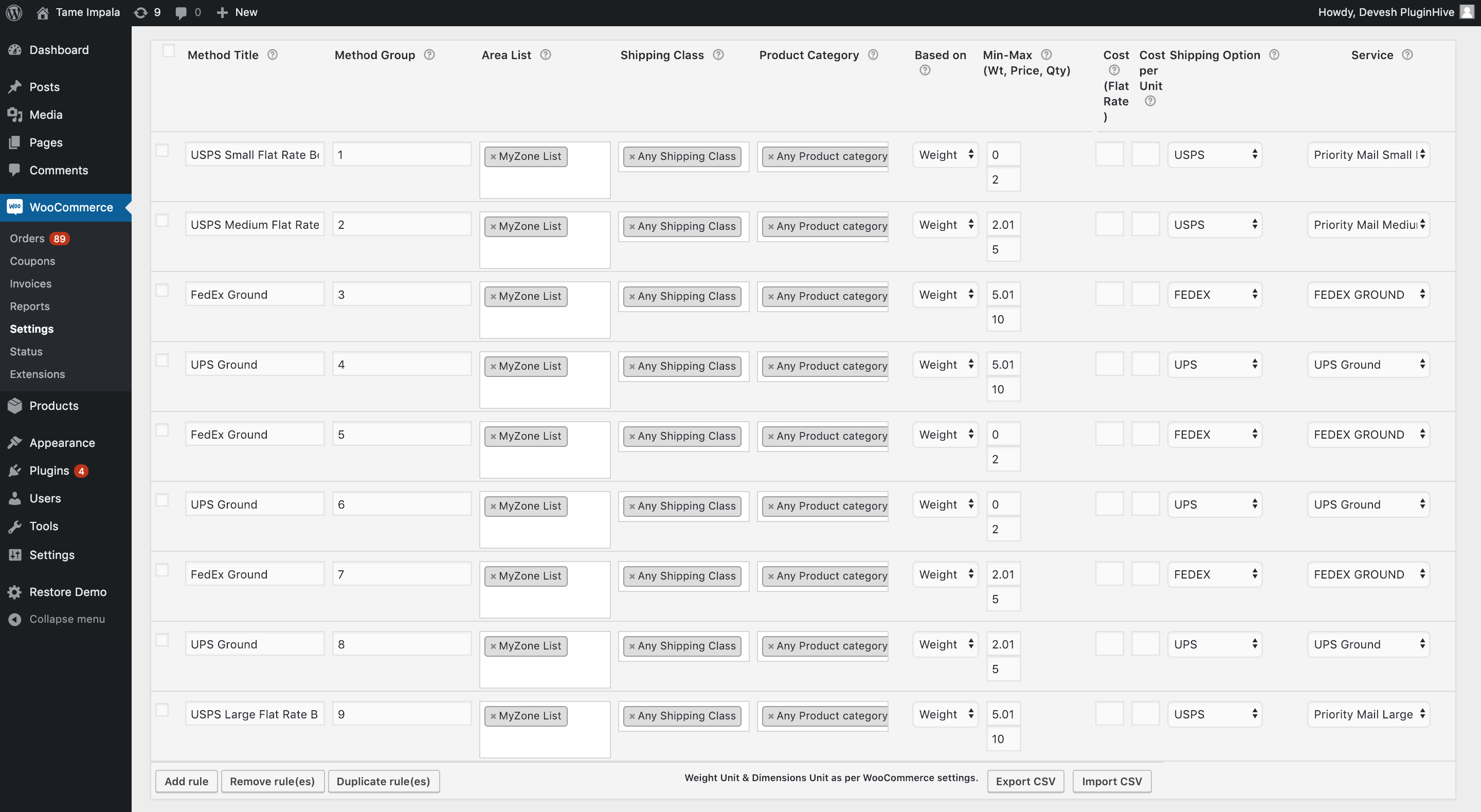 Here is the necessary rule that is required in order to find the cheapest shipping option among the three shipping services. 0-2 Lbs—USPS Small Flat Rate Box should be the cheapest option Let's now check out the Cart page.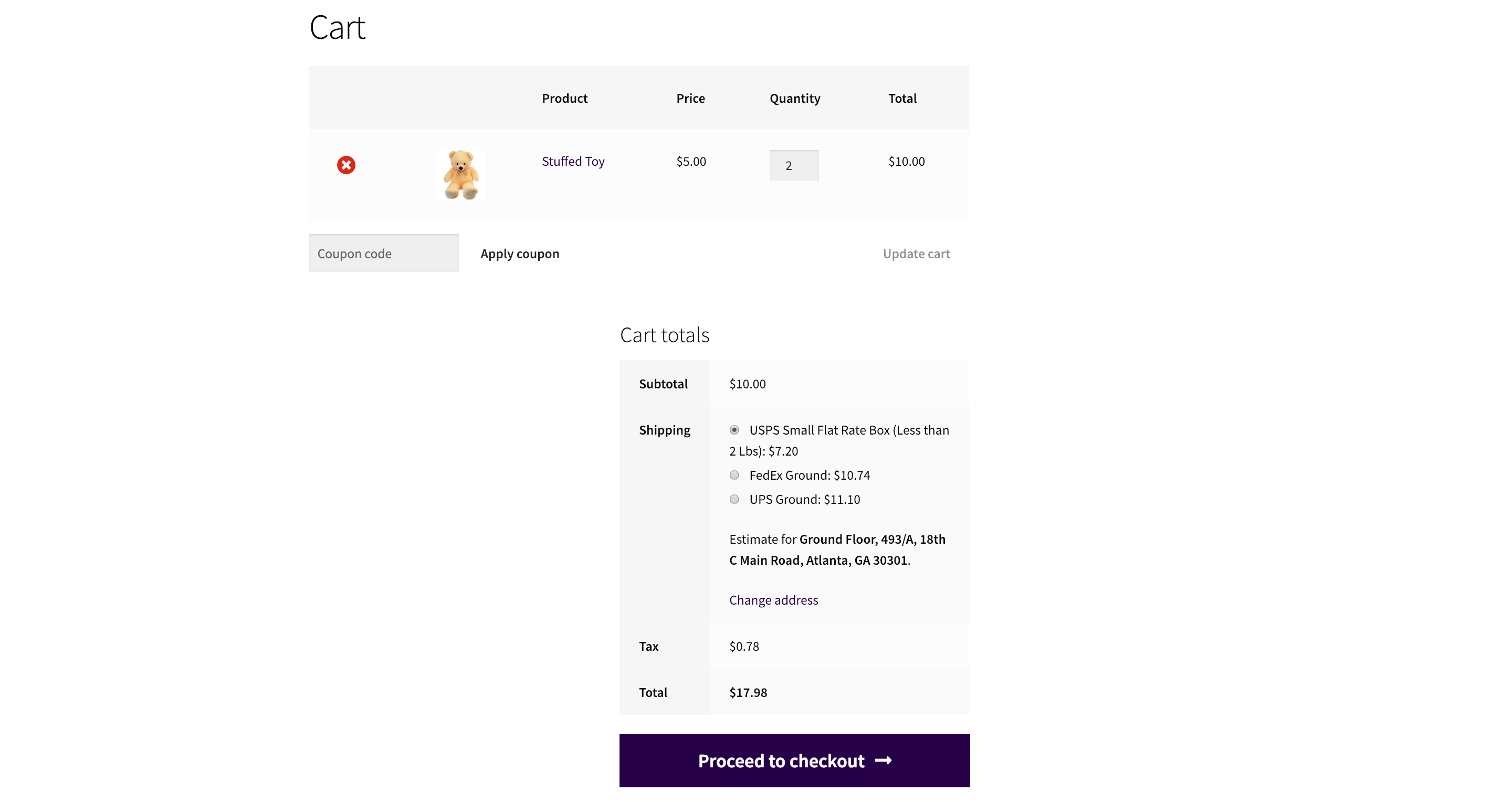 Problems with USPS
While USPS is great for many purposes, it is by no means a perfect solution. Here are a few of the downfalls you'll have to look out for: Tracking Is Not Great While USPS has improved their reliability in recent years, packages still go missing from time to time. The USPS's less-than-perfect tracking system does not help matters when deliveries are delayed or lost. This is one of the most annoying things about USPS in general. While USPS may often be the cheapest choice, they can never guarantee a delivery date, and rarely if ever provide accurate tracking. This can be very frustrating to your customers, and frustrating for you when you can't provide more information about a shipment. For better tracking capabilities, you'll have to look into more expensive package delivery alternatives, which could either be UPS or FedEx. Poor Customer Service Merchants report that when packages do inevitably go missing, it can be difficult to have them located and to get the refund you've been assured. People don't really like their customer service. Some business owners have said that it's impossible to find lost packages, and USPS doesn't make it easy for the customer to do the legwork themselves. Another issue is that getting refunds is not easy and sometimes USPS doesn't even deliver on time and the process for requesting refunds is antiquated. In order to get the affordable shipping rates USPS offers, it appears you'll have to sacrifice a bit in terms of customer service.
Conclusion
Choosing the right carrier is probably one of the most complicated tasks for eCommerce business owners. It's a difficult choice because there are many carrier options out there. However, the United States Postal Services (USPS) and UPS (United Parcel Service) are two of the major and most reliable carriers in the United States. Apparently, selecting the right carrier can help you raise your profit by 30% to 40%. This means that you really need to devote serious attention to ensure you pick a carrier that's more suited to the kind of stuff you're selling and the scale of the business you're running. You obviously need to pick one that offers the right blend of efficiency and cost-effectiveness.
---
I hope you like this article and would love to hear back from you in the comments below. If you have any doubts or have any other query regarding WooCommerce shipping then feel free to contact our customer support. Happy selling!