There's no doubt that WooCommerce is one of the best e-commerce platforms to create and manage online stores of all degrees. But while WooCommerce comes packed with various useful features out of the box, many store owners still require additional plugins to conquer the modern market.
Offering product customization can increase the conversion rate and provide a unique shopping experience to your customers. Online buyers these days prefer to see additional customization options in a product to make it their own. Options to choose a color for a T-Shirt or option to upload a unique print to be printed on the T-Shirt can get you to repeat customers. 
In the world of WooCommerce, certain plugins like the WooCommerce Product Addon let you boost sales by enhancing product variations and its offerings. And in this article, we will be talking about some of the benefits of using such a plugin for your WooCommerce products.
What is WooCommerce Product Addon?
With a WooCommerce Product Addon plugin installed on your store, you can offer products with multiple options to your buyers. Online businesses nowadays are coming up with innovative ways to provide customized & personalized products to their customers. Customers can now choose each and every component of a product and before he or she makes a purchase. Let's take an example.
While shopping for a computer, many sites let you choose the type of processor, RAM memory size, on-board memory, graphics card, color, and much more. And once you choose the basic components, you will get a huge variety of product add-ons that you can choose. These range from mouse, keyboards, speakers, bags, and gaming peripherals.
The scope of WooCommerce Product Addon is really huge, and sites that offer product customizations use this strategy very effectively. Looking from a customer's perspective, the product addons they choose really make a difference, and having such a plugin could really push your sales to the top since your buyer would have huge options to choose from.
Let's say you have an online jewelry shop and there's a special wedding ring that you're selling in your store. However, what if this ring were available in two variants, say, in gold and platinum versions?
Such a business strategy could boost your sales as you can target buyers of both gold and platinum rings. Plus, variations within the same product can be implemented by the means of WooCommerce Product Addon. So you first add the ring as a product and then add its addons, i.e, gold, and platinum.
When you customize a product with a design detail or a unique accessory, it gets a more personal vibe. This provides a better sense of ownership to the buyer and a certain emotional connection to the product. The prevalence of e-commerce has made this strategy a common practice.
A WooCommerce Product Addon plugin will help you offer personalization options to your customers in a flexible manner. It works really well with the simple and variable WooCommerce products, so you get to exploit the little features WooCommerce already provides. You can also seamlessly integrate this plugin with WooCommerce Shipping or WooCommerce Booking plugins and devise a multi-layered online store for yourself.
Suppose you own an online store that sells clothes. You have a T-shirt and you offer custom print choices to customers. Or let's say you own a hotel, and you offer online room bookings. With a WooCommerce Product Addon plugin, you can let customers opt for extra bed options or additional meals.
Cool things you can do with a WooCommerce Product Addon Plugin
Clearly, having customization options for your WooCommerce products would give you a lot of flexibility in terms of personalization and enhanced customer experience. Let's see what cool things you can add to your products to make them more attractive to the buyers.
Add color options: Adding color options is necessary for visual products like fashion items, clothing, etc., It is easier for buyers to identify a color if they can see it, than trying to remember the color just from the color name.
Add date and time fields: You can allow buyers to select dates and times, for example, when they want a product delivered, without manually inputting the date which could be confusing given the many formats of writing dates. The date field selects one pre-formatted date which is easier for you to understand.
Add location selector: If you have multiple stores or outlets then having a location selector would be useful for choosing delivery locations for purchased products.
Add text fields: Such fields can allow a buyer to enter a number and the system auto-calculates the price by multiplying the number by the price of the product, which is displayed to the user before they make the purchase.
Add multi-select options: This section can let customers select a variety of product customizations that satisfies them.
Add an option to upload a file: This option could be really useful if you are offering, for example, design services. Your buyers can upload an image of an item to be designed/replicated.
Add radio buttons: Radio buttons are really useful when you want customers to choose a single option from multiple options based on their preferences. This way you can have different product sizes(like small, medium, large for t-shirts), gender selection, and much more.
Add product price fields: Having multiple product price fields could be useful when dealing with variable products with custom options available to buyers.
Add bookings options: You can add multiple options along with your bookable services to enhance your customers' experience.
PluginHive WooCommerce Product Addon Plugin
When it comes to adding a WooCommerce Product Addon to your WooCommerce store, it's important to find the one that is well suited for the job and has all the options to let your customers customize the products.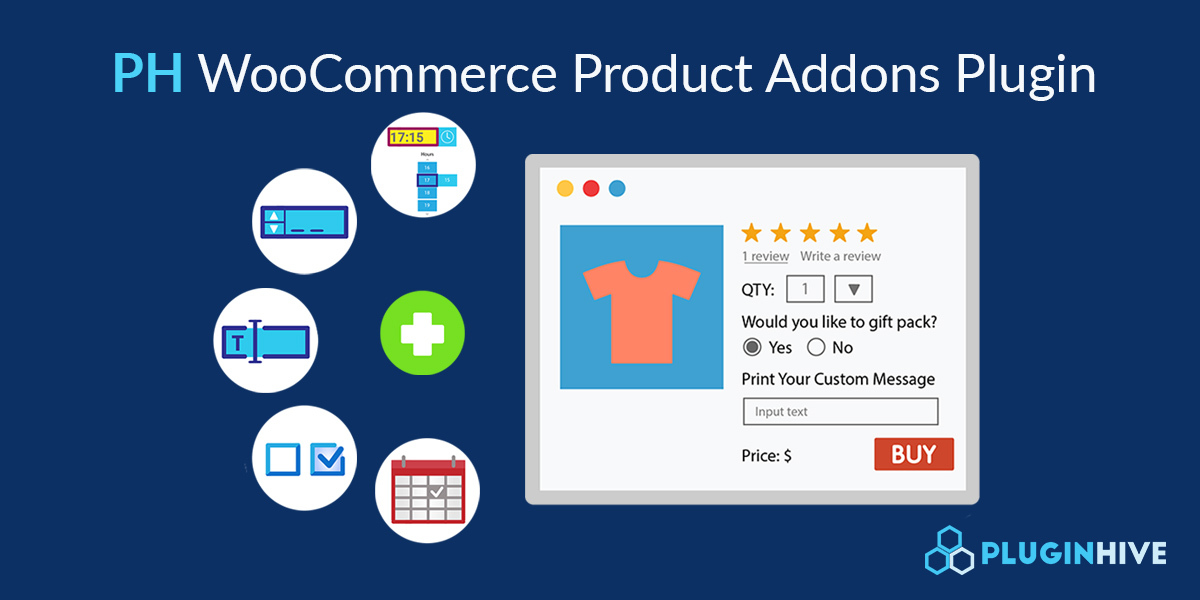 The PluginHive WooCommerce Product Addons is a simple WooCommerce plugin that does what its name suggests; lets you add addons and options to your WooCommerce products.
This product addon plugin adds a series of custom fields that can be specified for each individual product. Thereafter, upon selecting a product, users can tweak the custom values to suit their preferences. It comes in two flavors — free and premium.
The free version of the WooCommerce Product Addon plugin lets you add custom fields like text, numbers, date & time, color, etc., So it should suffice for most small to medium-sized online shops.
The paid version, on the other hand, comes loaded with several additional features, such as conditional logic, allow users to upload their own media files, assign costs to the addons, add combined cost calculation and addition to the product cost, set dynamic cost to each option, and so much more!
Conclusion
With the right plugin, you can offer great customization options for products in your store. Your customers will be extremely happy to find options to personalize favorite products according to their liking. The result would be better customer loyalty and conversions in your store.
This article has attempted to cover some of the many benefits and possibilities of using a WooCommerce Product Addon solution. You have probably got a glimpse of the emerging trends around personalized products.
Good luck! 🙂