This article is going to cover everything you need to know about Royal Mail International Shipping. The article will also cover the feasibility of shipping packages Internationally using the WooCommerce Royal Mail Shipping plugin with Tracking.
What is Royal Mail?
Royal Mail is a postal service based out of the United Kingdom. The company was set up in 1516 under the subsidiary Royal Mail Group Limited which operates Royal Mail and Parcel Force Worldwide. Royal Mail has two major businesses namely: UK Operations: Operates under the Royal Mail and Parcel Force brandsGeneral Logistics Systems (GLS): Serves regions outside the UK. Is the largest ground parcel delivery network in Europe that provides geographical diversification with Royal Mail, shipments (parcels and letters) are sent to destinations overseas in a fast and timely manner. Royal Mail provides delivery to European countries such as Spain, France, and Germany within 3-5 working days and between 5-7 working days for the rest of the world including countries like China, New Zealand, and Australia.
---
Royal Mail International
With the current number of blooming E-Commerce businesses that are running, it's becoming a daily habit of countless customers to utilize Royal Mail International services as they are a value-for-money service, reliable, and one of the easiest methods for British-based businesses to access worldwide markets. Royal Mail International services include the following services:
Royal Mail International Economy

Royal Mail International Standard

International Signed

International Tracked

International Tracked and Signed

Parcel Force Worldwide
Destinations

Tracking

Signature on delivery

Online delivery confirmation

Delivery aims to Europe

Delivery aims to Rest of World

International Tracked & Signed

60 + countries

Yes

Yes

Yes

3–5 business days

5-7

business days

International Tracked

50 + countries

Yes

No

Yes

3-5 business days

5-7

business days

International Signed

155 + countries

No

Yes

No

3–5 business days

5-7

business days

International Standard

Worldwide

No

No

No

3–5

business days

6-7

business days

International Economy

Worldwide

No

No

No

10-15 days

6-12 weeks
---
Royal Mail International Economy
The Royal Mail International Economy is the most affordable solution to sending mail overseas when there's no rush. This service aims at ease of use and at shipping slightly heavier items. Certain compensation is included within this service and the average delivery times to various destinations are:
Delivery to Western Europe within 2 weeks

Delivery to Eastern Europe destinations within 5 weeks

North America is up to 6 weeks

South America, Africa, and Asia, up to 8 weeks

And lastly, Australia is up to 12 weeks
Packaging requirements for International Economy shipments
| | | | | |
| --- | --- | --- | --- | --- |
| Mail Type | Max Weight | Max Length | Max Width | Max depth |
| | | | | |
| | | | | |
Mail Type

Max Weight

Max Dimension

Height + Width + Depth no greater than 90cm

No single side longer than 60cm

Length + 2 x diameter should not be more than 104cm
---
Royal Mail International Standard
Royal Mail International Standard allows shippers to send mail and parcels to family and friends abroad, letters, cards, postcards, and shipments (parcels) are sent with safety as the first priority along with a timely and affordable delivery service. International Standard guarantees that the delivery for shipments sent to European destinations will take between 3-5 working days and between 6-7 working days to the rest of the world. This service provides compensation as well as Free returns for undelivered shipments.
Packaging requirements for International Standard shipments
| | | | | |
| --- | --- | --- | --- | --- |
| Mail type | Maximum Weight | Maximum Length | Maximum Width | Maximum Depth |
| | | | | |
| | | | | |
Mail Type

Max Weight

Max Dimension

Height + Width + Depth no greater than 90 cm

No single side longer than 60 cm

Length + 2 x diameter should not be more than 104 cm
---
International Signed/ International Tracked & International Signed and Tracked
You can track Royal Mail International shipments that are sent from the UK up till the package has been handed over to the consignee and a signature has been duly received from the recipient.
International Tracked
Valuable shipments sent to International destinations find this to be the most ideal shipping service provided by Royal Mail. The service provides tracking at 5 different points after the shipment is in transit and also provides the shipper with an online confirmation of delivery.
International Tracked & Signed
This is a combination of services that offer an end to end tracking feature, signature on delivery as well as an online delivery confirmation.
Features of using International Signed/ International Tracked & International Signed and Tracked
Using the Signed or the Tracked services, Royal Mail International provides users with the following features:
Speed
All Tracking and Signature services with Royal Mail will have shipments delivered within 3-5 working days in Europe and between 5-7 working days to worldwide destinations.
*Tracking services and Signature services available to the following countries provide a delivery time slot of 3-4 business days:
Ireland

France

Germany

Spain

Italy

Switzerland

Belgium

Sweden

Austria

Luxembourg
Security
Royal Mail International processes shipments sent via the Tracking and Signature services through a separate network while they're in the UK. Royal Mail provides proof of posting along with compensation up to a total of £50. These services also allow users to opt for an additional/ extra compensation up to £250 for shipments carrying valuables and this is done in order to protect these shipments against loss or damage.
Tracking coverage
Tracking and Signature services provide shippers and consignees with real-time tracking updates depending on the destination the shipment is being sent to.
Where applicable, you'll be able to track your item via the Royal Mail International Tracking tool service.
Signature on delivery
Shipments will need a signature upon delivery of International Tracked and Signed shipments and International Signed shipments. The only drawback here is that Royal Mail will not provide a copy of the signature as the service is not available online.
Royal Mail will capture a form of identification in lieu of the signature to complete the shipping process.
PO Boxes
It is highly recommended that the International Signed & International Tracked & Signed not sent to PO Boxes as there would not be anyone available to sign for the package. This is for areas where PO Boxes are prominent and excludes areas like Africa or the Middle East.
Telephone numbers
Telephone numbers of the addressee have to be specified on the shipment to assist in delivery and helps make the experience all the more better and easier.
Parcel Force Worldwide
Parcel Force Worldwide was previously known as Royal Mail Parcels until 1990. This service is an International service that was formed by the Royal Mail Group by using an International partner network. The service is the direct competitor of UPS, FedEx, and DHL. Parcel Force is sub divided into the following:
Global Express

Global Priority

Global Value

Global Economy
Features of Parcel Force Worldwide:
Price
Shipments with Parcel Force Worldwide are calculated based on the weight of the package and the destination address of the parcel. As a shipper, there are 2 methods by which you can determine the rates for the package. These are:

You can calculate the rate via the Royal Mail Price Finder when the weight and destination are known.

The secondary method is to download and refer to the Prices PDF that is readily available on Royal Mail, for all countries.

Those businesses that have been VAT registered are eligible to re-claim the taxes incurred while shipping.
Speed
Parcel Force Worldwide assures that shipments sent to Europe, USA and Canada will be delivered from the next business day and within 2 working days to the rest of the world.
Limitations:
Parcel Force Worldwide has restrictions and will allow certain objects to be sent internationally, these are and are not restricted to:
Alcoholic beverages containing 24% alcohol by volume
Packaging guidelines: The Alcoholic shipment must not exceed 1 litre in volume (per item). The item is to be wrapped with polythene and sealed with tape. The wrapped bottle must be surrounded by absorbent material and cushioning in order to prevent damage to the shipment. The shipment has to have a label specifying "FRAGILE" in case the shipment contains Glass.
Batteries, specifically new alkaline metal, nickel metal hydride (NiMH), nickel cadmium (NiCd) and zinc-air
Packaging guidelines: All batteries need to be new and shipped in an unopened package and the original retail package. These batteries are to be surrounded with cushioning material like bubble wrap to protect the package.
Electronic devices connected to lithium batteries
Packaging guidelines: The shipments consisting of Electronic devices which are connected to batteries must not consist of more than 4 cells or 2 batteries installed in the same device. The Watt-hour rating limit is 20 Wh per cell and 100 Wh for each battery.
Perishable foodstuffs and articles (including fresh fruit, meat, fish, plants, flowers, seeds and medicines).
Packaging guidelines: All shipments that are sent on a Friday must be sent on a next day service and packages have to be labelled "PERISHABLE".
Plants
Shipments that consist of Live plants can only be sent if the terms and conditions have been met by the shipper.
Prescription medicines and drugs sent for scientific or medical purposes (non-toxic and non-flammable including asthma inhalers).
Packaging guidelines: All medicines have to be secured and placed in a sealed polythene package (for liquids) and a sift-proof container (for solids). The shipments must be tightly packed in strong outer packaging and cushioned to prevent breakage.
Sharp objects
Packaging guidelines: Pack sharp objects appropriately so they are not a risk to employees and other shipments in transit. This will be the only way to ship sharp objects via Royal Mail International.
Water-based paints, wood stains and enamels
Packaging guidelines: All Liquids must not exceed 150 ml. There are no restrictions that have been set pertaining to the number of items that can be sent in an individual package. These shipments have to be wrapped in polythene and sealed with a tape and surrounded with absorbent material such as newspaper and sufficient cushioning material to protect each item from damage.
Works of art
Packaging guidelines: You can not export all works of art to certain destinations with the global priority and global value services.
Size and Weight Restrictions
Packaging guidelines: Each package sent through Parcel Force Worldwide should have a maximum weight of 30 kg for individual packages with maximum dimensions of 1.5 meters length and 3 meters length and girth combined.
Options to send parcels
Place a pick-up request from the door or by dropping off the shipment at the local post office or a royal mail depot.

Opt to pick up the package on the same day based on the order timing.
The delivery
Parcel Force Worldwide delivers packages on the working days in the destination country.

The package is also fully tracked with a named confirmation of delivery for all European and Worldwide destinations.means that packages
Compensation
Parcel Force Worldwide has a particular clause that provides on time delivery for shipments. In case the package does not arrive on time then Royal Mail will refund 100% of the delivery charge. With Parcel Force Worldwide, you're allowed to purchase additional compensation and extend compensatory amount for the package.
---
Exceptions for International shipments with Royal Mail
Royal Mail has a few exceptions that are applied to International shipments, for example:
To Ireland, only books can be permitted to be shipped even if they're greater than 2 kg.

Shipments to Canada can not have any item weighing greater than 2 kg.

Those packages sent to Cambodia cannot be above 2 kg.
Royal Mail Size and weight comparison
Packages are normally categorized based on their weight and size apart from the destination they're being shipped to. International shipments have certain size and weight limits depending on the form of mail and type of the item that is being shipped. These are:
Letters:

Letters consist of Greetings cards, personal letters, postcards, and bills

Large letter

All large letters are normally, A-4 documents, certificates, magazines, CD or DVD encased, and some large greeting cards

Small Parcel

Small parcels are those shipments that are small in size and can fit in a regular parcel. These are Shoes, portable speakers, and mobile phones
These approximate guidelines will be useful if you're estimating the weight of the item. In order to obtain the accurate weight, take the shipment to the Post Office.
The letter or greeting card can not exceed a total of 30 grams per shipment.

Standard DL (110 mm x 220 mm) envelope with 4 sheets of A-4 must not exceed 44 grams

CD in bubble envelope up to 130 grams

A-4 envelope with 20 sheets of A-4 paper should weigh a maximum of 160 grams

A Mobile phone in a bubble envelope, not more than 180 grams

A DVD in a bubble envelope, no heavier than 190 grams

All 400-page paperback books are to be packed in a bubble envelope and

must not exceed 310 grams

A pair of jeans not more than 500 grams

Glossy magazine to be packed in a bubble envelope and must not exceed 585 grams

A pair of trainers up to a maximum of 1 kg
---
Tips for packaging and wrapping International shipments with Royal Mail.
Shipments have to be packed in a specific manner in order to quality for Royal Mail International shipping, the manner in which the shipments are packed and wrapped helps Royal Mail have the item delivered to its destination at the earliest. This also omits any misplacement of a package and also the return of the package to the shipper because it's not packed/wrapped appropriately.
Sharp objects and oddly shaped items need to have padded envelopes to refrain from damaging the other shipments that are in transit and also to protect the team that is dealing with the shipments.

All containers that are used need to be strong enough to hold their contents, shipments have to be placed in containers that are not damaged or nearing damage.

Any fragile item should be packed with a gap from the next item, Fragile items must not touch each other and should remain toward one side of the container.

Make sure to fill cushioning material in the package, like bubble wrap or polystyrene chip to minimize damage to the box's contents. These can be found or purchased at a nearby Royal Mail Post Office

A return address must be written on all shipments.

Inside each package, make sure to mention the Name, Address, and Telephone number.

Make sure each package is secured with a seal of either nylon or vinyl tape on all openings and edges.

All packages that are sealed with staple pins need to be flattened and a piece of tape must cover the staple pins.

Make sure shipments have a 'FRAGILE' sticker, if necessary.
---
Packaging tips for various items
With Royal Mail, each item being shipped has separate packaging instructions assigned to them, we'll take you through a few types of shipments and how they're meant to be packed so Royal Mail will accept the shipment.
Books
Books are items that can be easily damaged and thus need to be packed with sufficient material to ensure no damage is incurred.
Small books: padded envelopes are required.
Larger books: corrugated fibre-board book pack, giving 2.5 cm clearance at each end.
Books and Pamphlets can be shipped under the conditions that they weigh a maximum of 5 kg. Any item that weigh between 2-5 kg and comprises of Books or pamphlets have to be marked as 'Printed papers' on the top left hand corner of the shipment. Personal correspondence cannot be included in these shipments.
Cameras and Projectors
If shipments are inclusive of batteries (connected or disconnected) should not exceed 4 cells. Any lenses or additional pieces need to be removed and the original retailers package must be used. The shipment is to be surrounded by a minimum of 5 cm cushion and finally placed in a rigid container.
Cash/Money
Shipments that comprise of money or cash should not have an indicator on the shipment stating the shipment consists of money.
The envelope used to enclose the cash should not be transparent.
Under no circumstance can one ship coins in an envelope.
Pack money securely in a rigid and firm container.
Electronics
Electronic devices are classified into Small items and Medium to Large items and would vary based on the overall weight and size of the item.
Small items include i-Pods, MP3, eBooks, and Sat-Nav

Packages need to be surrounded with a minimum of 1 cm of cushioning e.g. bubble wrap.

Medium to Large items are i-Pads, portable DVD players, laptops, flat screen TV's printers, and blue ray players.

These packages have to be surround with a minimum of 5 cm of cushioning e.g. bubble wrap, polystyrene chips or poly-blocks to protect from knocks or vibration.
Cover packages in 1 cm of cushioning in order to prevent damage to the contents or outer packaging,
Place items securely in a strong, rigid outer container.
The sender's name and return address must be clearly visible on the outer packaging.
Fragile items
For fragile items being shipped, shippers must pack the items with at least 5 cm of bubble wrap. If the item is a figurine, then begin by wrapping the limbs of the figure followed by the rest of the item.
Next, place the item into a strong rigid container that is ideal for the size of the item.
In case the container is larger than the prescribed size, make sure to pack more bubble wrap inside the package.
Make sure to seal the container securely.
All shipments need to have the address mentioned including the Full name, address and postcode, and the return address. Also make sure to attach the correct postage for the service needed.
---
How to Address a Royal Mail International Shipment
Addressing a shipment/package is the key to having the item delivered in a speedy way. This is the only manner by which a shipment can reach its destination. Shipments will need to have the following on them (address details)
Fix the Name and Address on the bottom left corner or the front of the envelope or parcel.

Make sure the handwriting is clear and easy to read.

A pen or pen with easy-to-read ink depending on the color

of the envelope/parcel.

Make sure there are no commas and full stops on the package.

Align all text to the left of the envelope/parcel.

Make sure the postage is the right postage for the shipment.

It's important not to mention telephone numbers and email addresses on the outside of the item to protect your privacy.
*Remember to include a return address so if for any reason your item can't be delivered, we can send it back to you.
---
International Shipping Documents
What is a Customs Form?
A customs form is a legal document that is mandatory while sending packages Internationally. A Customs Form with Royal Mail would be meant for any and all shipments outside the UK.
How do we fill up a Customs declaration form?
There are two types of Customs declaration forms, one for items with a value up to 270 GBP and the second for items that cost more than 270 GBP. These are:Form CN22 – Items up to 270 GBP
Form CN23 – Items above 270 GBP
You can obtain these Customs forms from a local Post Office branch. The customs form needs to include a description of the contents and their value irrespective if they are gifts or commercial items. You will have to fix the form outside the package. However, if the form for that particular shipment is Form CN23, you will have to utilize the plastic wallet made available at the Post Offices. Customs Law states that the sender will be held responsible for any information that is on the declaration. Please be aware of the following:
Items being shipped may be subject to customs charges and feed. These depend on the value of the shipment and the recipient will have to pay for the customs charges before receiving the package.

The customs authorities in the destination country determine if charges are due on imported goods.

Since the charges vary from country to country, Royal Mail will not be able to advise on what the charges are. Therefore, you will have to contact the embassy or the customs authority of the destination country and seek help.
Do you require Customs Declaration forms for EU countries?
The following EU countries do not require a customs form:
Austria, Belgium, Bulgaria, Croatia, Cyprus, Czech Republic, Denmark, Estonia, Finland, France, Germany, Greece, Hungary, Ireland, Italy, Latvia, Lithuania, Luxembourg, Malta, Netherlands, Poland, Portugal, Romania, Slovakia, Slovenia, Spain (not including the Canary Islands) and Sweden.
However, any country not in the list of EU countries above, including:
Channel Islands – Jersey, Guernsey, Alderney; Herm, Sark, Andorra, Canary Islands, Gibraltar, San Marino, and the Vatican City State will require a customs declaration form for those particular International Shipments.
---
Royal Mail International Shipping with WooCommerce
Regarding the biggest E-Commerce platform, shippers from the UK will resort to using Royal Mail. The issue is when WooCommerce does not support Royal Mail on its own and would require a separate plugin to handle the shipments, that is when PluginHive comes in. The WooCommerce Royal Mail Shipping and Tracking plugin is an ideal tool for Royal Mail customers who run an online store. The plugin allows customers to sell products and has real-time rates calculated for their shipments. The plugin also gives its user the ability to track shipments once they have been processed and moved into the shipping chain.tIn order to receive Royal Mail International rates within your WooCommerce store, you will have to follow a couple of steps which will be mentioned below:
First, you will have to start by setting up the plugin in your WooCommerce store (Admin area), you can do so by referring to the Setting up article for Royal Mail
Make sure to select and enable the services you will be used for shipping (shown below)
Upon completing the basic configuration, add items to the cart in the store.

Now that there are products in the cart, continue to the checkout page and enter the destination address (ship to) shown below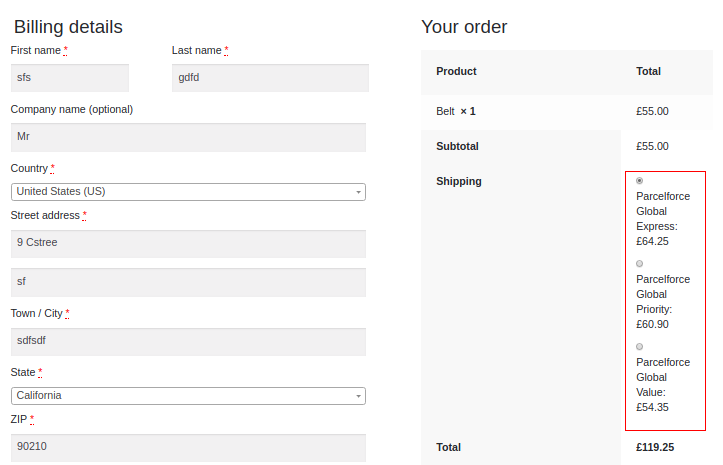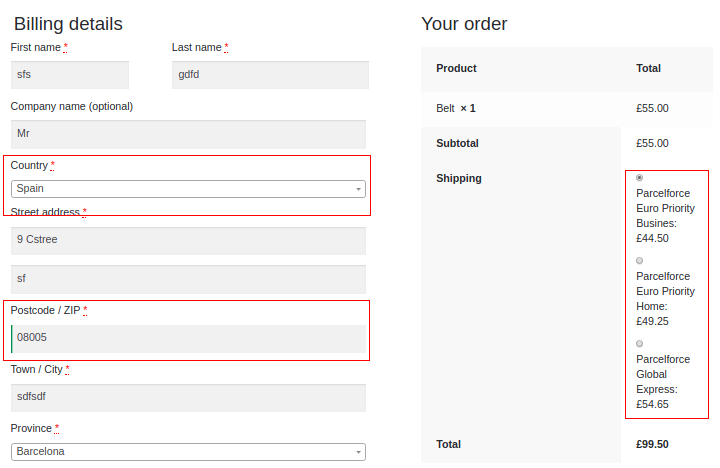 As you can see from the above screenshots, the rates change based on the destination address of the shipment.

Process the order and confirm the shipment.

You will also have the ability to set the tracking information for each package, by doing this you are enabling the customer to view their shipments status at any given point in transit.

In order to Enable the tracking service for Royal Mail International, you will have to check the box next to Tracking PIN (shown below)
The 'Custom Shipment Message' field is to set a custom message that will be sent to the customers via email and will reflect on their order page. This message states the date of shipping, and the service and will also highlight the tracking number for that Royal Mail International package.
The notice will appear as shown below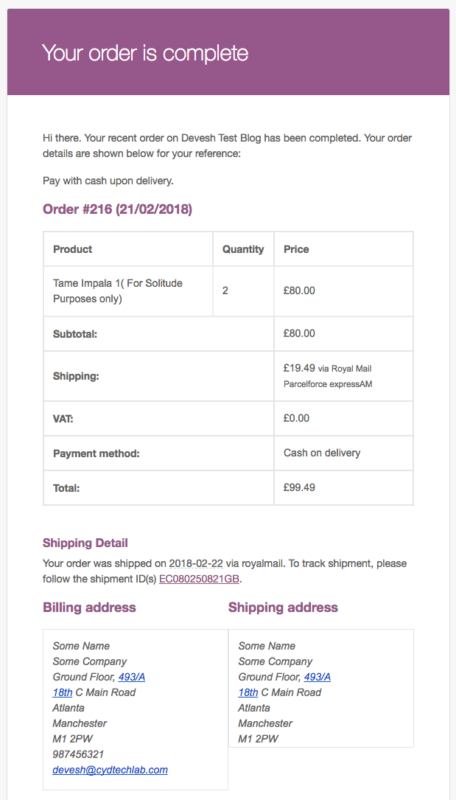 The Shipment ID link will redirect you to the Royal Mail track page.
---
Final Thoughts…
With the WooCommerce Royal Mail Shipping with Tracking plugin, you're able to finally get Royal Mail rates in your WooCommerce store and track shipments once an order has been placed. The plugin along with WooCommerce makes a good combination for those customers who are avid Royal Mail shippers and also own online stores, life becomes easier. In case there are any questions or queries pertaining to the topic on Royal Mail International, please feel free to share your comments below. Also, similarly, you can reach out to our Support Team who are more than willing to resolve any query you may have.