Integrate Royal Mail Shipping with WooCommerce
PluginHive's WooCommerce Royal Mail Shipping With Tracking Plugin is a WordPress/WooCommerce extension that helps you display Royal Mail shipping rates in the cart/on the checkout page, automatically classifies packages into letters or parcels based on the weight and dimensions of the products, and also enables tracking.
How does the WooCommerce Royal Mail Shipping Plugin Work?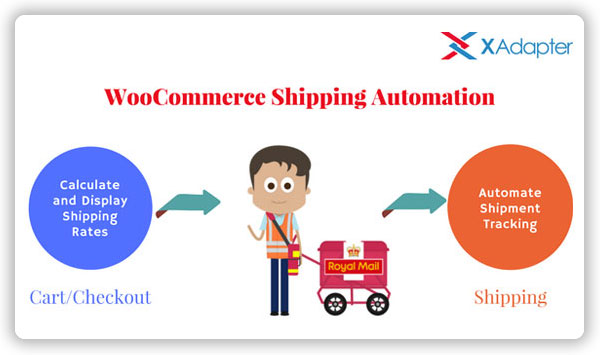 Step 1
Install Plugin and enable the 'Enable rates' option on the plugin settings page.

Step 2
Before placing an order, the customer sees Royal Mail shipping rates for different services preset by you based on the destination address, product weight and dimensions of the items in their cart.


Step 3
Once the tracking info is added to the order, it is then automatically attached to the order completion email.

MAIN FEATURES OF WOOCOMMERCE Royal Mail SHIPPING PLUGIN
Royal Mail Shipping Rates: Based on the products' weight, dimensions, shipping destination, etc., this plugin displays the shipping rates from Royal Mail for both domestic and international shipping options chosen by you.
These rates are the official rates from Royal Mail. For more information on the rates please refer the link – https://www.royalmail.com/sites/default/files/Our-prices-2018-effective-26-March-2018.pdf
Handling Fees/Additional charges: You can set up a fixed amount or a percentage amount as handling fees in addition to the shipping charges.
Services: Enable/disable, edit the names of, and add costs to Royal Mail shipping services
Countries Supported: This plugin works in all countries where RoyalMail operates.
Letters/Parcel Packing: Configure the plugin to automatically determine how items should be packaged.
You can choose to:
Calculate shipping on the basis of order total weight: The plugin automatically calculates the shipping rates for chosen services based on the total weight of the products in the cart.
Pack items individually: The plugin displays shipping rates for each item separately based on its weight.
Pack into boxes with weights and dimensions: The plugin automatically classifies the package into letters, large letters, small parcels, medium parcels and large parcels based on the Royal Mail weight and size guidelines and displays these rates accordingly. 
Shipment Tracking: The tracking number returned from Royal Mail should be added to the order notes and it will be sent as part of the order completion email, which enables Shipment Tracking for customers and shop owners.
Other features
Offer all returned rates or cheapest rates to your customers.

Option to set a conversion rate if a different currency is selected apart from Pound Sterling.

Add Custom Shipment Message that will show up in the order completion email.

Provide insurance for your order.

Set a minimum order amount for your order.  Screenshots
Supported RoYAL MAIL AND PARCEL FORCE SHIPPING SERVICES
DOMESTIC SHIPPING SERVICES (Applicable for shipments originating from the UK):
Get prices for the following domestic shipping services.
UK GUARANTEED
Royal Mail Special Delivery Guaranteed by 1 pm
Royal Mail Special Delivery Guaranteed by 9 am

Royal Mail Special Delivery Guaranteed by 9am® with Saturday Guaranteed

Royal Mail Special Delivery Guaranteed by 1pm® with Saturday Guaranteed

Parcelforce Worldwide EXPRESS 9, EXPRESS 10, EXPRESS AM, EXPRESS 24
UK SIGNED 
Royal Mail Signed For™ 1st Clas

Royal Mail Signed For™ 2nd Class

Parcelforce Worldwide EXPRESS48, EXPRESS48 Large
UK STANDARD  
Royal Mail 1st Class

Royal Mail 2nd Class
INTERNATIONAL SHIPPING SERVICES
Get prices for the following international shipping services:
International Standard

International Tracked & Signed

International Tracked

International Signed

International Economy

Parcelforce Worldwide