WooCommerce allows you to ship all types of items and you can use any of the WooCommerce Shipping Plugins to do that. But certain items like alcohol carries certain restrictions based on the shipping carriers you choose.
The process isn't simple, the shipping cost is usually too pricey, and each shipment that comes out of your warehouse is constantly monitored by government officials. Following the rules prescribed by shipping carriers alone isn't enough to ship an alcoholic item out of your state. You'd be in big trouble if you don't have a valid clearance certificate.
Nevertheless, I do understand your business requires you to ship alcoholic items, and yes, there's an obvious way to do that legally. The point I'm trying to make here is you really need to be aware of the rules, conditions, and restrictions related to alcohol; and only then you should prepare your shipment(s) accordingly. There's just no other way.
Why is shipping items containing alcohol so difficult
Even if you can figure out other carriers' rules and regulations, you've got municipal, state, and country rules to follow, too. Let us tell you: they've all got different rules. Here's a little history lesson as to why shipping alcohol is so darn complicated: it dates back to Prohibition when alcohol was banned under the 18th Amendment. Luckily, fast forward a few years, and the 21st Amendment undid that awful idea—with a caveat: it gave states the power to enact their own laws regarding the production, distribution, and sale of alcohol.
Each state—and in some cases, each municipality or county—has its own regulations regarding the sale and shipment of all alcoholic beverages. Perhaps that's why the carriers willing to schlep alcohol from state to state—and from abroad back into the U.S. — don't accept alcohol shipments from consumers.
That's right: don't even think about heading to your closest FedEx or a UPS with a bottle of wine or a specialty spirit unless you carry a proper license to manufacture, sell, distribute, or otherwise import alcohol. (And if you do, you probably wouldn't be reading this article anyway.) FedEx's alcohol shipping policies can be read here, while UPS's alcohol regulations—much the same as FedEx's — can be found here (though the latter is broadening its scope a bit).
Some of those universal rules?
You must advise the carrier your package contains alcohol
A surcharge will be applied to the shipment
An adult must sign for it
However, there's a lot more you can do than brush up on these carriers' policies to get alcohol from Point A to Point B. (And no, we're not talking about sneaking it.) Our experts are here to give you tips on getting alcohol from state to state and overseas.
Shipping Alcohol within the State
On the surface, this seems like the easiest shipping method. Without crossing state lines, after all, you won't have to worry about another state putting a stranglehold on your spirits. But there are still local laws to contend with, warns Seth Weinberg, food law and policy professor at Columbia Law School. But luckily, because you will have to ship directly from the retailer or distributor, "local merchants are expected to know their own rules, and can serve as a great source of quick answers when you are considering buying a gift for someone," Weinberg says.
For example, some states may prohibit the shipment of more than one bottle at a time, or how many bottles of alcohol can be shipped to a person each year, says Mahesh Lekkala, owner of New York- and New Jersey-based Wine Legend. A good retailer will know these rules. When you're sending something closer to home, you have one more shipping option: use alcohol e-commerce sites, such as Drizly or Minibar, for example, to mail your friend a congratulatory bottle of wine or a thank-you six-pack of beer by taking advantage of their in-town delivery options, some free.
Shipping Alcohol to Another State
When your booze crosses state borders, "you need to consider the laws for both the shipping state and the receiving state," says Weinberg.
So, for example, if you'd like to send a bottle of wine from a visit along Pennsylvania's wine trail to a relative in Mississippi, don't waste your time or your money. While it's perfectly legal to mail wine from this northern state, it's also perfectly illegal to receive wine shipments in Mississippi.
In other words, Mississippi is not a reciprocal state, a state in which you can receive alcohol shipments from other states or countries, explains Lekkala. You can read more about reciprocal states and other out-of-state shipment rules here.
Of course, there's an easy way around these convoluted laws, too. Most—though not all—alcohol that can be purchased in one state can be found somewhere in another, so if you're dying to ship your brother a new brew, hit the web first to see if you can find a retailer in his state that carries the beverage, recommends Lekkala. It will be much easier to provide a credit card number over the phone than try to send that brew between states. "Even state-controlled stores realize they're losing business to other states and improving the range of inventories they're carrying," Lekkala says.
Shipping Alcohol Internationally
You've fallen in love with a Bordeaux produced at a small French vineyard, and you can't imagine life without this fruity concoction. Unluckily for you, however, "once you're changing countries, [shipping alcohol] gets exponentially more difficult," says Weinberg.
First, Weinberg advises, you will have to "make sure the product can be legally shipped into the destination without a permit." You can check this guide to see your state's individual regulations. If you don't, your "product could be seized, quarantined, or destroyed," warns Weinberg. And no one wants that, do they?
Shipping out of the U.S. into another country will require you to brush up on state and federal export rules and the import rules of whichever country you're sending it to (and possibly to be licensed accordingly). Good luck. Once again, it's probably best to go through a retailer or distributor.
Weinberg also recommends that you confirm with the retailer or distributor if any taxes or duties need to be paid on the product you intend to ship. If so, they should be able to advise you on how to pay them, and how much they will cost you.
Lastly, "purchase from a reputable dealer who knows the ins and outs of laws, and ideally has experience shipping to your destination of choice," Weinberg advises. In short, as much as you might like to personally pick up, wrap and send a bottle of booze as a gift, this is one task better left to professionals.
FedEx Shipping
FedEx ships more than 10 million packages every day. This makes FedEx one of the most successful shipping companies in the world. Both consumers and business owners use the various FedEx services in order to ship their parcels. Items like clothing materials, toys, books, and electronic products can be easily shipped with almost no restrictions.
While FedEx allows people to ship most items there are some items that need special permissions. In order to ship alcohol items, store owners need to follow the guidelines provided by FedEx. They have to satisfy the requirements and forms for items such as spirits, wine, and other alcoholic items.
Follow these basic guidelines to ship alcohol
The foremost step to shipping an alcohol item is the check whether you satisfy the requirements for the shipping permit. Depending on your state you may need the approval of the local board.
1. Get a permit from your local state board
The first step is to check whether you qualify for the license or not. For example, you need to be more than 21 years old to ship alcohol. Again, these rules will depend on the local state board. Now that you are qualified to ship alcohol, you have to decide the type of alcohol you will ship. Following is a small list of alcohol license types:
Restaurant Retail Liquor
Club Liquor—Classes I and II
Retail Beer (on or off premises)
Liquor Wholesale
Wholesale Beer
After selecting the type of alcohol you have to contact an executive from the alcohol board and then apply for the license. They will guide you through the entire process and help you get the final license.
2. Sign the FedEx agreement to ship alcohol
Now that you can legally ship alcohol, you just have to agree to the terms and conditions laid out by FedEx. You will need a valid FedEx account number before you can further proceed. If you don't have a FedEx account then kindly follow this link. After that, you have to provide FedEx with a copy of the alcohol license from a state or local licensing board.
Note: FedEx does not allow consumers to ship alcohol. Alcohol can only be shipped from a licensee to another licensee. So, both the shipper and recipient should be either licensed wholesalers, licensed dealers, licensed distributors, licensed manufacturers or licensed importers.However, you may be allowed to ship wine and some other type of alcoholic items directly to the customers.
After getting the copy from the board you have to complete the FedEx Alcohol Shipping agreement. This agreement can be obtained by contacting your FedEx account executive. He or she will help you complete the authorization process. Moreover, a new FedEx Alcohol Shipping agreement will be required to be completed for each shipment containing an alcohol item.
3. Pack the Shipments Correctly
After signing the FedEx agreement, you should pack your alcohol shipment using FedEx-approved materials. They recommend you use molded polystyrene for the alcohol or wine items. FedEx will also allow alcohol shipments packed with pulp dividers and die-cut corrugated units. You can pack the outside of the box with heavy corrugated cardboard.
FedEx Alcohol Shipping for your WooCommerce store
The WooCommerce FedEx Shipping Plugin is the complete solution for all your shipping needs. By using this shipping plugin shop owners can easily ship alcohol items to their customers.
Choose recipient type at the product level
Store owners can either choose to ship alcoholic beverages to the licensee or any customer. Under the Shipping section of the Edit Product page, you have the option to choose the recipient type. You can choose from two options – CONSUMER and LICENSEE. Refer to the following image for the same: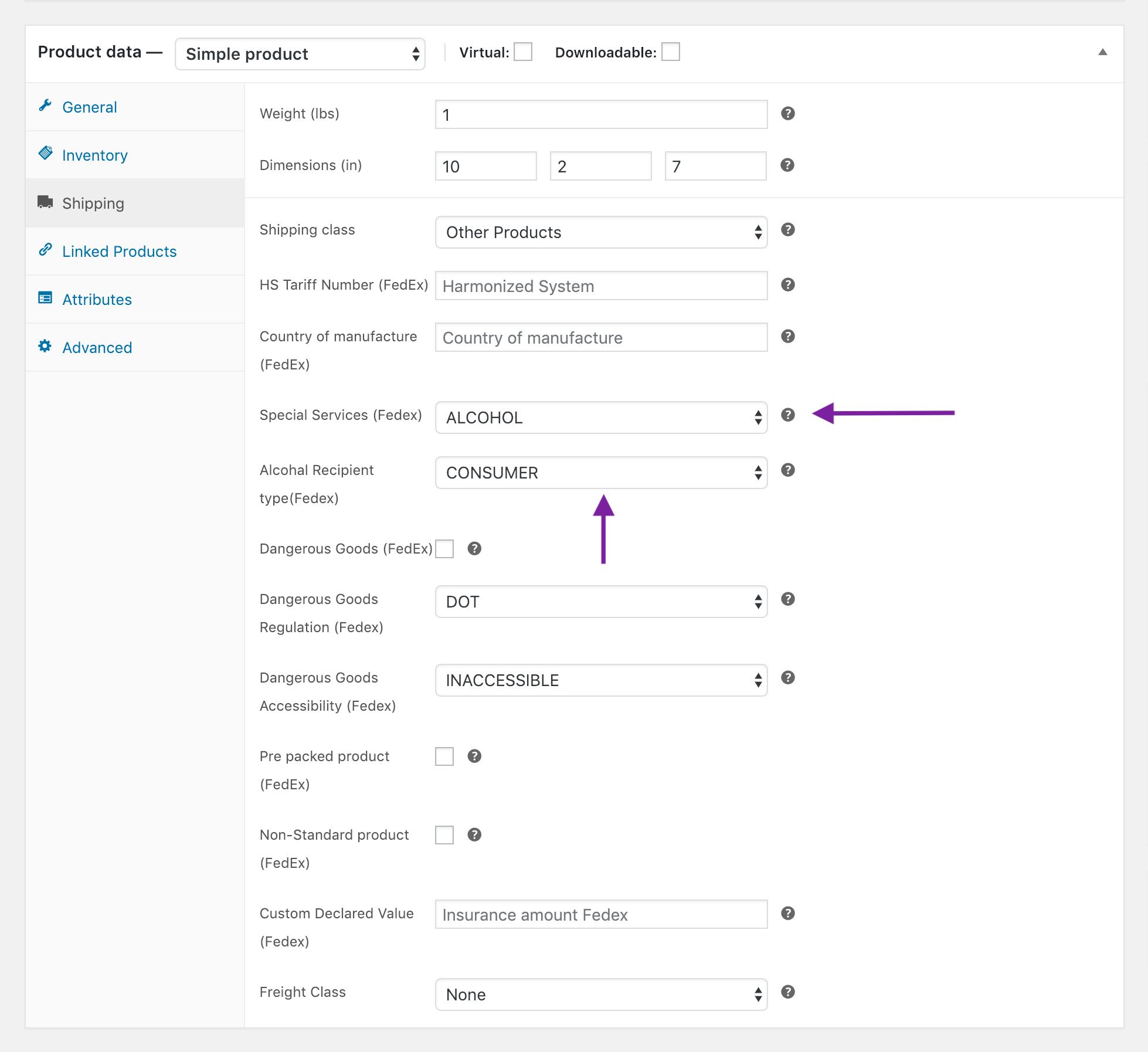 You need to choose the Delivery Signature as Adult in the FedEx plugin settings page. This is required for the final delivery of the package. By following this simple rule the parcel will not go into the hands of someone who is not over 21. Moreover, FedEx will need proper identification and the signature of the receiver. You can refer to the following article to know more about how to ship with FedEx.
Print FedEx shipping labels
After you have chosen the Delivery Signature as Adult, you need to further define the create the shipment and print the shipping labels for the same. Please refer to the following video for the same.
---
---
In the video shown above, you can see that the shipping label clearly signifies that the parcel contains alcohol products. In the label, the term ASR corresponds to Adult Signature Required. This way FedEx can easily figure out the package. You can check out the following sample label generated by the plugin.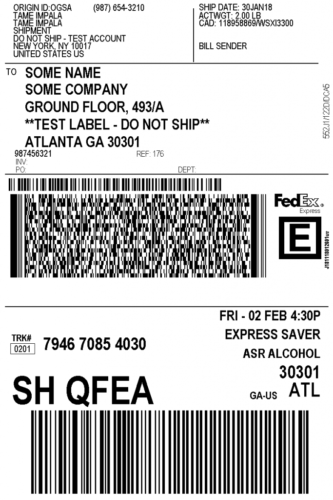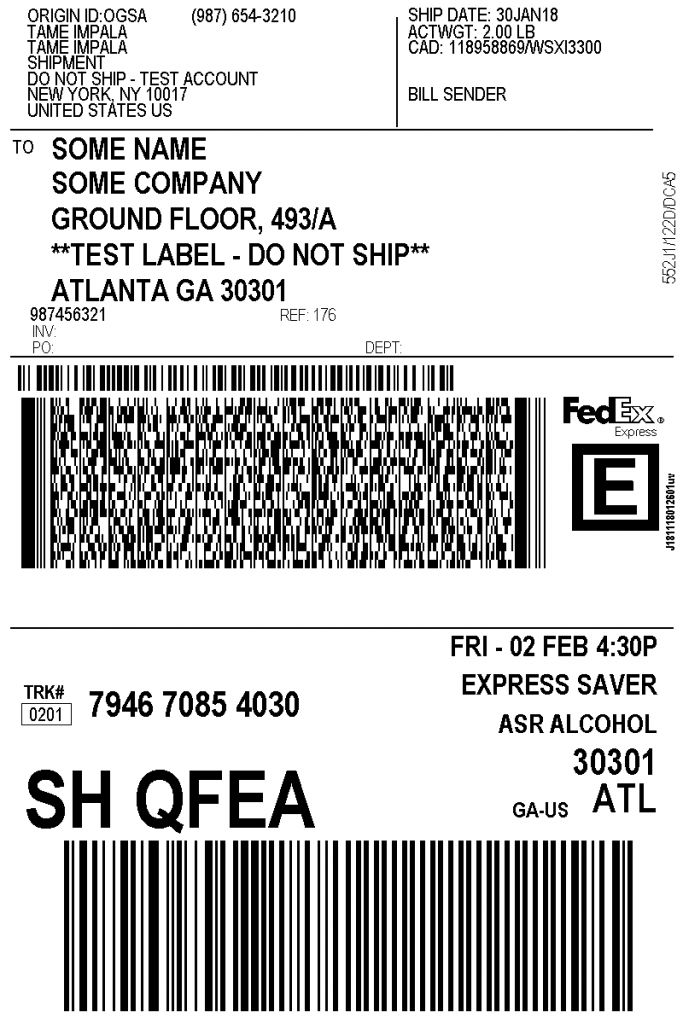 UPS Shipping
Well, the process here is the same as that of FedEx, here are a few specific requirements by UPS.
UPS account number
You must have an account with UPS.
Alcohol shipping agreement
UPS allows for the shipment of wine, beer, and other alcoholic beverages on a per-contract basis.
Alcohol shipping license
All shippers of alcohol must be licensed and authorized to ship according to the applicable federal or state laws and regulations of the origin and destination states.
Destination Restrictions
UPS does not accept shipments of beer or alcohol for delivery to consumers. UPS accepts shipments of beer or alcohol only among and between selected states.
The ability to ship wine depends upon the nature of the shipper's license to sell wine and the laws of the destination states. Learn more.
Proper parcel packing method
Inner packaging of molded Expanded Polystyrene (EPS) foam, folded corrugated tray, or molded fiber tray.
Each packaging component secures the bottles into the center of the shipping container away from the side walls of the shipper.
Use sturdy outer corrugated containers.
Clear shipping labels
UPS requires a special label signifying that the package contains alcohol. These can be obtained from UPS.  In addition, another labelling may be required by the origin or destination state.
Documented shipment
You must create your shipping label with a UPS Compatible Shipping Solution such as WorldShip or any approved third-party vendor system, such as the WooCommerce UPS shipping plugin from PluginHive.
Adult signature
An adult signature is required for the final delivery of the package. It cannot be dropped off at an address unless someone over 21, with proper identification, signs for it. For all requirements, read UPS' guide to shipping alcohol with UPS.
USPS Shipping
USPS does not allow for the mailing or shipment of alcohol, domestically or internationally.
On top of this, if you are using packaging that was once used to carry alcohol, any and all labeling or branding that shows it could carry alcohol should be covered or else your package can be denied shipment.
Final thoughts
Since there are a lot of restrictions surrounding the shipment of alcohol, you can still manage to send via FedEx or UPS. You just need to follow all guidelines and make sure that the package is secured. When it comes to printing the shipping labels, the WooCommerce FedEx and WooCommerce UPS shipping plugins seem to simplify the process. Meanwhile, store owners can also make use of other features such as shipping labels, showing estimated delivery dates to the customers, shipment tracking, and much more.
---
If you have any queries regarding this article or the integration of the WooCommerce FedEx Shipping plugin with your WooCommerce then feel free to share your views in the comment section below. We will be more than happy to help you understand how this plugin can work together in fulfilling your shipping requirements. Or in case you are wondering what more the WooCommerce FedEx Shipping plugin serve, I would request you to kindly check out the WooCommerce FedEx Shipping Plugin. If you need assistance regarding our plugins, you can also contact our support team. We are always happy to help.

Happy Selling!