In 2018 alone, the United States Postal Service (USPS) was responsible for delivering more than 145 million Mails within the United States. The number is predicted to increase dramatically by the end of 2019. No other shipping carrier (not even Amazon) has managed to come even close to that number. It's highly evident that USPS completely rules in the United States.
So how do they manage to score so well you ask? Well, they offer these flat rate envelopes and boxes that are highly economical. It helps WooCommerce-based online reduce the shipping rates by a huge margin, which eventually improves the shoppers' buying experience.
The problem
We all know any shipping or delivery system can be a significant challenge for business owners. They need to pay for the shipping charges, other carrier-related fees, packing materials, staffs and much more in order to deliver a package. Not just that, they need to do all that within a limited time-frame which is obviously difficult.
When you consider meeting the industry norms, quick and economical deliveries is usually on the top of the list with the highest priority. Customers who purchase and pay a product online expect their shopping experience to be seamless and get getting the free and fast delivery option, all at the same time. The increase in demand for premium online shopping has been probably triggered by the rise of excellent shipping provided by giants like UPS, FedEx, and even Amazon delivery.
The solution
Fortunately, the USPS has been a pioneer in flat rate shipping services. The postal service's first flat-rate offering began in February 1991 when the Priority Mail flat-rate envelope was introduced. More than a decade later on November 20, 2004, the USPS released the first Priority Mail flat rate box. Today, USPS flat rate services address many eCommerce delivery problems and costs.
There have been multiple new developments in eCommerce, especially in the field of shipping. There are many different WooCommerce solutions like the WooCommerce Multi-Carrier Shipping plugin. You can simply download and install it on your WordPress and set up a cheap and effectively fast USPS delivery system. We'll discuss more on this later in the article.
For now, let's begin with the advantages of using USPS Flat Rate shipping on your online store and how the Multi-Carrier Shipping plugin can help you save a ton of money.
Advantages of using USPS Flat Rate Shipping
Among the various carriers available to North American online merchants, the USPS offers some of the most attractive options, especially with its aforementioned flat rate and prepaid flat rate boxes and envelopes. Here are eight reasons to consider these services.
Free Boxes and Envelopes
USPS flat rate boxes are free. Merchants can simply order them at no cost and start shipping. Merchants will still need to purchase packing peanuts or similar cushioning material, but not having to pay as much as $1 per box can be huge savings.
Familiar Costs
Although shipping calculators are accurate, there are times when the actual shipping cost for a package exceeds what the merchant expected. Flat rate boxes have a known cost—no surprises there.
Priority delivery
The USPS flat rate boxes are Priority Mail, meaning that a package will normally be delivered in two or three days. Priority Mail packages also get special handling in the USPS system.
eCommerce software integration
Like I said before, there have been many new developments like the WooCommerce Multi-Carrier Shipping plugin for WooCommerce users, and StorePep (a SaaS-based eCommerce shipping solution) for WooCommerce, Shopify, and Magento users. StorePep can really push your business to its limits and I recommend you check it out if you want a premium shipping experience (sign up is pretty quick).
No surcharges
When you compare the situation with UPS or FedEx, the situation with the USPS is really good. USPS does not add fuel, residential, or Saturday delivery surcharges to any shipment. UPS, for example, will cost you approximately $3 more for the same shipment (less than 2 Lbs) and address.
More addresses
The USPS delivers to every U.S. address, including post office boxes and government addresses like APO (Army/Air Force Post Office), FPO (Fleet Post Office, for Navy), and DPO (Diplomatic Post Office, for U.S. embassies). Other U.S. carriers can only reach these addresses when the postal service delivers that last mile.
Security
Only the USPS is authorized to place packages in mailboxes. Plus, unlike some carriers that simply leave packages on the porch, the USPS will try to re-deliver large packages in some cases. Not abandoning packages may help prevent purchase fraud or theft.
Law enforcement protection
Flat rate USPS shipments are protected by U.S. federal law enforcement, which, again, may contribute to less fraud and theft. Which means your packages will be protected at all times.
USPS Flat Rate Shipping Prices
The USPS offers several flat rate shipping options, including a variety of envelopes and boxes. Each flat rate envelope or box includes three pricing tiers. The "at the post office" rate is what a very low volume shipper would pay. Nearly any eCommerce business would be able to obtain the "commercial base" rate, and high volume eCommerce shippers would enjoy the "commercial plus" rates. I collected the rates shown below on May 20, 2018, from the USPS's rate sheets available under the downloads tab on the USPS pricing page.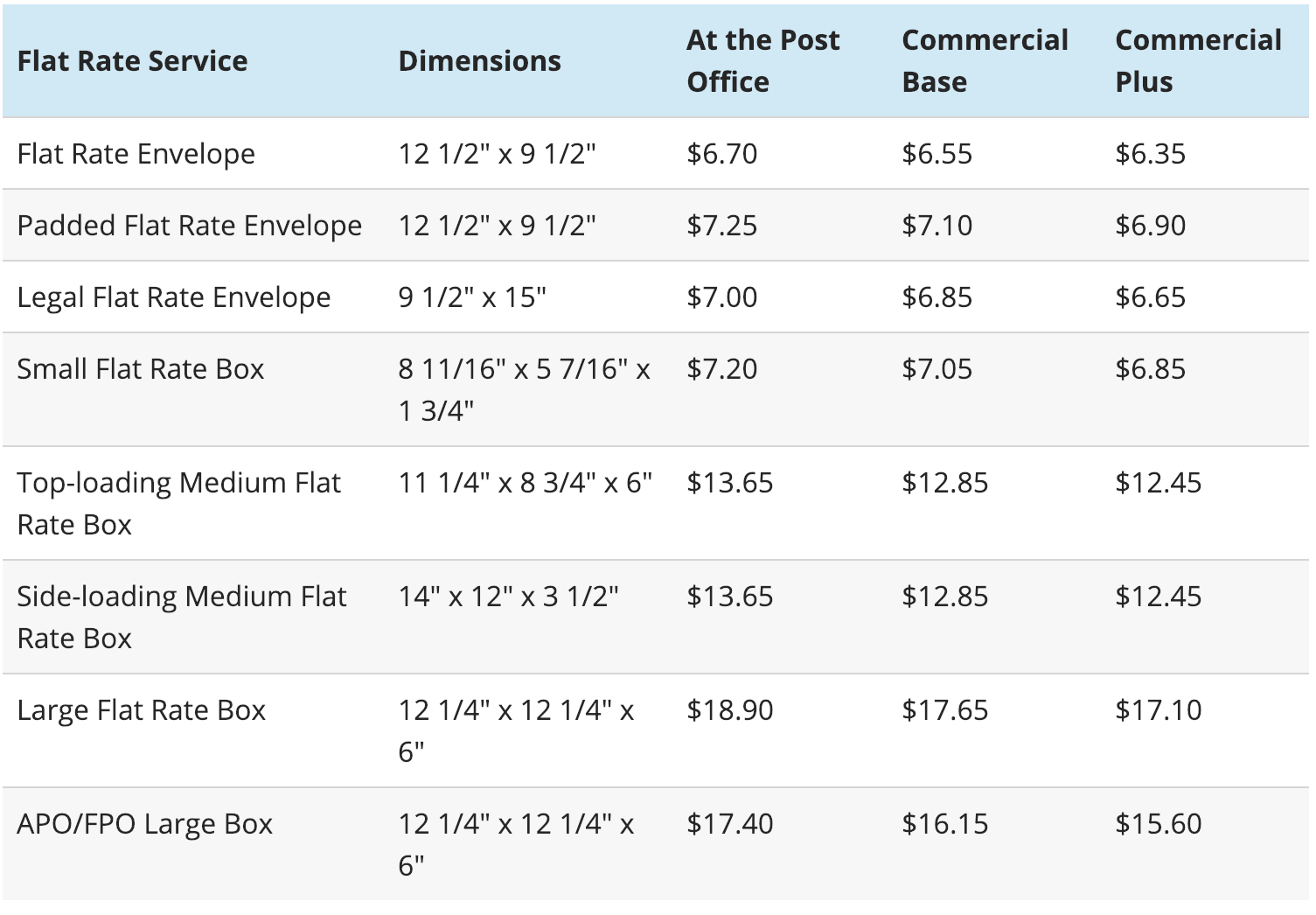 USPS Rates vs. Other Carrier Rates
FedEx and UPS offer better deals when shipping items less than 2 Lbs. And above 2 lbs, the USPS medium flat rate box is slightly cheaper than FedEx or UPS Ground. The break-even point compared to FedEx and UPS for a large Priority Mail flat rate box is about 5 lbs. And if you need a large flat rate Priority Mail box, make sure it's heavier than 5 lbs. Otherwise, FedEx or UPS Ground will always be cheaper.
Now let's sum it all up.
If the package weight is more than 2 Lbs, use the USPS Flat Rate Medium box.
Or if the package weight is more than 5 Lbs, use USPS Flat Rate Large box.
Otherwise, FedEx and UPS will give you the cheapest shipping options.
For the sake of understanding, let's take an example of the following product that weighs 1 Lb.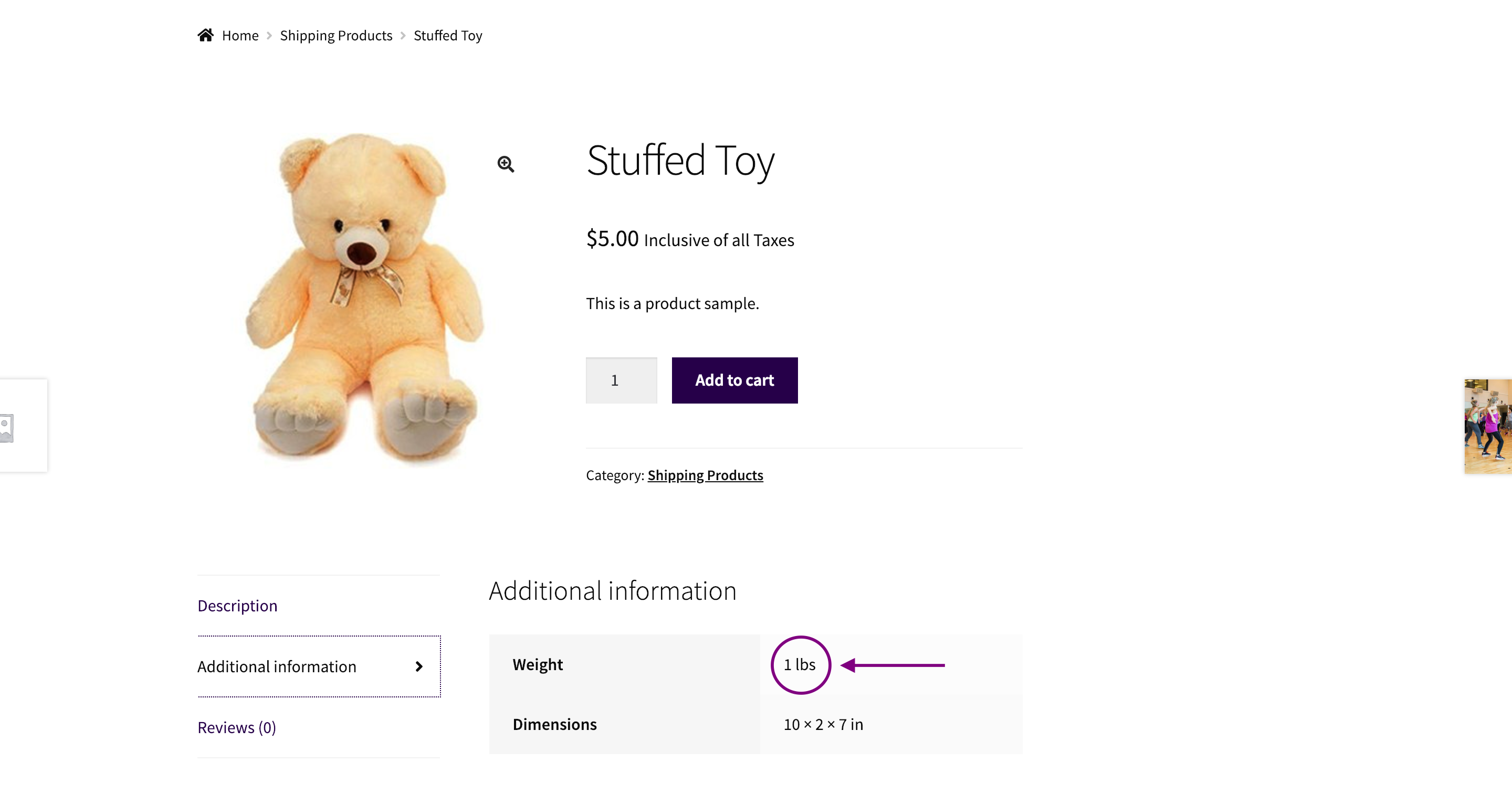 With the help of the Rule Table in the plugin settings, you can set the below rules. If you look carefully, we have selected USPS Small, Medium, and Large Flat Rate Boxes as the USPS services. And we have also selected the FedEx Ground and UPS Ground services.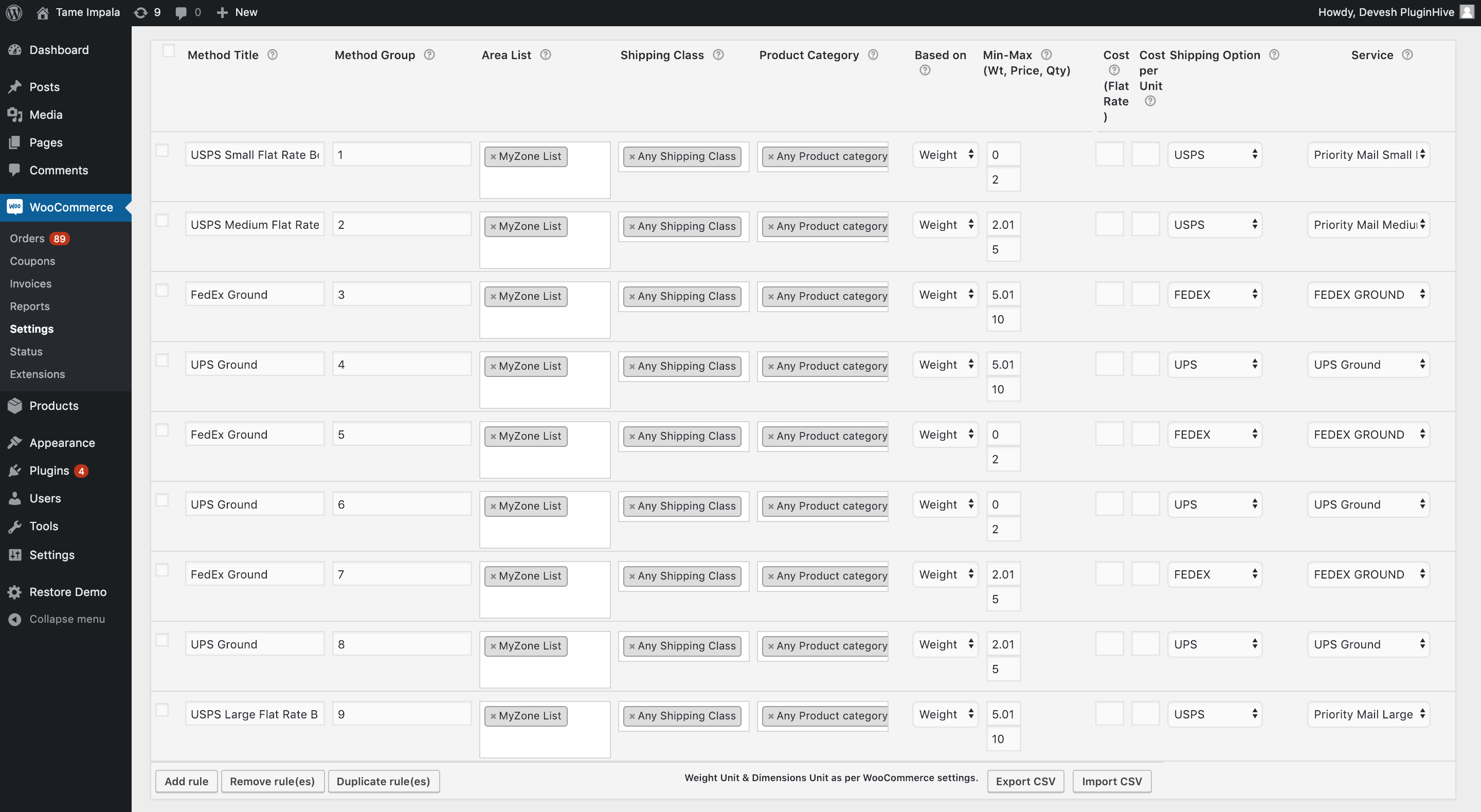 Here are the necessary rules that are required in order to find the cheapest shipping option among the three shipping services. Check it out:
0-2 Lbs—USPS Small Flat Rate Box should be the cheapest option
2-5 Lbs—USPS Medium Flat Rate Box should be the cheapest option
5-10 Lbs—FedEx and UPS service should provide cheaper deals!
Note: Since we just have the "Stuffed Toy" as an example which weighs 1 Lb, we are going to increase the quantity in order to creep into the above weight brackets.
0-2 Lbs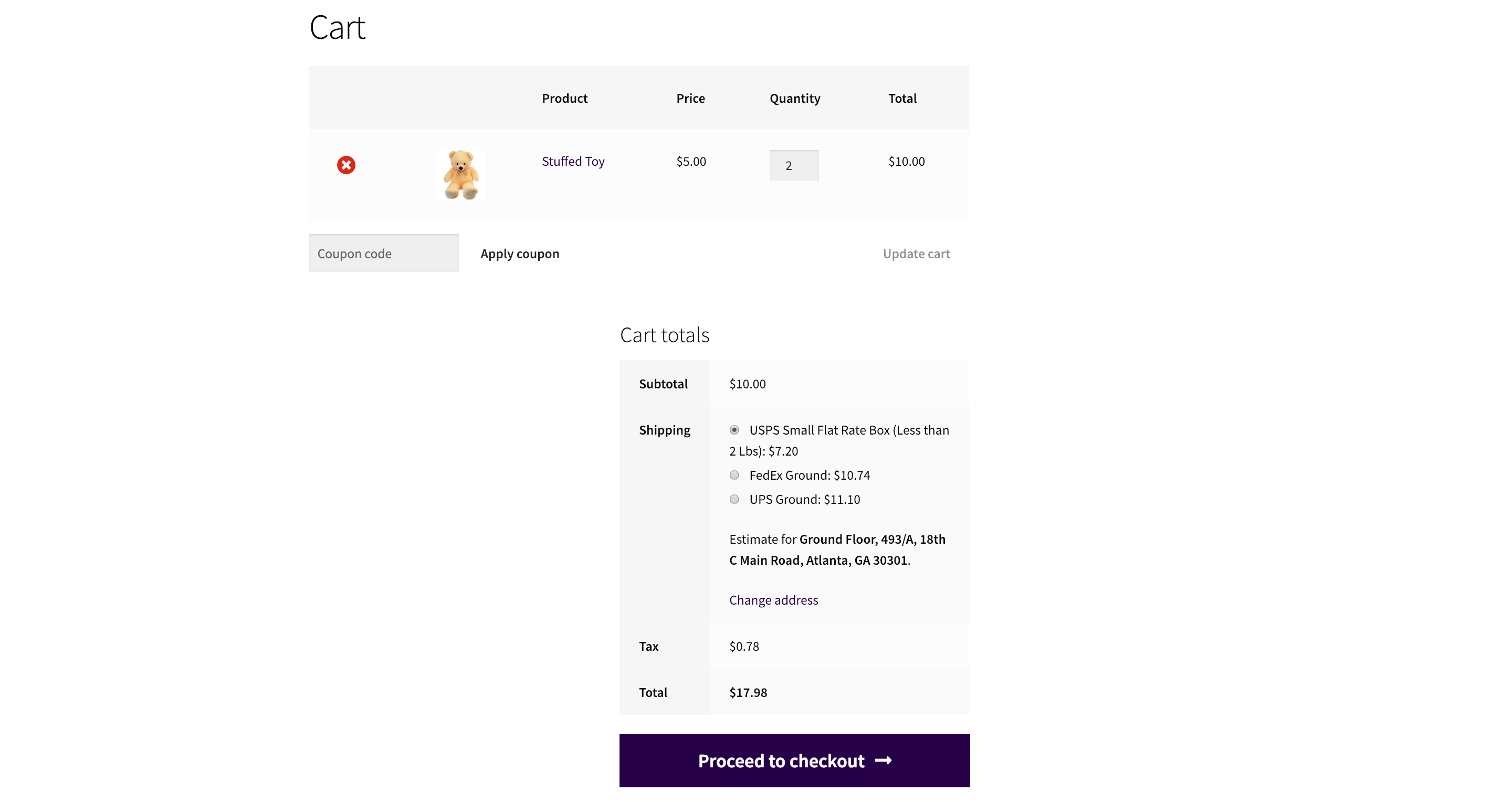 2-5 Lbs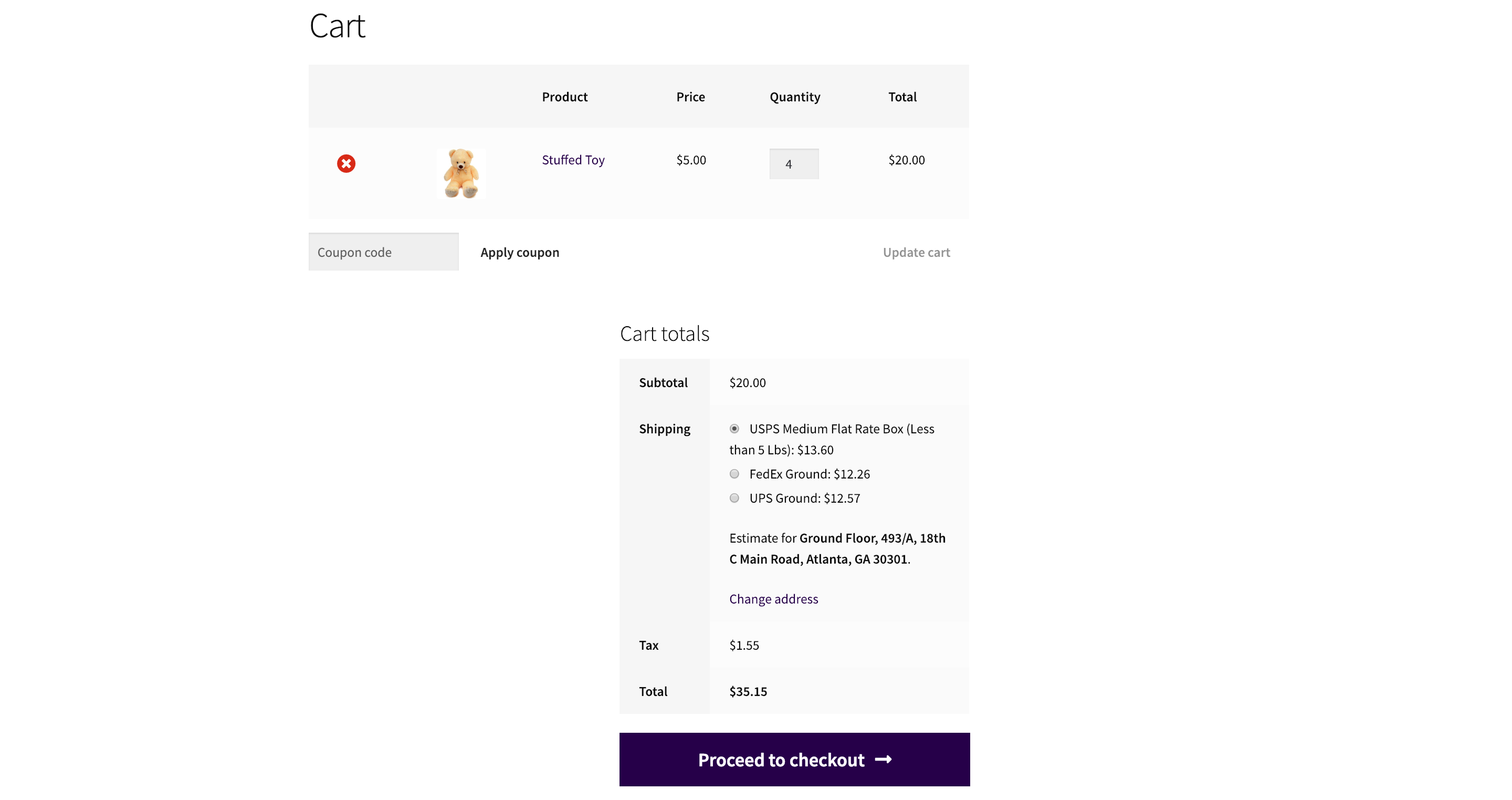 5-10 Lbs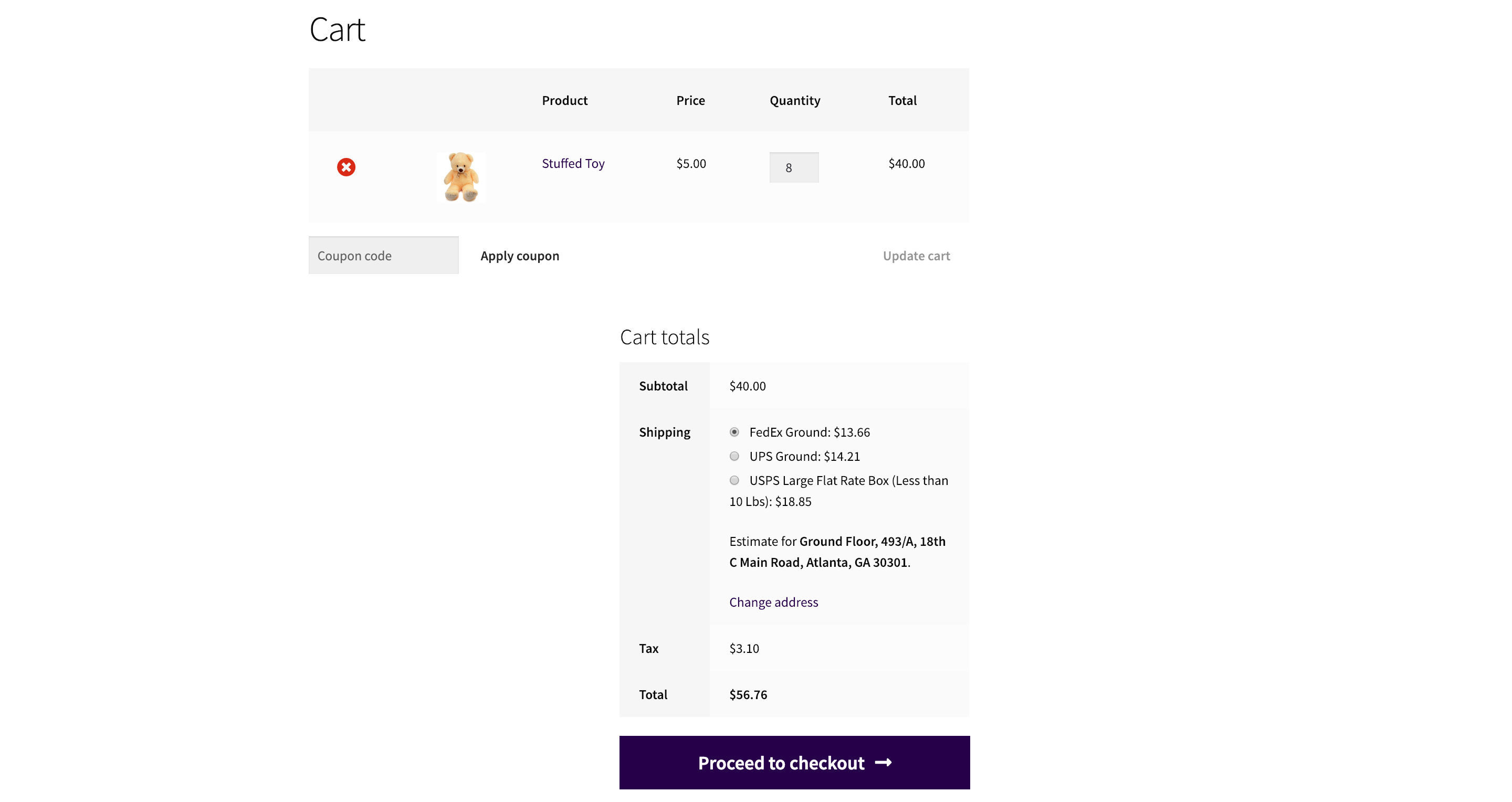 It's not like the three shipping services will always appear on the Cart page. You can remove the rules that you don't need and essentially show the ones you want to.
With the USPS flat rate boxes, "if it fits, it ships" (up to 70 pounds), making the service especially good for dense, heavy products that are also relatively small in size. Below are several price comparisons, looking at USPS flat rate shipping versus published United Parcel Service and FedEx retail rates.
USPS Small Flat Rate Boxes vs. Ground Shipping
In this first comparison, I looked at shipping rates for 1, 3, and 5-pound packages that fit in the 8 11/16 inch by 5 7/16 inch by 1 3/4 inch small flat rate box versus a similar-sized package shipped via UPS Ground or FedEx Home Delivery.
In the examples, the packages are all shipped from Caldwell, Idaho, ZIP code 83607. The destinations, representing several shipping zones, are New York, Chicago, Dallas, San Diego, and Las Vegas. The UPS and FedEx rates are based on delivery to a residential address. The USPS rates are for the commercial base tier. The FedEx rates do not include dimensional weight.
Finally, it is worth mentioning that while it is not shown on this table, the USPS supplies flat rate boxes free of charge. I merchant would need to pay about $1 per order or more to purchase a shipping box for UPS or FedEx.
For small packages, USPS flat rate boxes are difficult to beat, especially when a business is shipping across several zones. In many cases, it was half the cost to ship via a USPS flat rate box. The potential savings held true whether one compares USPS flat rate boxes to UPS Ground or FedEx Home Delivery.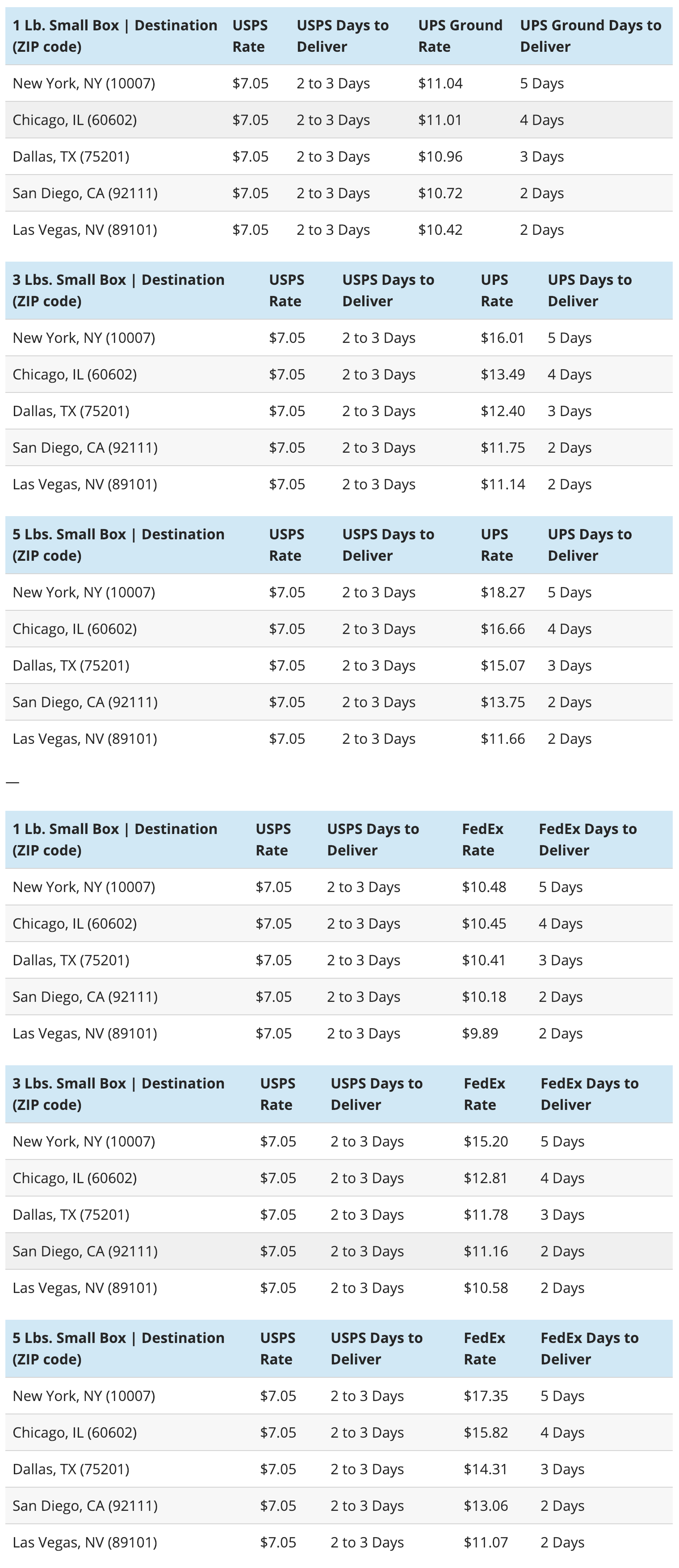 USPS Large Flat Rate Boxes vs. Ground Shipping
In this next set of price comparisons, I looked at shipping a 5, 10, and 15-pound package in a USPS large flat rate box versus shipping a similar package via UPS Ground or FedEx Home Delivery.
In these examples, there are many times when shipping a 5-pound box via UPS and FedEx Home was less expensive than the USPS, especially across a couple of zones. As the number of zones and the weight increases, however, USPS flat rate shipping becomes a very competitive option. At 15 pounds, an online shipper might save 50 percent. I used the same ZIP codes as above, aimed at residential deliveries.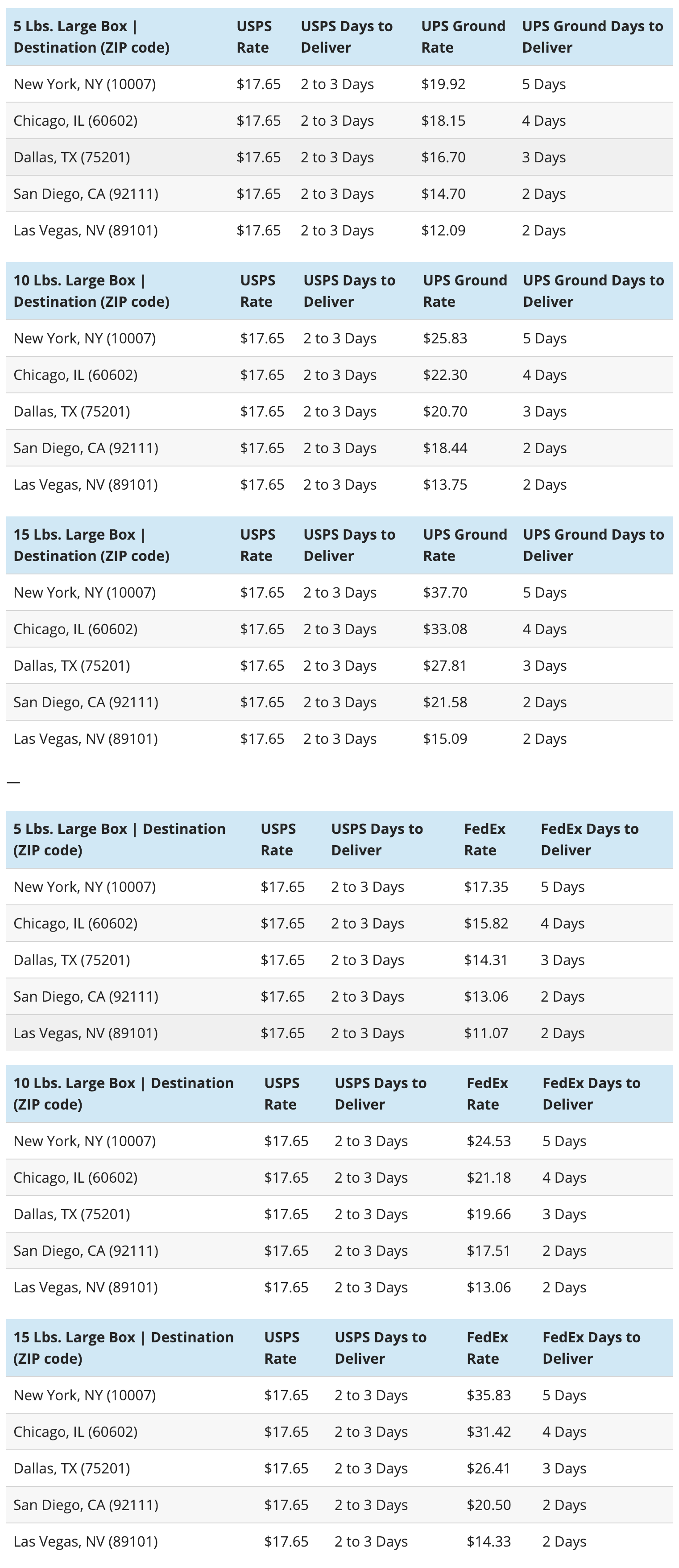 USPS Flat Rate vs. other Flat Rate Shipping
Although the USPS is the first carrier to offer flat rate shipping, it is not the only option. For example, FedEx has its One Rate service.
The table below compares three popular box sizes for FedEx and the USPS. The FedEx One Rate is really three rates. There is a local rate, which is within 150 miles of the shipper's location. There is a regional rate for shipments between 151 and 600 miles. And the national rate is for shipments traveling more than 600 miles.
Conclusion
In a competitive market where the trend is to offer free shipping to every customer regardless of order size, using USPS flat rate boxes can help merchants preserve margins. USPS flat rate boxes typically ship faster than ground shipping, potentially improving the shopper's experience.
I hope this article would have helped you in some way. Do let me know in the comments below how you feel about it. You can contact our customers support if you need any help setting up shipping on your WooCommerce. They should help you out.
Happy selling!