In this article, we will check out WooCommerce Table Rate Shipping Pro – one of the most advanced and flexible WooCommerce shipping calculator plugin. We will discuss the advantages as well as some limitations of this plugin and how you can make the best use of this plugin to streamline your shipping process.
An Overview
When it comes to shipping solutions, a shop-owner demands two things. Reliability and flexibility. A complete shipping solution should not be just apt for a store owner's current shipping needs. Instead, it must have the ability to adapt to any change in the way shipments are carried out. With WooCommerce Table Rate Shipping Pro, a store owner not only gets a great plugin which provides accurate rates for every shipment but also a plugin that can be easily modified based on preference and shipping needs.
The idea of Table Rates Shipping Pro's flexibility can be taken from its vast functionality. So far the plugin is easily able to achieve some of the most difficult business scenarios. These are the scenarios where the store owner needed specific shipping rates to be applied based on the following factors,
Total Weight and Per Unit Weight :
Configuring shipping rates based on the weight of the shipment. In some cases, every additional item needs to be charged with a fixed amount. For example, charging $5 for rice up to 2 kg. After that, an additional $1 is charged for items per kg.
Total Items in Cart and Per Unit Item in the Cart
Items such as phones are priced like this. The shop-owner can price his items like $2000 for 5 phones. For every additional phone, a fixed $300 is charged.
Specific Locations (Domestic or International)
Businesses like to charge for both domestic and international shipping. For example, John runs a toy shop and charges normal rates as per item quantity for domestic shipments. However, for international shipments, he would like to charge an additional $30 for every shipment.
Shipping prices can be configured based on the total pricing of goods instead of factors like weight and item quantity. This is also very much possible using the plugin.
These are complex cases where a shop owner wants to define a specific rate for some group of products and another rate for other groups of products. In this article, we have explained a sample case on how the plugin fulfills such criteria.
So with all these options for store owners to configure shipping charges, Table Rates Shipping Pro can satisfy virtually any business case. In the process of fulfilling these cases, we come across the chief advantages of the plugin over its competitors :
Advantages of Table Rate Shipping Pro:
The plugin has distinctive usage advantages over its competitors that give it an intuitive experience. Most of the advantages are highlighted below :
The Text panel for every rule :
This is, by far, the most important feature that makes the experience really smooth for the shop owner. As he keeps on creating shipping rules for his complex business scenarios, a text appears after each rule conveying the business sense of it. This makes it very simple for the person to understand and correct it then and there if any mistakes are found. For example, in the below screenshot, we can clearly see the text telling that a price of $10 is configured for items weighing in between 0 to 10 lbs. Moreover, if the weight exceeds 10 lbs, then an additional price of $2 is levied per lbs. That is cool. Isn't it?
We have the fastest support around exceeding industry standards. Moreover, any request to help the customer with his configuration is always entertained. The customer just needs to provide his business case and share with us a CSV which contains his table rates. Our team creates a test sample ready to be used for shipping which can be easily replicated by the customer. Hence the configuration of rules is a simple step that may not take time.
Handling humungous data(Import/Export) :
Fewer plugins can vouch for stability when it comes to handling thousands of rows of data. Our plugin can handle large amounts of rows without any problems. In fact, our team has devised a standard practice to deal with such requirements. Using the Import-Export feature of the plugin, it becomes very easy to import thousands of rules at the click of a button. The ideal way to use this is first frame 4-5 rules in shipping pro. Test them whether they are working. Once you are convinced that they are working, click on Export CSV. Take that CSV and add in more rules using excel or any other tool. After that, import the CSV. This allows you to do your shipping properly.
Since we know the advantages now, let us see how it solves one of the most common issues that WooCommerce store owners have ever discussed with us.
Multiple categories of products (A Business Case)
In the past, many of our customers have pointed out the need for classifying their products into categories. This not only makes it easier to track the inventory but it also helps customers find similar options within a category. But even the great the idea of product classification has some loopholes.
Mark, the owner of an online bathroom store based in the UK, pointed out the following issue. According to Mark,
As I sell many products in my store, sometimes it becomes very tedious to manage them. Being easy to manage, we decided to play with the idea of defining categories of products. In the beginning it seemed a great idea, until the products of different categories started coming together in the cart. Since we have separate shipping charges for each category we have no idea how this can work out.
Ideally what I want is a way to offer customers a combined shipping rate which should be calculated by adding the shipping cost of all the category of products in the cart.
But is there any way this can be achieved?
Well yes..! It can be easily achieved with the help of WooCommerce Table Rate Shipping Pro. Let's see how.
PluginHive's solution- WooCommerce Table Rate Shipping Pro
As a solution to Mark's issues, we tried to work on some of his products and product categories. Mark has three shipping classes defined for taps based on the material used.
Metallic
Plastic
Porcelain
Since Mark only provided bulk purchases, he had a shipping cost specified for each shipping class for taps based on quantity. The rate chart is given below:
---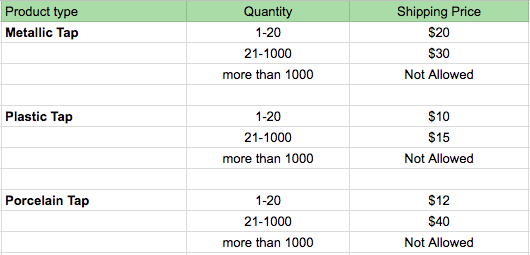 ---
Since the rates are specified, these can be easily configured in Table Rate Shipping Pro. The image below clearly shows the shipping rates specified for each shipping class based on the quantity.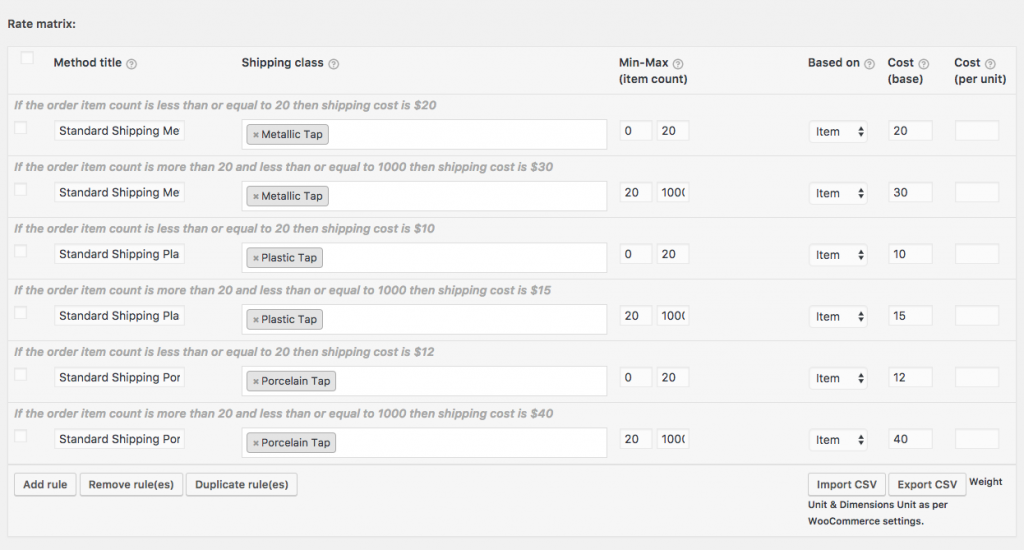 Now since Mark wants the shipping cost to be calculated based on the number of products in each shipping class, the following option must be selected to calculate the total shipping cost.

Before checking for multiple products let us see whether the shipping rates are shown accurately. The image below shows the shipping rate for 10 units of Metallic Taps.
Now let us see how the shipping charges are displayed on the cart page once a customer selects the taps from multiple shipping classes. The image below shows the shipping cost when a customer adds both Metallic Tap and Porcelain Tap to the cart.
As shown above, the shipping rates returned is the combined shipping cost for both the shipping classes. Based on the shipping rules highlighted in the image below, the shipping rates for both the products are added and displayed to the customers.
---
The above example clearly shows that WooCommerce Table Rate Shipping Pro is nothing less than a pro when it comes to defining shipping rates based on the preference of store owner. No matter the business case, Table Rate Shipping Pro is currently a very powerful solution in terms of reliability and flexibility.
However, as any other solution would have, even this plugin has some limitations which need a special mention:
Limitations of Table Rate Shipping Pro :
Configuring rates of shipping carriers like FedEx :
Large shipping carriers like FedEx maintain a pricing chart for every country. So if the shipper country is "United States", then FedEx will have a pricing chart with shipping rates to all other zones. Configuring such a scenario is possible but it would turn out quite complex for the likes of Shipping Pro. Hence, in such cases, a better solution would be to fetch the rates from API using a solution like WooCommerce FedEx shipping plugin.
Does not take dimension into consideration :
This plugin, unfortunately, does not take into account the dimensions of the product for calculation of shipping rates. This can be a limitation for certain businesses which require volumetric weight-based rates.
All in all, Table Rate shipping pro plugin is a definite value for your hard earned money and can be bought for its power pact features which make complex shipping appear simple. Check out more about WooCommerce Table Rates Shipping Pro.