UPS probably comes at the top when you talk about the best shipping carriers in the world. The way they handle the packages and deliver them on time is simply amazing. And if you have heavy products, their world-class UPS Freight shipping services will successfully deliver them to your customers—with no exception whatsoever. UPS has now decided to entertain its users with the popular UPS Saturday Delivery. It is really something! The addition of the UPS Saturday Delivery service is a huge step up compared to its existing services—especially for small and mid-sized businesses. You can really stretch your business, generate more revenue, and basically cover more ground with the Saturday Delivery coming into action. The good news is, since UPS promises to maintain their overall quality standards, your packages remain secure and you don't have to worry about any late deliveries, unlike USPS.WooCommerce UPS Shipping plugin with Print Label is a through-and-out plugin. You can use this plugin with confidence and ease, as it helps you set up the UPS Saturday Delivery for your online store. In this article, I am going to talk about everything related to UPS Saturday Delivery, how exactly it is going to help your business, and how to set it up on your WooCommerce-based online store.
---
What is UPS Saturday Delivery?
UPS is among the world's top logistics companies. The unmatched quality of service makes it the best choice for delivering products around the globe. UPS supports both domestic as well as international shipping. With UPS Saturday Delivery, you can basically deliver packages to your customers even on a Saturday. And UPS can provide this service to you only if require it. Similar to other shipping carriers, say FedEx, UPS also provides Saturday delivery for some of the shipping services—
UPS Next Day Air Early
UPS Next Day Air
UPS 2nd Day Air
UPS Ground
UPS 3-Day Select
UPS Worldwide Express Plus
UPS Worldwide Express
UPS Worldwide Express Freight
You have to know that UPS offers this service only to select major metropolitan areas in the United States. UPS also supports Saturday deliveries in other major metropolitan areas where the UPS Worldwide Express shipments work. So countries including the United States, Canada, Germany, France, South Korea, and the United Kingdom, support this service. The UPS Worldwide Express Plus and UPS Worldwide Express Freight services work specifically for shipments going to Canada and the United States. Another important concept here is that the Saturday Delivery for air and international packages require more attention. As UPS suggests, you need to affix a Saturday Delivery sticker to each shipment or package and with some services, Saturday Delivery is available for UPS Returns services that have a return-to address in the United States and Puerto Rico.
---
UPS Saturday Ground
If your online store is open for business all year then you should rejoice. With UPS Saturday Ground service, you can now schedule pickups and receive deliveries on Saturdays as well. With you working on Saturdays, you would be able to cover 52 more days in a year—that's almost two extra months.
The good thing with UPS Saturday Ground is that your packages would reach your customers one day sooner. So this service will give you an extra day to fulfill weekend orders. This also means you'll be ready to ship new orders the next Monday and so on. Saturday pickups can really help you provide a better shopping experience for your customers, which in return, will increase revenue and customer satisfaction rate.
Other benefits of using UPS Saturday Ground
You would be able to create brand loyalty among your customers by providing great customer experiences. With UPS Ground on Saturday, eligible packages that were previously delivered on Monday can now be delivered two days earlier, i.e, on Saturday. Please mind that there will be no additional cost for doing that.




One of the recent studies conducted by UPS shows that 

71%

 of online shoppers select

UPS Ground delivery during the checkout process. But sadly, 50% usually tend to leave or get out of the shopping cart due to long or unknown delivery times. This can be catastrophic for your business and so, you should really consider adding this service to

your Cart page.




With this service active, now you don't have to cut off orders on Friday anymore. As we mentioned before, UPS Saturday Ground gives you an extra day to fulfill weekend orders while offering your customers an earlier delivery. Request commercial deliveries along with your Saturday Pickup to avoid stock-outs, fulfill ship-to-store orders, and receive returns faster.




UPS Ground on Saturday has rolled out to over 5,000 cities and towns throughout the United States. You can 

click here

to know the metro areas where UPS Saturday Ground operates.
---
UPS Saturday delivery timings
As someone who runs an online business, it is critical for you to know when exactly do UPS generally deliver. Getting to know that information can really help you plan your inventory and orders. The general schedule for the Saturday Delivery:
7 AM
UPS unload the packages from their plane. They are brought down to the conveyor belt where they are further sorted and loaded for deliveries by the drivers and courier agents. The process is usually simple and does not take much time.
9 AM
All Saturday Next Day Early AM packages should be delivered. Upgraded weekday packages (usually 8 AM) must be delivered by this time as well.
12 PM
All the Next Day Air Saturday packages must be delivered. Some hubs require all upgraded Next Day Air packages (weekday commit 10:30 AM) to be delivered by this time as well, but it isn't guaranteed.
End of the day
All 2nd Day Saturday and all upgraded Air packages that haven't been delivered already should be delivered by the end of the day. This includes any scheduled and on-demand pickups. The time schedule shows how time-critical UPS Saturday Deliveries are in general. UPS really do focus on making their delivery experience outstanding.
---
UPS Saturday Delivery and how it works
On Saturdays, UPS offers three services: Next Day Air Early A.M. Saturday Delivery, Next Day Air Saturday Delivery, and 2nd Day Air Saturday Delivery. These services are distinct from their counterparts during the week, which are not scheduled for Saturday delivery. In addition, the delivery commit times are "relaxed" from the weekday services commit times. As you might have noticed before.
Next Day Air Saturday packages must be delivered by Noon rather than 10:30 AM, whereas the Next Day Air Early AM packages must be delivered by 9 AM, rather than 8 AM as on a weekday. 2nd Day Air Saturday packages have an end of day commit, same as 2nd Day Air packages during the week; technically this is 11:59 PM, but Saturday package volume is much lighter, and the drivers' delivery day typically isn't as long as a driver's day during the week, on top of the fact that a start time of 7:00 AM can be as much as two hours ahead of the typical start time for non-Air drivers.
Some Air Drivers (the position title of those who typically work Saturdays) must stay out later to make late afternoon pickups, which are typically scheduled no later than 5 pm on Saturdays. In addition to regular Saturday services, drivers will sometimes be asked to deliver certain packages whose service levels have been upgraded by those overseeing the Saturday operation to be delivered on Saturday.
These are almost always "Air" packages—Next Day Air, Next Day Air Early AM, and 2nd Day Air, but also include Next Day Air Saver packages, which do not have a corresponding Saturday service. During the week they have a commit time of 3 pm for commercial addresses and the end of the day for residential addresses.
---
More about the Saturday packages
On rare occasions, some UPS Ground packages are also sent out for delivery. Packages with a Saturday service level take precedence over upgraded packages. This is a rare case though. The reasons why a package may be upgraded include,
UPS anticipates a high volume of Air packages on Monday. So to ease the pressure, they try delivering some of the early arriving packages on Saturday—packages that arrive on Friday night via plane for a Monday delivery.
Packages that contain medicine or any other medical equipment.
Air packages that did not receive a valid delivery attempt the day before. These are also known as "Service Failures".
Packages that may have had a valid attempt, but whose delivery the previous day was critical. So for example, if someone misses the delivery of their wedding dress, those packages are scheduled for Saturday.
Please note that this is not something a typical consumer or receiver can ask for and it is very much up to the discretion of operations managers and supervisors. Finally, certain pickup accounts have arranged for attempts to be made during the weekend, and the general public can schedule on-demand pickups for packages with an Air service level; no standard shipping packages, also known as the UPS Ground.
---
The WooCommerce UPS Shipping plugin is a brilliant solution. Upon successful installation, you would be able to display real-time UPS shipping rates to your customers. The shipping services along with the corresponding shipping rates are directly fetched from the UPS APIs; you can outright enable or disable certain shipping services. So if you don't want to provide UPS Ground to customers, you can simply disable it in the plugin settings. Have a look at the image below.
The plugin also comes with the Estimated Delivery feature which lets you display the estimates on both the Cart and Checkout pages. Here's how the settings look like.

Estimated Delivery Text: You can display any text you want. Eg. Est Delivery: Cut-Off Time: With this option, the estimated delivery will be adjusted to the next day if an order is placed after the cut-off time. The format used here is the (Hour: Minute). Now let us see how the Saturday Delivery works on the front end. And for that, assume the following calendar.
Assuming the current day as 7th of February, the UPS Next Day deliveries should be scheduled for Friday, which is, 8th of February. Other UPS services (UPS Ground, 2nd Day Air, 2nd Day Air AM), however, will be delivered on the day after (Saturday), that is, 9th February. Have a look at the following image.
Now assume we move a day forward and the current day is Friday. So in theory, the Next Day services should display February 9th as the estimated delivery date, while other services should display February 11th, that is Monday, as the estimated delivery date. The date is shifted to Monday instead of Sunday. Let's see the cart page now.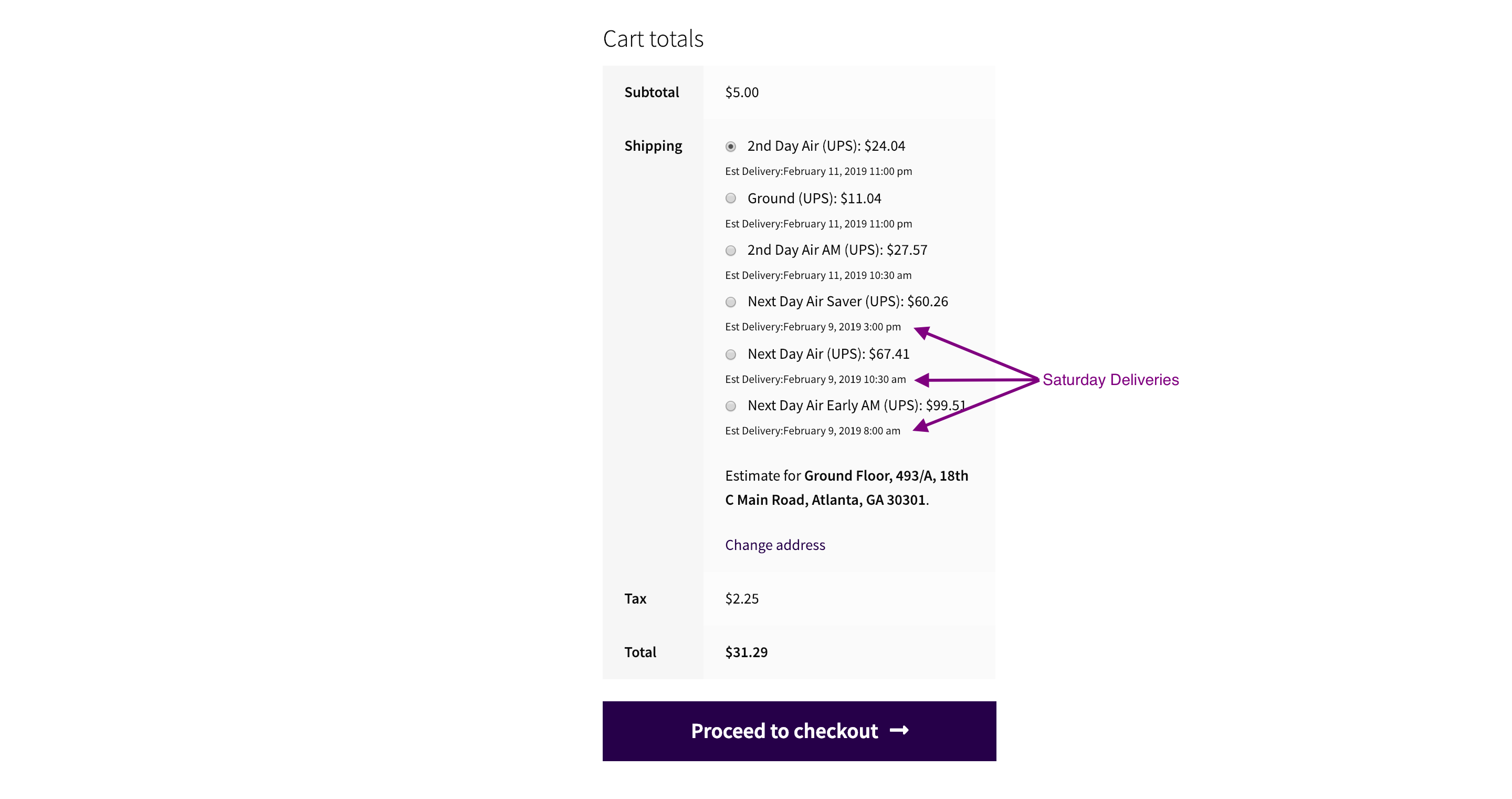 As you can see in the images above, the deliveries are scheduled on Saturdays as well.
---
Conclusion
There you go! That's everything you wanted to know about UPS Saturday deliveries. Just so you know, displaying accurate delivery dates on your website can serve you well by letting your customers know exactly when they can expect their packages. Even in the case of tricky weekend delivery scenarios, you can save yourself a lot of trouble by choosing any one of the solutions we discussed in this article. Being an online store owner, you would not want your customers to go away just because you were not able to display accurate delivery dates for them.
---
We hope this article would have helped you in some way. Show us some love in the comments section below. Also, let me know if you have any queries or need any help from our side. On another note, you can contact our customers support if you're having trouble installing the plugin on your WooCommerce-based store. Do not worry as our support team will help you out.

Happy Selling!