This article covers shipping UPS Hazardous Material and Dangerous Goods with WooCommerce by using the WooCommerce UPS Shipping plugin. We'll list out the ways in which you can pack your shipment so it stays compliant with the regulations set by International Bodies and UPS.
---
What are UPS Hazardous Materials and Dangerous Goods?
Hazardous Materials abbreviated as HAZMAT are those substances that can harm people, property, or the environment. These substances can appear in either liquid, solid, or gaseous states. Dangerous Goods are items that pose a health risk when transported and are generally not safe for the environment.
Can we ship Dangerous Goods or Hazardous Materials?
With UPS, you are able to ship Dangerous Goods and Hazmat Materials based on the following conditions:
You must have a registered UPS Shipping account.

Have a payment account.

Add Dangerous Goods Shipping to My Payment Account.

Sign the contract for Dangerous Goods and Hazmat Materials.

Begin shipping Dangerous Goods via UPS.
UPS, as a transportation company is obligated to comply with any and all governing laws and regulations pertaining to the transportation of Dangerous Goods or Hazardous Materials. This law has been passed by the Department of Transportation (a.k.a – D.O.T) or the International Civil Aviation Organisation (a.k.a – ICAO) which are regulatory bodies that ensure the safe transportation of Hazardous Materials and Dangerous Goods using all modes of transport, including highway, air, and rail.
---
UPS Hazardous Material and Dangerous Goods Agreement Checklist
The UPS Hazardous Material Contract bestows upon users an efficient standardized method of shipping hazardous goods in a compliant manner. Before shipping Hazardous Materials with UPS, you will have to review the Dangerous Goods Agreement Checklist and sign the contract to enable the service. The Agreement Checklist is:
I have read, understood, and am bound by the UPS Guide for Shipping Ground and Air Hazardous Materials, the UPS Guide for Shipping International Dangerous Goods, and the UPS Terms and Conditions of Service.

I will comply with all applicable regulatory requirements when shipping hazardous materials, including those in the International Civil Aviation Organization Technical Instructions, and the International Air Transport Association (IATA) Dangerous Goods Regulations.

Will ensure that all hazardous-materials shipments will be properly classified, packaged, marked, and labeled–and understand that my failure to do so could result in fines, penalties, or other claims.

I understand that UPS may refuse, return, or properly dispose of my hazardous-materials shipments if UPS determines them to be improperly prepared.

Confirm that all employees involved in the preparation of hazardous-materials shipments to be handled by UPS are properly trained under the requirements of 49 CFR and applicable provisions of the IATA Dangerous Goods Regulations. If requested, I will provide proof of this training.

Acknowledge that UPS has the right to suspend, cancel and/or terminate the transportation of hazardous materials if my organization fails to comply with the provisions in this checklist or in the UPS Terms and Conditions of Service.

I understand that UPS's dangerous goods service only covers certain commodities to approved destinations. I agree to only submit UPS-accepted commodities for delivery to these locations.

Will process all hazardous-material shipments through WorldShip® or a comparable third-party shipping system that provides UPS with the required electronic information.
---
While processing Domestic or International Dangerous goods what document must the hazardous materials shipper provide?
You can ship UPS Hazardous Material only on a contractual basis. The services are available within the U.S and certain locations outside the U.S.
In Puerto Rico and the U.S, UPS will accept non-bulk quantities of Hazardous materials for transport via road or rail services. This is possible only when the shipper prepares the package in accordance with the U.S DOT and Hazardous Materials Regulation.
UPS will accept Hazardous Materials in air shipments considering the package has been prepared in accordance with regulations set by ICAO and IATA.
All Hazardous Material and Dangerous Goods shipments require the Shipping Papers (49 CFR) which will be applicable for all shipments by ground or by air.
The Shipping paper (49 CFR) should include:
Shippers UPS Account number that has Hazardous Material service enabled.

An Emergency Contact Number

The Name, City, State, Package tracking/reference number of the Consignee

A description of the contents of the package:

Identification number

Shipping Name

Hazardous Class or Division Numbers

Packing group Number

Additional Descriptions

DOT special permit number, LAA numbers, and EX-numbers

The number of packages and type of the package

The quantity of what is being shipped.
The shipping paper has to be signed and the date should be mentioned.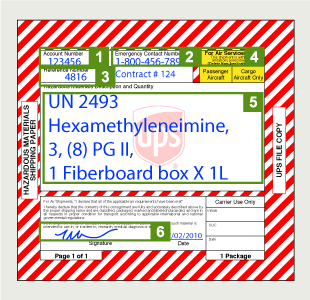 Shipments with UPS Hazardous Materials/Dangerous Goods will also require the Shipper's Declaration (IATA Section 8), this includes:
Consignee: The Name and Address of the Consignee
Air Waybill Number: To specify the page number of the shipper's declaration
Aircraft Limitation: Choose the type of aircraft that applies to your shipment
The airport of Departure: Leave blank
The airport of Destination: Leave blank
Shipment Type: Specify only the shipment type that applies to the package
Nature and quantity of Dangerous Goods:

UN or ID Number

Shipping Name

Class or Division

Subsidiary Risk

Packaging Group

Quantity and type of packaging used

Packaging Instructions

Authorization

Additional Handling Information: Used to specify the 24-hour emergency service number
Certification: This certifies that the package is compliant with all rules and regulations set.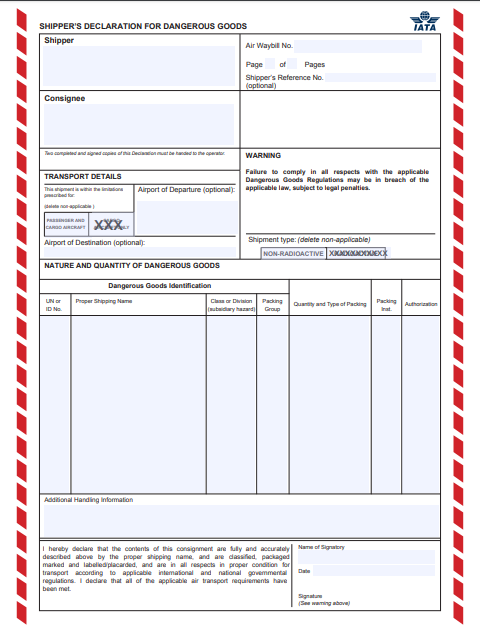 U.S. air service levels include UPS Next Day Air, UPS 2nd Day Air, UPS 3 Day Select, within the U.S. and International Express and Expedited Services internationally, solely for the purpose of regulatory compliance.
Customers with a Scheduled pickup Account are eligible for the Hazardous Materials Contract service. This includes:
Daily Pickup

On-Route Pickup

UPS Smart Pickup
The shipper must complete all the necessary requirements for a hazardous materials shipment well before pickup.UPS Hazardous Materials service handling charge is applied to all hazardous materials / dangerous goods packages. These charges are when a shipping paper or Shipper's Declaration for Dangerous Goods is required.UPS will not accept hazardous materials shipments at the following locations:
UPS Customer Centers

The UPS Store

Air Letter Centers

Authorized Shipping Outlets

Commercial counters
*Time-in-transit guarantee applies to Hazardous Material packages.
---
Are there any packaging restrictions while shipping UPS Hazardous Materials?
Packaging Restrictions are:
All packages should meet the requirements of the ISTA Procedure 3A testing protocol. UPS Hazardous materials packages must satisfy the specifications and performance requirements.

You cannot ship UPS Hazardous Materials in UPS-provided packages, such as Boxes, Letters, Paks, and Tubes.

UPS Paks have been made available to use as overpacks for Biological substances and for Exempt human or animal specimens.

Do not bond, tape, strap together any UPS Hazardous Materials package.

UPS Hazardous Material packaging requires the use of applicable DOT permit packages.

Do not overpack UPS Hazardous Material Shipments.

You are to pack Hazardous Materials Shipments in a strong outer packaging that requires a shipping paper:

The minimum weight of the package must be 200 lbs. The package should be a 32 Edge Crush Test (ECT) certified box. The box has to be strong enough to protect the contents while in transit.

Any non-specification package that displays the ISTA seal indicating the package has been tested and certified to ISTA Procedure 3A is not subject to the minimum ECT or burst strength requirements.

UPS offers Hazardous Materials shipments in a single packaging, subject to the following conditions:

Ground Service within the 48 contiguous states will ship UPS Hazardous Material.

UPS can offer this service only for air service levels as Cargo Aircraft Only (CAO) shipments. (Applies to commodities other than Dry Ice.)

You cannot ship UPS Hazardous Material with bags and other single packaging constructed of light gauge metal.

Single packages will not require the orientation arrows.

Additional handling charges may apply.
While shipping Hazardous Materials or Dangerous goods, you will have to make sure to list the following descriptions on the package (most appropriate description): Acidic, Caustic, Combustible Communicable, Compressed Gas, Corrosive, Explosive, Flammable, Infectious, Inflammable, Poison, Radioactive, Refrigerated, Toxic or Volatile
---
Shipping UPS Hazardous Material and Dangerous Goods with WooCommerce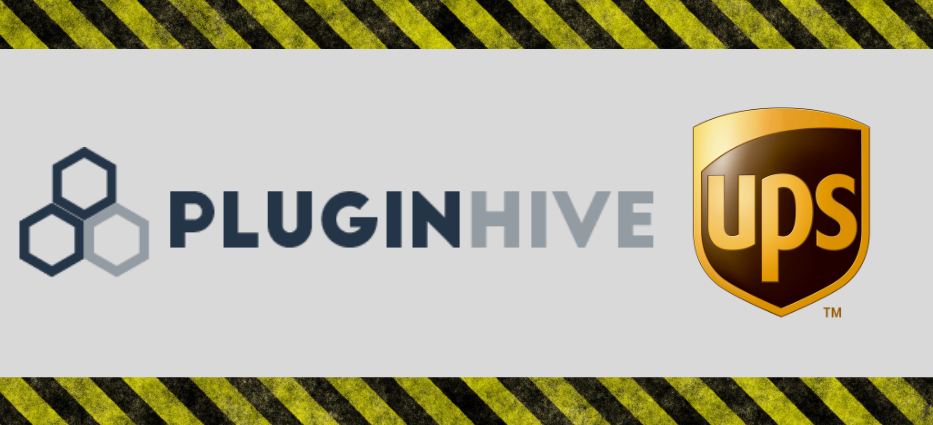 WooCommerce does not permit Hazardous Material Shipments or those that contain Dangerous Goods. However, while using the WooCommerce UPS Shipping Plugin you are able to do just that. The plugin apart from calculating and displaying live rates and shipping labels also enables users to ship UPS Hazardous Material and Dangerous Goods, considering their UPS Account number this service has been Purchased and Enabled. Considering the UPS Hazardous Material and Dangerous Goods service is available upon the signing of a contract, the service will only display in the plugin if the UPS Account Number and relevant details entered are the same as the Account Details for which the Hazardous Material and Dangerous Goods service is enabled. To display Hazardous Materials and Dangerous options at the product level, you must refer to the following steps:
Begin by

setting up the plugin

Proceed to WooCommerce > Products > Product Data > Shipping > Enable Hazardous Materials (UPS) (shown below)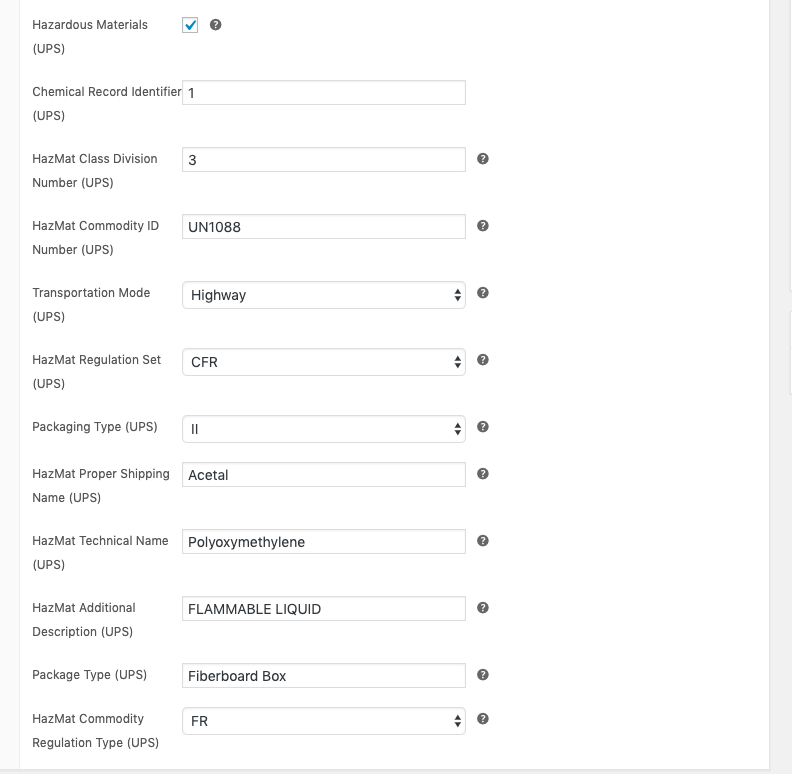 Upon Enabling the service, 9 new fields appear in the Product Data Page:

Chemical Record Identifier: Chemical Record Identifier is the chemicals in the shipment. If there are 3 chemicals then they need to be numbered in that field with 1, 2, 3 as values in the container.
Class Division: Class or Division associated with the Hazardous Material
Commodity ID: Commodity ID number
Transportation Mode: The mode of transport by which the shipment is approved to move and the regulations associated with that method.
HazMat Regulation Set: Select the Regulation set (ADR – Europe to Europe Ground shipments; CFR – HazMat regulated by the U.S DOT within U.S or Ground shipments to Canada; IATA – Worldwide Air Shipments; TDG – Either Canada to Canada Ground Service or Canada to U.S Standard service)
Packaging Type: Packaging Group Category will be associated to the specific commodity
HazMat Proper Shipping Name: The shipping name set by ADR, CFR or IATA
HazMat Technical Name: The technical name for the specified commodity
HazMat Additional Description: Additional remarks or special provision information. Additional information that may be required by the regulation about a hazardous material such as Limited Quantity, DOT-SP Numbers, EX Numbers.
Package Type: Package type code, identifying the type of packaging used for the shipment
HazMat Commodity: Select the appropriate Regulation type (FR – Fully Regulated; LQ – Limited Quantity; EQ – Excepted Quantity; LR – Lightly Regulated)
Proceed and add the product to your cart and process the payment.

Now that the order is confirmed, navigate to the Order Details page and scroll down to the UPS Shipment Label section and click on Generate Packages. This will allow the plugin to send the XML Request to the UPS API to provide us with a Shipping Label for the Hazardous Material being shipped.

Click on Print Label in order to generate the shipping label for UPS Hazardous Materials (shown below)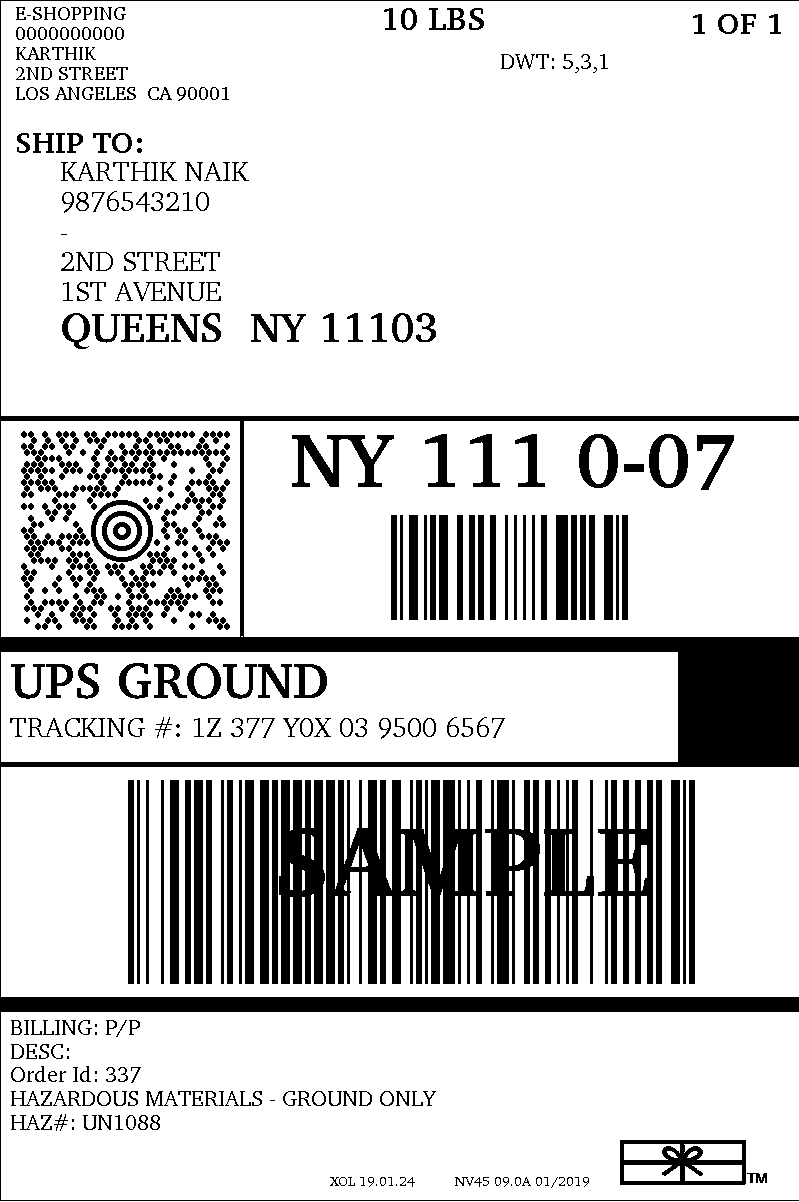 Notice, at the footer of the Shipping Label, the HazMat ID Number is mentioned. You also have a notification stating "HAZARDOUS MATERIALS – GROUND ONLY" specifying the service selected.
---
Print Dangerous Goods Manifest from your WooCommerce Store
WooCommerce UPS Shipping plugin also lets you generate and print hazardous goods manifest directly from your WooCommerce store. All you need to do is, once the shipping labels are printed, click on Dangerous Goods Manifest (shown below).
This will allow you to print the UPS Dangerous Goods Manifest from your WooCommerce store without any hassle (shown below).
You can see the following details listed on the dangerous goods manifest,
Hazardous material description

Hazardous material quantity

Regulation Set for the hazardous material

Whether the shipment can be shipped via Highway, Airways or Cargo

Emergency contact number

Shipment tracking number
---
Conclusion…
This article covers the topic of UPS Hazardous Materials and the method with which Dangerous Goods can be shipped with UPS. Since the feature is not available to WooCommerce users, we've taken the time to display the functionality of having HazMat within the WooCommerce UPS Shipping Plugin. UPS Hazardous Materials/Dangerous Goods is a paid feature with UPS and is not available to all. It is a contractual agreement where the shipper has to process Hazardous Materials carefully and by the book in order not to receive any penalty or warning from UPS. If there are any queries or doubts pertaining to UPS Hazardous Materials, please feel free to drop in a comment below or reach out to our Support Team who will be more than happy to assist you.