With this guide, we'll tell you everything you need to know about calculating WooCommerce FedEx Shipping Estimate. Read along to know more. Sometimes shipping cost takes precedence over the delivery time. To reach your business potential and maximize the return on investment, it's compulsory to provide accurate or cheap shipping rates. And what better than providing an accurate FedEx shipping estimate on your online store? FedEx has made it possible for business owners like you to go big. They've introduced numerous shipping services and facilities crafted to serve different organization requirements. Their shipping estimates are peculiarly trimmed to attract your customers, and honestly, it does work out in real life. In this guide, we will show you how to provide FedEx shipping estimates on your WooCommerce store. We'll explore a couple of shipping conditions under which you could use them and ways to set up FedEx shipping rates accordingly. You will also see how the WooCommerce FedEx Shipping plugin can help you display FedEx shipping estimates on your online store.
---
What is FedEx Shipping Estimate?
Shipping estimates are generally referred to as the estimated price by FedEx services to deliver the shipment from your warehouse to your customer's doorstep. FedEx has specific rules and methods to calculate shipping rates. Based on these rules, they can determine the shipping cost of the package and the approximate delivery time. Many e-commerce solutions allow users to display FedEx shipping estimates to their customers. In the case of WooCommerce, the WooCommerce FedEx Shipping plugin provides real-time shipping estimates on the Cart/Checkout page. Which we will discuss later in this article. If you go to the FedEx rate calculator page, you will find various fields where you can enter the shipment details. This page will help you calculate the estimated shipping estimate for your shipment.
---
Why accurate FedEx shipping estimate is absolutely necessary?
Many consider shipping as one of the many dangerous areas of business. It can significantly hinder your overall business development causing you to either drop the idea of handling shipping or stick to local pickup. FedEx shipping estimate being the first thing your customer encounters, it's really important you show it correctly. Let's consider a few examples and measure the degree of damage poor shipping strategy could do to your business.
FedEx shipping estimate is too high
This is the most common issue. 8 out of 10 customers simply don't want to pay the shipping price. They prefer free shipping thanks to Amazon.com. Even if they are willing to bear the shipping cost, they prefer paying a small amount. Shipping services like FedEx Ground and FedEx Express Saver offer to ship at low costs. You could use any one of them but you may have to compromise on the delivery time. Both of them turn out to be slower compared to their siblings like FedEx First Overnight and FedEx SameDay.
Chosen FedEx service is slower
This happens a lot and, quite frankly, you cannot do much about it. In the step to provide a cheap shipping option, you will lose on the time-definite delivery. For instance, choosing FedEx Ground, which takes about three days to ship anywhere in the U.S., for shipping could be the reason for your usual cart abandonments. One possible solution to this is to provide both slow and quick delivery services. So you can put up FedEx Express Saver as your cheap shipping option, and FedEx Standard Overnight as your quick shipping option.
Weekend delivery is not an available option
Most end-customers are quite busy during weekdays. They like having their order delivered at their doorstep and usually prefer weekend delivery. This has become a common trend, and again, thanks to Amazon.com. There are only a few FedEx shipping options that offer Saturday delivery. And you will have to pay more to enjoy this service. There's just no other way. So as the only option, you may have to consider going with it and bear the extra cost.
When items require special attention
Not all businesses sell homemade cookies. Some sell dangerous goods and hazardous materials like chemicals while some sell electronic items containing lithium batteries. It makes all the sense for these online stores to go for special and delicate shipping options. But this also means the final shipping cost is going to skyrocket with special package handling coming into the picture. People at FedEx are aware of this and have made sure the prices aren't too big for your wallet. You can find more information on how to ship dangerous goods here.
---
How FedEx shipping estimate is calculated?
FedEx offers a wide range of shipping services. One for every business type. You can find the most appropriate one based on your shipping need and budget. As far as the calculation of FedEx shipping estimate is concerned, FedEx considers various shipping-related parameters. FedEx shipping estimate is not just determined based on package weight and distance. There's a lot more that comes into the frame. Here are some of the most common factors that determine shipping estimate for your package.
Common shipping parameters
Package weight
FedEx package dimensions (FedEx PAK, FedEx Envelope, FedEx Tube, etc.,)
Weight and dimensions of your package
FedEx shipping service
Package item type (hazardous materials, dangerous goods, electronics, etc.,)
Destination city and zip code
Country restrictions (in case of international shipments)
Customs and other related paperwork
Parameters based on a special requirement
FedEx One Rate, FedEx Account Rate, FedEx List Rate
A delivery signature, Insurance, FedEx Pickup, FedEx Saturday Delivery, FedEx Saturday Pickup, FedEx Door Tags
FedEx Liftgate Pickup, FedEx Liftgate Delivery, FedEx Inside Pickup, FedEx Inside delivery, Freight shipping class type
As you can imagine, these factors are really important for the calculation of the FedEx shipping estimates. So you should definitely figure out your packages and shipments thoroughly before going in deep. Apart from the factors listed above, there's another important parameter that contributes to FedEx shipping rates. This parameter is commonly known as FedEx surcharges.
What are FedEx Surcharges?
A delivery surcharge is an additional cost that is added to your base FedEx shipping estimate. This additional amount is determined based on factors that apply when a package exceeds FedEx's expectations. So if your package does not comply with the provisional packaging rules then you may need to pay an additional amount. Let's go through some of the common rules that may apply to your shipments.
Dimensions: Additional surcharges may apply to your FedEx shipments only

if your package weighs more than measures greater than 48 inches along its longest side.
measures greater than 30 inches along its second-longest side.

Weight: In the case of package weight, surcharges will apply only when the package has an actual weight greater than 70 lbs.
Package's physical condition: FedEx applies additional costs if the package's physical conditions do not meet their criteria. They will increase the shipping rates if the package is,

not fully encased in an outer shipping container.
encased in an outer shipping container not made of corrugated fiberboard (cardboard) materials, including but not limited to metal, wood, canvas, leather, hard plastic, soft plastic (e.g., plastic bags), or expanded polystyrene foam (e.g., Styrofoam)
encased in an outer shipping container covered in shrink wrap or stretch wrap
packed with a soft-sided pack (e.g., courier packs, poly bags, and bubble mailers) that exceeds 18 inches along its longest side or 13 inches along its second-longest side, or 5 inches in height
cylindrical, including (without limitation) mailing tubes, cans, buckets, barrels, drums, or pails
bound with metal, plastic, or cloth banding, or has wheels, casters handles, or straps (including packages where the outer surface area is loosely wrapped, or where the contents protrude outside the surface area)
---
A few cost-saving tips for you
Although bringing down the FedEx shipping estimate is tough, you've still got a few neat tricks. FedEx too, have tried its best to tailor their deliveries to meet all your shipping needs. So here are some money-saving tips for you.
Use FedEx Ground for 'your packaging' and FedEx Express Saver for FedEx Packages
Upon comparing both the services you'd find they aren't different. Both delivery items within 3 business days, and moreover, the prices aren't far apart. Since FedEx Ground does not ship items in FedEx Packages (i.e, FedEx Pak, FedEx Tube, etc.,), you can use your packaging option when going with FedEx Ground. If you're forced to use FedEx packaging, then you can go with the FedEx Express Saver. Let's take an example where we want to ship a book having dimensions, 6 x 3 x 1 inch and a weight of 0.5 Lbs. We are using your packaging option and here are the corresponding shipping rates. And as you can see below FedEx Ground rate is much cheaper than FedEx Express Saver.
---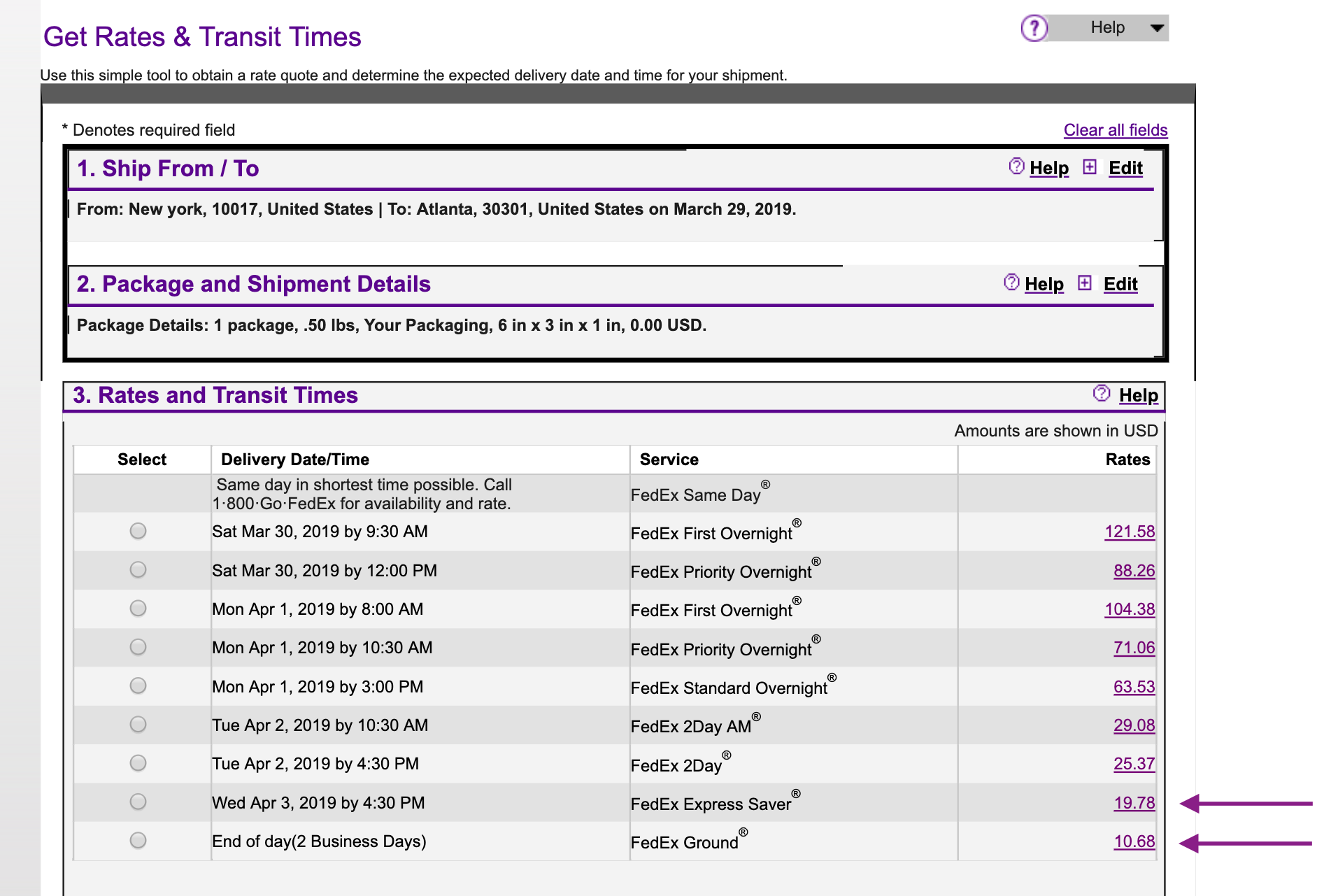 ---
Avoid residential delivery and select Hold at FedEx location
'Hold at Location' feature is an amazing feature for you and your end customers. If it's all okay with your customers, you can choose the Hold at Location feature instead of 'Residential Delivery'. When you enable the FedEx Residential delivery option, FedEx defaults the delivery as residential increasing in the overall shipping cost. Here's a sample image of the WooCommerce Cart page under the same conditions.
---
---
Now when you enable the Hold at Location, the rates change drastically. Have a look at the image below.
---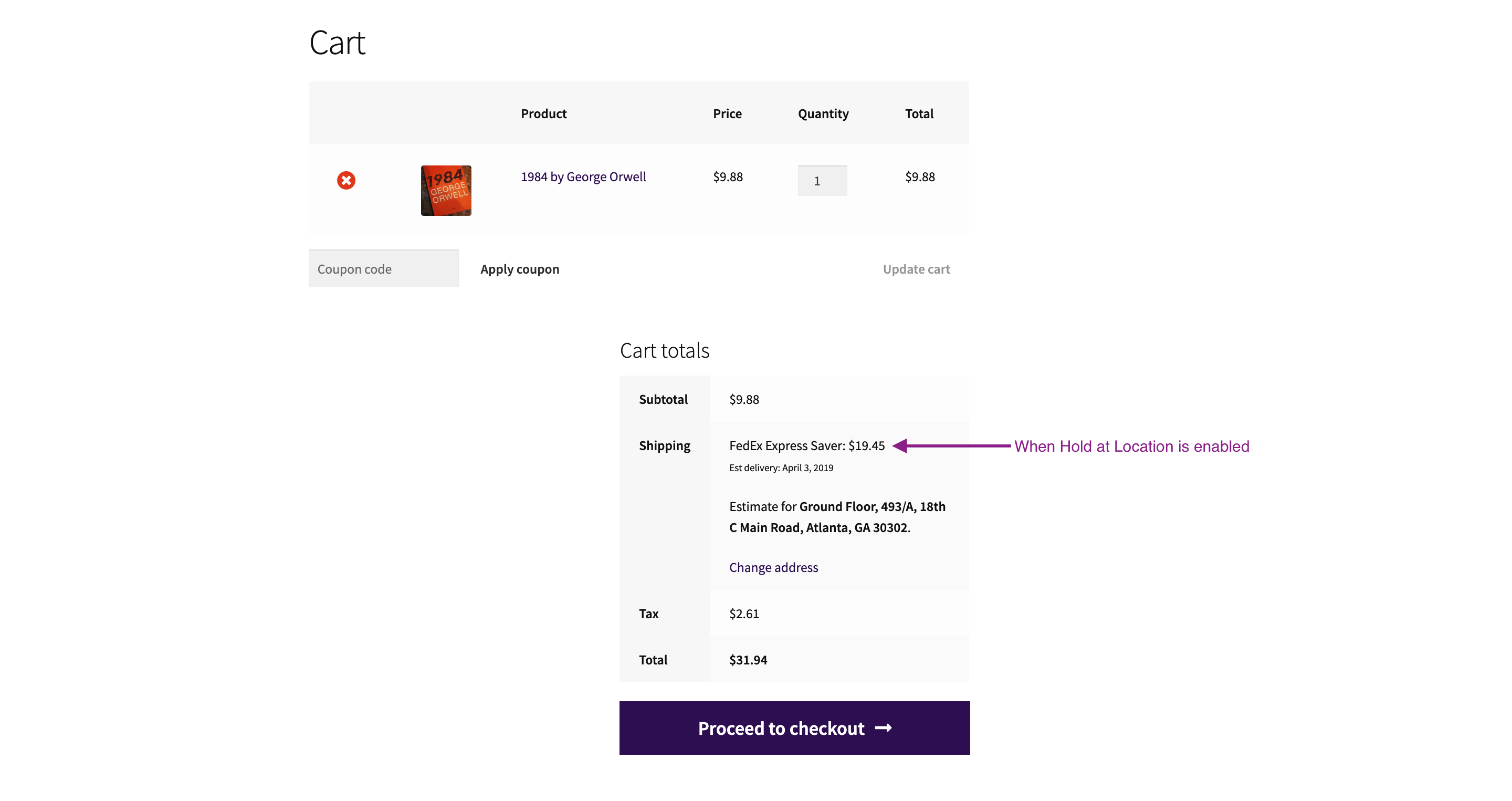 ---
Consider using the FedEx One Rate service
FedEx One Rate is a Single Package Service. It deals with the calculation of the shipping prices of the relatively smaller packages and operates in the US. This feature helps customers to predict the pricing and choose the shipping method according to their needs. The process of opting the right shipping pricing value is very easy to execute, and the service via FedEx is highly reliable. For FedEx Envelopes,
Up to 10 lbs, everything will be packed in a single envelope
Above 10 lbs, the package will be rerated and the shipping will be calculated based on FedEx Standard Rates
For other Packages,
Up to 50 lbs, everything will be packed in a single box
Above 50 lbs, the package will be rerated and the shipping will be calculated based on FedEx Standard Rates
---
Displaying FedEx shipping estimate on WooCommerce Cart and Checkout pages
With the help of WooCommerce FedEx Shipping plugin, you can display the estimates on your Cart and Checkout pages. With this plugin, you will be able to configure your FedEx account, have live FedEx Ground shipping rates appear on the storefront, generate and print shipping labels for your shipments, and display real-time order tracking to your customers. Once you have installed the FedEx shipping plugin on your WooCommerce, you need to further enter the FedEx credentials in. If you don't have them then you should check out this guide.
---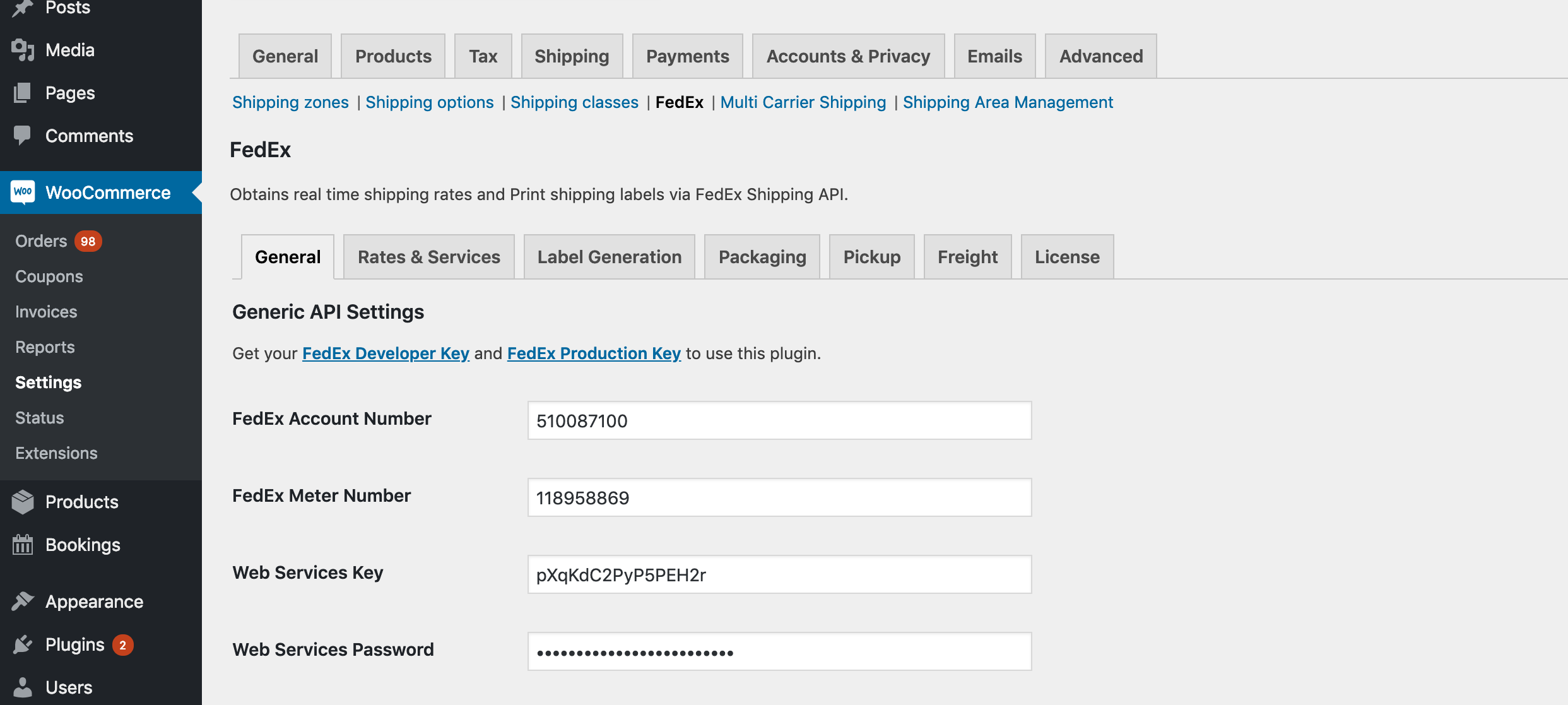 ---
Selecting the FedEx shipping service
As soon as you finish configuring the plugin with your account, you need to go to the Rates & Services tab and scroll down to the list of services. Here you can select the services you want and don't want. You can even adjust the shipping rates as indicated by the arrows in the image below.
---

---
Exploring various parcel packing methods
The plugin also comes with three parcel packing methods—Weight-based, based on both weight and dimensions, and pack items individually. Based on your selection, the shipping rates will be determined right on the Cart/Checkout page. As you can see in the image below, you have the option to select the packing method you want.
---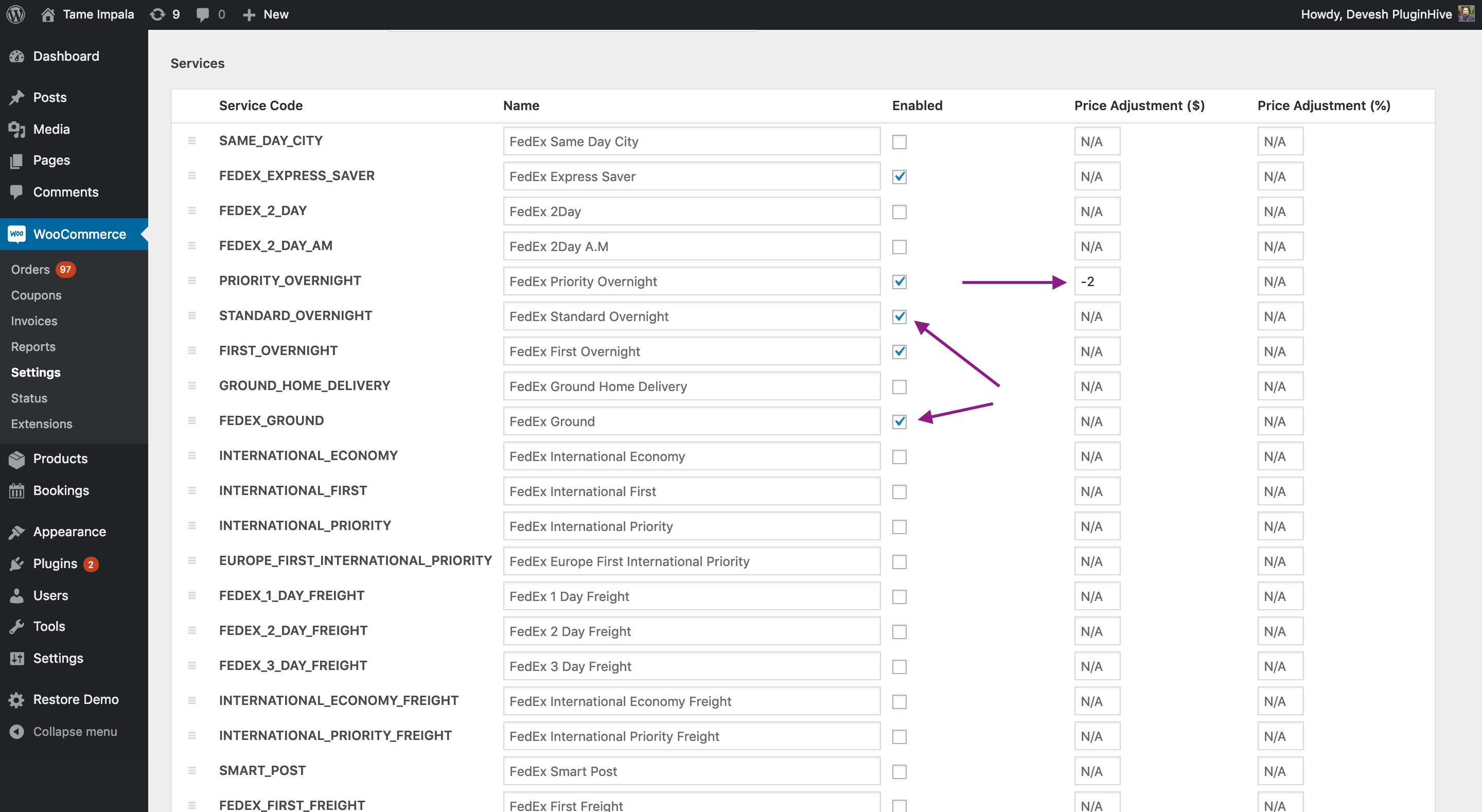 ---
Let us take an example and see how the rates differ when selecting Weight-based and individual packing methods simultaneously. Upon selecting the weight-based packing method, we selected 2 quantities of the same item weighing 1Lb each. The shipping rate for FedEx Express Saver from New York to Atlanta turns out to be $19.45.
---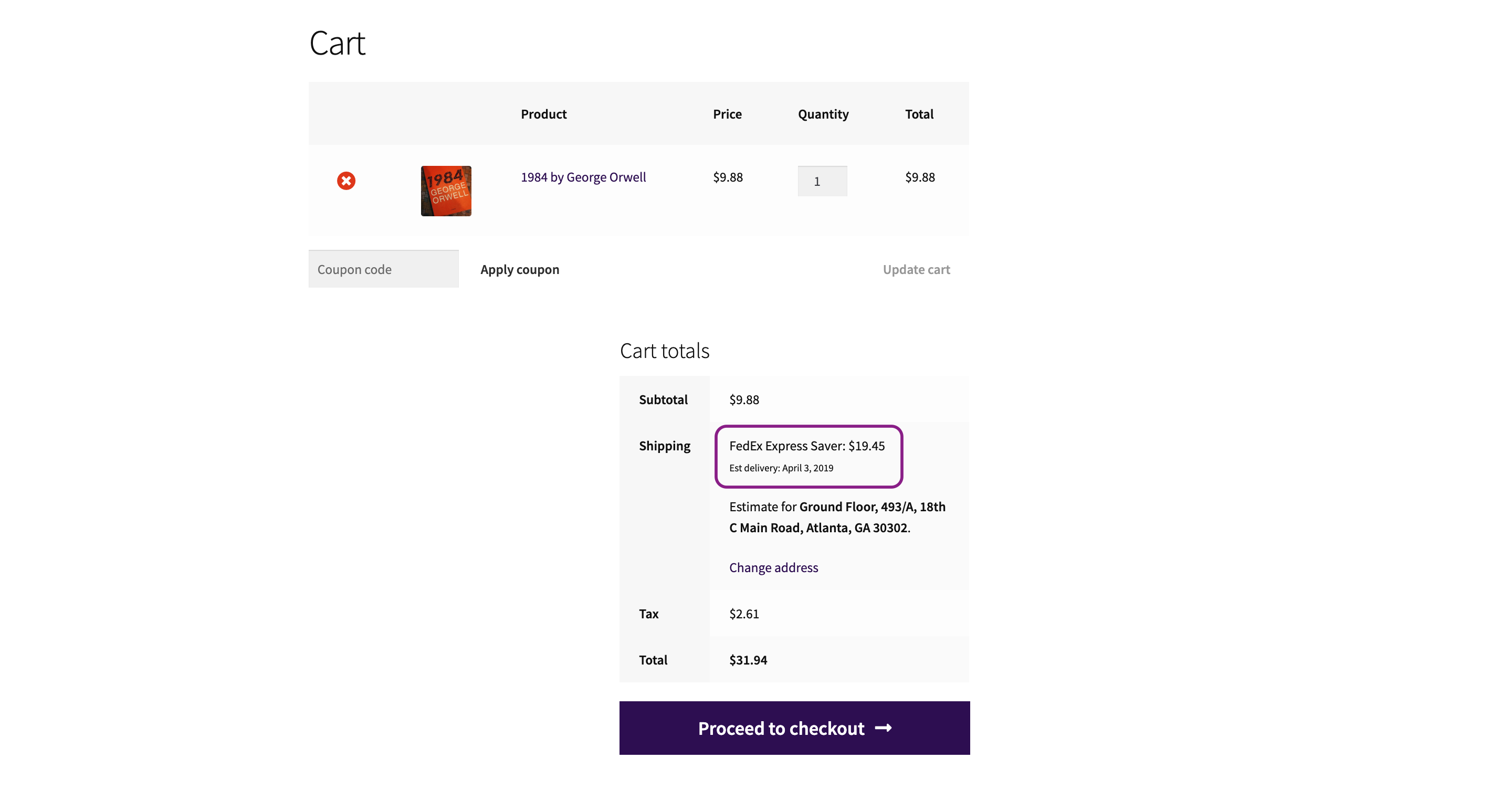 ---
Now let's select the pack items individually method for the same shipment. As you can see in the image below, the shipping rates are really high compared to that of the Weight-based packing method. Stating one of the reasons why it's the recommended parcel-packing method.
---
---
Now let's go ahead and try placing an order with the FedEx Express Saver. The process is quite simple. Once your customer places an order, WooCommerce will notify you with a New-order email. When you go into your order page, you should be able to see the new order. When you go in this order, you should be able to see the following screen.
FedEx special shipping options
Apart from the above shipping options, you have various shipping options. You can read FedEx Pickup and Special Delivery Options for your WooCommerce Shipments" and know more about them. It shows how you can enable those options under the plugin settings.
How to fulfill a FedEx Package from your WooCommerce?
Now let us place an order with FedEx Ground and see how this plugin helps you fulfill it. Here are the necessary steps required after an order is placed.
Creating FedEx shipments online
The WooCommerce order will contain the shipping service name (FedEx Express Saver) right under the product name. As mentioned earlier, we are using the FedEx Express Saver and the corresponding shipping rate can be seen next to it.
---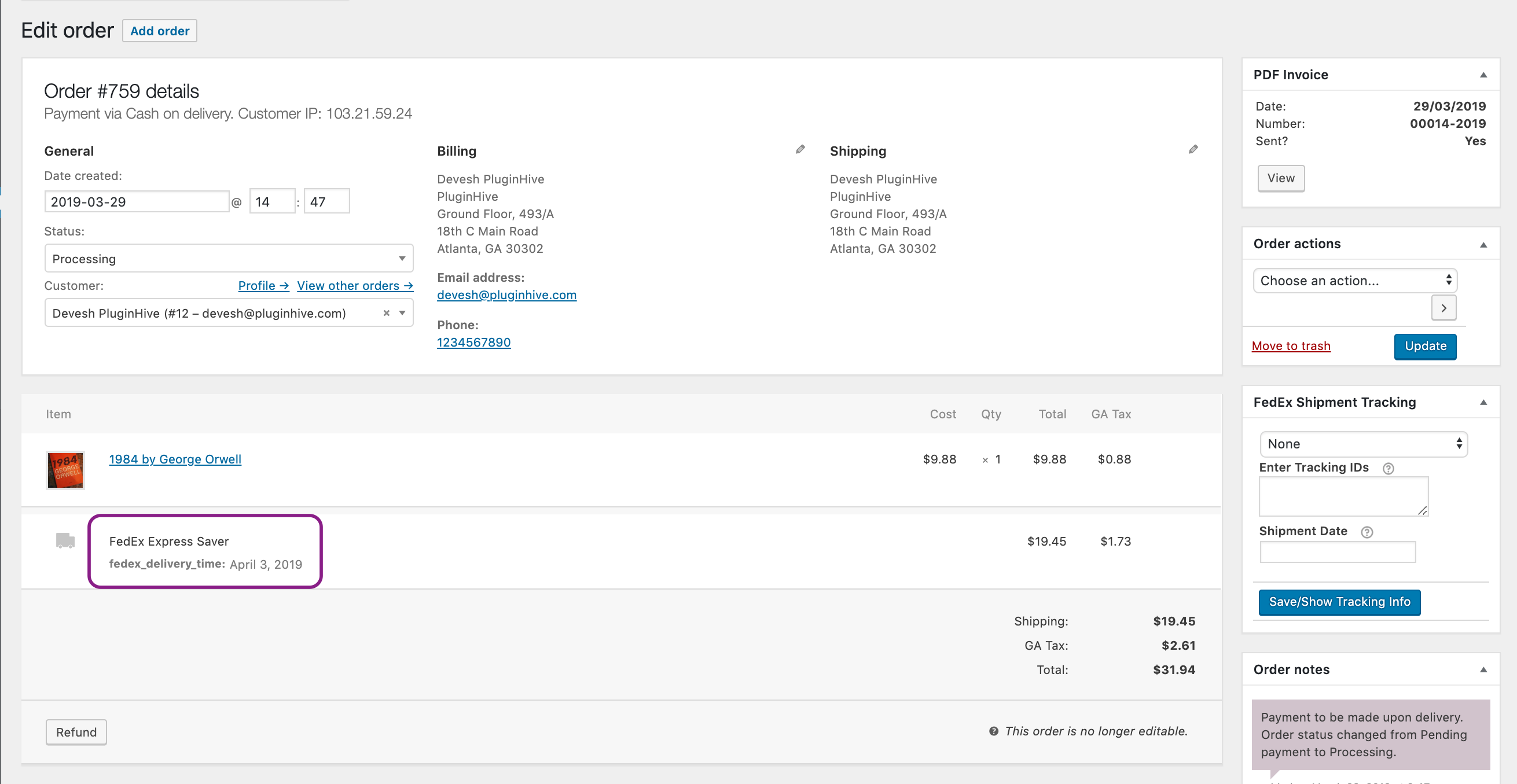 ---
You can scroll below and click on Generate Package which will generate the package and show the further option to create the shipment. Have a look at the following image.
---
---
Here, you can enable the Saturday Delivery option which will enable the Saturday delivery for this service. You can even add enable the Cash On Delivery option and add additional packages to the order if required. These features are really useful when creating orders and can save a lot of your time.
Printing FedEx shipping labels for your shipments
Once you have reviewed your order and generated the packages successfully, you can now click on Create Shipment. Doing this will place an order in your FedEx account requesting delivery of this order. FedEx, in return, will validate the request and if everything is good, they will give you the corresponding shipping label(s).
---

---
You can now print the shipping label by clicking on the Print Label option as shown in the image below. Also note that you have the option to Void the shipment, which can be used when you want to cancel an order. You would be able to print the FedEx Express Saver shipping label. Here's a sample label you can check out.
---
---
A few more details about the WooCommerce FedEx shipping plugin
You can show live FedEx Shipping estimates for domestic as well as international shipments. The plugin has support for FedEx Express, FedEx Ground, FedEx Freight, and FedEx SmartPost shipping services. Additionally, you get features like the One-Click FedEx Label Generation and Download for Bulk Orders, along with Live FedEx Shipment Tracking from within the WooCommerce store Read more about the amazing features of the WooCommerce FedEx Shipping plugin.
A seamless FedEx integration for the Shopify platform
For Shopify users, the Shopify FedEx App is an amazing FedEx shipping solution that provides the perfect blend of features and usability. With this App, you can offer domestic, international, freight, and negotiated rates on your Checkout page. In addition, you can also print FedEx labels and offer order tracking via email.
Conclusion
This article covers FedEx shipping estimates and explores various tips and tricks to bring it down. It also shows you how the WooCommerce FedEx Shiping plugin with Print Label can be used to display the FedEx shipping estimate on your WooCommerce store. This plugin is the best tool to accomplish all your shipping needs with ease. It covers all the FedEx shipping rates and services availability, live shipping rate calculation, label generation within the WooCommerce store, live shipment tracking, and much more. If you have any queries regarding this article, feel free to share your views in the comment section below. We will be more than happy to help you understand how this plugin can work together in fulfilling your shipping requirements.
If you have any queries regarding the plugin or WooCommerce shipping then feel free to contact our customer support. They should be able to help you out. Happy selling! 🙂