The WooCommerce Royal Mail plugin is a brilliant shipping plugin for your WooCommerce. But, there are things that you need to take care of outside of WooCommerce. Let's take an example. Imagine, you just received a new international order and it is time to fulfill the order and ship the parcel(s) using the Royal Mail shipping services. Before you do that, you have to make sure that the order does not stumble upon an issue. You would not want your order to be stuck at some foreign airport just because the items inside do not comply with the shipping laws of that country. This is one of the reasons why you should acknowledge the importance of various international shipping laws, weight limits, item restrictions, and many other parameters as well. So, an international checklist containing these parameters will definitely help you safely deliver your order over international borders.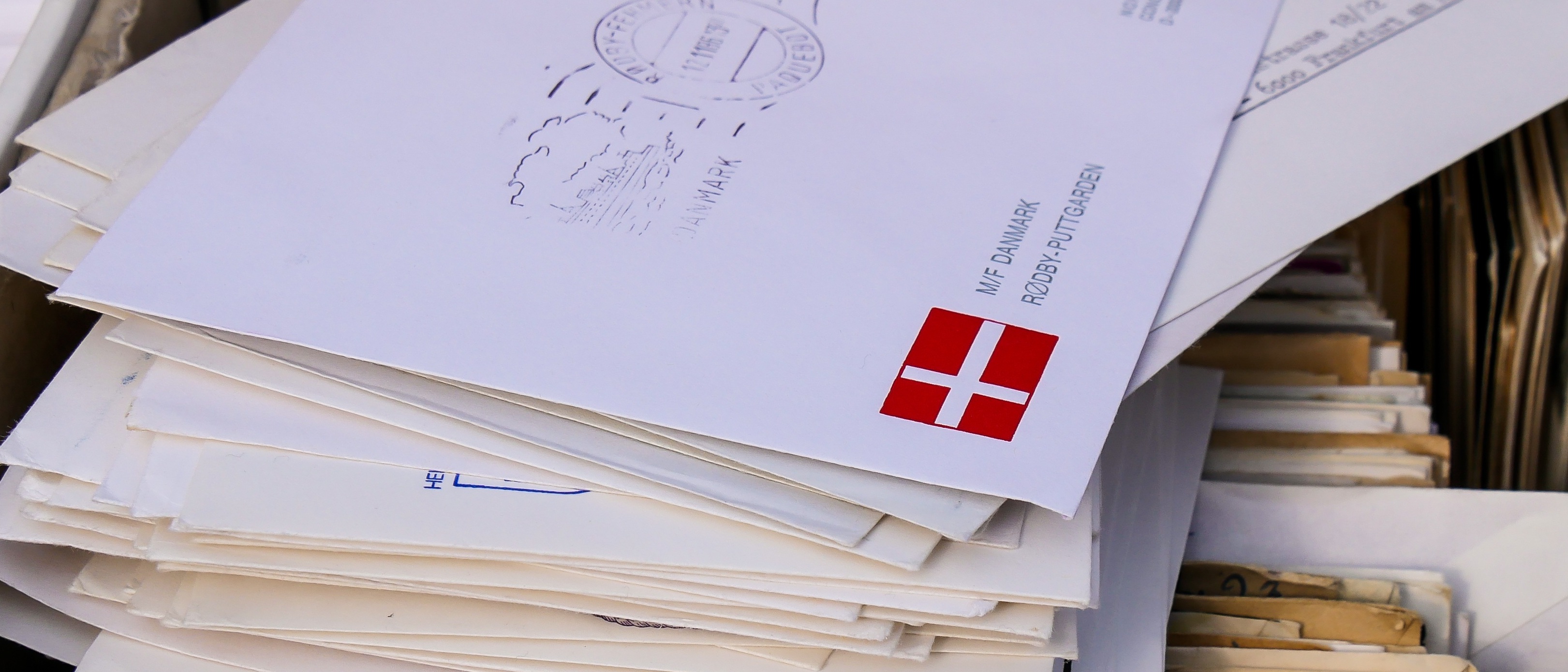 In this article, you would find the necessary parameters that play an important role in shipping packages over international borders. We will help you prepare your orders before you hand over them to the Royal Mail for further shipment steps. We will also guide you through some of the nifty features in the WooCommerce Royal Mail Plugin that will help you with your orders. So, let us quickly start with the article and look at some of the related aspects of international shipping with Royal Mail.
Checklist for shipping your orders internationally
Following is the checklist suggested by Royal Mail which will help you get organized and plan the orders accordingly. Please refer to the links that will come up as you go through this checklist.
Country rules and sanctions
Royal Mail delivers your parcels and letters to over 200 countries around the world. But the importing and shipping rules for each country is different. Some items that are allowed in a particular country might be restricted in some other. For instance, if you about to ship a narcotic item to France, then you need authorization from the Medicaments Bureau. Moreover, there are countries that are subject to sanctions and you should check a country's status before posting an item. You need to go to the official page of Country rules prepared by Royal Mail. Here is the list of countries: Afghanistan, Azerbaijan, Armenia, Belarus, Burma (Myanmar), China, Democratic Republic of Congo, Egypt, Eritrea, Republic of Guinea (Conakry), Guinea- Bissau, Haiti, Iran, Iraq, Ivory Coast, North Korea, Lebanon, Liberia, Libya, Sierra Leone, Somalia, South Sudan, Sudan, Syria, Tunisia, Ukraine (Crimea/Sebastopol) and Zimbabwe.
Moreover, there are some certain probation and restrictions on certain items shipping to a particular country. Here is the list of items that have restrictions. Royal Mail has prepared a very useful list of documentation for individual countries. Follow this link to find the delivery choices, list of restricted items and other useful information for your destination country.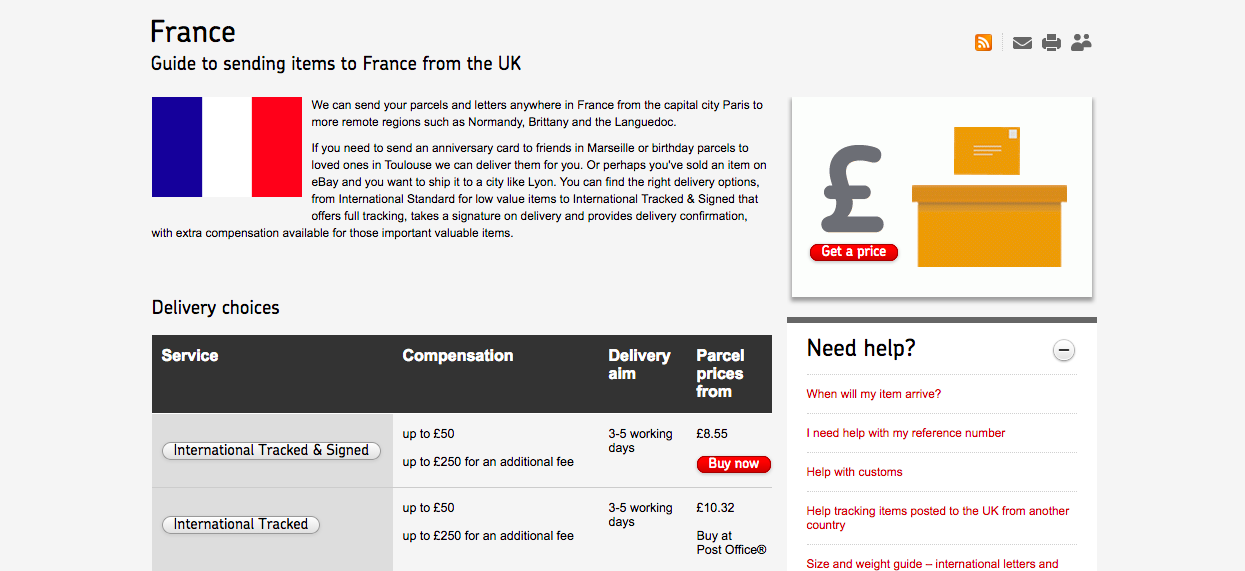 Wrap and Pack your items properly
Depending on the type of item that you will be shipping, you need to pack them according to the rules prescribed by Royal Mail. The package should neither be loosely or tightly packed, otherwise, the item inside might change its physical conditions. So, if you are delivering a plastic-action figure with multiple protrusions and if your packaging is loose then it is highly likely that it might arrive safely. Royal Mail offers the necessary packaging items required for packing items and preparing the package for international deliveries. You need to reach out to Royal Mail to know more about the availability of the packing items. Another area where you need to pay attention to while shipping perishable items like meat, fish, fruits and other similar items. You need to make sure that these items can withstand a journey of up to 48 hours by packing it safely. In the plugin, you can choose the service that you would want to offer, like the Royal Mail Parcelforce Express24 or Express48. Check out the following image for the same.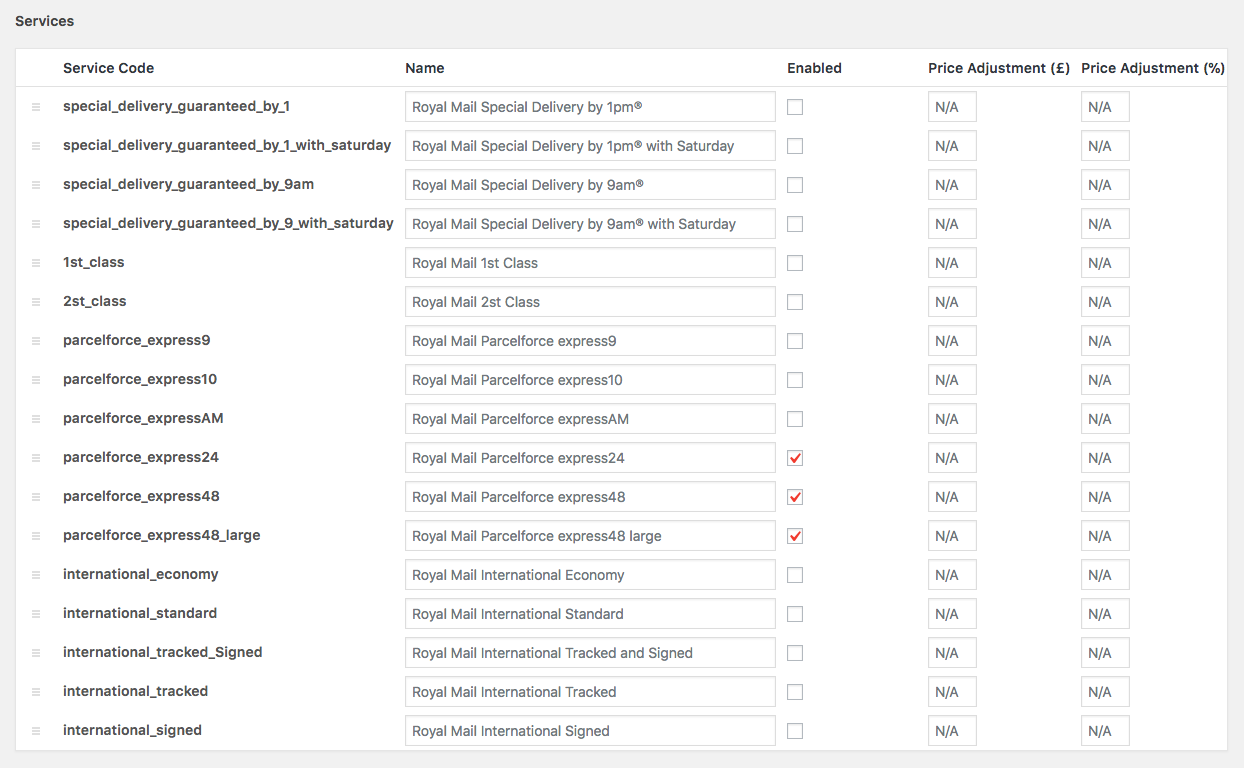 Moreover, for the shipping perishable items, you can use coolants like dry ice in the package to keep them cool and fresh. But it is highly important to signify that the package must be clearly labeled "PERISHABLE" and if you are sending with the coolant then you have to also specify the relevant code like UN1845 when used as a coolant for UN3373 or for other perishable items.
Address formats
This is a very critical and important part of shipping your items to the destination. Many store owners fail to mention the correct address on the package. This can lead to a wrong or no delivery if the address format is incorrect. And this usually happens when you are going to ship to an international country and you are not aware of the address. In this case, you need to find the correct format and then mention it on the package label. Moreover, there can be situations when your customers might have entered the incorrect address. You can find the right address format of your destination country by following this link.
Customs declaration
You need to fill out the customs declaration if you're shipping items to a country outside the Europian Union. Depending on the type of shipment, Royal Mail has suggested to fill out the customs forms. And according to them, there are two different types of customs declaration form,
For items with a value up to £270, you have to fill up this form CN22
For items with a value over £270, use the following customs declaration form CN23
Another important thing is to really make sure that the declaration is accurate and exhaustive. This will help the customs department of the destination country to process your order(s) faster and will also lower the chances of an issue. Please check out this out to know more about sending parcels using the Royal Mail services and handling customs.
Sending Valuables
Royal Mail offers a great deal of support when shipping valuable items. They recommend their users to wrap the valuable items or money properly. It should not be physically visible through the letter or envelope. Moreover, you should not mention anything on the outside of the package. There are a few restrictions like you should not send coins in the envelope because it might damage the package itself. Royal Mail also suggests you use their international priority shipping services like the International Tracked, International Signed and International Tracked and Signed. These services are much better and the Tracked services provide real-time tracking to the user. Royal Mail also provides a maximum insurance value of £100 for the loss or damage to an international mail containing a valuable item. In the Royal Mail plugin, you can offer these services by enabling them in the plugin settings page. Once you do that, your customers would be able to see something like the following on the cart page.
Weight and dimensions of the parcels
If not taken care of, Royal Mail may reject your order if your package does not meet their dimension rules. You see, there are certain physical limits for the items prescribed by Royal Mail to streamline their shipping process. They find it easy to group similar shaped parcels and letters together rather than grouping dissimilar ones. Following are the limits to the weight and dimensions for shipping items internationally: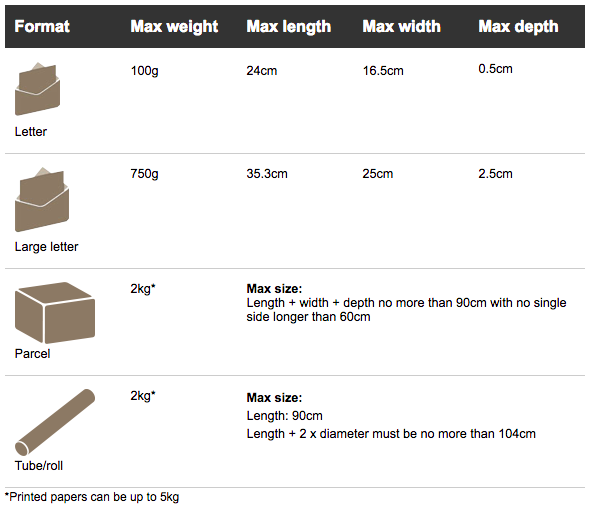 However, there are some exceptions to the items shipping to a few countries. Here is the list:
Ireland – Only books can be above 2kg
Canada – No items shall be above 2kg
Cambodia – No items shall be above 2kg
You can check out the following link to know more about the weight and dimensions restrictions. Thankfully, the plugin has taken care of the packing process and choosing the right parcel for your order. The plugin offers three parcel packing methods – Weight-based, dimension, and weight based and individual packing. Based on your selection the plugin's algorithm with automatically select the right package for the item(s). You can also enable or disable certain parcels and letters to have a complete control. Here is the screenshot of the list of packages available and how you can enable or disable a certain package in the plugin:

Final thoughts…
You are ought to enjoy using Royal Mail services because of their ease of shipping benefits. The Royal Mail plugin for your WooCommerce would come as a boon for your online business. In fact, you can make use of the features like the shipment tracking and price adjustments for your daily shipping needs. We hope that this article would have helped you in some way. Do let us know your thoughts on this in the comment section below. Happy shipping!