With this guide, we'll cover WooCommerce USPS shipping and shipping products with USPS with two online shipping solution – WooCommerce Multi-Carrier Shipping plugin and StorePep.
USPS Shipping – An Overview
The United States Postal Service(USPS) is an independent mailing agency the executive branch of the U.S. Federal Government. The USPS is soley repsonsible for providing postal service in the United States of America. USPS as formed by the Postal Reorganization Act in 1970 as an independant mailing agency. 
The USPS has the largest civilian vehicle fleet in the world and is legally obligated to provide service to all Americans regardless of the destination, at a standard price and quality of service. The USPS has exclusive rights to access mailboxes marked "U.S Mail" and personal mailboxes in the U.S. USPS has 2 major competitors in the U.S, they are FedEx and UPS (United Postal Service).
WooCommerce USPS Shipping Solution
E-commerce solutions like WooCommerce have merged with USPS to provide an end-to-end shipping solution. Many WooCommerce USPS Shipping plugins like Multi-Carrier Shipping for WooCommerce pack oustanding shipping features. We will discuss this later in this article.
USPS provides service to all states and areas of the U.S.A. as well as more than 190 countries across the world. We'll take you through the Domestic Shipments and International Shipments sent via USPS and their packaging methods, limits, restrictions and also the procedure to be followed in order to have the package delivered in a timely manner.
We will categorize the USPS Shipments into
Domestic Shipping with USPS

International Shipping with USPS
Domestic Shipping with

USPS
USPS covers all states and regions in the U.S. 
Sending Mail within the U.S
With USPS, you can send mail by:
Dropping it into the collection box.

Leaving it in the mailbox.

Schedule a pickup.

Taking it to a Post Office.
If your item weighs more than 0.812 lbs, and you have affixed postage stamps, you must take it to an employee at the Post Office.
Scheduling a Pickup for your package with the USPS
Whether it's package pickup or time-specific on demand pickup, USPS pickup options make shipping your packages quick and convenient.
Package Pickup is an easy, convenient way to send qualifying packages. Just submit your request online at www.usps.com/pickup and have your items ready before your carrier arrives. It's that simple!
Packaging restrictions for Domestic shipments
SHAPE

LENGTH

HEIGHT

Postcards

Minimum




Maximum

5 inches




6 inches

3-1/2 inches




4-1/4 inches max.

Letters

Minimum




Maximum

5 inches




11-1/2 inches 

3-1/2 inches




6-1/8 inches max.

Large Envelopes

Minimum




Maximum

11-1/2 inches 




15 inches

6-1/8 inches




12 inches

Packages

Maximum length plus girth 108 inches (130 inches for Retail Ground)
International Shipping with USPS
USPS International services cover Canada, Mexico, and 190+ countries. You can pick the appropriate service based on the delivery speed and shipping rates. United States Postal Service provides International tracking as well as Insurance for their fast services.
International Shipping Services
| | | |
| --- | --- | --- |
| | | |
| Global Express Guaranteed | | |
| Priority Mail Express International | | Pricey |
| Priority Mail International | | Moderate |
| First-Class Package International | Varies by Destination Address | |
Packaging restrictions for International Shipments
International shipments with USPS would use either one of the following:
Postcard

Letters

Large Envelope

Packages
Postcard
Postcards have to be rectangular in shape in order to be shipped with First Class Mail prices. Any postcard that is oversized will be charged as a Letter or Large Envelope.
Size Requirements for a Postcard to be shipped via USPS:
Height: 3.5 inches Min. / 4 1/4 inches Max

Length: 5.5 inches Min. / 6 inches Max

Thickness: 0.007 inches Min. / 0.016 inches Max
Letters
Letters are one person's written message to another pertaining to some matter of common concern. There are a few restrictions that have to be met in order for the USPS to ship the letter out in the best way possible.
These restrictions are:
Rectangular

At least 3.5 inches high x 5 inches long x 0.007 inches thick.

No more than 6.15 inches high x 11.5 inches long x 1/4 inches thick.

Max. Weight: 0.21 lbs.
Large Envelopes (Flats)
The USPS uses the word "flats" to refer to large envelopes, newsletters, and magazines. The words large envelopes and flats are used interchangeably. 
Height: 12 inches Max.

Length: 15 inches Max

Thickness: 3/4 inches Max

Max. Weight: 4 lbs
Length of a flat-size mail is the longest dimension. The height is the dimension perpendicular to the length.
Shape: rectangular, with four square corners, or with finished corners that do not exceed a radius of 0.125 inches.
Packages
Any mail item that is not a Postcard, Letter or a Large Envelope will be considered a Package. Packages are not the typical large box kind of shipments, USPS provides some of the best value for money when items are shipped using the Package/parcel method. A package can have a small item in the package as well and not just large items.
A general commercial package must measure:
At least 3 inches high x 6 inches long x 1/4 inch thick.

Except for USPS Retail Ground and Parcel Select, no shipment may measure more than 108 inches in length and girth combined.

Length is the measurement of the longest dimension and girth is the distance around the thickest part (perpendicular to the length).

The maximum weight is 70 pounds 
---
How to Ship Parcels using United States Parcel Service?
United States Postal Service has a certain protocol to be followed while shipping packages domestically and internationally. These are:
Packing the shipment

Preparing the shipment

Addressing the package

Choosing a service

Calculate shipping costs

Ship the package
Only upon confirming that the above-mentioned points have been covered by the shipper will USPS go ahead and ship out the package. Let's go over the packaging protocol followed by the USPS.
Packing the shipment
While packing the shipment, choose the most appropriate box to hold the item. Make sure the box is flat when full but has enough padding to protect the contents of the package.
Packages that are unable to fit into the processing unit at the USPS shipping hub will cost more to ship, measurements need to be taken accurately in order to prepare the package so that it doesn't get stuck and does not bulge. It is recommended not to use cord, string, or twine because it may they get caught in equipment
Preparing the shipment
Boxes must be packed so the contents of the package are protected and that the shipment arrives in one piece.
Use sturdy boxes which are roomy and add some cushioning for fragile items to prevent them from moving around in the box.

Make sure the box is closed and the sides and openings are reinforced with 2-inch wide packing tape.

If you're reusing a box, make sure the old addresses are covered or blacked out.
Packages like perfumes, alcoholic beverages, and dry ice have mailing restrictions or are prohibited. If you have any questions about what you may ship through USPS, review the restricted and prohibited items list.
Addressing the package
Make sure to address the package accordingly and that the ink used to mention the address does not smear. The package is to include the return address adn Postal codes for both the shipper and the recipient.
While addressing packages, you should make sure to follow these 2 points.
The senders' Address and the Recipients address should be on the same side of the box.

It is recommended to use a permanent marker for handwritten addresses.
Choose a shipping service
There are many ways with which USPS sends packages out, different delivery speeds, package sizes, and extras like tracking and insurance. This depends on how quickly you want it to arrive and its size and weight.
You can ship using Priority Mail Express, Priority Mail, First-Class Package Service-Retail, Retail Ground, and Media Mail.
There are a few things to consider when choosing the right shipping service.
Contents of the Package

The destination address of the package

The speed of the service

Shape, size, and weight of the package

USPS Tracking is available or not

Special handling and insurance

Delivery confirmation receipts
Calculate the shipping cost
In order for the package to arrive at its destination on time, the right postage needs to be used. The shipping cost for packages with USPS depends on several factors. Whether you are using stamps or printed postage, postage goes in the top-right corner of your package.
Make sure you're not underpaying on postage. When a package is sent without enough postage, it may be returned to you or the person receiving it may need to pay the difference. The USPS Price Calculator will show you how to measure your package and calculate your domestic postage costs for you.
Ship the package
USPS permits you to request for package pickups, to drop small packages in a blue collection box or to visit the nearest post office. You can drop off the package with an Approved Postal Provider. If your package weighs less than 0.81 lbs, you may use postage stamps and do one of the following:
Put it in your mailbox for carrier pickup.

Drop it in a blue collection box or lobby location.

Request a free pickup.
If your package weighs more than 0.81 lbs and you're using postage stamps, you must take it to a Post Office retail counter to send it.
NOTE: If you put it in your mailbox for pickup service, the carrier will leave it. If you drop it in a blue collection box or lobby location, it will be returned to you.
Schedule a Package Pickup
Save time sending your packages with USPS package pickups.
Free Package Pickup
Package Pickup during regular mail delivery is free regardless of the number of items scheduled for pickup. USPS usually picks up your package on the next delivery day or another designated day.
Pickup on Demand
If you want your packages picked up at a specific time, for a fee, the Post Office will pick up your shipment within a scheduled 2-hour period. 
---
United States Postal Service

Shipping Restrictions
While shipping with USPS, there are certain products that are considered 'prohibited' when being shipped domestically and internationally. The clause is that all prohibited domestic items are also prohibited from being shipped internationally. However, some items that are prohibited from being shipped internationally can be shipped domestically, with some restrictions.
Prohibited Domestic Items
Airbags

Ammunition

Explosives

Gasoline

Marijuana (medical or otherwise)
Restricted Domestic Items 
Aerosols

Cigarettes & Tobacco

Dry Ice

Glue

Live Animals

Nail Polish

Perfumes

Poison

Prescription Drugs

Alcoholic Beverages

Cremated Remains

Firearms

Lithium Batteries

Matches

Paint

Perishable Items

Fragile Items
Restricted International Items 
Cigars

Medical Devices

Lithium Batteries

Medicine or Drugs
---
USPS Additional Services
The United States Postal Service has a list of additional services that are made available to customers. These services are:
Tracking

Scheduling a Pickup

Informed Delivery

Redelivery of a missed shipment

Hold Mail

Insurance Coverage
Order/Shipment Tracking
The USPS provides its users with the feature to track their shipments while in transit. This provides a real-time status of the shipment.
Your tracking number can be found in the following places:
The shipping receipt obtained from the Post Office.

The sales receipt if you bought insurance at the Post Office

For shipments sent from USPS.com refer to the email confirmation.

The shipping confirmation email you received from an online retailer

The bottom peel-off portion of your USPS Tracking label
You can Track your package here.
Sample Tracking Numbers
| | |
| --- | --- |
| Service | Sample Tracking Number |
| | 9400 1000 0000 0000 0000 00 |
| | 9205 5000 0000 0000 0000 00 |
| | 9407 3000 0000 0000 0000 00 |
| Collect On Delivery Hold For Pickup | 9303 3000 0000 0000 0000 00 |
| Global Express Guaranteed | |
| Priority Mail Express International | 9270 1000 0000 0000 0000 00  |
| Priority Mail International | |
| | 9208 8000 0000 0000 0000 00 |
| | 9202 1000 0000 0000 0000 00 |
Schedule a USPS Pickup
USPS's Package Pickup service permits you to schedule the pickup on the next delivery day or a designated day of your choice. The mail items that are eligible for this service are Priority Mail Express, First-Class Package Service-Commercial, Priority Mail. There is no additional charge for Package Pickup when your mail is picked up as part of your letter carrier's route and he or she does not need to make a special trip to pick up your shipments. There is no limit to the number of packages that can be left for Package Pickup. The service is available in most ZIP Code areas nationwide
Package Pickup allows you to request a package pickup when your mail is delivered
Package Pickup is a free next delivery day (or designated delivery day) service. 
Pickup occurs on the next delivery day or other designated day with the regular pickup of the customer's mail
Individual items cannot exceed 70 pounds or 130 inches in total length and girth
Package Pickup service provides convenience for merchants and consumers in various ways:
Returns:  Consumers can request Package Pickup service for items when merchants provide them with labels for Merchandise Return Service (MRS) or Parcel Return Service (PRS)
Recycles: Consumers concerned about the environ­ment will find it more convenient to recycle old cell phones, MP-3 players, and other small electronic devices using these services.
Recalls: Consumers can use Package Pickup service in the event of a recall of products that meet the size and weight criteria for mailing when manufacturers provide MRS and PRS labels.
Repairs:  Consumers may have items that need to be sent to a facility for repair using MRS or PRS.
You can Schedule a Pickup here
Informed Delivery
Residential customers are provided with a free notification service to digitally preview their letter-sized mail and manage their packages that are scheduled to arrive. Informed Delivery allows users to view what is coming to their mailbox. This can be achieved online or via the mobile phone as an image. 
Redelivery of a Missed Shipment
USPS provides an extra service in the instance where a package was not delivered the first time. USPS will attempt to redeliver the shipment if you have received a PS Form 3849 – We ReDelivery for you. When this form is received, it means that the delivery clerk made an attempt but due to the following reasons he was unable to deliver the shipment:
A signature is required or postage and/or fees are required; and/or

The item(s) will not fit in the mail receptacle; and/or

The item(s) cannot be left in a secure place.
You can opt for ReDelivery here
Hold Mail
Hold Mail is a request that is submitted to the USPS stating the person who is due to collect the package will not be available and that as a request, the package will be kept at the local Post Office until the customer can collect the package.
This request is submitted by a resident at the registered address or their authorized agent. This agent will act on behalf of the customer and submit the request for them. A third party can apply for the Hold Mail request considering the customer can provide the relevant information to finalize the request.
In order to submit a Hold Mail request you will have to follow the below-mentioned points:
| | |
| --- | --- |
| Online | Post Office |
| Visit Hold Mail Service to submit a request online | Visit the nearest Post Office and submit the form PS Form 8076 |
| Hold Mail requests submitted online before 2:00 AM can begin on the same postal day | In order to edit or change the Hold Mail request, the customer will have to be physically present at the post office. |
| Hold Mail submitted post 2:00 AM will begin on the following postal day | The phone number and address of the post office can be located here: |
| Postal days are normally Monday through Saturday | |
Insurance Coverage
The United States Postal Service provides insurance coverage of up to $5,000 for shipments that are lost, damaged, or with missing contents in the custody of the United States Postal Service. Customers can purchase insurance at a local Post Office or online. Online labels also include the USPS Tracking service, so customers can check their delivery status online.
Insurance does NOT provide:
Expedited delivery

Guaranteed delivery time
You can purchase Insurance only at one source for each insured mailpiece. For example:
Insurance purchased online cannot be supplemented with insurance purchased at a Post Office or self-service kiosk.

Insurance purchased at a self-service kiosk cannot be supplemented with insurance purchased online or at a retail Post Office.
Note: A certain amount of insurance coverage may be included in some mail classes purchased in certain conditions.
This includes, but is not limited to:
Priority Mail Express

Priority Mail

Global Express Guaranteed

Priority Mail Express International
You can combine Insurance with:
Adult Signature Required and Adult Signature Restricted Delivery (not at retail)

USPS Tracking

Return Receipt (if insured for more than $500, Form 3811 only)

Return Receipt for Merchandise (for items insured for $500 or less)

Signature Confirmation and Signature Confirmation Restricted Delivery (if insured for less than or equal to $500)

Special Handling-Fragile

Hold for Pickup

Restricted Delivery
---
WooCommerce USPS Shipping
WooCommerce as an E-Commerce platform does not provide store owners with the ability to ship using USPS. Rather, with the help of the WooCommerce Multi-Carrier Shipping Plugin from PluginHive, you will be able to set Free and Flat-Rate Shipping, Bulk Import/Export Shipping Rules using the CSV, Multi-Vendor Compatible using Dokan, WPML Compatible. Using the Multi-Carrier Shipping plugin, users can set up and configure their USPS credentials in order to receive live rates and to ship packages using USPS.
In order to begin receiving Real-Time rates for USPS in the WooCommerce Multi-Carrier plugin you will have to follow these steps:
Now that the plugin has been set up and the USPS credentials entered, you can proceed to

set up the WooCommerce Shipping Areas

for your WooCommerce Store.
Begin configuring the Rule Table for USPS (shown below)

The areas to keep in mind here are:
Method Title:

The method title is nothing but the name for that particular service. The method title will reflect on the Cart page of the store.

Method Group:

The method group is the grouping mechanism in case there are multiple rules. 

Area List:

The Area list is the list of areas that were configured in the Shipping Area Management.

Shipping Class:

The shipping class field is to set the appropriate shipping class for that service.

Product Category:

In case there are multiple product categories and you prefer to target just one type or category for this shipping method

Shipping Options: Here lies the list of carriers supported by the

WooCommerce Multi-Carrier Shipping Plugin

, select USPS in order to obtain USPS rates for your account.
Service:

Select the name of the service you would prefer to appear on the Cart page when the customer enters the shipping address.

Import & Export CSV:

This option enables a bulk upload of the Shipping rules into the plugin. the file is in a CSV format and can be uploaded at your convenience.
Configure the Rule Table and add items to your cart.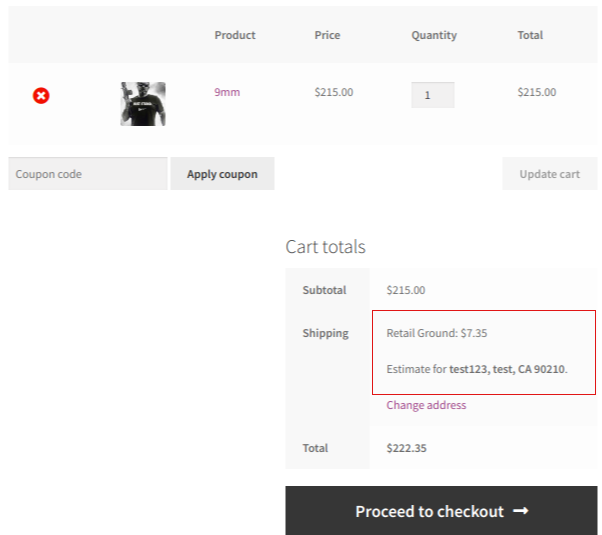 As you can see from the above image, USPS Retail Ground has been displayed for a Californian address as configured in the Rule Table. Multiple rules can be configured to cover various regions with different services each.

Though USPS provides an array of extra services, the Multi-Carrier plugin will not be able to do the following:

Print/Generate Shipping Labels

Track packages

Generate Commercial Invoices

Support Freight

Display only the lowest rate in the cart

With the Multi-Carrier plugin, you're able to

Generate Real-Time Rates

Enable Weight based packing

Pack items individually

Set a fall back rate

Use Flat rate boxes

Provides residential delivery

Static price conversion

Currency conversion
---
WooCommerce USPS Shipping with StorePep
With StorePep users are able to display real-time rates, generate and print shipping labels and track their shipments using the authentic USPS Tracking number. 
*While configuring the USPS credentials in StorePep you will have to make sure the USPS credentials used have e-VS (Electronic Verification System) pre-enabled and only then proceed with the set-up. In order to Enable e-VS for USPS, you will have to refer to the following link.
In order to generate labels and receive the tracking information, you will have to follow the below mentioned steps:
Begin by integrating your WooCommerce store with StorePep

Once the integration has been completed, you will have to set-up the carrier for your store (in this case USPS) by navigating to StorePep > Account Setup > Carriers > Add (shown below)
When you select 'Add Carrier' the list of available carriers will appear and select USPS from that list.

Now complete the account details with the relevant USPS credentials in order to receive real-time rates in your store. (shown below)
Click on ADD, toward the top right corner to save the settings.

Once done, you can proceed to add items to your cart and allow the system to calculate the rates based on the destination address. (shown below)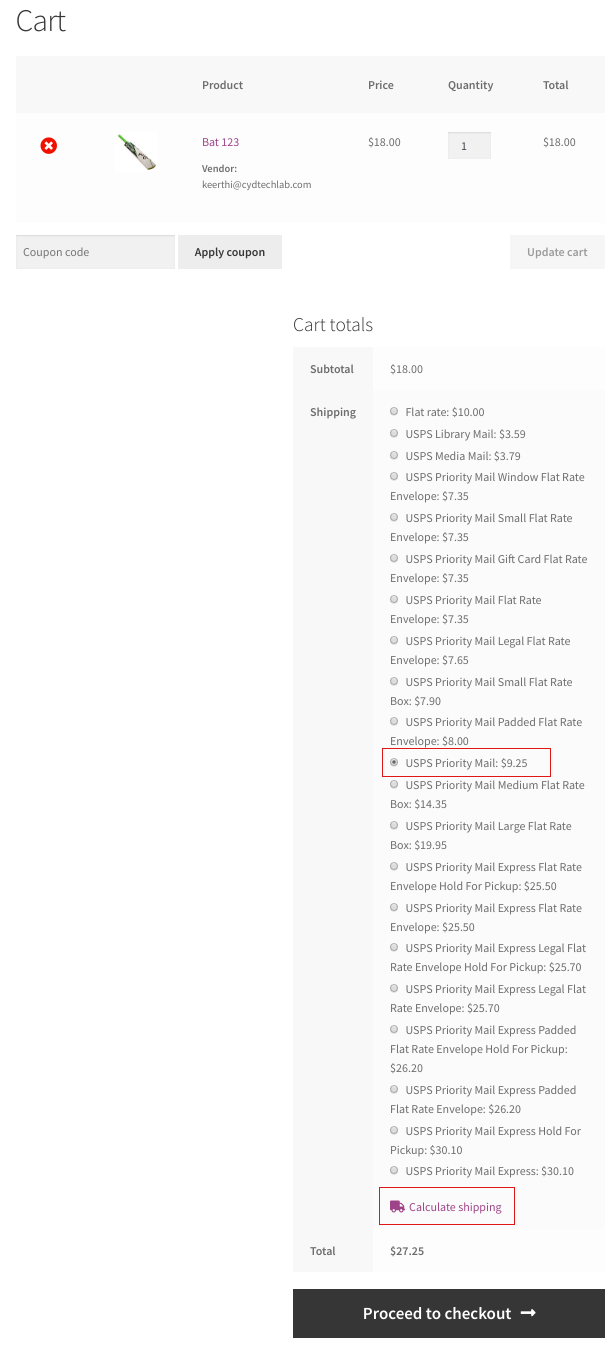 Process the order and proceed to StorePep, navigate to Orders > All Orders select the relevant Order Id and click on More Actions > Generate Labels to generate shipping labels (shown below)
Now that this has been completed, proceed to Label Batch (in the left panel) and select the respective Order ID. Toward the right-hand side of the Order Id click on the Print option to print the shipping label for the order. 

The Shipping Label will be generated and can be printed directly from the browser. A sample Priority Mail shipping label from StorePep(shown below)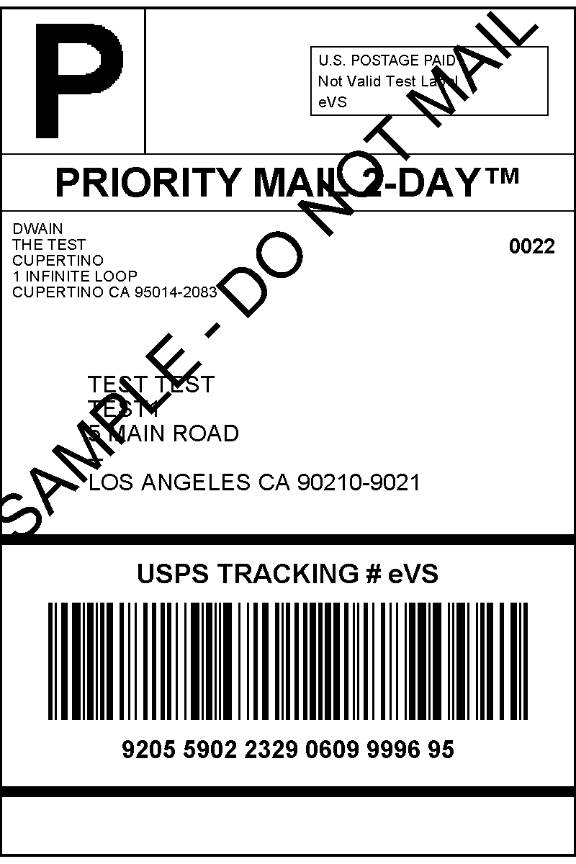 Now that this has been done, you are also able to Track the shipments using the USPS Tracking number that is generated when the labels are printed. This is possible by navigating to Label Batch and clicking on the order id as shown below
---
Conclusion
This article covered the setup, functionality and the availability of the WooCommerce USPS Shipping services within the WooCommerce Multi-Carrier Shipping plugin.
It also covers a generic detailed description of what USPS is, what it does and how convenient their services are when it comes to online and offline shipping. We've also included StorePep for the Label Generation functionality and the ability to Track Shipments
If there's any doubt or query pertaining to the subject WooCommerce USPS Shipping or with the WooCommerce Multi-Carrier Shipping plugin, please feel free to reach out to us with your query.
You can submit a comment below or similarily you can raise a ticket with our Support Team who would get back to you at the earliest with a detailed response.
Happy selling! 🙂