Setting up USPS Account
In this tutorial, we will show you how you can apply for a USPS shipping Account to use it with PluginHive WooCommerce shipping solutions and get real-time shipping rates from USPS on your WooCommerce store.
Register for USPS Web Tools
Go to https://www.usps.com/business/web-tools-apis/welcome.htm (Not the URL used for logging into My USPS account)
Under Sign Up, click Register Now.
Enter all the required details in the given registration form and click on Submit.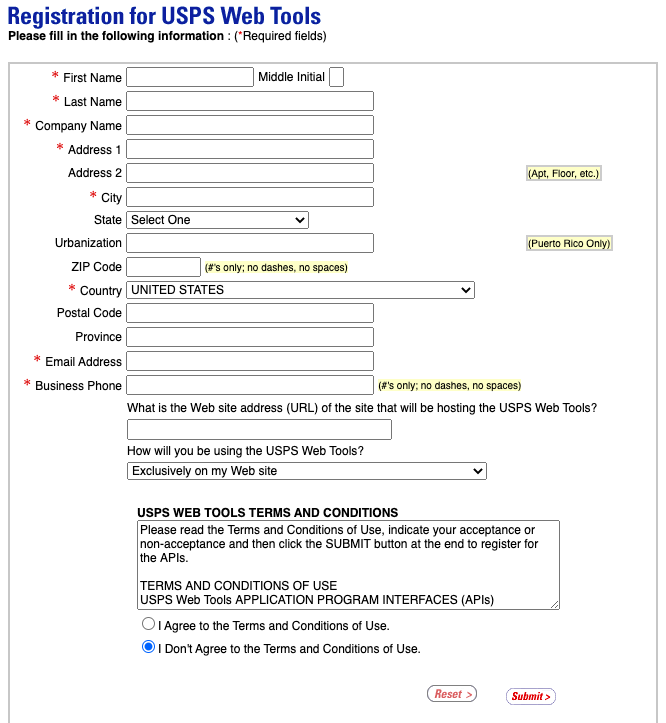 After registration, you will receive an email containing your unique Web Tools User ID and Password. It also includes instructions for the next steps and requests for additional permissions.
USPS API Services
USPS provides a different kind of services which are suited for different needs of the customer. The customer can select their preferred services from the list below.
Priority Mail Express International
Priority Mail International
Priority Mail International Medium Flat Rate Box
Priority Mail International Large Flat Rate Box
Global Express Guaranteed
First-Class Package International Service
Priority Mail International Small Flat Rate Rate Box
LETTER>First Class>LETTER
FLAT>First Class>FLAT
PARCEL>First Class>PARCEL
POSTCARD>First Class>POST CARD
PACKAGE SERVICE>First Class>PACKAGE SERVICE
PACKAGE SERVICE>First Class Commercial>PACKAGE SERVICE
PACKAGE SERVICE>First Class HFP Commercial>PACKAGE SERVICE
Priority
Priority Commercial
Priority Cpp
Priority HFP Commercial
Priority HFP Cpp
Priority Mail Express
Standard Post
Retail Ground
Media
Library
Online Plus