Meet Keyvan, the Sales Manager at Ausavina Co. US, a leading manufacturer and supplier in the Stone, Glass, and Construction industries. Since its establishment in 2009, the company has been synonymous with high-quality materials and handling equipment. Their commitment to delivering top-notch products and ensuring customer satisfaction sets them apart in the market. But like any successful business, Ausavina encountered challenges, especially when venturing into e-commerce, including integrating WooCommerce for online sales and managing FedEx Freight shipping for efficient logistics.
Venturing into E-commerce
Recognizing the growing importance of e-commerce, Ausavina USA, led by Keyvan, made a strategic decision to take their business online. The choice of WooCommerce as their e-commerce platform was natural. WooCommerce's user-friendly interface and the extensive range of plugins tailored to their needs made it the perfect fit. However, as they embarked on their e-commerce journey, they encountered a roadblock – FedEx shipping integration.
---
Navigating Shipping Challenges
Ausavina USA, known for its quality handling equipment, faced difficulties setting up shipping, especially for Less-Than-Truckload (LTL) shipments through FedEx. They faced unpredictable fluctuating costs and the risk of goods being damaged. Overcoming these challenges was imperative for their sustained growth in the online marketplace. Their aspiration was to provide real-time shipping rates to customers during the checkout process, streamline the label printing procedure, and facilitate FedEx pick-ups. These challenges marked crucial milestones in their e-commerce journey.
---
Discovering PluginHive: A Game-Changer
Amid their quest for a solution, Ausavina USA, with Keyvan at the helm, conducted online searches and watched YouTube videos. They came across a video that precisely demonstrated the PluginHive WooCommerce FedEx Shipping solution they were seeking. After further research, PluginHive stood out with a more professional website and faster, more detailed responses. While their documentation was equally helpful. The key distinction with PluginHive was their impeccable support.
---
How PluginHive Transformed FedEx Freight Shipping for Ausavina USA
After making a purchase of PluginHive's WooCommerce FedEx Shipping Solution, the Customer Success team swiftly offered assistance, going a step further by suggesting a Zoom call to guide them through the process. This level of hands-on support left a lasting impression, and Ausavina USA, with Keyvan's insights, was ready to experience the transformation.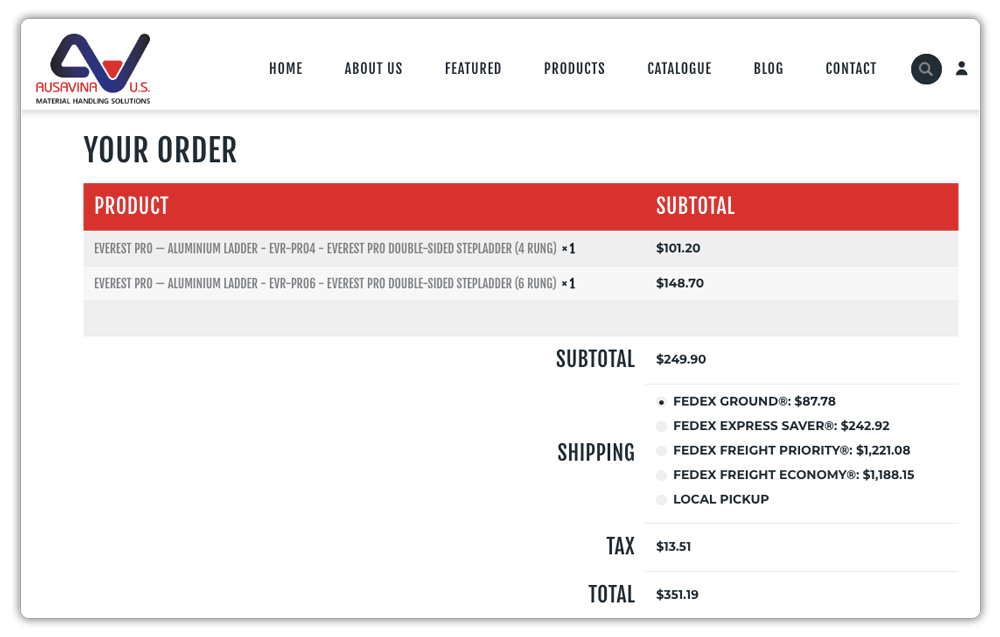 ---
PluginHive's WooCommerce Shipping solution, which is certified by FedEx, not only streamlined Ausavina USA's shipping process with FedEx but also simplified label printing and displayed real-time shipping rates at checkout. It efficiently coordinated with FedEx for pickups and, importantly, reduced the risk of damaged goods by utilizing the Lift Gate Pickup/Delivery feature available in the solution. This newfound efficiency saved invaluable time, reduced costs, and enhanced the overall customer experience. Now, Ausavina USA can process orders smoothly and efficiently, ensuring timely deliveries and mitigating the risk of damaged goods, ultimately resulting in satisfied customers.
For WooCommerce stores, who are looking for a complete shipping solution, Keyvan advises,
I enthusiastically recommend the WooCommerce FedEx Shipping Plugin for all your shipping needs, especially if you ship with FedEx. The combination of exceptional support, efficient solutions, and user-friendliness has made a substantial impact on Ausavina USA's e-commerce operations.

Keyvan Shahidi
---
Final Thoughts
In the world of e-commerce, under Keyvan's leadership, Ausavina USA has shown that success requires more than just top-notch products; it demands the strategic selection of partners and tools. With PluginHive's support, they've successfully streamlined their Freight shipping operations with FedEx and continue to provide exceptional service to their customers.
---
Check out our other customer success stories to see how PluginHive's services are helping other online businesses all across the world with their shipping needs.