eCommerce is on an exponential growth trajectory as more people turn to digital platforms to shop and sell. Retail eCommerce sales hit $4.9 trillion in worldwide sales in 2021. With all the growth now going on, more and more people want to start an online business and sell products digitally.
A buyer should be able to browse products on an eCommerce platform, add them to their cart, and then check out. The best eCommerce platform empowers business owners to run their businesses by becoming an all-in-one eCommerce platform and one of the most reliable eCommerce platforms.
---
On this page
What is WooCommerce Payments
Types of WooCommerce Payments Methods
3 Leading WooCommerce Payment Gateway
How to install WooCommerce Payments
WooCommerce Payments Features
Advantages of Using WooCommerce Payments
---
What is WooCommerce Payments?
One of the top eCommerce platforms right now is WooCommerce. WooCommerce is a popular plugin that includes most of the features required to set up an eCommerce site. It enables you to create and modify an online store with a perfect and straightforward payment system. It is the native payment processing gateway for WooCommerce and one of the best eCommerce platforms available online where you can accept payments from customers.
WooCommerce is one of the most significant eCommerce platforms, holding 23% of the market share. It includes a ton of extra features that can improve your store, like the capacity to modify each of your products and support for additional payment gateways. The primary benefit of this payment system over other online payment platforms is that payments can now be accepted on your website. You can also view all transactions and resolve any disputes in your backend.
The base plugin is free, and there are numerous low-cost extensions available to expand your options even further. WooCommerce has many options, and even if you are unfamiliar with eCommerce, using the platform is relatively simple.
---
Types of WooCommerce Payments Methods
WooCommerce payment methods include cash on delivery, direct bank transfer, and check payments.
Cash on Delivery
As the name suggests the payment is done once the delivery is completed. Though it's a common payment method, however, for a seller it can turn out to be risky. If you are providing COD, it makes sense to include the shipping contractor's service cost and pass it on to the client in a transparent way.  
Direct Bank Transfer
Direct Bank Transfer entails a client transferring funds from their account to the retailers. This is one of the secured options for the sellers as the products are dispatched after the verification of the transfer.
Check Payments
The check Payments procedure is similar to that of a direct bank transfer where the products are dispatched after the transaction is completed. This payment option is beneficial for international sales. 
---
3 Leading WooCommerce Payment Gateway
WooCommerce is a flexible platform that not only has its inbuilt payment processor but also includes alternative payment gateways for providing multiple payment methods to your customers. Let's know in detail about the top three payment gateways for WooCommerce.
Stripe
Stripe is one of the most popular payment gateways due to its clean design, ease of use, and developer-friendly documentation and setup.
Stripe is compatible with WooCommerce, which allows you to embed the payment form directly on your website. This is extremely useful and increases the likelihood that customers will buy something.
Key Features
​​10+ payment methods
Embeddable checkout
Financial reporting
Customizable design
PayPal
PayPal is one of the oldest and most widely used payment gateways. It is easy to connect directly with your WooCommerce store and makes the setup process relatively painless. The entire checkout process can happen on one page & this decreases the likelihood of abandoned carts.
Key Features
Professional-looking invoices
Customizable API
Access to your money in minutes
Accept payments in person from any computer with PayPal Terminal
Authorize.net
Authorize.net is a payment gateway owned and operated by Visa. By accepting more types of payment it stands out from other solutions.
Key Features
Advanced fraud detection and prevention
Recurring payments
Accept virtually any kind of payment
Simple checkout options
---
How to install WooCommerce Payments
Access your WordPress dashboard.
Go to Plugins > Add New
Search for WooCommerce Payments> Install Now> Activate
---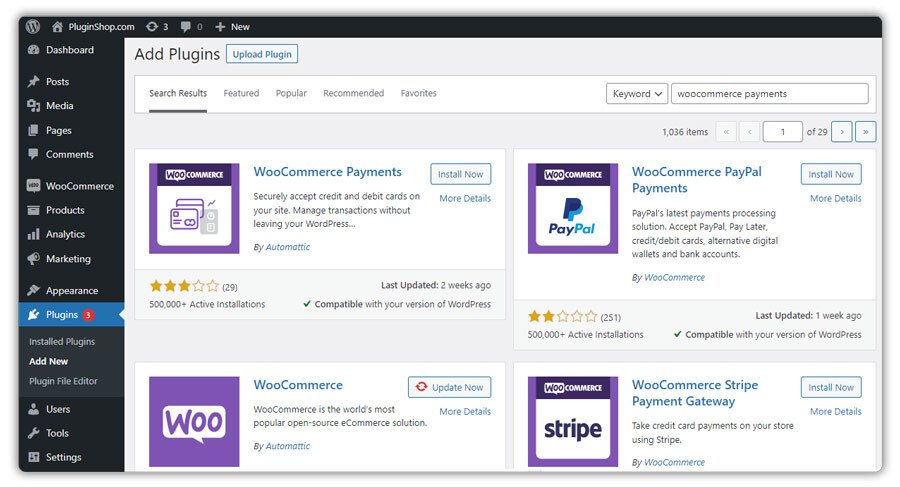 ---
Now to connect your WordPress site to WooCommerce Payments click on Payments & then select Set up.
---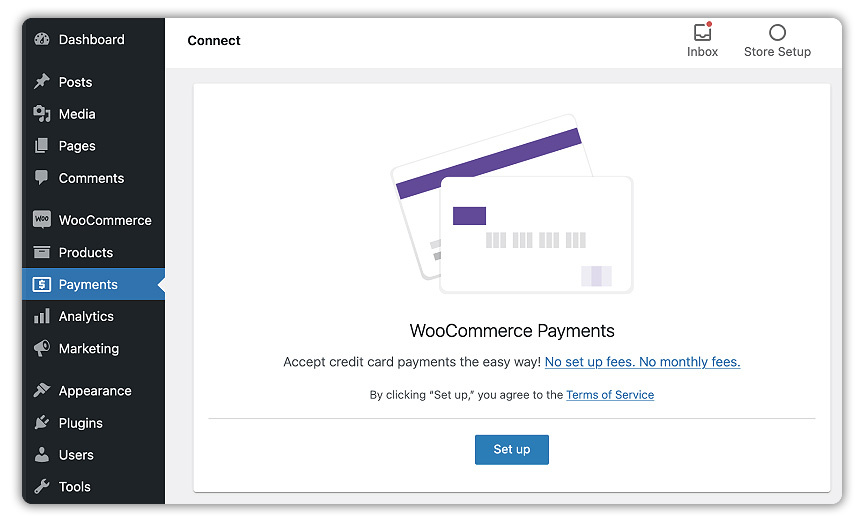 ---
Next, type in the email address associated with your WordPress site and click Continue.
Authenticate your store's connection to WooCommerce Payments, by filling out details in the Stripe payment gateway verification form and then click the Next button.
---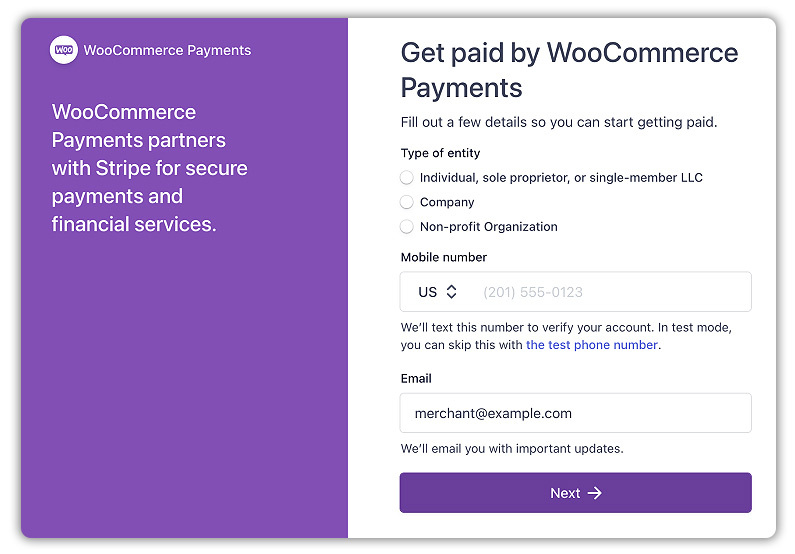 ---
It will redirect you to the WooCommerce Payments settings page. To begin accepting direct credit and debit card payments in your store, check the Enable WooCommerce Payments box.
---
WooCommerce Payments Features
So what can you do with WooCommerce payment? Here are the hallmark features that make WooCommerce a great solution.
Payment Processor
A payment processor is in charge of communicating transaction information to and from the acquiring bank of the merchant and the card-issuing bank of the customer. Although they can also accept payments through a credit card reader, POS system, or software integration, payment gateways are frequently used for eCommerce transactions.
What sets WooCommerce Payment apart is that it does not need Paypal or Stripe to function and receive payments. Any online business or seller can reduce operational costs by simply opting to use WooCommerce Payment.
Payment History Dashboard
In the business industry, dashboards are reporting tools that compile and show key metrics and key performance indicators (KPIs) on a single screen, allowing users to monitor and assess business performance quickly.
With several solid integrations and core features, WooCommerce Payments takes your dashboard to the next level, giving you more time to concentrate on expanding your business. It is like an all-in-one eCommerce platform that empowers business owners to manage their companies. This feature of WooCommerce Payments also allows its users to have a bird's eye view of the overall status of the payments of your clients or customers. You can also get reports on your Woocommerce orders if you opt for this eCommerce tool.
Subscription and Recurring Payments
WooCommerce has a feature that allows recurring payments that can be used to automate payment processing for subscriptions, billing, memberships, auto-replenishment, and other services. With this, WooCommerce can bring a company's productivity to the next level.
Buyer Rewards
All companies benefit from customer loyalty, which should be used as an effective strategy to grow the company even more by solidifying customers' loyalty through rewards. You can increase customer loyalty and repeat sales by rewarding customers with coupons, points, and gifts.
There are a lot of eCommerce platforms available online. The goal is to choose the best that fits your needs and preferences. The best eCommerce software platforms plus reliable payment software like Woocommerce Payment should help you grow your business. 
---

---
Advantages of Using WooCommerce Payments
So what are the benefits of using WooCommerce payment for your eCommerce business? Here are the six advantages of using WooCommerce payment for your eCommerce platform.
Accept payments from 135+ currencies
Reaching new markets is as easy as adding more languages and currencies to your WooCommerce store through WooCommerce payments. The best part is that you would not need to increase your product catalog because of this immediately. If you can ensure that your store is accurately translated, you should start getting more customers from different backgrounds.
You can reach a larger audience if you accept payments in more currencies. Your store's potential customer base grows the more languages it supports. Price calculations can be made more accessible by using WooCommerce. You may occasionally get customers abroad even if your store does not facilitate multiple languages or currencies. It is not ideal that they will be forced to independently convert prices to their exchange rates.
Have all your payment history in one place
Your payment history refers to all the purchases done by your business, and having this in one place provides the ease of accessing critical data and information. Since WooCommerce Payments is an all-in-one solution, it allows you to see not just the payment history of your online business but also to send an email to your list of customers while checking out. Then you can set it up to send emails based on particular customer information and purchase history.
Give your buyers rewards like discounts
With WooCommerce Payments, you can quickly get customizable coupon functionality that meets the needs of most stores right out of the box. You can use this feature to reward your customers for purchases and other actions by giving them points that can be redeemed for discounts. You can give your shoppers discounts through this feature. You can also use this feature to give away gifts to customers who make purchases in your WooCommerce shop. With an effective reward system for your buyers, you would be able to strengthen your relationship with your customers and thus encourage brand loyalty.
Increase your website conversion rates
WooCommerce Payments is not just one of the most popular eCommerce platforms but also one of the best eCommerce payment processors in terms of conversion rates. The conversion rate calculates the proportion of site visitors who converted due to their visit.
The more effective your payment gateway is, the higher your conversion rate. Also, the simpler your website is for your visitors, the higher the chance they turn into buyers. WooCommerce boosts conversion rates by letting international customers shop in their currency and accept payments through services like Giropay, Sofort, iDeal, P24, EPS, and Bancontact.
With the numerous reports included, you can measure the success of your campaigns and extend WooCommerce reporting. A detailed log of each email sent, and conversion noted is also available.
Simplify shopping for your customer
By offering customers the payment options that are most simple, practical, and relevant to them, you can increase checkout conversion. Your store has the option to accept credit cards, debit cards, and Apple Pay, thanks to WooCommerce Payments. Give customers more choices by enabling widely used local payment options and other digital wallets like Google Pay.
Make eCommerce simpler for sellers
eCommerce can be very intimidating at times. It can hinder you from scaling your business or from an aspiring business owner from jumpstarting his or her own company. The solution created and supported by WooCommerce Payments enables business owners to manage their payments and run their company from a single location. This feature also makes WooCommerce one of the best eCommerce platforms on the Internet.
Additionally, they can track sales and manage all payment activity from your store's dashboard with WooCommerce Payments by using WooCommerce to accept online and offline payments.
---
You can find a lot of payment processor lists online. However, choosing the right payment gateway completely depends on your business requirements. By doing that, you improve conversion rates and reduce operational costs.
---