No matter where an eCommerce business is based or where their customers are located, making the shipping process as simple as possible has become a standard practice instead of a convenient perk. Consumers no longer want to wait days or even weeks to find out where their online orders are and how much the final shipping cost will be.
The chance of losing a potential customer to your competition due to your lack of shipping experience or live tracking offerings can become a huge problem. It's critical to adapt your company to the next generation of shoppers – and offer them something that's actually very easy to set up.
Your eCommerce business may use or plan to use Aramex for much of its domestic shipping within the United Arab Emirates. Or, you may plan on optimizing Aramex for its excellent global partnerships in international delivery. Whatever your delivery needs are, Aramex offers speedy service and many features that are included in most of their shipping services. One of these main features is live tracking.
---
What is Aramex?
Aramex is a multinational logistics and courier company based in Dubai, United Arab Emirates. Founded in 1982, it is the first Arab-based company listed on the NASDAQ stock exchange and has quickly become one of the top courier companies in Asia and in the world. With over 8,600 employees located in 310 locations around the world, Aramex has developed a strong reputation as a global partner for logistics and cost-efficient shipping solutions.
---
Using Live Tracking and Shipping With Aramex
Live Order tracking is just one of many features offered by Aramex. Others include Aramex Cash on Delivery, Customs Clearance, Cash Collect, and Express Inbound.
Aramex Domestic Express
Aramex Domestic Express provides trustworthy door-to-door solutions for "time-critical packages" to be delivered within one of its major countries or cities within a set number of days. Aramex will also pick up your packages so your business can spend more time focusing on what matters most.
Live tracking is available at any time with a Domestic Express package from the Aramex website. You can also easily integrate the tracking into your website using a web developer, or more easily, via an authorised solution provider, like PluginHive.
Express Options include:
Aramex Same-Day Domestic: Aramex guarantees the fastest delivery on the same day of pick up.
Aramex Next-Day Domestic: Shipments are picked up and delivered the next business day.
Aramex Deferred Domestic: For your important packages that need to be delivered within 3 to 5 days door to door.
---
Aramex Application Programming Interface (APIs)
Developers can integrate Aramex's APIs right into their website. eCommerce platforms like Shopify & WooCommerce offer extensive applications, that are easily downloadable for a lower price than hiring a web developer. These tools offered by Aramex can be implemented from the backend of your website and offer multiple features to you and your customers right from your business site. This makes the shipping process more convenient, leading to happier customers who will keep returning to your business.
---
Aramex Tracking for WooCommerce
Simply download the 5-star WooCommerce Shipment Tracking Pro for a cost-efficient price. The app allows you to utilize multiple order tracking functionalities of Aramex right from your WooCommerce website. Add orders shipment information to any order instantly while providing a unique message that is branded to your eCommerce business. Add live shipment tracking that can be accessed from the buyer's account so they can see the status of their orders at any time. They can also receive email notifications whenever there's an update about the order to share.
You can offer customers the ability to track Aramex with the WooCommerce Shipment Tracking Pro plugin, but also allow them to choose other shipping options that are more convenient to them or fit within their budget.
Prefer an application dedicated to Aramex or want something that will give you, even more, features in addition to the shipping app provided above, WooCommerce Aramex Shipping Plugin with Print Label provides you with everything you need and more. Not only does it make the shipping of orders more convenient for your customers, but it streamlines the shipping process for you too. All your orders can be easily tracked and paid for right from your website. When an order is ready, the package label will print without the need for any data entry as addresses are pre-attached through the app to ensure they are free of errors.
---
Aramex Tracking for Shopify
Similar to the app offered by PluginHive for WooCommerce-based websites, Aramex tracking can be integrated into your Shopify website using Shopify Aramex Shipping solution. For a low monthly subscription, the app send instant email notifications to your customers when there is an update on their order. You can also integrate a Tracking Lookup Page that you and your customers can use to find out the status of their order at any time.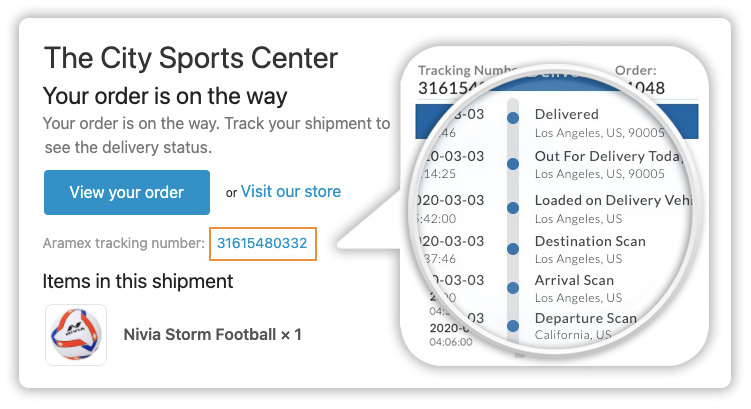 Not just that, the app includes instant rates offered to customers and live tracking throughout the entire shipping process from start to finish. And, you can cut down on data entry time by employees with automatic shipping label generation.
---
PluginHive allows eCommerce merchants to streamline their shipping process right from cart to customers' doorstep through real-time shipping prices, tracking options, automation of shipping labels and more. Learn more about integrating PluginHive into your Shopify, WooCommerce, or another eCommerce platform by reaching out to our customer support team.