If you're an eCommerce brand, providing the best service is important because it allows you to stand out among your competitors while supporting your customers and increasing their overall satisfaction. You've likely been told that it's cheaper to retain the customers you already have than to seek out and persuade new ones to buy your products. It's true. If you can keep your customers happy by going above and beyond for them, they'll even do the same for you by recommending your business to their friends and family.
One major service that consumers have come to expect and not just appreciate is live tracking of their orders. With so many online purchases being done from anywhere in the world, that peace of mind has become essential. It's easy to offer live tracking for your customers too. Most shipping companies have at least one express or international service that has tracking included. Offering multiple options to your customers means they get to choose which carrier they prefer based on their budget and the speed they require.

If you're domestically shipping within Australia, or even shipping internationally, Australia Post has you covered when it comes to many value-added services, including free live tracking for your customers.
---
What is Australia Post?
Australia Post is the official government mail and parcel delivery service. Formerly known as Australian Post Corporation, the Australia Post delivers daily mail to 227 million physical customers each year. Australia Post is one of the most reliable postal services in the world and delivers on its promises almost 100% of the time. In 2020, they sent 2.5 million estimated time of arrival notifications to customers, with 96 percent of those parcels being delivered within the two-hour window.
---
Live Tracking With Australia Post
Australia Post automatically provides live tracking on all parcels and mail being sent express or through methods other than standard shipping. Mail sent domestically or internationally via a post box or office with standard stamps will not be given a tracking number. Businesses sending orders domestically or internationally with Australia Post will receive a tracking number to provide to customers.
Tracking eParcel with Australia Post is easy through the website's tracking search bar. You can also sign up for notifications by email if you are a business. According to Australia Post's website, you will be notified when:
Shipping information is received and approved
The item arrives at the relevant delivery facility
The driver loads the item into their van
The item is delivered
Your customers will also be able to get notifications about their order when you add their address/phone number to your manifest opt-in on their behalf as a business. They can also manage their delivery through the online services provided. Don't worry, though, you can have their information automatically added and managed when you integrate Australia Post into your website's hosting platform. These APIs are added into your website's back end and allow for Australia Post's business services to be accessed right from your website. Your customers will also have easy access to postage rates, tracking updates, and more right from your website as well.
---
Australia Post Tracking for WooCommerce
If your eCommerce website is hosted by WooCommerce, it's simple to include convenient tracking for all the major shipping companies you offer with PluginHive's WooCommerce Shipment Tracking Pro. What businesses love about this tracking app for WooCommerce is that for one low cost you get access to multiple features that make tracking simple for you and your customers.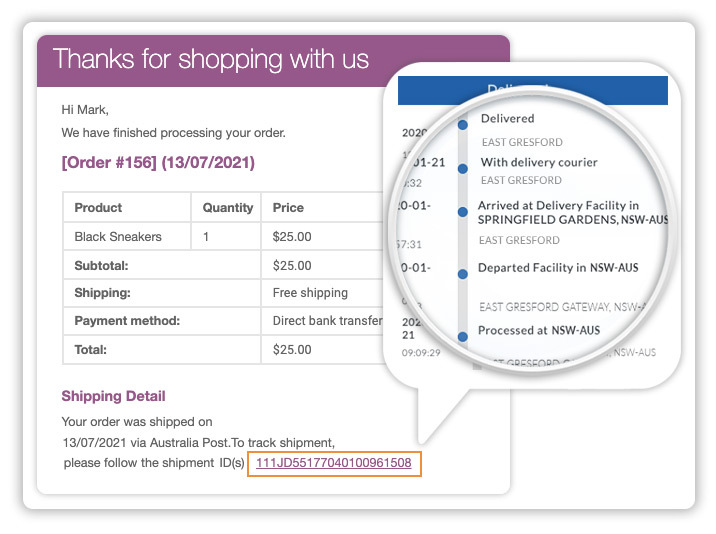 You can customize the tracking notifications that are sent to your customers when they order. All tracking information is also added automatically and instantly to all orders and customers can stay updated by checking in on their orders through their My Account page on your website. As a business, your job becomes more simple with Bulk Import WooCommerce tracking details using CSV, FTP & SFTP upload.
WooCommerce Australia Post tracking is also available through a dedicated application that includes all of Australia Post's APIs and more. The WooCommerce Australia Post Shipping Plugin with Print Label. Print Australia Post shipping labels and pay for your orders in bulk right from your website. Real-time tracking is also an available service through the app offered by PluginHive, which makes your customers happy. And, they can conveniently choose the shipping rate right from checkout.
---
Australia Post Tracking for Shopify
With almost 100,000 eCommerce stores in Australia hotels by Shopify, many businesses are benefiting from the Shopify Shipment Tracking & Notifications App. The app provides live tracking for most shipment companies, including Australia Post. Customers can easily get an update on their order from the Tracking Lookup Page within your Shopify store or monitor from their own personal tracking dashboard. And, of course, customers will appreciate receiving email notifications when there are updates about the status of their order.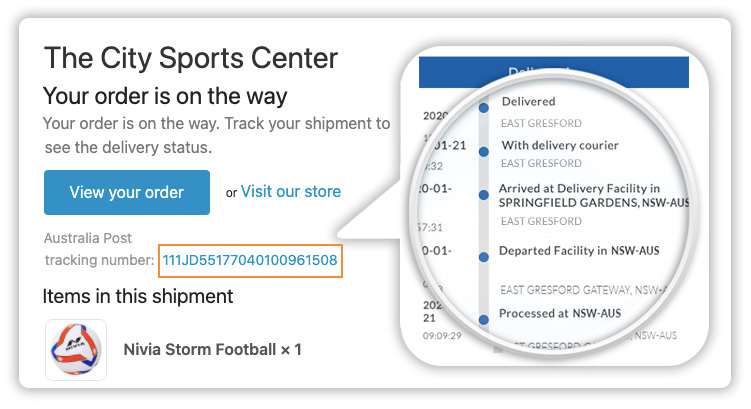 As with WooCommerce mentioned above, PluginHive also has an app completely devoted to Australia Post that you can integrate into your Shopify website. This app provides your business with the Australia Post APIs you need without having to skip back and forth away from your website. You can pay for all of your shipments right from the app and automatically download and print shipping labels one at a time or in bulk. Not only does this save your business time, but the potential for an error in an address to occur is minimal because customers are provided with the registered Australia Post address at checkout. Check out more on Shopify Australia Post Shipping App with Rates, Labels & Tracking.
---
PluginHive allows eCommerce merchants to streamline their shipping process right from cart to customers' doorstep through real-time shipping prices, tracking options, automation of shipping labels and more. Learn more about integrating PluginHive into your Shopify, WooCommerce, or another eCommerce platform by reaching out to our customer support team.