Conveniently, FedEx Express renders some of the most flexible shipping services. So no matter what your business deals with, there's always a service for you to choose. For instance, you have the FedEx First Overnight for ultra-fast deliveries, and FedEx Express Saver for your usual economical shipments. FedEx Express Saver, in particular, stems from the idea of making deliveries easier for small businesses. With a few recently-introduced changes, store owner like you could make even more business. The trigger that makes it a better choice is the fact that it's both cheap and relatively fast. Keeping the above leaks in mind, let's unlock a few more secrets surrounding FedEx Express Saver. To keep things interesting, we have listed the features and benefits that fall right after. So read along and find out more.
What is FedEx Express Saver service?
FedEx Express is the most popular FedEx service after FedEx Ground and is an important part of the FedEx Network. Under this segment, FedEx has introduced various services including the FedEx Express Saver. This particular service is responsible for delivering packages within the U.S. and is widely used. Here are a few more details regarding this service.
With improved transit times and shipping prices, this service is even better than the UPS Ground.
Recent investments in high-tech facilities have automated most of their workflow. Resulting in continual improvement in speed, efficiency, and reliability.
FedEx Express Saver manages to deliver packages within 3 business days. The delivery timings differ based on the distance between you and your customer's location.
FedEx Express Saver service details
Delivery Timings

FedEx Express Saver delivers within 3 business days within the contiguous U.S.

Working Days

By default, FedEx Express Saver operates from Monday to Friday and does not deliver items on the weekends. But you may use FedEx Saturday Pickup.

Delivery Area

The delivery is available to all the states in the United States of America except Alaska and Hawaii.

Package Type

Each package shouldn't be more than 150 Lbs (68 Kg)

Length of the package shouldn't be more than 108" (274 cm), 130" (330 cm) in length and girth combined (L+2W+2H).

Additional Services

Saturday Pickup
Dangerous Goods (for inaccessible items only)
Collect on Delivery (C.O.D.)
Delivery Signature Options
Hold for Pickup
FedEx Delivery Manager
Does FedEx Express Saver support Collect on Delivery?
As mentioned earlier in the table, FedEx Express Saver does support Collect on Delivery. This service designates the amount of money that the FedEx driver collects from the recipient when a package is delivered. Here are a few more details regarding the same.
If the FedEx Express Saver driver collects guaranteed funds, or a company and/or personal check, the payment is sent directly to the shipper via U.S. mail.
If cash is collected, by the next business day, FedEx Express Saver issues a check to the shipper in the amount of the cash collected. The FedEx issued check is sent to the shipper using the U.S. Postal Service.
The shipper must designate the type of payment to be collected by FedEx Express Saver.
Does FedEx Express Saver Support FedEx One Rate?
Yes, it supports. Using FedEx One Rate could really help you save money on shipping. And it's really easy to use it too. Based on the current process, if you request FedEx One Rate pricing for your shipment, you must package it in FedEx Express packaging options. This is one of the most important points you should be aware of. All other FedEx Express Saver shipments must be packaged in one of these options:
Your own packaging (custom-sized package)
FedEx Envelopes and PAKs
When you go to the FedEx rate calculator page, you can select the FedEx One Rate option. Let's consider an example.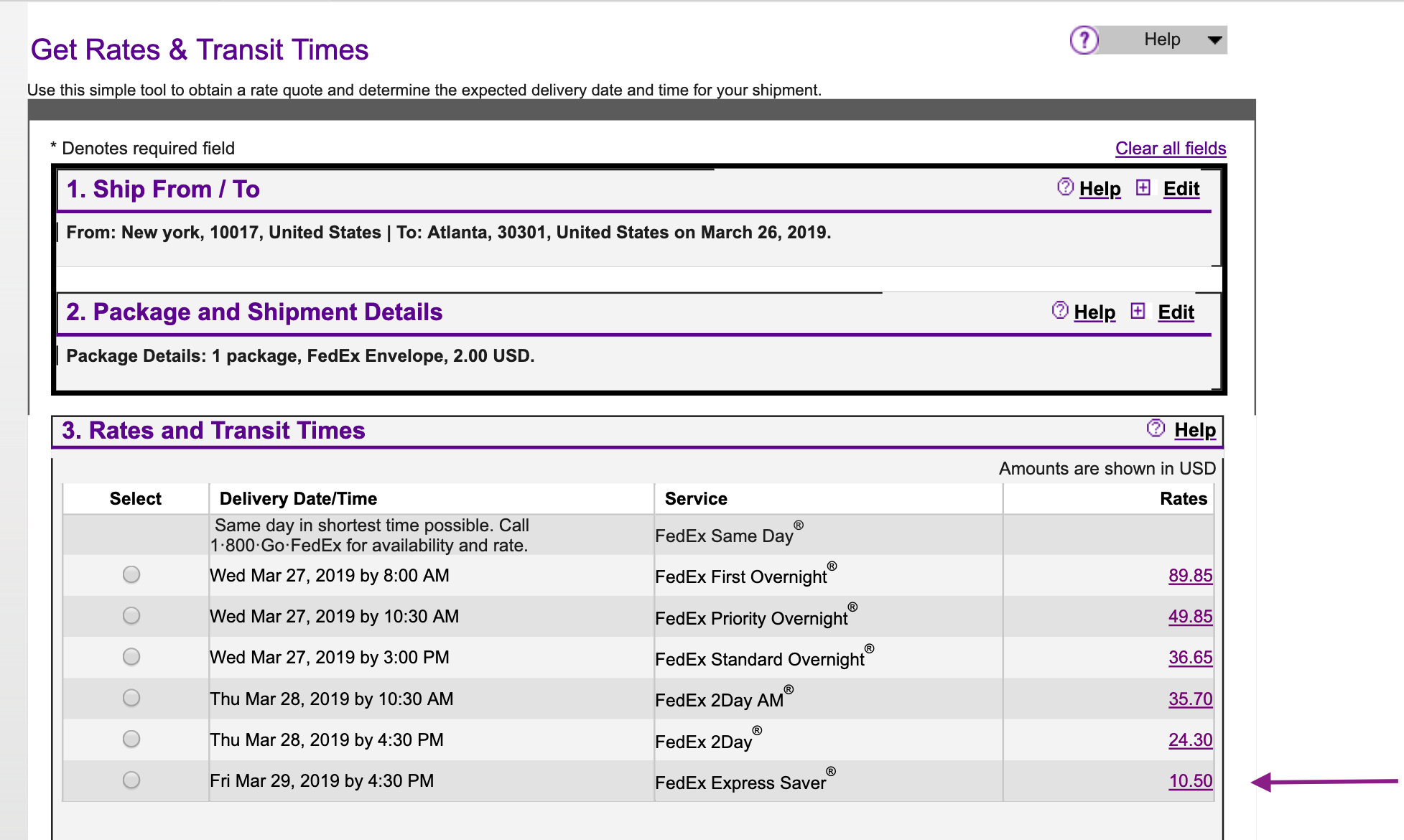 Going ahead with the sample shipment shown above, you'll find the services supporting FedEx One Rate. And you can clearly see, the FedEx Express Saver is available for FedEx One Rate. Read more about FedEx One Rate.
Importance of FedEx Express Saver
FedEx Express Saver can be used to ship all kinds of shipments. It doesn't matter if you have a large or small item. But of course, that doesn't mean you can ship freight shipments. You're not allowed to ship items to and from Alaska and Hawaii. You may make use of the other FedEx Express services that deliver items to these states. Small business owners selling small to medium sized items could use this service. FedEx Express Saver proves to be cost-effective if you use your packaging. You can also use the weight-based packing method which eliminates unnecessary price calculation. The WooCommerce FedEx shipping plugin allows users to pack their items based on the package weight. You can know more about it later in this article.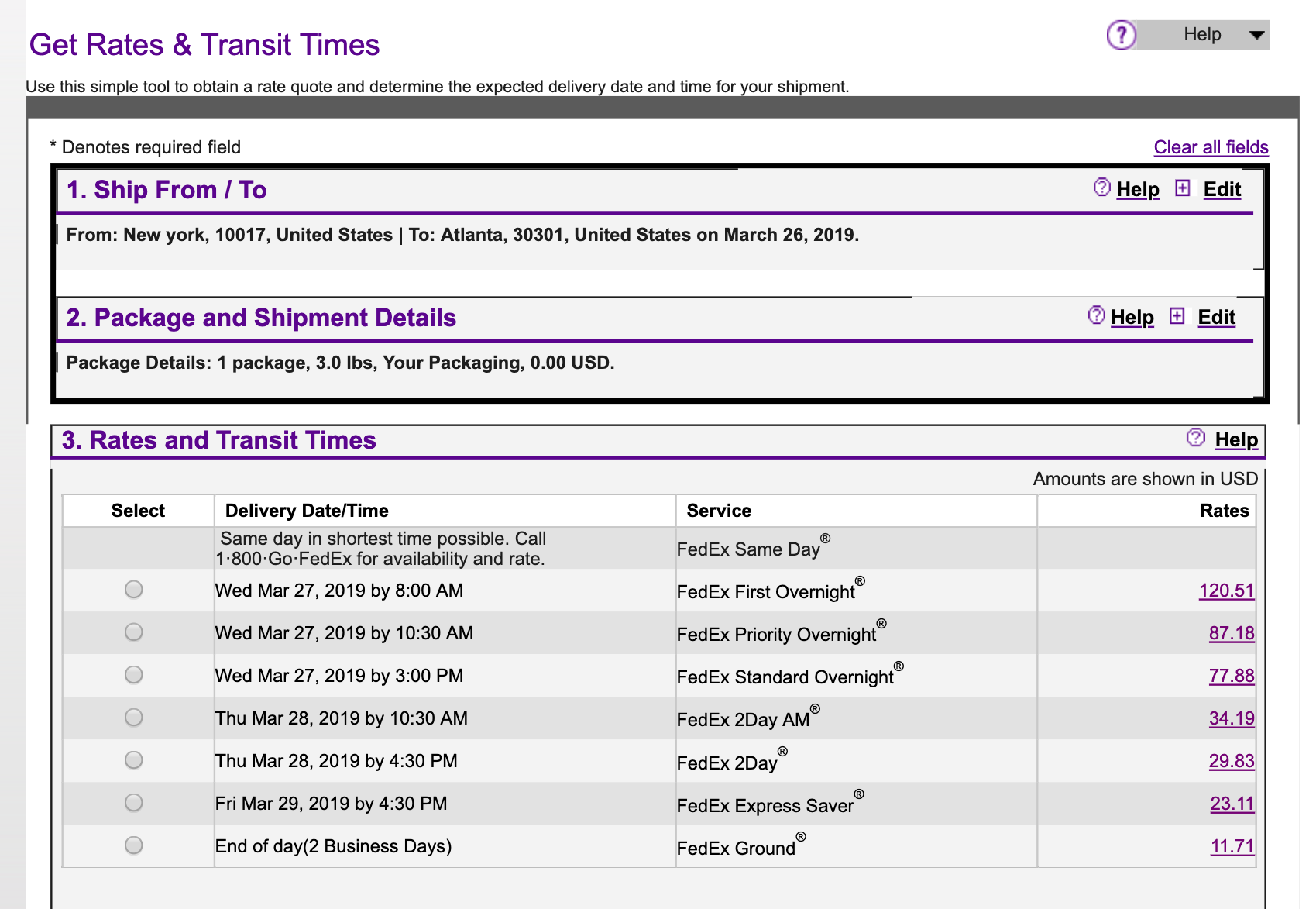 Can you use FedEx Express Saver in Canada?
Unfortunately, FedEx Express Saver is not available in Canada. However, you have other great alternatives like the FedEx 2Day and FedEx Economy. Let's compare Express Saver service with 2Day and 2Day A.M.
Comparing the features and specifications
While providing delivery within one day is preferable, 2-3 days seem to be the ideal delivery window for small businesses. FedEx Express has two more services that deliver items within this window—FedEx 2Day and FedEx 2Day A.M. FedEx 2Day offers deliveries by 4:30 PM in 2 business days to most areas in the U.S. And for residential addresses, the deliveries are scheduled by 8 PM in 2 business days. Unlike the other two services, you have the access to both FedEx Saturday Pickup and Saturday Delivery. FedEx 2Day AM, on the other hand, offers second business day delivery by 10:30 AM and by noon to rural areas. The deliveries are available for all 50 states except Hawaii and Saturday Pickup is not available. Apart from that, you also get the FedEx Returns which could help you in many business cases.
Comparing the shipping rates with other FedEx services
FedEx Express Saver rates are cheap but not the cheapest. The winner is obviously FedEx Ground. But FedEx Express Saver's rates are cheaper than other FedEx services. To find out the exact difference, we should take an example and calculate the shipping prices for the same. Consider you need to ship an item weighing 3 Lbs from New York to Georgia. Let's go to the official FedEx rate calculator and find out the rates. As you can see, Express Saver's shipping rate is the cheapest after FedEx Ground.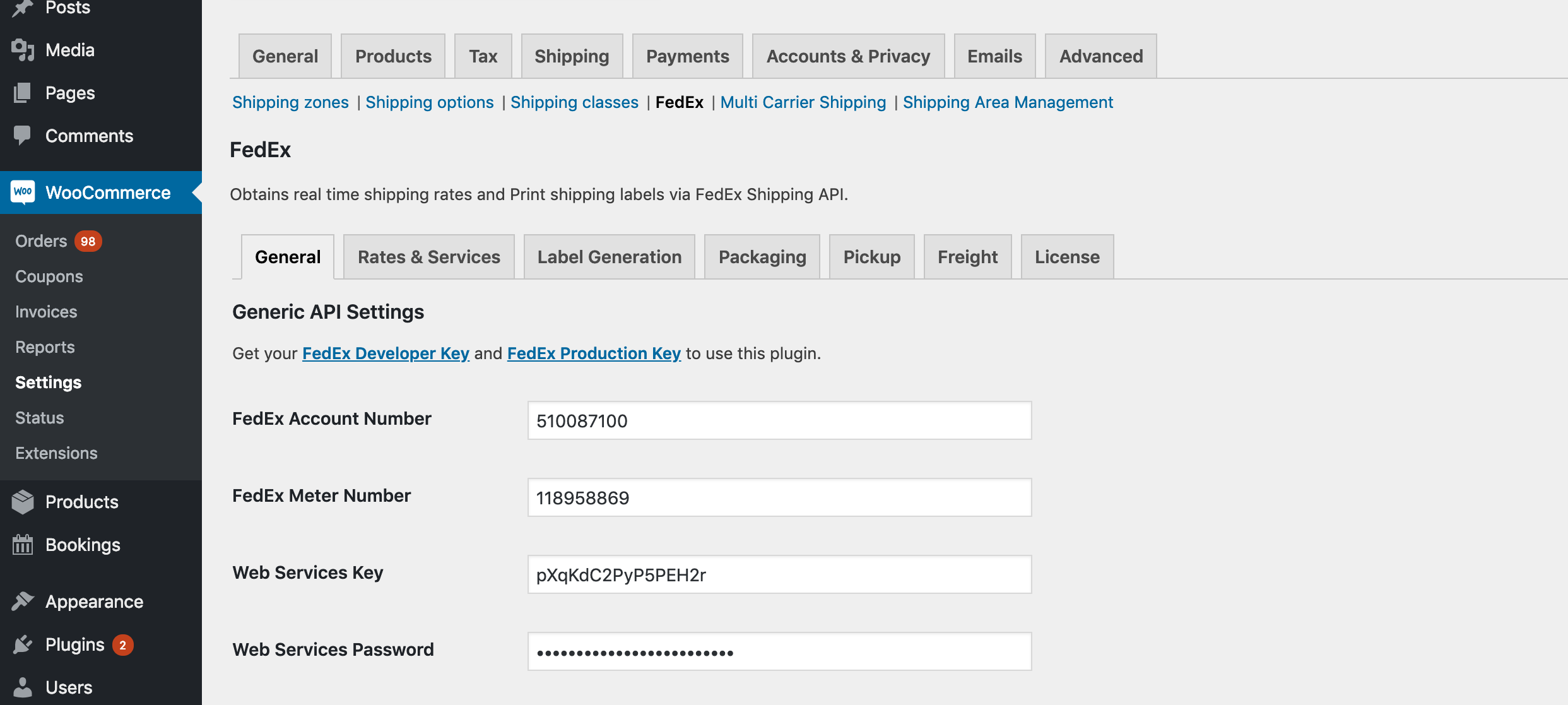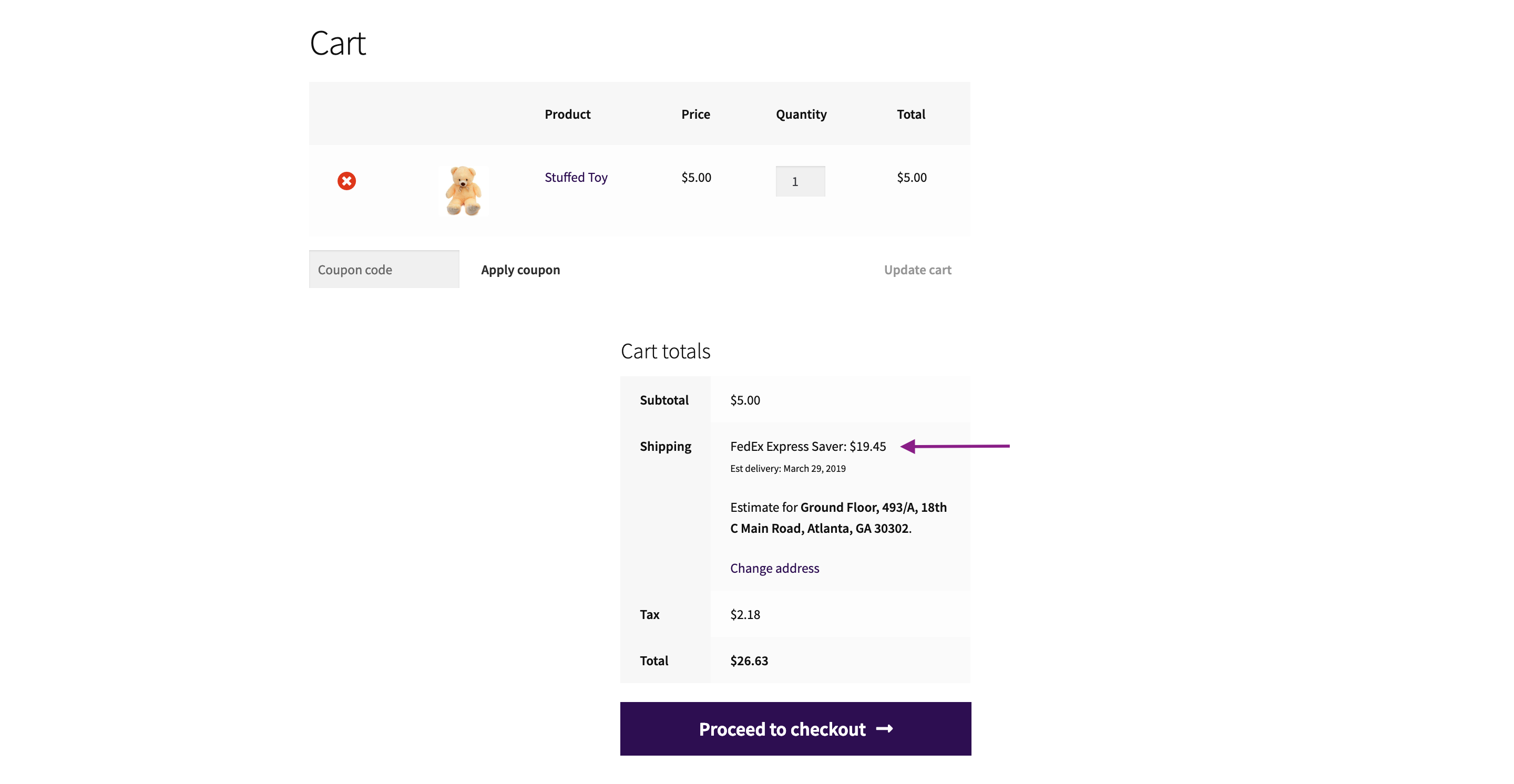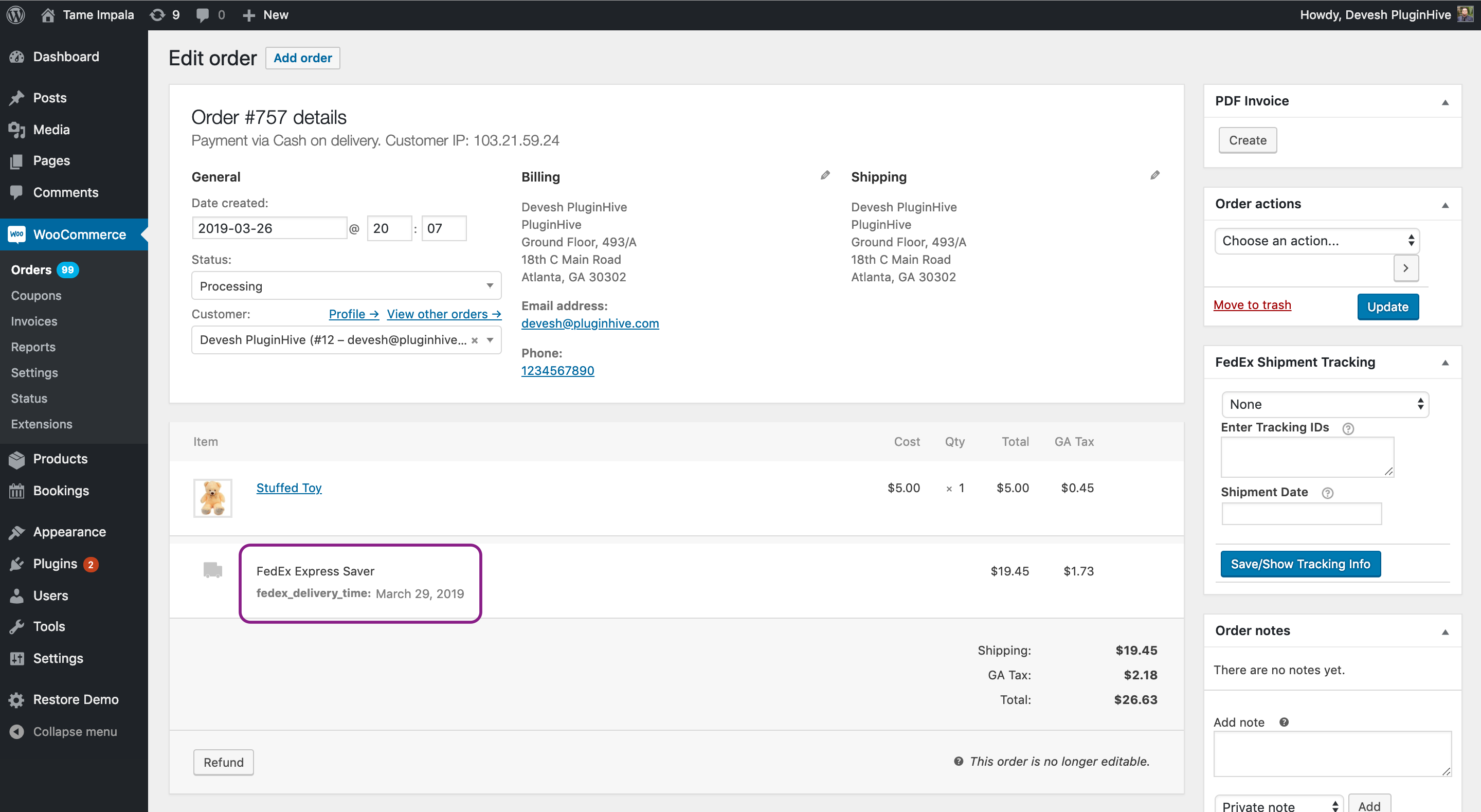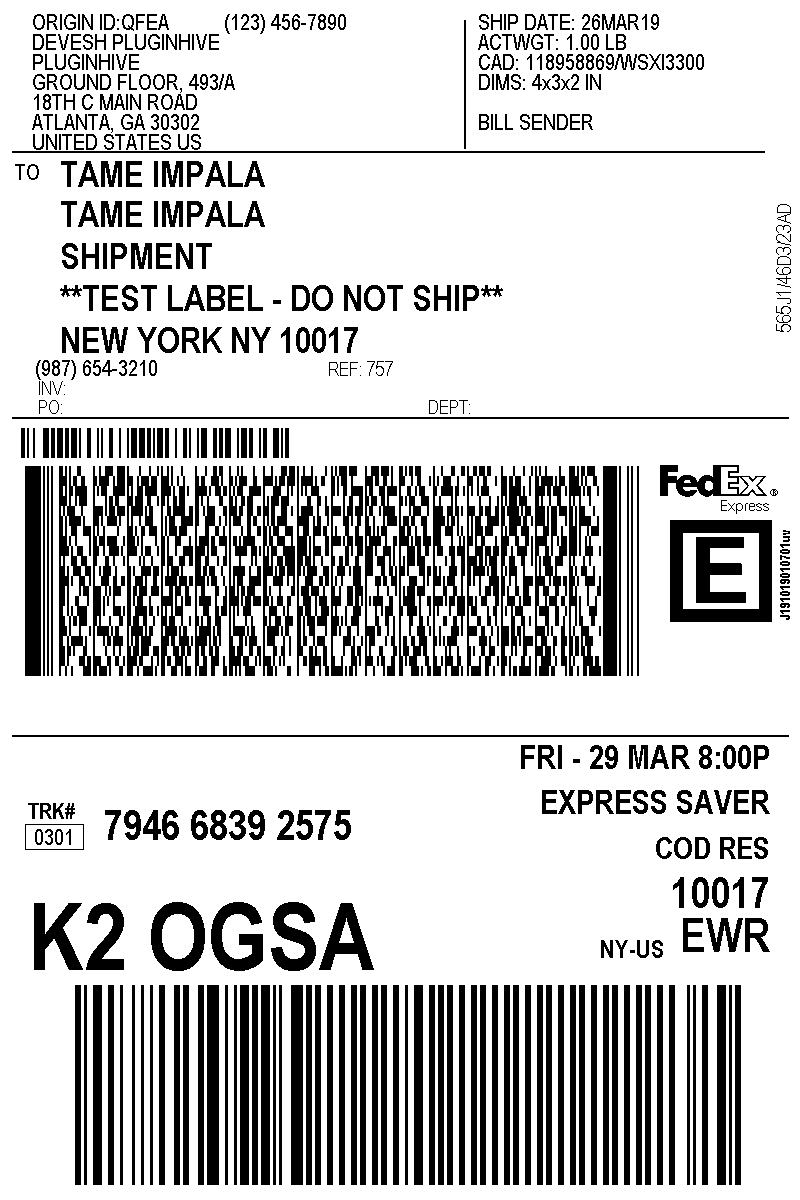 FedEx Express Saver in WooCommerce
You won't find the necessary settings under the WooCommerce shipping to enable the FedEx Express Saver service. But with the help of
WooCommerce FedEx Shipping
plugin, you can add this feature. You will be able to
configure your FedEx account, have live FedEx Express Saver shipping rates appear on the storefront, generate and print shipping labels for your shipments, and display real-time order tracking to your customers.
The WooCommerce FedEx Shipping plugin with Print Label is the best FedEx shipping plugin for the WooCommerce store owners. It is an automated shipping solution which provides,
Live FedEx Shipping Rates for domestic as well as international shipments
Support for FedEx Express, FedEx Ground, FedEx Freight, FedEx SmartPost, and FedEx SameDay shipping services
One-Click FedEx Label Generation and Download for Bulk Orders
Live FedEx Shipment Tracking from within the WooCommerce store
Support for Commercial Invoice and FedEx Pickups
Read more about the amazing features of the
WooCommerce FedEx Shipping
plugin.
What do you need before installing the plugin?
Since you will be using the FedEx services online, you need to get an online account. There are two types of FedEx accounts—Developer account and Production account. The developer account allows you to test the packages in a testing scenario. FedEx won't generate any order and you can print as many labels as you wish. If you need to get hands on the
FedEx developer credentials
, then check out the guide. Production account, on the other, is something we call live account. Basically using this type of account, you can order a shipment delivery from FedEx and print shipping labels. Please note that you will be charged by FedEx for the shipments and labels. Here's how you
get the credentials for your FedEx account
.
How to configure FedEx Express Saver on your WooCommerce store?
Once you have installed the FedEx shipping plugin on your WooCommerce, you need to further enter the FedEx credentials in. Have a look at the following image.
How to show FedEx Express Saver rates on your Cart/Checkout page?
As soon as you finish configuring the plugin with your account, you need to go to the Rates & Services tab and scroll down to the list of services. Here you can select FedEx Express Saver as shown in the image below. Now let's go to the Cart page and try placing a domestic order. We are using the FedEx Express Saver in order to ship a sample item.
How to generate packages for FedEx Express Saver from your WooCommerce back-end?
The process is quite simple. Once your customer places an order, WooCommerce will notify you with a New-order email. When you go into your order page, you should be able to see the new order. When you go in this order, you should be able to see the following screen. As you can see in the image above, the order contains the shipping service name right under the product name "
Stuffed Toy
". Like mentioned earlier, we are using the Express Saver service, and the corresponding shipping rate can be seen next to it. You can scroll below and click on
Generate Package,
which will generate the package show the further option to create the shipment. Have a look at the following image. Here, you can enable the Saturday Delivery option which will enable the Saturday delivery for this service. You can even add enable Cash On Delivery option and add additional packages to the order if required. These features are really useful when creating order and can save a lot of your time.
How to print shipping labels for your FedEx Express Saver packages?
Once you have reviewed your order and generated the packages successfully, you can now click on
Create Shipment
. Doing this will place an order in your FedEx account requesting to deliver this order. FedEx, in return, will validate the request and if everything is good, they will give you the corresponding shipping label(s). You can now print the shipping label by clicking on the
Print Label
option as shown in the image below. Also note that you have the option to Void the shipment, which can be used when you want to cancel an order. Now if the customer's location is a residential location, you would be able to print the Express Saver shipping label. Here's a sample label you can check out.
In conclusion
This article covers FedEx Express Saver and its functionalities. It also covers how you can make the best use of
WooCommerce FedEx Shiping plugin with Print Label
. The plugin is the best tool to accomplish all your shipping needs with ease. It covers all the FedEx shipping services availability, live shipping rate calculation, label generation within the WooCommerce store, live shipment tracking, and much more! If you have any query regarding this article or the integration of WooCommerce FedEx Shipping plugin, feel free to share your views in the comment section below. We will be more than happy to help you understand how this plugin can work together in fulfilling your shipping requirements. And if you have any query regarding the plugin or WooCommerce shipping then feel free to
contact our customer support
. They should be able to help you out.