Planning on starting an online business? Looking for the best e-commerce platform? Then Shopify is your answer. It's an effective e-commerce platform which offers shipping, payments, analytics, and more to help you streamline the shopping experience.
In this article, we are going to explore Shopify shipping in detail, cover all the benefits of using Shopify, its limitations & workarounds to overcome the limitations.
---
On this page
What is Shopify Shipping?
Benefits of Shopify Shipping
Limitations of Shopify Shipping
Best Shopify Shipping Apps for your online store
---
What is Shopify Shipping?
Shipping is the point where a customer gets to experience the quality of your store. Shopify makes the order fulfillment process easier and allows you to pack your products, display rates, print shipping labels & packing slips, track orders and handle shipping with multiple carriers.
Shopify shipping works with:
UPS, USPS, and DHL in the US.
Canada Post in Canada,
Sendle in Australia,
Evri & DPD in UK,
Colissimo, Mondial Relay, Chronopost in France,
Poste Italiane in Italy,
Correos in Spain.
It allows you to ship with FedEx & multiple carriers like Australia Post, Purolator, Canpar, Royal Mail, TNT, Parcelforce, and more using third-party applications.
You can access all the domestic & international services of these carriers like ground & priority shipping, discounted rates, weekend delivery, freight & special services.
---
Shopify Pros & Cons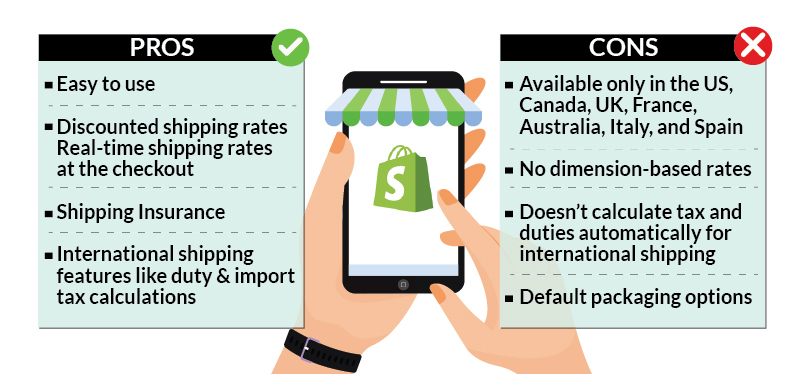 ---
Benefits of Shopify Shipping
Adding unlimited products
Adding & managing staff accounts
Create an order on behalf of a customer
Carrier calculated shipping rates
Shopify flat rate shipping
Printing shipping labels
Recover lost customers with automatic emails
Insure expensive products
Shopify Point of Sale
---
Adding unlimited products
You are not restricted to the number of products that you add to your store. Under your dashboard, go to "Products". Click on "Add product". Give the details related to the product such as product image, pricing, inventory, weight, variants, etc and save the product.
---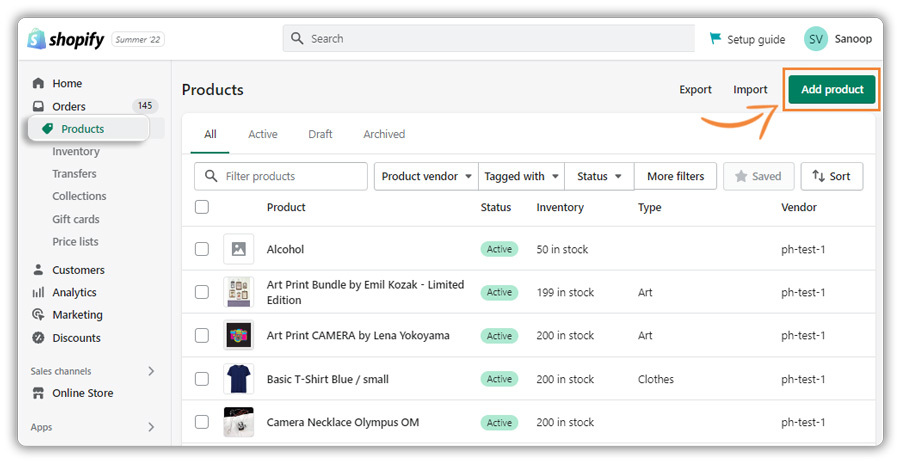 ---
Adding & managing staff accounts
When you sign up for Shopify, you will automatically have an account with a username and password. Depending on the plan you choose in Shopify, you can create additional accounts for your staff members:
Shopify lite– 1 staff account.
Basic Shopify– 2 staff accounts.
Shopify– 5 staff accounts.
Advanced Shopify– 15 staff accounts.
You can add staff accounts which allow your staff to complete basic admin tasks. But, they are restricted to sensitive information. Staff accounts allow you to see the updates and changes made by each staff member in your store.
Under "Settings" of your store, go to "Account" settings. You can find the option to "Add staff account".
---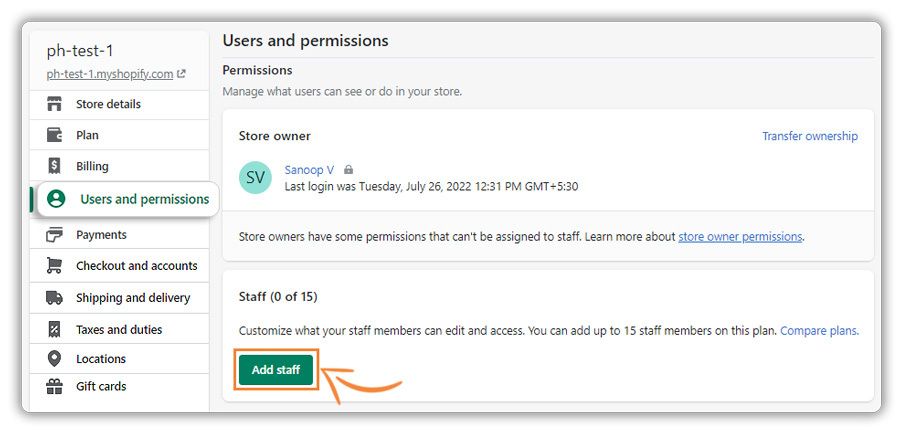 ---
Create an order on behalf of a customer
You can create new orders for your customers manually and enter payment details from your Shopify admin. This means that you can even create an order for your customer over a call. Create the order for the customer, send e-mail invoice to the customer, and add the payment details in your store.
Go to the "Orders" section and click on "Create order".
---
---
Carrier calculated shipping rates
Using the calculated shipping rates feature, you can display the carrier-calculated rates at the checkout page. This feature is included in the Advanced Shopify and Shopify Plus plans and can be added to any plan for a monthly fee. You can remain on the Basic Shopify plan and add the live carrier rates feature.
Calculated shipping rates include rates offered by different carriers like USPS, Australia Post, UPS, DHL, etc. This also includes rates offered by the carriers using Apps like Shopify Multi Carrier Shipping Label App & Shopify FedEx.
---
---
Shopify Flat Rate Shipping
If you want to charge custom rates at the checkout then Shopify Shipping allows to set Flat Rates. To set up flat rates in the Shopify store, follow these steps.
Step 1: Under "Settings", go to the "Shipping & Delivery" section.
---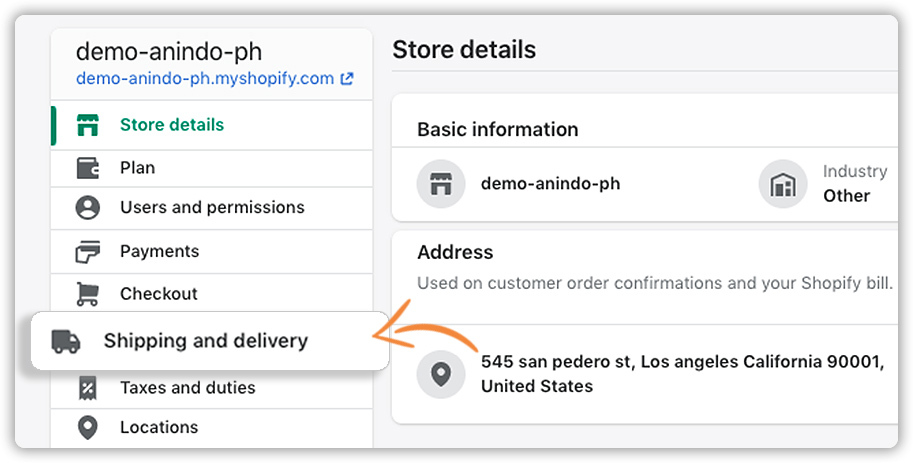 ---
Step 2: Click on "Manage Rates"
---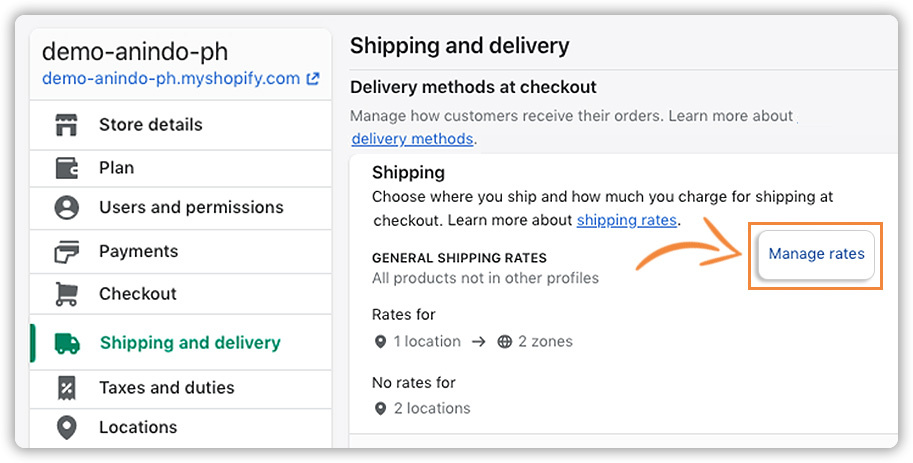 Step 3: Select the appropriate Shipping Zone, click on "Add Rates"
---
---
Step 4: Add the "Rate Name" & "Price" for the product and it will get reflected at the checkout.
---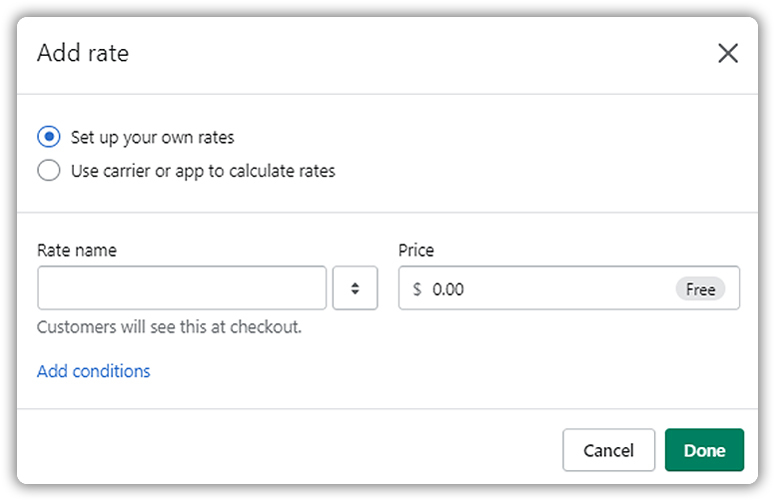 ---
Printing shipping labels
You can generate labels for your orders directly from Shopify. This feature is available only in the higher plans and not in the Shopify lite plan.
Go to the "Orders" section where you will find all your orders. Select the order and under "Actions", you can find "Create shipping labels". You can also create labels for multiple orders in a single click.
---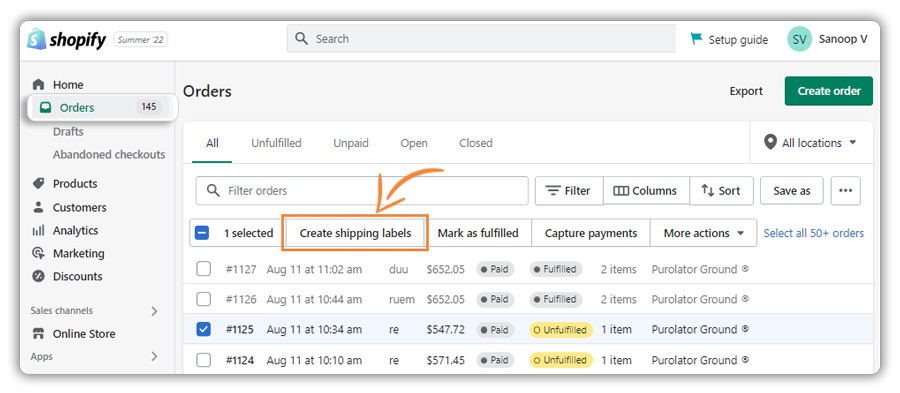 ---
Recover lost customers with automatic emails
You can recover lost customers by automatically sending an email to the customers who have abandoned the cart. This e-mail will contain a link to their abandoned shopping carts, encouraging them to complete their order.
Under the "Orders" section, you can find "Abandoned checkouts". This section contains the abandoned orders.
---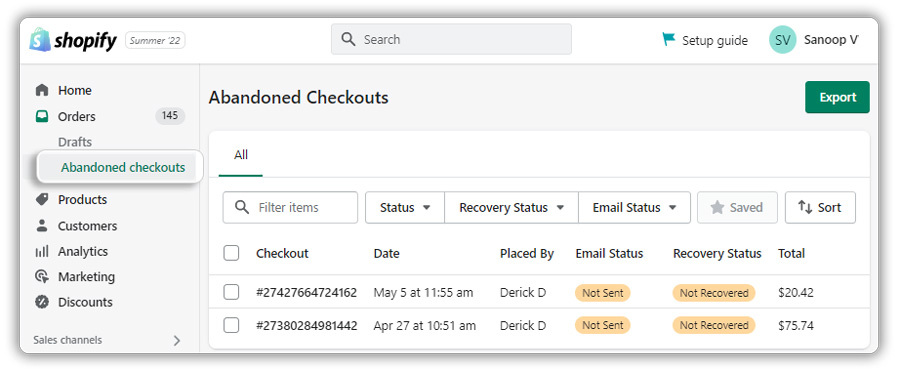 ---
Insure expensive products
To qualify for Shopify insurance coverage, you have to use Shopify Shipping to buy shipping labels on the packages that you send through UPS, DHL, USPS, and Canada Post.
The amount of coverage and the way that you can claim the money depends on the shipping carrier that you use to ship your products.
For example, if you use USPS, you can submit a claim within 7 to 60 days of making a shipment.
The amount of insurance coverage that your shipment receives depends on the mail type that you're using with USPS. For mail services like Priority Mail and Priority Mail Express, you will receive coverage up to $100.
---
Shopify Point of Sale
Shopify POS is an app for Android and iOS that allows you to process orders and take payments in person. You can manage all aspects of your store from your Shopify admin panel, which you can access using any browser. By creating an online presence, you can sell your products worldwide.
With POS, you can accept credit cards in-store, on the go, and everywhere. In simple words, with POS, you can sell anywhere your customers are.
---
Limitations of Shopify Shipping
Even though Shopify's order fulfillment process is notable, however there are some limitations that need to be noted. To have access to the complete shipping processes, you will have to upgrade your plan, which is comparatively higher than what the other platforms offer.
To use carriers apart from Shopify built-in carriers, you will have to integrate a third-party solution. Integration of a third-party solution with your Shopify store is available only in the advanced plan which costs $299/month which is much higher when compared with the basic plan.
Shopify doesn't support dimensional-based rates & the shipping rates are based on your product weights. This is a major problem as it can lead to the display of inaccurate shipping prices at the checkout.
Shopify International shipping options don't calculate tax and duties automatically. You can show taxes at checkout, after manually updating the rates.
---
Best Shopify Shipping Apps for your online store
Shopify is backed up with multiple apps to help you expand your business. With so many options to choose from, we listed some best Shopify apps that you can add to your online store:
Shopify Multi Carrier Shipping Label
---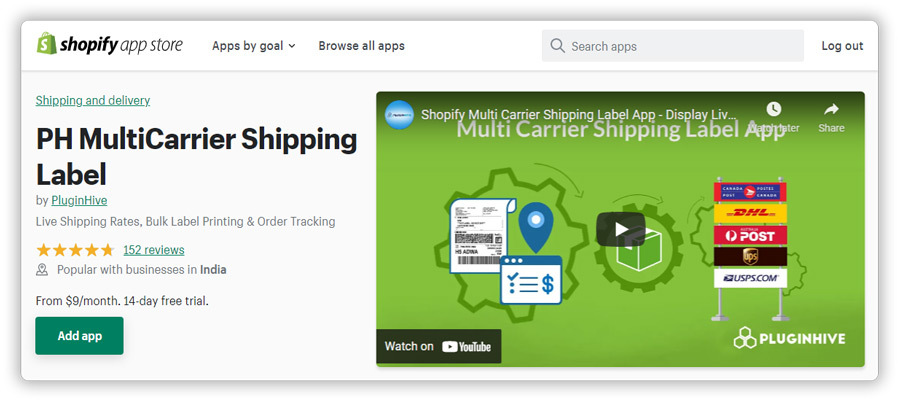 ---
Shopify Multi Carrier Shipping Label app, supports all major carriers such as UPS, USPS, FedEx, DHL, Stamps, Aramex, Blue Dart, Australia Post, Canada Post, and more. It allows you to display exact shipping rates at the checkout, print shipping labels, schedule carrier pickups, print packing slips and track orders directly from the Shopify dashboard.
---
Ship, Rate and Track for FedEx
---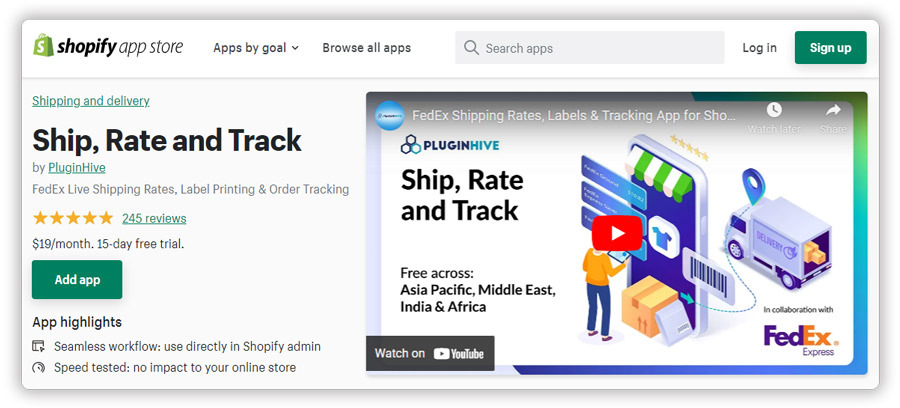 ---
Ship, Rate, Track for FedEx: The app allows you to completely automate FedEx shipping process. You can display Domestic, International, and Freight Shipping Rates, on the checkout, print FedEx shipping labels, schedule FedEx Pickups & print packing slips. It also automatically updates FedEx tracking numbers for each purchase and providing shipment tracking data to your customers through email.
---
Australia Post Rates & Labels
---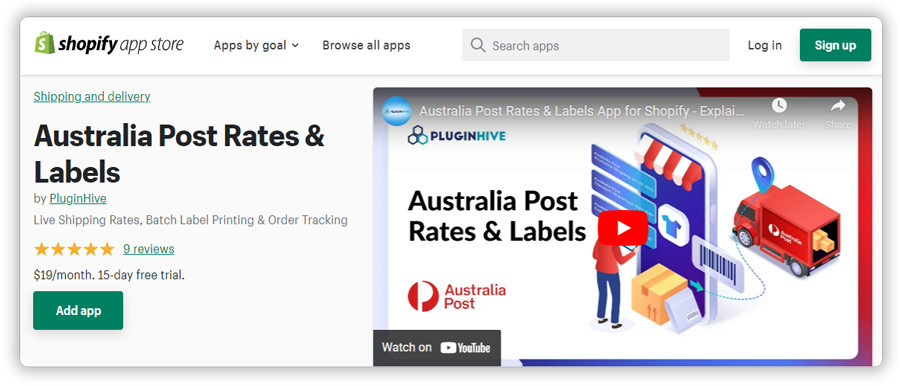 ---
Australia Post Shipping App: The app automates Australia Post Domestic, International as well as StarTrack Shipping Rates at the checkout, print shipping labels, request pickup, print packing slips & track orders in real-time.
Aftership: Aftership is a tracking solution that integrates with top carriers across the globe. It allows a user to track and receive notifications on their shipments.
---
Conclusion
In this article, we had a discussion on Shopify shipping and what Shopify offers in handling the shipping process of a store. We hope this article has helped you to understand the workings of Shopify Shipping and how Shopify FedEx & Multi Carrier Shipping label app can improve the shipping process. If you have any queries regarding Shopify apps, do contact us. Our team of experts will help you resolve any issues you face.
Happy selling!
---