Display FedEx Shipping Methods With Real-Time Rates on Shopify Store
Customers who don't get what they want often leave abandoned carts. You, as a store owner, should be aware of the possible reasons why they do so. Is there anything wrong with your products? Or is it the payment method you are providing?
Turns out, customers often look for a preferred FedEx shipping option after moving the product into Cart. And all your effort in bringing them at this point tangles between a simple 'Yes' or 'No'. For instance, if the FedEx Shipping estimate is too costly or the delivery time is too much, customers won't bother staying long.
Reasons like these make Shopify shipping a real challenge for you. To understand what is actually FedEx shipping rates, the best ways to provide them on your Shopify store with Shopify Ship, Rate and Track for FedEx, you should read this guide.
---
What are FedEx Real-Time Shipping Rates?
These are nothing but carrier-calculated shipping costs for shipping the products. It differs from carrier to carrier as all of them calculate the cost based on different factors.
There are many carriers that ship to both domestic and international locations. Carriers like FedEx, UPS or USPS calculate shipping rates based on destination and origin, the weight and dimensions of a package, and the shipping time.
For example, here are the FedEx shipping rates for shipping a package that weighs 10 lbs from India to the US.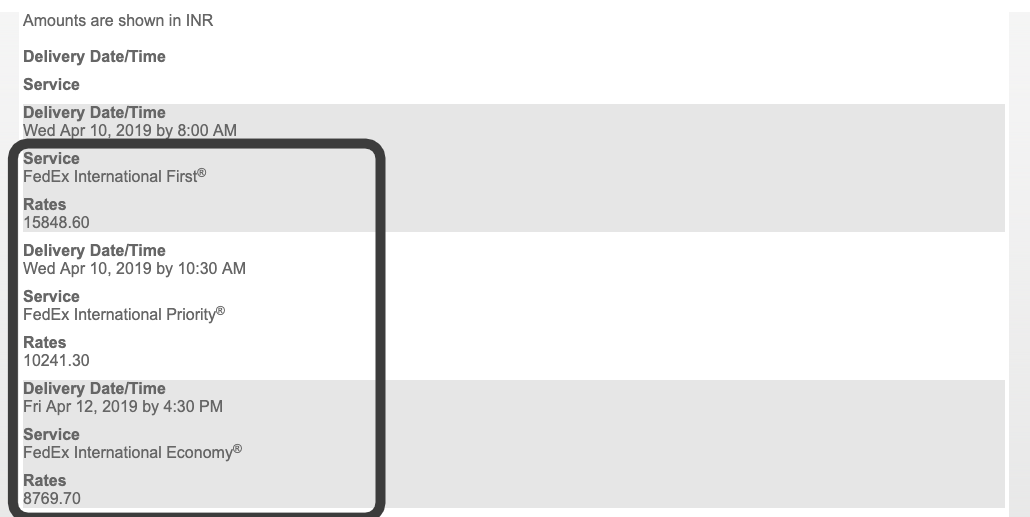 Using shipping rates calculated directly from your preferred shipping carriers is the best method for determining shipping costs. This method will help you in finding the cost of shipping and how much it cost for your company.
So, you can be confident that you will not charge more or less from your customers. Using real-time carrier-calculated shipping rates helps the stores to find a balance in shipping costs.
---
Why Choose FedEx Services for Your Online Store?
FedEx along with Shopify will be the best combination for any online store. FedEx has developed a huge network within this time span which makes them the top carrier service. This network spreads over 200 countries and territories worldwide. In other words, there are not many carriers that can match FedEx when it comes to coverage.
FedEx provides ground as well as air shipments across the globe and also supports FedEx Freight shipments. So, when you want to ship your heavy-weight products, you don't have to worry about late deliveries or your products getting damaged.
Also, FedEx allows shipping for hazardous products like chemicals, as well as restricted products such as alcohol even though you have to follow some procedures. So, without any doubt, you can go for FedEx as your shipping service.
---
Does Shopify Support FedEx Shipping?
Shopify is probably the best platform to sell your products online. Almost all the features are provided by Shopify depending upon the plan that the customer chooses. You can even handle the shipping process using Shopify using different carriers like FedEx, UPS, etc. Let us see how this is done.
In your store dashboard, go to "Settings" which will be present at the bottom of the page. From the list, click on "Shipping".
Now, navigate to the bottom and click on "Connect carrier accounts". You will find FedEx in the list of carriers. Click on "Connect account".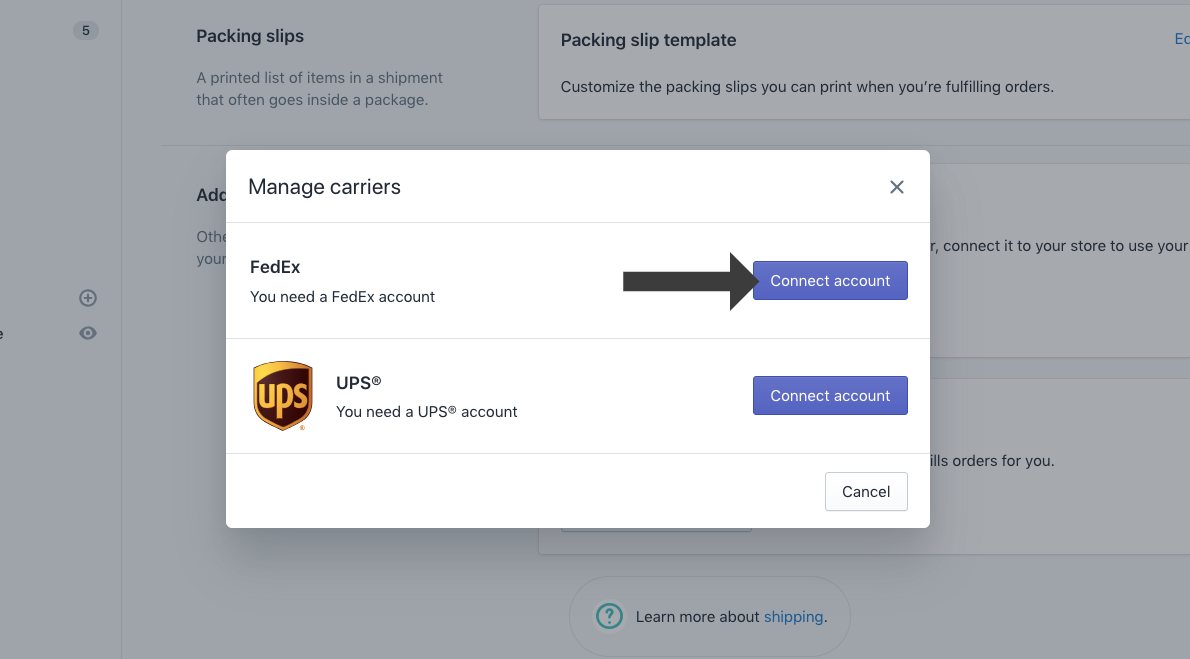 Give your FedEx account details and save your account. Now, you will be able to use FedEx to ship your products.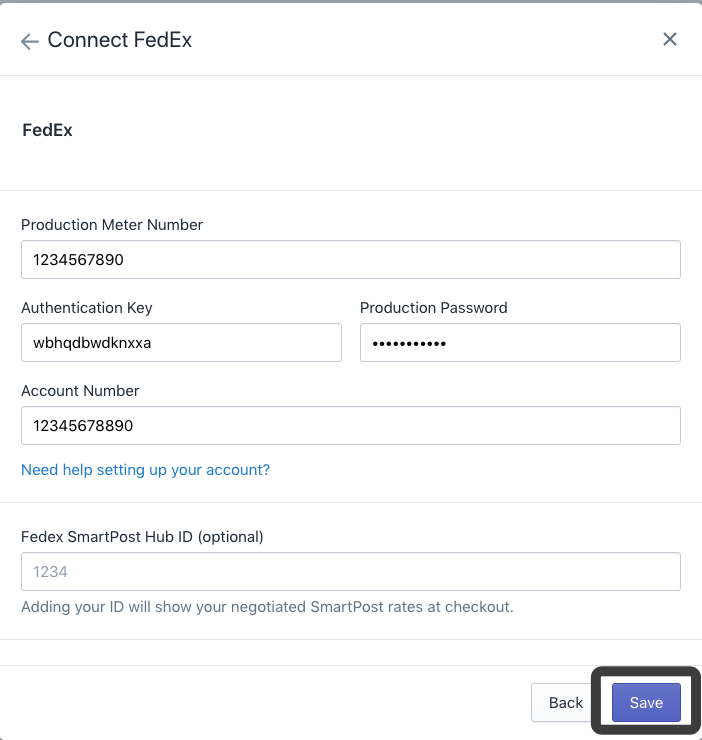 The only disadvantage of Shopify is that for using different carriers for your shipping process, you need to update your plan to a higher one. The basic plan of Shopify doesn't support shipping using different carriers.
So to handle your shipping in an economical way, you would need to hire a third-party service like Shopify Ship, Rate and Track for FedEx.
This App lets you ship your orders to your customers via FedEx services. The app offers live FedEx shipping rates, and FedEx shipment tracking, and also allows printing the shipping labels. We'll discuss more in this guide.
---
What does Shopify Ship, Rate and Track for FedEx has to Offer?
The Shopify Ship, Rate, and Track for FedEx is the most suitable shipping app for any Shopify store. It helps in the complete shipping process using the FedEx service. Let us see the main features of this app.
This app helps you completely automate FedEx shipping
Using this app, you can display live shipping rates on your checkout page
You can print shipping labels from within Shopify without updating your plan
Enable order tracking for all orders.
This app offers seamless integration between FedEx and Shopify.
Using this app, the automation of FedEx domestic, international, and freight shipping rates is possible.
You can even adjust shipping rates using the app.
The app supports all the FedEx shipping methods with real-time and precise shipping rates from FedEx. Also, the app supports domestic as well as international shipping. All you have to do is configure your FedEx account in the app settings. To know more on the configuration of FedEx, visit the app settings page.
Since the app automates the real-time shipping rates on your website, the store owner can choose from different services of FedEx based on their preferences and the app will display the real-time shipping rates on the checkout page for the customers.
This app lets you enjoy all the benefits FedEx provides based on your FedEx account. It supports FedEx negotiated shipping rates, FedEx One Rate, etc. Apart from these features, there are many more amazing features that can help you carry out your Shopify shipments easily.
---
How to Display FedEx Shipping Methods on your Checkout Page?
Shopify Ship, Rate, and Track for FedEx automate FedEx shipping methods on your cart based on your choice. As discussed, this app supports all FedEx services. However, displaying FedEx shipping methods using this app is totally based on your requirement. You can enable any of these services and the app will display it on the checkout page.
However, even if you enabled all of them, the app will automatically display the FedEx shipping services based on the location. For a better understanding, see the images below.
Case 1
FedEx shipping rates at checkout for shipping within the U.S.
Case 2
FedEx shipping rates at checkout for shipping within India.
So, you can see that although all the services are enabled in the app settings, the shipping method is automatically updated by the app depending upon on the location.
Shopify FedEx Shipping app supports the following FedEx shipping methods, by default.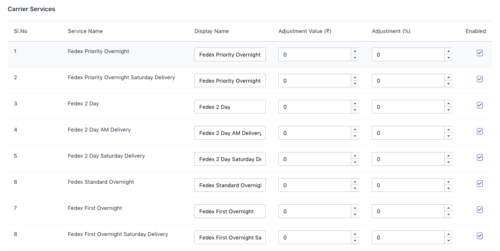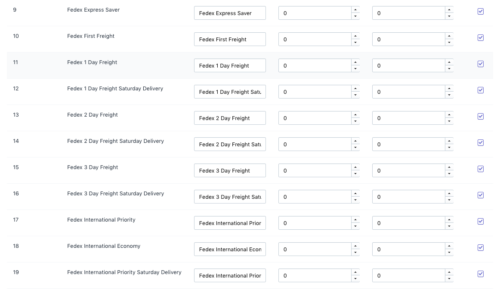 ---
Setting up Shopify Ship, Rates and Track for FedEx to Display Shipping Rates
Now, let us see the configuration of FedEx rates and how the rates are displayed on the Shopify checkout page. Follow the below steps for displaying the rates at the checkout page.
Step 1: Under the "Account" tab, provide the FedEx account credentials and activate your FedEx account with the Shopify FedEx app.
Step 2: Go to the "Address" tab and make sure that your store address from which you are shipping is made as the "default address".
Step 3: Now, under the "Rates" tab, you can see the different services supported by the Shopify FedEx app. You can "enable" all the services or enable according to your requirement.
Step 4: Now, add a product to the cart and checkout. The FedEx rate for the selected address will be displayed.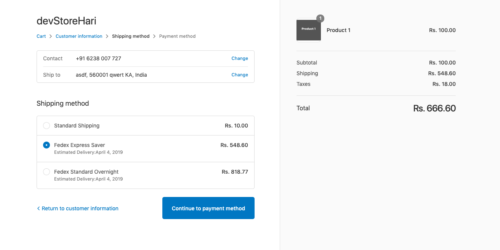 To know more about the special features that the Shopify FedEx app provides and how to use these special services, visit the FedEx rate features page.
---
Conclusion
In this article, we discussed the Shopify Ship, Rate and Track for FedEx and how this app offers real-time shipping rates for all the FedEx shipping methods on the Shopify stores. We also discussed how FedEx is the best carrier service for online stores and Shopify is the best platform for online stores.
If you face any issues or you have any queries regarding the real-time FedEx rates, please do contact us. Our support team will help you solve any issue.