Estimated Delivery Date Plugin for WooCommerce is the simplest solution for providing an estimated number of days it is going to take for a package to arrive. Before making a purchase online, a buyer always looks for a tentative date of arrival of their order. It is one of the major factors in the purchase decision. As a store owner, you don't want to lose a customer because this information wasn't shown on your website.
This Plugin works seamlessly by displaying the estimated date of delivery on the Product page, Shop page, Cart, and Checkout. The most notable feature of this plugin is the range of rules that can be used in conjunction with each other to generate WooCommerce delivery date estimates.
Displays Delivery Estimates on:

Product Page

Cart Page

Checkout Page (Per Product/Per Order)

Mini-Cart Widget

Shop Page

Set WooCommerce Delivery Date based on:

Shipping Zones

Shipping Classes

Shipping Methods

Select among various WooCommerce Delivery Date Formats

Set Suitable Time Slots available for Delivery

Specify a List of Holidays in advance

Choose Working Days for both the Store and Customers

Customize the Display Text

Set Minimum Delivery Days

Supports UTC and WP Time Zones

WPML Compatible
Display Estimated Date of Delivery On
WooCommerce Shop Page

WooCommerce Products Page

WooCommerce Cart Page
WooCommerce Orders Page

WooCommerce Checkout page

WooCommerce My Accounts page

This plugin was exactly what we wanted to be more accurate with delivery estimates for our global customers. This better communication regarding delivery date will reduce complaints and give a better service on our side. The plugin does what it says and the customer service has been absolutely excellent. I thoroughly recommend this plugin and company. Thanks! Scott
We had lots of issues with their Estimated Deliveries Plugin – due to our own custom developments, but Xadapter's tech support was happy to solve EACH AND EVERY ONE of our issues and now we have JUST the functionality that we need. You guys rock! I look forward to our long-term relationship.

The plugin does what it says. I wanted few modification and the tech team was there to support. Within no time they developed it and incorporated in the plugin. Good to see such a quick response time.
Holidays:
If you wish to skip some days or exclude holidays in the estimated delivery period calculation, you can specify the specific date range. This date range will not be considered for the calculation of the estimated delivery date.
Shipping zones:
Based on your customer's shipping address, the estimated delivery date might differ. Some shipments might need more time to reach while others take less than expected. The WooCommerce Delivery plugin provides a handy option to help you configure the estimated number of delivery days based on Shipping Zones.
You can provide an estimated delivery date for each Shipping Zone. This estimated number of days is calculated with parameters configured in the general settings.
Shipping classes:
You can now define the estimated number of delivery days for each Shipping class!
The specified days are calculated with parameters, like working days, and minimum delivery days among other things configured in the general settings of the plugin.

Shipping method:
Similar to the Shipping class and Shipping zone, you can define estimated delivery days for the shipping method as well.
In addition to the default shipping methods of WooCommerce, you can define estimation days for shipping methods of premium shipping extensions like FedEx, DHL, UPS, USPS and so on.
Shipping services have variable WooCommerce estimated delivery dates. But with our WooCommerce delivery plugin, you can define custom delivery dates for each service. You just need to define the ID of the respective shipping method and the number of delivery days.
MAIN FEATURES
Easy Integration:
No need to worry about where the estimated delivery date information might appear as this information is easily available on the product page, cart page, checkout page, and customer order page.
Define Holidays:
If you want to include general or custom holidays, you can define a date or date range during which the delivery will not be possible. This period will be skipped from the calculation of the estimated delivery date.
Assign WooCommerce Estimated Delivery Dates based on:
Shipping Class: Fragility, weight, dimension or other factors that are classified using shipping classes that might need different times to ship and deliver. The plugin provides a convenient option to assign the number of delivery days based on the shipping class.
Shipping Zones: Like shipping classes, different geographical locations might also need different times to ship and deliver. If your business is based in New York, it would take less time to deliver to Canada than compared to China. Hence, the plugin allows you to assign custom WooCommerce delivery days for each shipping zone.
Shipping Method: IIn addition to WooCommerce default shipping methods (Flat rate, Free shipping & Local pickup), you can also assign custom delivery days for shipping services of FedEx, DHL, UPS, USPS and so on. If you have FedEx Priority service and wish to apply custom delivery dates to this, the plugin provides an effortless approach to achieve this.

Time Limit for accepting a WooCommerce Order Delivery :
You can set a custom WooCommerce Delivery time limit after which the delivery is calculated to the next working day. This feature will be helpful in adjusting delivery time with your store.
Multiple date format option:
Choose your desired date format from a list of options provided.
Custom text display:
You can define any desired text for the display. You can set simple text or define the date range (with lower and higher range values) for estimated delivery.
For example, if the date lower range is 3 and the delivery date is 08/03/2017, the start range for the delivery will be 08/01/2017 in the specified date format.
Choose Time Zone:
Choose the time zone you would like to follow. You can select either UTC or WP Time Zone. The estimated delivery date will be based on the selected time zone.
Show delivery estimates on the Shop page for every product:
With this feature, you can get the delivery estimates for each and every product on the shop page just below the "Add to Cart" button.
Business Case
A shop owner requires deliveries to be set based on shipping class and shipping zones. So he frames these rules in the plugin as shown:
2 days for shipping class "Clothes".

3 days for shipping zone "Europe".
A purchase of clothes from Europe will show an estimated delivery of 2 + 3 = 5 days. So this makes it the perfect WooCommerce Order Delivery Plugin.
Additional Features
Supports display of estimated delivery based on stock status.

Supports generating delivery estimates for manually created orders.

Option to change the colour or layout of estimated delivery via HTML

Compatible with WooCommerce Subscriptions plugin to display delivery dates for products sold as a part of subscriptions

Display accurate delivery dates for backorder products
WooCommerce Estimated Delivery Date plugin allows you to
Show Delivery Date on the Shop Page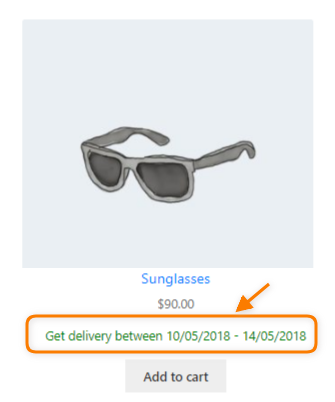 Show Delivery Date on the Product Page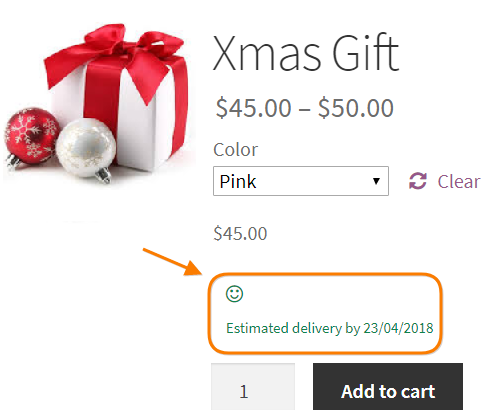 Show Delivery Date on the Cart Page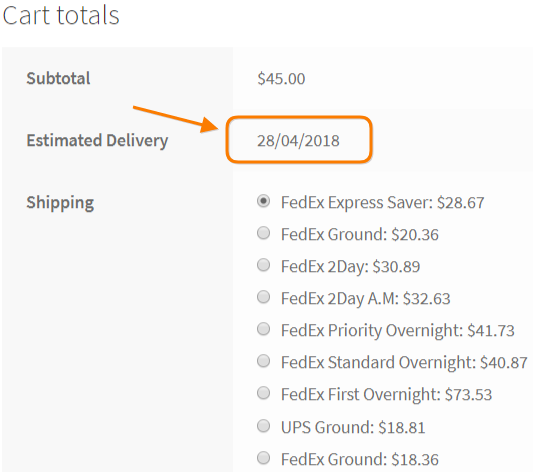 Show Delivery Date on the Checkout Page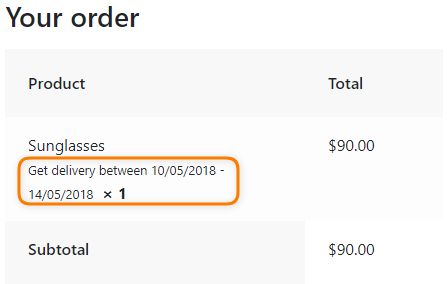 Show Delivery Date for Each Product on Checkout page
Customize the Delivery Estimate Text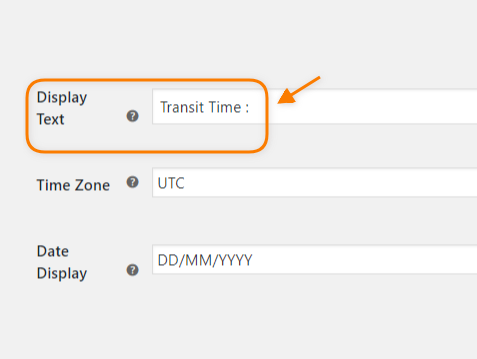 Set Delivery Date based on WooCommerce Shipping Classes
Set Delivery Date based on WooCommerce Shipping Zones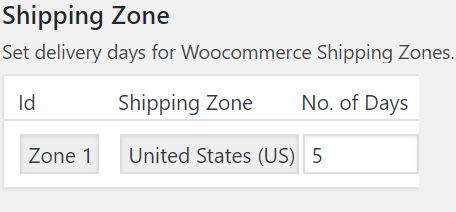 Set Delivery Date based on WooCommerce Shipping Methods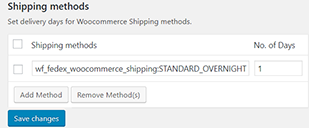 Choose your Working Days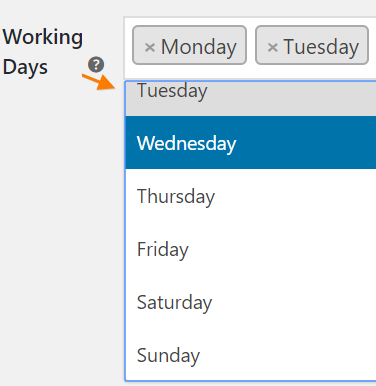 Prepare a List of Holidays in Advance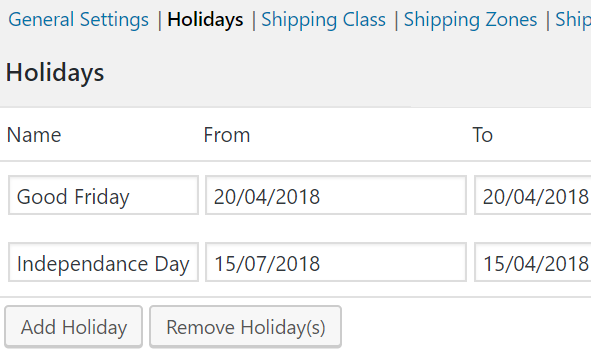 Choose Delivery Date Format