Woocommerce Bookings and appointments

WooCommerce Bookings and Appointments is a powerful plugin that allows you to convert your Time, Products or Services into Bookable Resources.
This plugin allows service providers and businesses of all types to easily integrate and empower their WooCommerce website with a booking solution. 
Bookings & Appointments plugin allows you to
OFFER SINGLE-DAY BOOKING
Users can select one available day to book.
Suitable for Single-Day Tour Booking, Hall Booking,  etc.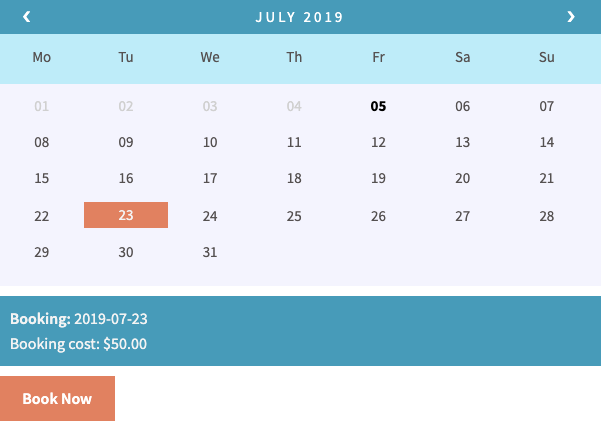 OFFER MULTIPLE DAYS BOOKING (FIXED NO.)
Users can select a fixed no. of days to book by selecting a start date. Suitable for Online Courses, Event Ticket Booking, etc.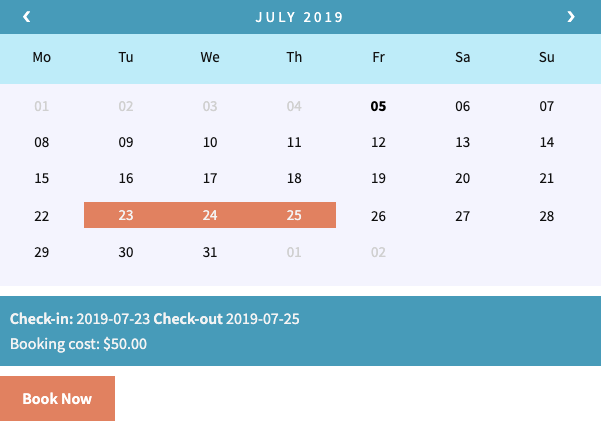 OFFER FLEXIBLE BOOKING WITH START & END DATE
Users have the flexibility to select start day as well as end day. Suitable for Hotel Room Booking, Online Bike Rentals, etc.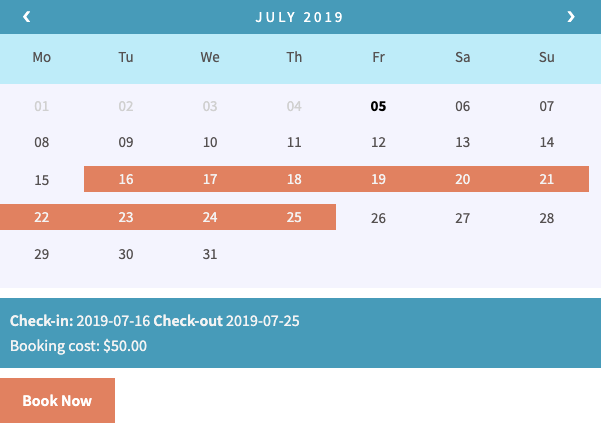 OFFER SINGLE APPOINTMENT
Users can select a single slot based on your timings. Suitable for Doctor Appointments Booking, Salon Appointment Booking, etc.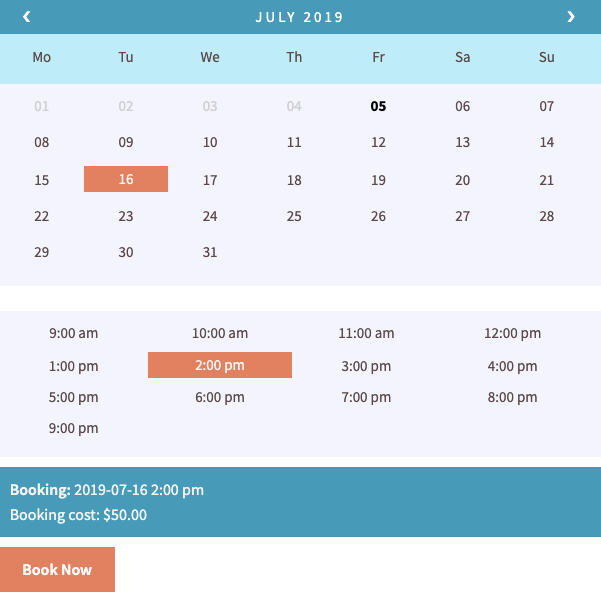 OFFER FLEXIBLE BOOKING WITH START & END TIME
Users have the flexibility to select booking start time as well as end time. Suitable for Sports Venue Booking, Online Boat Rentals, etc.
OFFER RECURRING BOOKINGS
Using Recurring Bookings add-on plugin, users can choose a recurring period for their bookings. Suitable for Online Class Booking, Online Therapy Session Bookings, etc.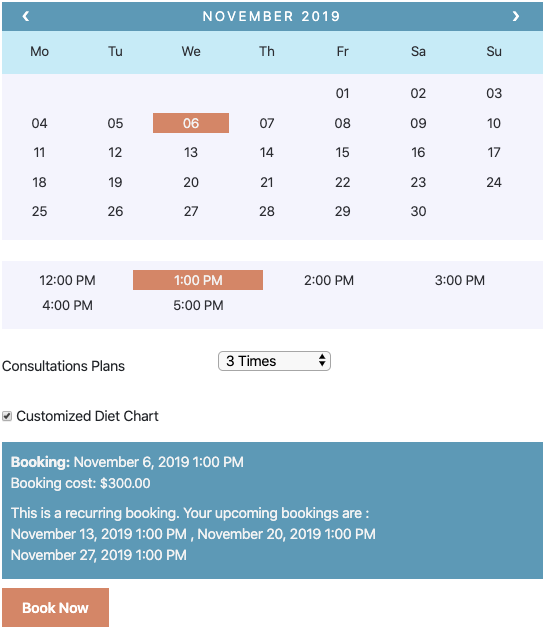 OFFER MULTIPLE NON-ADJACENT BOOKINGS
Using Multiple Non-Adjacent Bookings add-on, users can place multiple bookings of non-adjacent dates or times in a single order. Suitable for Rental Services, Therapy Session Bookings, etc.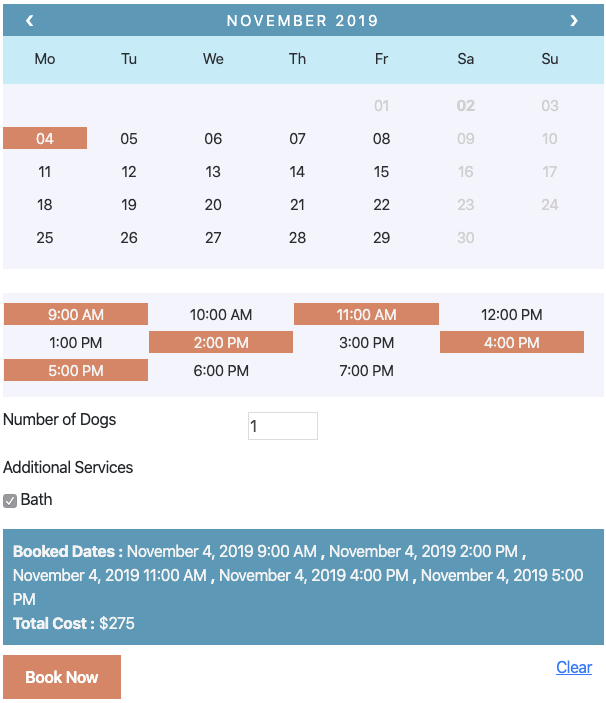 Dynamic Booking Cost Calculation
The plugin dynamically calculates total booking cost based on the customer preferences like,
Number of Slots selected
Additional Services
Number of Guests

Discounts and special prices

Service providers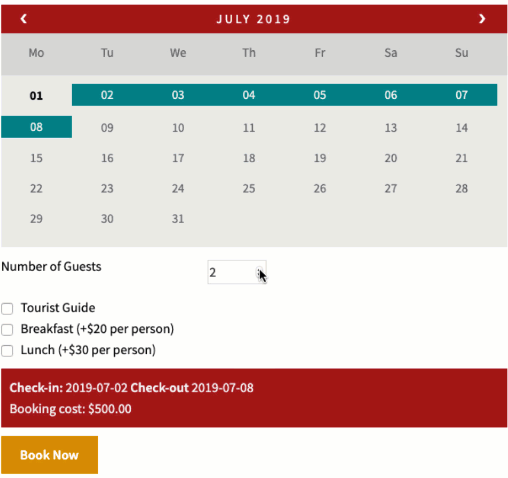 Set up special prices and discounts easily by creating unlimited rules for combination of pricing based on factors like, 
Number of Days

Number of People

Weekends Or Weekdays

Specific Dates

Specific Time of the Day

Seasons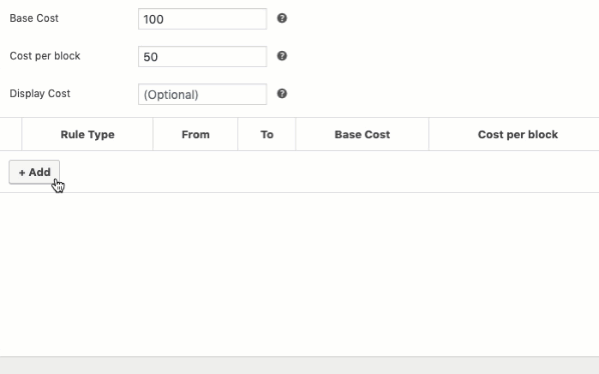 Set Bookings Availability Rules to 
Block out any weekdays or weekends

Block out specific dates

Block out specific times of the weekdays

Block out a specific time of a specific date

Block out certain months or seasons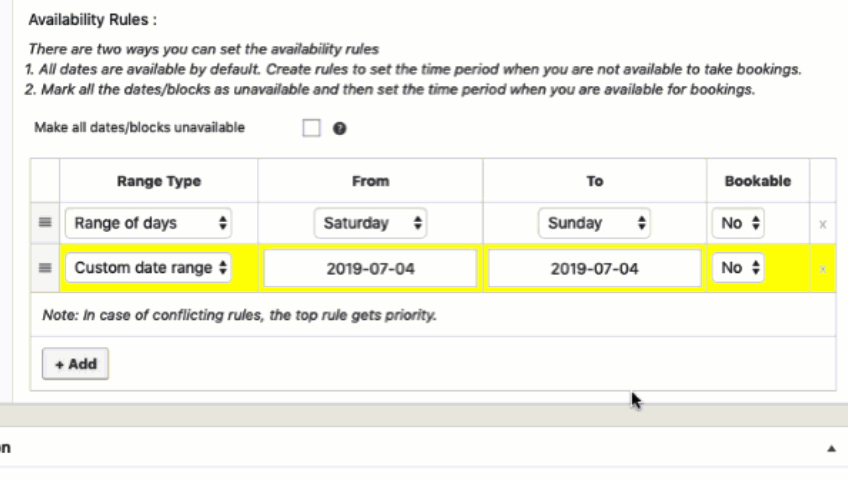 Email Notifications & Reminders
Get email notifications for a new booking, booking confirmations and cancelations.
Send email reminders to users for their upcoming booking or appointment.

Cancelation & Confirmation
Allow booking cancelations and set a time limit until when the cancelations can be accepted. Enable booking approvals or confirmations from the Admin.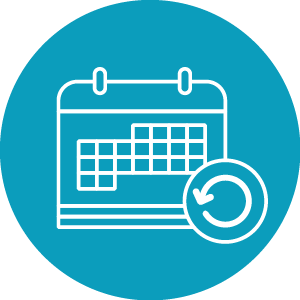 2 Way Google Calendar Sync
Sync bookings with your calendar using Google Calendar Integration. Place bookings on your website directly from Google Calendar.

Partial Payment & Deposits
Accept partial payments and security deposits for your bookings using WooCommerce Deposits plugin with Bookings plugin.

Staff Management
Create Staff Members and set up flexible cost calculation rules for each of them. You can set up staff member's schedules, and the calendar would reflect the availability based on that. 

Buffer Time Between Bookings
Set up buffer time if you require additional time between bookings for preparation. You can set up custom buffers before as well as after your bookings.

Add Custom Fields
You can add custom fields to get additional information from your customers. Add text box for additional notes, checkboxes or dropdown for the choice of resources. If you need more extra fields, you have an option to integrate this plugin with WooCommerce Product Add-ons.

Complete Control Over Bookings
Restrict customers from booking at the last minute by setting a time limit until when customers can book before a booking starts. Allow customers to book within a custom booking window and restrict your bookings to start only on certain days of the week.

Set Variable Durations
Get the flexibility of setting up bookings with different durations and allow customers to choose between these durations. Suitable for cases like Bike Rentals with 4 days, 8 days or 32 days booking, and Online Classes with 1 hour, 4 hours or 8 hours duration. 

Additional Resources/Services
Attach additional resources to bookings and assign a price for them. You can assign these services automatically or let the customers choose. Set up car parking for Hotel Booking, or an Extra Bed for Accommodations, etc.

Create & Sync Global Assets
Sync your booking calendars between multiple products on your website by creating Global Assets. Useful in cases where a singe person provides multiple services and needs to sync time intervals or when the same resource is used between different products.

Individual or Group Bookings
Capture the number of people involved in the booking. You can decide whether the number of people would decide the number of seats booked online. This way users would be able to place group bookings in one go.

Bookings Search Widget
Let users/customers search availability for bookings using a Free Bookings Add-On by PluginHive. Filter search results based on the date and time of the user's preference.
Calendar Design Customization
Customize your booking calendar design and change the calendar color to suit your website.

Create Bookings Manually
You can add bookings on behalf of your customers from the backend. If you have customers walking in or calling you over the phone for bookings, you can easily add their bookings from the back end.
WooCommerce Bookings and Appointments plugin is readily available in:
♦ English
♦ Russian
♦ Dutch
♦ Portuguese
♦ Traditional Chinese
♦ Simplified Chinese

♦ Spanish
♦ French
♦ German
♦ Italian
♦ Hebrew

If your language is not listed here, do not worry, you can translate the plugin in your native language without any hassle. Or simply write to us at support@pluginhive.com and we will get it translated for you.
WooCommerce Bookings and Appointments plugin is also WPML compatible.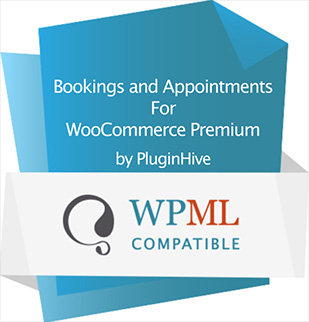 Awesome Support
I had an issue on my site using the calendar, support responded quickly with the solution. They made it so easy for me to update my site. Also the plugin is easy to use and looks great. Thank you so much, I really recommend this plugin for all your booking needs.
Outstanding !
Outstanding! I explored every option in booking I could find. There were none that have the flexibility and customization Pluginhive has to offer. I couldn't be happier with the prompt and helpful customer service and support.
This plugin is recognised by