Join the 7,000+ WooCommerce Stores that use
WooCommerce Table Rate Shipping Pro Plugin
Create Unlimited Rules to Calculate Shipping Rates

Support Table Rate and Flat-Rate Shipping based on:

Total Product/Order Weight

Product Quantity in Cart

Total Price of all Products in Cart

Different Product Categories

WooCommerce Shipping Classes

WooCommerce Shipping Zones

Destination Country

Destination Address Fields such as City and State

Different ZIP Codes

Bulk Import/Export Shipping Rules using the CSV

Set Per Product Shipping using Free Add-on

Set Bundled Rate Shipping using Free Add-on

WPML Compatible
WooCommerce Table Rate Shipping Pro Plugin helps you set up rules in order to calculate the shipping rates for a combination of conditions. If the shopper's cart matches the conditions in the rule, the shipping cost you have defined in that rule is applied.
WooCommerce Weight Based Shipping Cost
Create dedicated shipping rates based on different weight slabs such as, 
Mail

Small Parcels

Medium Parcels

Large Parcels
The plugin allows you to set up shipping based on different weight slabs and will display the correct shipping method based on the total weight of the products added to the cart. 
WooCommerce Zone Based Shipping cost
Set up complex shipping scenarios based on destination address by combining the WooCommerce zones with 
Weight-based shipping per zone

Quantity-based shipping per zone

Price-based shipping per zone

Fixed flat-rate cost per zone

Free shipping per zone
and much more!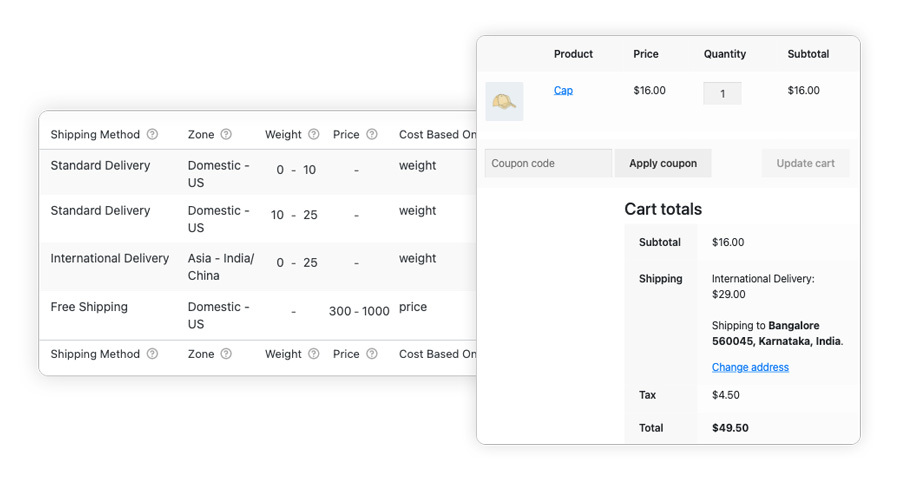 WooCommerce country based Shipping cost
Want to opt-out of WooCommerce shipping zones yet still specify budget-friendly or high-speed delivery options for the countries with a higher customer base?
With the WooCommerce Table Rate Shipping Pro plugin, set up shipping for specific countries without a need for the WooCommerce shipping zones.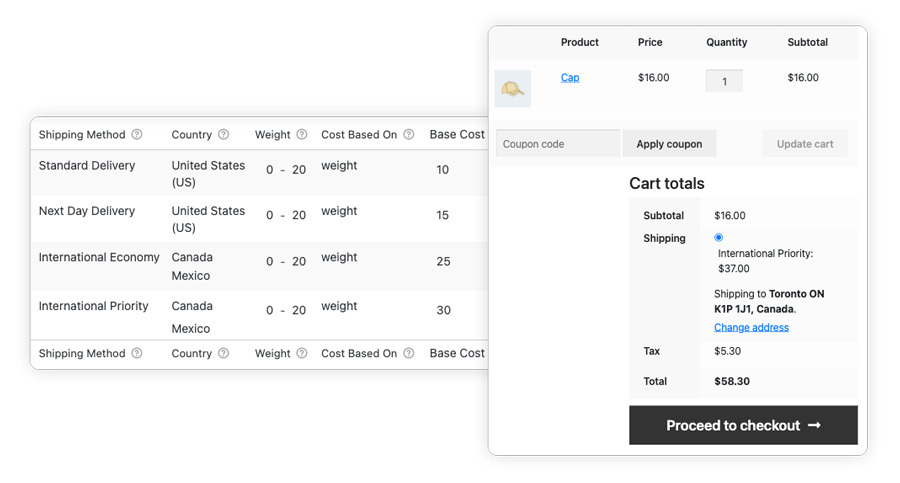 WooCommerce Shipping Class based shipping cost
Looking to charge additional shipping for using services such as "lift-gate while shipment loading & unloading"?
WooCommerce Table Rate Shipping Pro allows you to set up shipping costs with additional shipping fee based on the type of products that require special care while shipping.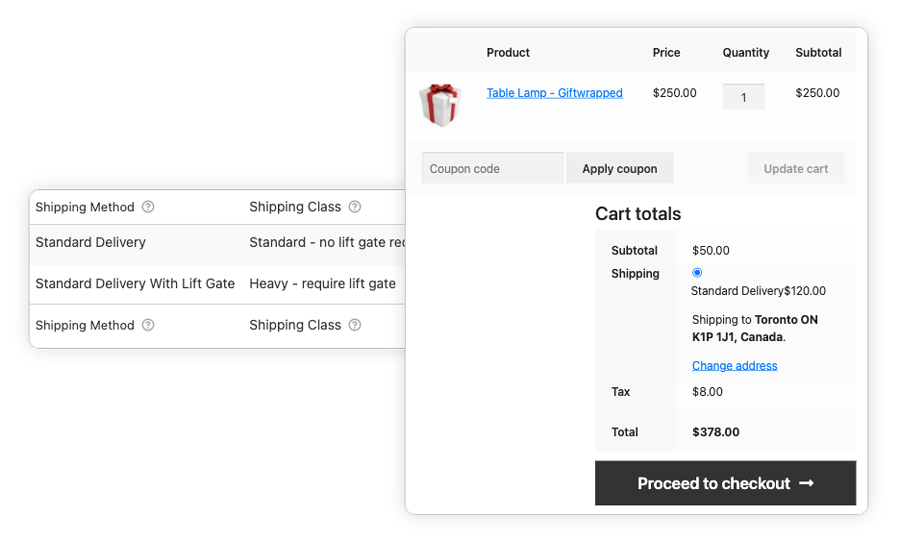 WooCommerce Shipping rates for different product categories
Categorize similar products in a single category and set a shipping cost for multiple products purchased at once. 
WooCommerce Table Rate Shipping Pro allows you to set up shipping costs for 100s of products categorised in a single WooCommerce Product Category.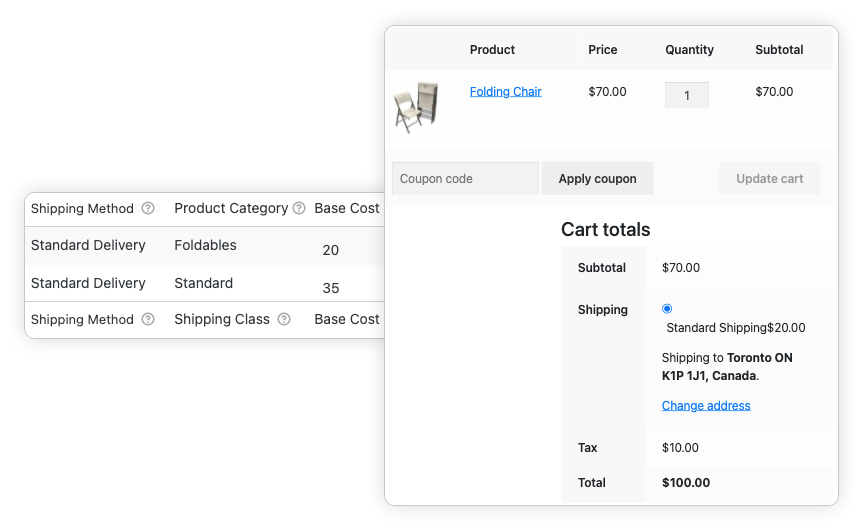 WooCommerce Shipping Cost Per Item
Provide cheaper shipping fees for customers buying products in bulk & boost your WooCommerce sales.
WooCommerce Table Rate Shipping Pro allows you to easily set up shipping discounts based on the total number of products a customer has added to his cart.
WooCommerce shipping Cost per Price
Upsell your WooCommerce products by providing cheaper or free shipping once the customers have reached a specific spending threshold.
WooCommerce Table Rate Shipping Pro allows you to set up shipping discounts based on how much your customers have spent.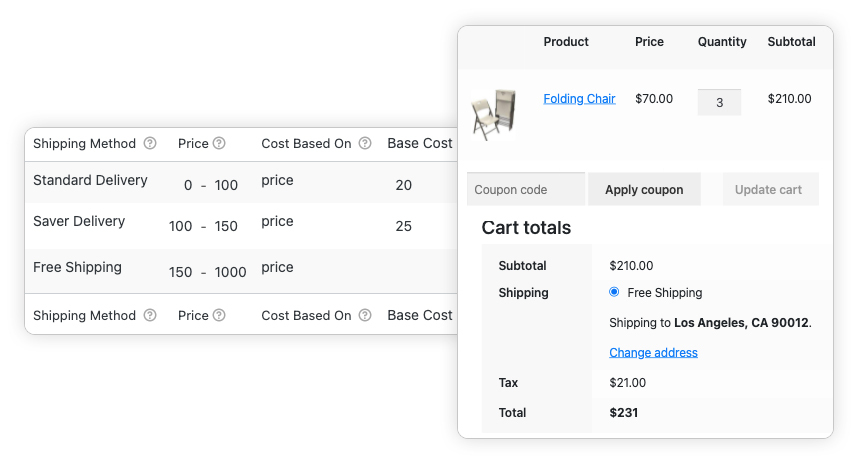 WooCommerce Shipping cost based on the destination city & state
Restrict shipping certain products based on state or city.
With WooCommerce Table Rate Shipping Pro set custom shipping methods for your products and allow customers only from specific states/cities to place an order.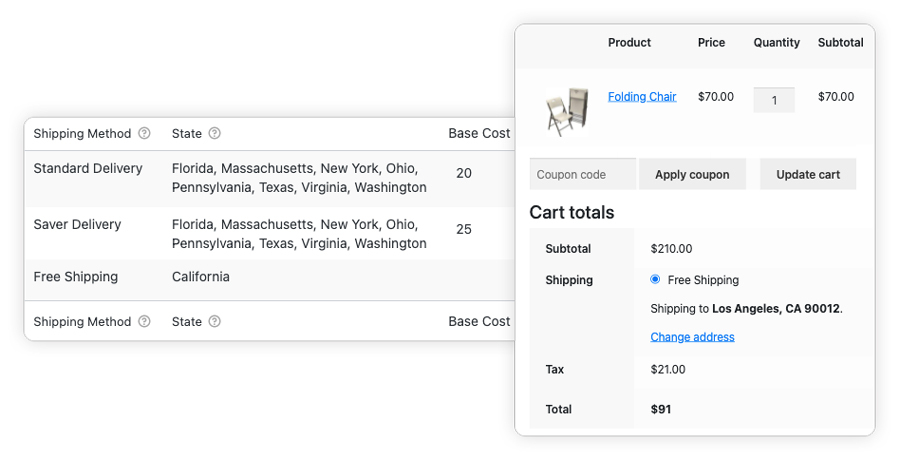 WooCommerce Shipping cost based on the destination zip codes
Expand your WooCommerce store's customer base to even the remotest locations.
With WooCommerce Table Rate Shipping Pro you get the advantage of customizing shipping costs at the ZIP code level.
The best part is you don't have to enter a complete list of ZIP codes. Instead, you can use wildcards(*) to cover a large list of ZIP codes without any inconvenience.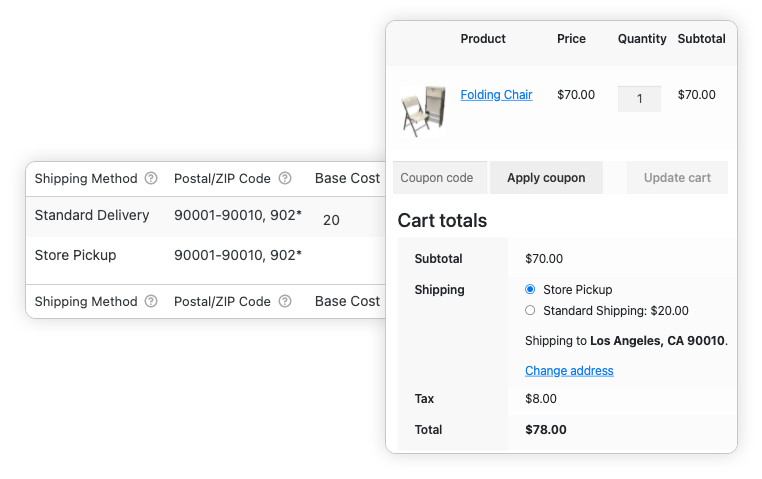 Features of WooCommerce Table Rate Shipping Pro plugin
WooCommerce Table Rate Shipping
The plugin lets you create an extensive table of shipping rates based on various factors like destination address, WooCommerce shipping zones, product weight, cart subtotal, number of items, shipping class, price, and so much more.
Use Wildcards to Easily Update Shipping Rules
To cover multiple areas with 1000s of ZIP codes, the plugin makes it very easy to update the shipping cost with the help of Wildcards (*). This way you can enter 90* and cover all the ZIP codes from 90000 TO 90999 can also be used to match multiple regions.
Products sold for Different Units
The plugin can help you set up shipping rates for the products that are sold in different units (other than 1) This way you can define the units beforehand and set shipping rates without any hassle. You will require the free WooCommerce Per Product Free Add-on to set this up.
Domestic & International Shipping
Create dedicated shipping rules for domestic and international deliveries. Use Rest of the World, Rest of the Countries, Any Country & Any States groups for an easy configuration.
Upselling with Product Bundles
Ensure that your customers get cheaper shipping options every time they purchase multiple products or product bundles for an easy upselling hack.
Free shipping & Flat-rate shipping
Combine Flat-rate & Free shipping with multiple factors based on your requirements and provide the best shipping cost to your customers. 
WooCommerce Shipping for Bulky & Lightweight Products
Set up shipping rules for different products based on their weight. Add handling charges for heavy products and upsell lightweight products by providing shipping discounts.
Customized Local Pickup & Store Pickups
Set up Local Pickups or Store Pickups based on the type of products you are selling or the customer's delivery address.
Additional Cost, Handling Fees & Shipping Discounts
Get complete control over your shipping costs and add handling fees, additional shipping costs, and even shipping discounts for your deliveries based on your conditions.
Display Fixed & Variable Shipping Cost
Easily set up a fixed cost for different products or per product cost in case you sell multiples of similar products.
Rename Shipping Methods to Your Needs
Set shipping methods without any hassle such as Standard shipping for a normal delivery option, Economy for a budget-friendly delivery, and Priority for time-sensitive deliveries.
Additional features of WooCommerce Table Rate Shipping Pro plugin
Many Calculation Options (Fixed Cost / Unit Based Cost / Percentage Based Cost / Step-or- Round based cost)

Calculate each 'item' or 'product category' or 'shipping class' cost separately and sum it up to find the final shipping cost or Calculate the entire order shipping cost together

Plain text translation of shipping calculations

Hide the column(s) which are not relevant to the business case

Performance mode for fast loading of shipping rules

Integration with WooCommerce Measurement Price calculator.
TRUSTED BY WOOCOMMERCE STORE OWNERS GLOBALLY
Table Rate Shipping plugin from PluginHive is the only plugin I could find that would let me set up the delivery mechanism my client wanted. The issue was that it needed to compare ZIP and city combinations and sometimes a different village was in the same ZIP code as another but needed a different delivery price. PluginHive has been above and beyond in helping to set it up and was also very patient since the plugin came to the plate at a point where the site was almost done and needed to go live. I can recommend this plugin also because of the good support! Thank you!
I have been using this plugin for about 6 months and so far shipping rate pro plugin has no bugs or issues and support is very help full. Recently had a zoom call with PluginHive support to set up the plugin tailored to my business and they supported my issue until all components of shipping were fully configured and tested. Would highly recommend this plugin. This plugin has many features depending on your specific needs and covers most business shipping requirements.
This plugin is exactly what I needed and extremely customizable; I needed to set up multiple shipping zones using zip code wild cards, and within each one has hundreds of custom shipping rates based upon order weight. Works perfectly for my needs, and customer service was quick to respond and help me with a configuration issue.
WooCommerce Table Rate Shipping Pro plugin allows you to
CLICK & CHOOSE FACTORS BASED ON WHICH
YOU WANT TO CALCULATE WooCommerce SHIPPING COST
The click-and-choose option allows you to easily select different parameters based on how you want to calculate shipping rates.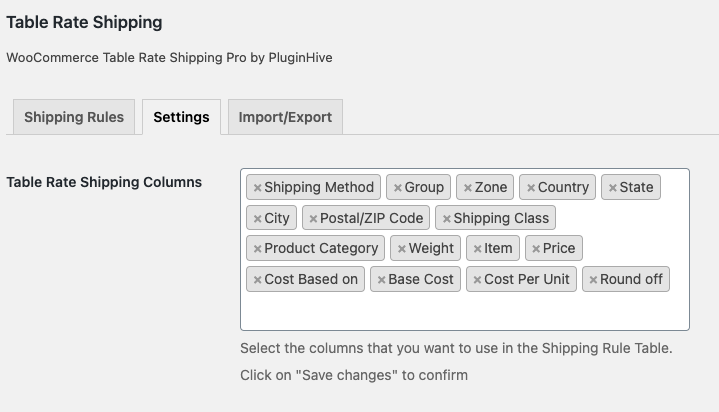 WOOCOMMERCE CART-BASED SHIPPING RATES
(Total Weight – Cart Subtotal – Quantity of Products)
Whether you want to have shipping costs based on weight, total products purchased, or the total amount spent on your eCommerce store, the plugin lets you configure shipping based on all these factors and more.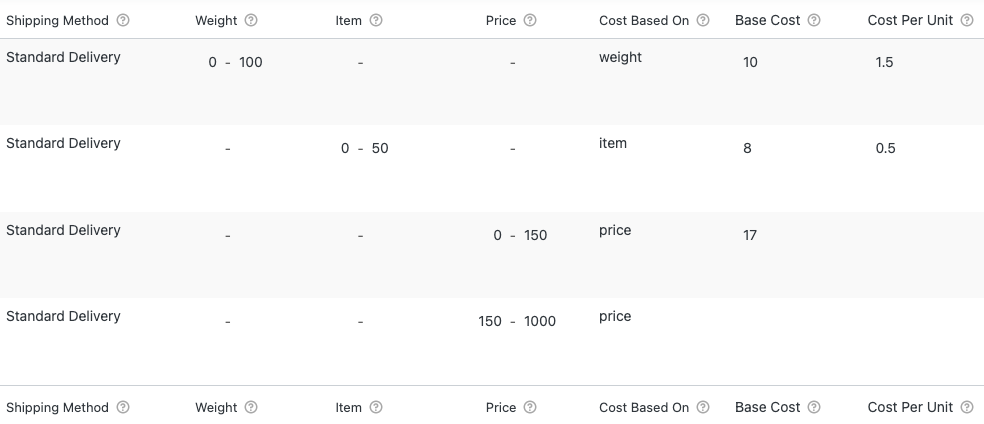 CALCULATE WOOCOMMERCE DESTINATION-BASED SHIPPING RATES
(Shipping Zone – Country – State – ZIP Code)
The plugin offers complete control over shipping costs based on the destination address.
Whether it is the pre-configured shipping zones, specific country, state, city, or even the ZIP codes, the plugin will meet your business needs.

Easily create & modify 1000s of shipping rules
with CSV file import/Export
The plugin saves time and effort by allowing you to set up the shipping rules in bulk and import them as a CSV file.
Alekos Konstantinou
"What can I say about the guys at PluginHive? Amazing team, excellent plugin solutions, and the best part? Their support is second to none! Extremely fast at replying and providing solutions to every single question/inquiry raised! Highly recommended, you will not be disappointed. It is the first time I have had such a good customer experience with a solutions provider!
A++++!"
WHO'S TALKING ABOUT THE WOOCOMMERCE Table Rate Shipping PRO?

Wordpress Multilingual support
WooCommerce Table Rate Shipping Pro Plugin is readily available in:
♦ German
♦ English
♦ Spanish
♦ French
♦ Italian
♦ Polish
♦ Portuguese

If your language is not listed here, do not worry. You can easily translate the plugin into your chosen language. Alternatively, write to us at s[email protected], and we will translate the plugin for you.
Note — This plugin is also WPML compatible.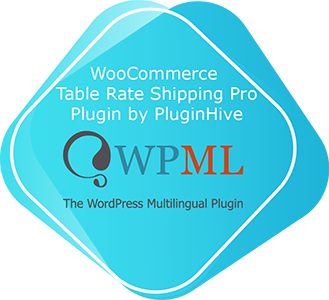 LIVE DEMO
Check out how it works on our Live Front-End & Back-End Demo
DOCUMENTATION
Check out the plugin download, installation & setting up guide.