If your online business hasn't set itself up to provide tracking on shipments, you're likely going to see your business begin to weaken. As competitors continue to keep up with consumer demands, such as the now-common demand to stay updated in real-time every step of the way, then your business will start to fail. This may sound like we are being far too serious for an internet blog, but statistics show that over 85% of online shoppers will make their buying decision based on the ability to track their purchases.
PluginHive knows that providing real-time tracking provides trust and transparency to your customers — which increases the likelihood that they will come back and shop again.
---
Do you offer Purolator as one of the shipping options available to your customers?
Purolator is a recognizable name in Canada and is one of Canada's top parcel shipping companies. Owned mostly by Canada Post, it is backed by a trusted, official government agency. For businesses that provide online sales to customers, Purolator offers many services and benefits that keep costs low for you and your customers. One of the many services that Purolator offers is the Tracking Lookup Page.
---
What is Purolator's Tracking Lookup Page?
Purolator offers customers, businesses, or anyone with a package's tracking code to look up the real-time location and status of that package. You can track multiple Purolator tracking codes at once for even more convenience. Once you've entered your tracking code, you will be provided with multiple options for staying updated on your package's status, such as entering your phone number to receive text updates on any changes.
From the lookup page, you can also sign in to your account and change the delivery location or request other changes if needed. This comes in handy if a customer will not be home at the time of delivery and would prefer to pick up from a Purolator location instead.
Although the Purolator Tracking Lookup Page is very convenient, if you own an eCommerce website, chances are that you'd like to offer your customers the ability to track Purolator packages right from your website. This makes it simple for your customers to stay updated without needing to copy and paste tracking information and provides an element of trust from your business to your customers.
You can integrate Purolator and most other shipment carrier tracking abilities right into your website in only a few simple steps.
---
Integrate Purolator Into Your WooCommerce or Shopify Website For Even More Convenience
Both WooCommerce Purolator and Shopify Purolator are easily integrated using Purolator's APIs. These APIs provide valuable services to your online customers who choose to have their shipments delivered with Purolator. Services such as the calculation of shipment rates, simple label generation, and, and of course, live tracking.
---
In order to benefit from Purolator's APIs, you will have to partner with a web developer or sign up with a third-party service provider such as PluginHive. Web developers often take on more tasks than simply adding in shipment code, so the costs associated with their services can add up. Choosing to work with the friendly team behind PluginHive means you only pay for the apps you want to use, which are easily downloaded into your site through Shopify or WooCommerce.
---
Purolator Tracking Lookup Page for Shopify
If you're looking for a well-designed shipment tracking app that provides live tracking email notifications, allows for monitoring of shipments and history right from an easy-to-navigate dashboard, the Shopify Shipment Tracking & Notifications App offers amazing value to your eCommerce website. This application is only $9 (as opposed to the cost of a contract developer) and also offers direct access to the Purolator tracking lookup page – but from the convenience of your website.
---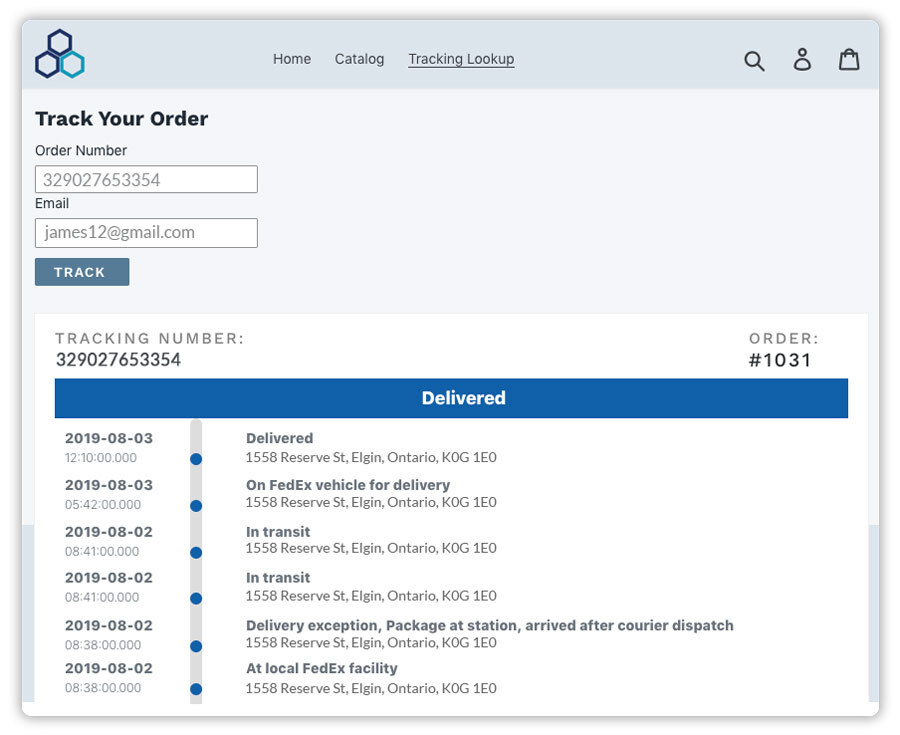 ---
Purolator Tracking Lookup Page for WooCommerce
WooCommerce integrates the Purolator Tracking Lookup Page into your website as well. The WooCommerce Shipment Tracking Pro application has a high number of 5-star reviews for its simple setup and navigation. After downloading the WooCommerce tracking application for one price (no monthly subscription needed), you can instantly start adding tracking information to all of your customers' shipments. Your customers receive real-time updates of their tracking right from their account on your website without the need to visit the Purolator tracking page.
---
---
For both Shopify as well as WooCommerce, these apps can be used for multiple shipment carriers so you can offer a selection of options for your customers based on their own preference, cost, or time requirements.
---
Before You Go…
Don't forget to download PluginHive's Multi-Carrier Shipment Label Shopify application to streamline the entire shipment process. All shipment information is automatically generated into your labels, ensuring complete accuracy. It also shortens the time your customer is left waiting for their purchases to ship because it shortens your employee's work of having to manually enter customer data.
To use APIs within your WooCommerce or Shopify website, you will need your Purolator Activation Key as well as an account with Web Services. You can visit the Purolator website to learn more. Our trusted team of experts in almost every shipping company across the globe can also help answer any questions and ensure your business is set up for success with Purolator.
---
If you have any other questions about PluginHive or want to start a conversation about how we can meet your unique business needs, our customer support team is here and ready to help. Let's chat.