Food and meal delivery companies have become more and more successful by offering quick and painless meal delivery for those customers that want a healthy and delicious meal without having to spend time cooking. Indeed, delivery services for groceries and other goods are a rapidly growing market.
When it comes to shipping frozen food, time is of the essence. This may be obvious, shipping can make or break your food delivery business. You not only want a fast shipping company but the cheapest way to ship frozen meat. With so many shipping companies out there, it is a good idea to research to find the best option for you. Here are three of the prominent frozen food shipping companies to deliver frozen and cold foods.
---
Why shipping with Dry Ice is considered difficult?
Shipping with dry ice presents several challenges, including:
Safety concerns: Dry ice is extremely cold (-78.5°C or -109.3°F), and can cause frostbite or skin damage if it comes into direct contact with skin. Additionally, dry ice turns into gas as it warms up, and can create a hazardous environment if it displaces oxygen in a confined space. Proper handling, labeling, and packaging of dry ice are important to ensure the safety of those involved in shipping and receiving.

Regulations: Dry ice is classified as a hazardous material by the International Air Transport Association (IATA) and other regulatory bodies. As such, there are strict regulations that govern its transportation, including limits on the amount that can be shipped on a single aircraft or vehicle, and requirements for proper labeling and packaging.

Cost: Dry ice can be expensive, particularly for larger shipments or for those that require overnight or expedited shipping. The cost of dry ice and specialized packaging may be prohibitive for some businesses or individuals who need to ship perishable items but cannot afford the additional expense.

Logistics: Dry ice has a limited shelf life and must be used within a certain timeframe, typically 24 to 48 hours. This can create challenges for shippers who need to coordinate delivery schedules and ensure that the dry ice will arrive at its destination while still frozen. Specialized packaging, including insulated containers and dry ice pellets, is often required to maintain the proper temperature during transit.
Overall, shipping with dry ice can be challenging, however by taking proper safety precautions, adhering to regulations, and carefully planning logistics, it's possible to successfully ship items with dry ice.
---
Shipping Frozen Food – UPS
Shipping frozen food is allowed with UPS, but packages must also be packed properly to prevent thawing and leaks. They recommend using a shipping service that has a maximum shipping time of 30 hours, offers shipment tracking, and lets the recipient know when to expect the package.
UPS shipping options include Next Day Air and 2nd Day Air, which are the two best options when it comes to shipping perishable items. You can pack items with dry ice, but because it is considered a hazardous material, you cannot pack more than 5.5 lbs of dry ice when shipping by air. UPS Next Day Air guarantees delivery by 12 pm to most addresses and prices start at $32.09. UPS 2nd Day Air offers guaranteed two-day delivery to the entire continental U.S. and Puerto Rico, with prices starting at $20.24.
---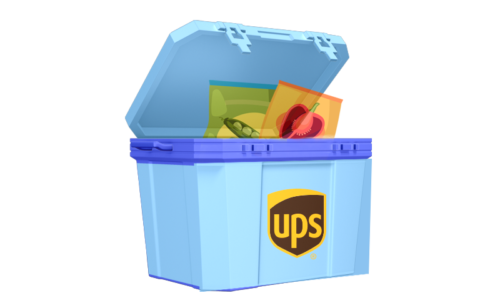 ---
Shipping Frozen Food – FedEx
Same as UPS and USPS, there are no refrigeration options for FedEx shipping as well. Packages containing frozen food have to be packed properly to ensure they stay frozen and do not leak. FedEx also recommends a shipping option that does not take longer than 30 hours for delivery. Thus, the best shipping services to use with FedEx are First Overnight, Priority Overnight, or Standard Overnight.
All overnight services are guaranteed next-day delivery but vary from early morning delivery to afternoon delivery. Prices start at $28.24 for Standard Overnight, $30.31 for Priority Overnight, and $60.31 for First Overnight.
---
---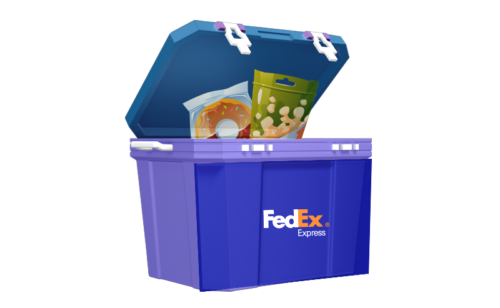 ---
Shipping Frozen Food – USPS
Unfortunately, USPS shipping does not offer any specific refrigeration services. You can send frozen food with them, but at your own risk. You will need to use one of their faster shipping options and make sure that the package is packed properly, preferably in a polystyrene box with ice packs or dry ice, and wrapped with plastic mailing wrap. It must be packaged well enough to prevent any leaks and/or odors.
You can purchase insurance for the items, but it will not be paid if the contents spoil – even if it is not delivered on time. If you do use USPS, choose Priority Mail or Priority Mail Express services to send any perishable items. Using dry ice is prohibited for USPS International Mail, but is allowed domestically.
USPS Priority Mail ensures delivery in 1-3 business days and offers flat rate pricing starting at $7.70; you can ship packages up to 70 lbs. USPS Priority Mail Express ensures delivery in the next 1-2 days, as well as flat-rate pricing starting at $26.35; as with Priority Mail, you can ship packages up to 70 lbs.
---
---
Tips for Shipping Frozen Food
---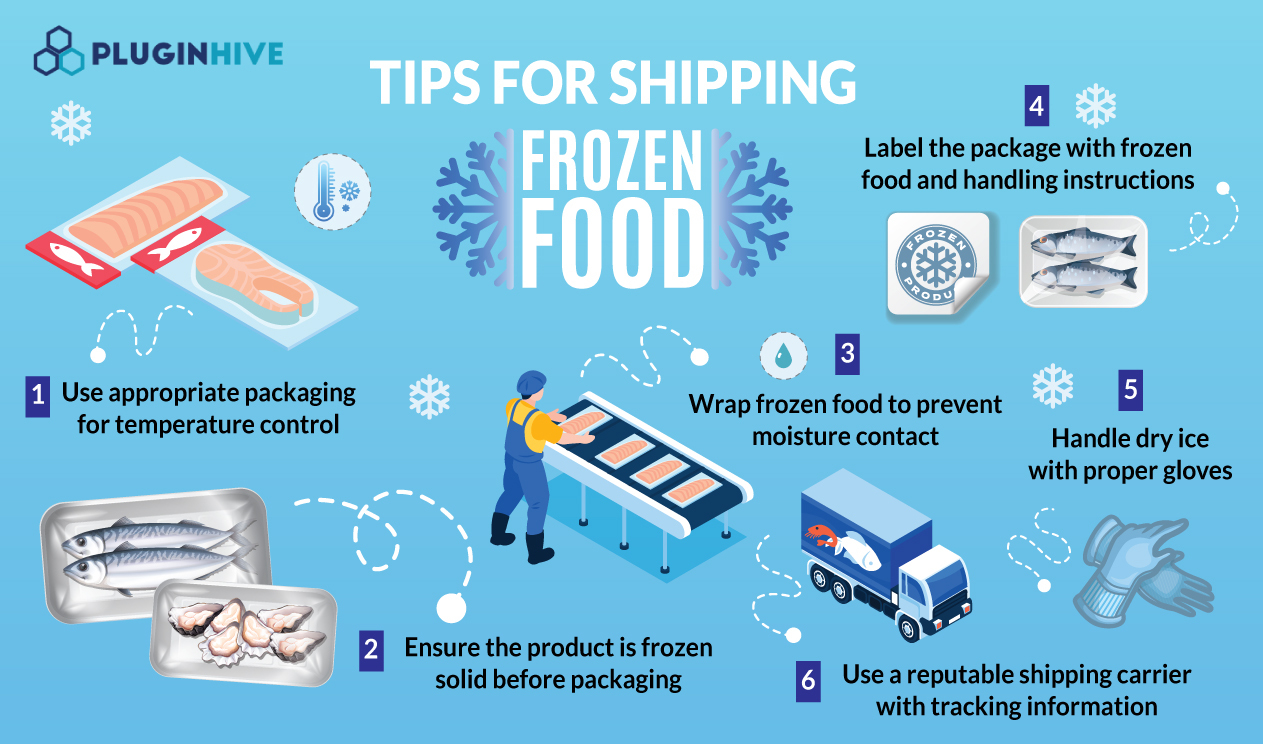 ---
Shipping frozen food to your customers can be tricky. It's important to ensure these perishable items stay within a certain temperature range, as even a small amount of time outside of this range can result in spoilage or even food poisoning. Here are a few things to keep in mind when shipping frozen items:
Use appropriate packaging: Use packaging that is designed to maintain the temperature of the product. This may include insulated containers, dry ice, or gel packs. Use frozen gel packs when shipping food items that need to be between 32 to 60 degrees Fahrenheit. Although gel packs will become moist as they defrost, they will last much longer than dry ice. Overall the packaging should be sturdy enough to withstand handling and transport.
Keep the product frozen: Make sure the food is frozen solid before packaging. If the product is not fully frozen, it may thaw during transport and spoil. Pre-cooling the box you are shipping food in will keep it frozen for longer.
Wrap the product: Do not allow the food items you are shipping to come in contact with the dry ice. Instead, wrap the frozen food in plastic wrap or foil to prevent any moisture from seeping in during transport.
Label the package: Clearly label the package as containing frozen food and include any special handling instructions. Include a label with the weight of the dry ice or gel packs and the net weight of the product.
Handle dry ice safely: Make sure not to touch or handle dry ice without proper gloves.
Use a reputable shipping carrier: Choose a shipping carrier that has experience shipping frozen food and can provide tracking information. Make sure the carrier can meet your delivery requirements, such as overnight or two-day shipping.
If your eCommerce business includes frozen or perishable items, you shouldn't be held back by shipping. With so many express shipping options offered by most of the top shipping companies (in particular USPS, FedEx, and UPS), any business can meet its needs and grow quickly. Be sure to do your research about the best options for your business; don't just go with what may be available or is the least expensive. The last thing you want is to end up paying more because you didn't think your decision through. Generating leads for your frozen food shipping business can be easier when you make an informed decision between USPS, UPS, and FedEx by reading the detailed comparison provided here.
---
Shipping frozen food is tough but completely doable. PluginHive allows eCommerce merchants to streamline their shipping process from cart to doorstep through access to real-time shipping prices, tracking options, automation of shipping labels, and more.
Learn more about integrating PluginHive into your Shopify, WooCommerce, or other eCommerce platforms by reaching out to our customer support team.
---