In this article, we will compare UPS Freight services with FedEx Freight services, from two of the biggest Logistics Companies in the world, FedEx and UPS. We'll also discuss how the WooCommerce UPS Shipping plugin and the WooCommerce FedEx Shipping plugin will help you sort your Freight shipments out.
We'll take a look into their setup and also compare their rates, label printing facilities, packaging methods, delivery times, shipment tracking facilities and much more.
What is Freight shipping?
Shipping large volumes of goods is a difficult task for any shipper out there. The feasibility, price points, and delivery times, all play an important role in Freight shipments. With WooCommerce, we can finally have a system in place that permits the sale and shipment of large volumes of goods. Read on and find out which Carrier's Freight service will be best for your online WooCommerce store.
FedEx Freight 
FedEx, a top shipping company that was founded in 1971, has been one of the most popular carriers of its league. Over the years, FedEx's popularity has shot through the roof as more and more business owners are signing up with FedEx to have a go at their services. FedEx provides its users with cheaper shipping rates and a better handle on the packages being sent.
There isn't much of a difference between FedEx and UPS when it comes to packaging, delivery service or logistics. FedEx Freight is mainly preferred over UPS Freight because FedEx covers a larger delivery network and serves more locations than UPS.
FedEx has the same advantages as that of UPS, including tracking, on-time delivery, liability coverage and so on. With the WooCommerce FedEx Shipping plugin, you can obtain real-time rates, parcel packaging options, and the ability to print shipping labels (in the case of Freight – BoL). Here's all you can expect from FedEx Freight.
UPS Freight
UPS was founded in 1907 and is the oldest Parcel/Logistics service around. As a shipping carrier, they have been able to steadily gain popularity over the years and will continue to thrive in the near future solely because of how they operate. Shipments with UPS Freight come with a high level of security, compliance checks, and speed and are very reliable to both business owners and customers. Many E-Commerce store owners who use UPS prefer their in-house shipment tracking and label printing system.
Shippers will have to pay a bit more in order to experience UPS's true delivery service. Prices aside, this service is one of the best in our current age where every second person needs to have a shipment sent out. Using the WooCommerce UPS Shipping plugin enables shippers to do just that, the plugin allows users to stay in the confinement of their homes and process shipments while requesting for a regularly scheduled pickup. 
Comparison between FedEx Freight and UPS Freight
 

FedEx Freight

UPS Freight

Freight Services

1 Day Freight

2 Day Freight

3 Day Freight

International FedEx Economy Freight

International FedEx Priority Freight

First Freight FedEx

FedEx Freight Economy

Freight Priority FedEx

FedEx Next Day Freight

 

Freight LTL UPS

Worldwide Express Freight

UPS Freight Guaranteed

Freight Guaranteed AM (UPS)

 

Delivery Speed

International FedEx Priority Freight – 1-3 days

 

International FedEx Economy Freight – up to 5 days

One Day Freight – by 10:30 AM the next day

Two Day Freight – by Noon on the second day

Three Day Freight – by 3:30 PM on the third day

UPS Freight Guaranteed – End of the following business Day

 

UPS Freight Guaranteed A.M – by Noon the following business Day

Worldwide Express Freight – between 1-3 Business Days

 

 

Type

Weight Limits (Minimum)

Weight Limit (Maximum)

Documents Required

BoL (VICS Bill of Lading)

BoL (Standard Bill of Lading); Commercial Invoice

Delivery Guarantee – Domestic

Cheapest Freight service

 

FedEx Economy Freight International

 

Time-guaranteed International delivery

Shipping Label

Yes; BoL; Commercial Invoice

Shipment Tracking

Saturday delivery

Provides Saturday Delivery

Provides Saturday Delivery

Liability Coverage

Maximum per Pallet – $100.00 or $9.07 per pound (whichever is greater)

Minimum per Pallet – $100.00

Maximum per Pallet – $100,000

Delivery Coverage

Domestic – U.S.A; Alaska; Hawaii

 

International – Canada; Mexico; 130+ countries

Domestic – Alaska; Hawaii; Guam; Puerto Rico; U.S Virgin Islands

 

International – Canada; Mexico

Pick-Up

Delivery Notification
---
FedEx Freight vs UPS Freight
---
Delivery Times
When business owners have to select the most appropriate shipping service for their use, they need to primarily focus on the delivery times of those shipments. This is their prime focus only because delays in shipments can cost a shipper his business or at times he would have to face criticism from his customers. 
Delivery times have been set by UPS and FedEx based on the type of product being shipped, how heavy the shipment is, and the origin and destination address. Keeping these in mind, the carriers will provide you with the best available service to meet their clients' needs. 
FedEx has assured their customers that their fastest service is the One Day Freight where shipments will be delivered before 10:30 AM the following day, whereas, UPS has the UPS Freight Guaranteed A.M which delivers shipments by 10:30 AM the following day. Shipments with FedEx Freight using the service International FedEx Economy Freight will take a maximum of 5 days to be delivered at the Destination address and shipments with UPS Freight using  Worldwide Express Freight will take roughly a maximum of 3 business days to be delivered.
Both FedEx and UPS provide users with an On-Time Delivery Guarantee which means that the consignees' package will arrive on the date specified in the 'Track Order' section and won't be delivered later than the original delivery time specified.
---
 Weights
Those shipments that require Freight services from both UPS and FedEx will require to fall into the pre-defined weight category. UPS and FedEx will have a minimum weight restriction where each package must be greater than 150 lbs in order to qualify for Freight services. Any package that weighs more than 150 lbs will be priced differently and will have to be packed accordingly. 
Each shipment has a maximum weight limit as well, this is 20,000 lbs for both FedEx Freight and UPS Freight. Any package that exceeds this weight will incur an Overweight Shipping fee that would be an additional amount to be paid to the carrier for each pound more than the specified limit.
The expected Freight cost is determined based on the Weight of the shipment along with the dimensions of the package. This is calculated as such:
Calculating Dimensions 
Length: Measure the longest side of your package, rounding to the nearest inch.
Girth: Measure the width of your package and multiply by two. Add this to the height of your package multiplied by two. (2W + 2H = Girth)
Cubic Size: Length x Width x Height
---
Documents Required 
Shipping Freight will require certain documents, especially for International Shipments, these are primarily used to declare customs and will act as a biography of the shipment. The documents that are required are the BoL and the Commercial Invoice. Both these documents are automatically generated in their respective WooCommerce plugins. For FedEx, the BoL (VICS Bill of Lading) will act as the final shipping invoice and label for the Freight being shipped, and with regards to UPS, the BoL, Shipping Label, and Commercial are required for all International shipments.
BoL
The Bill of Lading is a legally bound document that details the type, quantity, and destination of the goods being transported. This document is to accompany the shipped goods no matter the form of transportation. The BoL is a document that needs to be duly signed by, the shipper, the carrier and the receiver.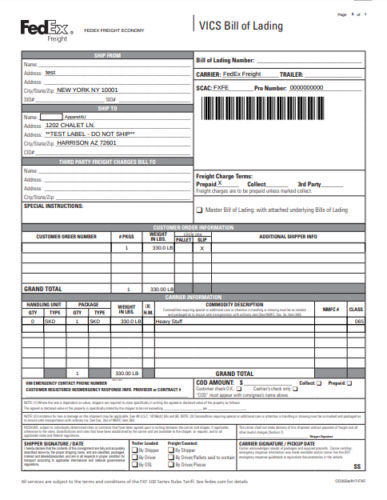 ---
Commercial Invoice
The Commercial Invoice is important for the clearance process used by customs officials to classify merchandise so that duties & taxes can be correctly assessed. Commercial invoices must be printed with the description of the goods along with their value.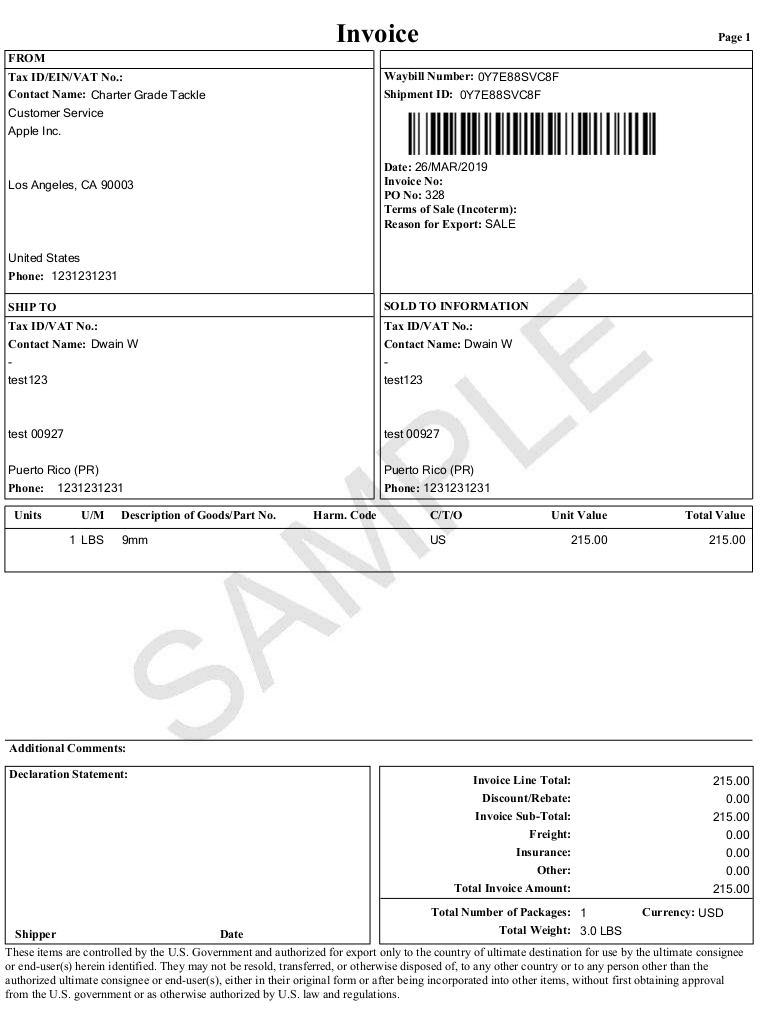 ---
Shipment Tracking
Tracking shipments have become easier with the availability of tracking numbers and reference numbers that are generated by the shipping carrier (UPS or FedEx)
Shipment tracking has been made easier than before and is accessible to everyone shipping with UPS and FedEx. When it comes to tracking packages, UPS provides a more comprehensive tracking service compared to FedEx. With UPS customers are able to track their packages from the pickup point right to their doorstep.
UPS's tracking system is very detailed and provides the customer with a sense of security, even if the package might be delayed or lost. In order to stay ahead of the rest, you can make use of this feature within the plugin. This feature is available in both, the WooCommerce FedEx Shipping plugin and the WooCommerce UPS Shipping plugin. Once you're in the 'Orders Page' you will be able to see the tracking information mentioned above the Order information and toward the right panel in the 'Order Notes
This helps the store owner send the order tracking details to his/her customers via the Order completion email. The Order completion email goes out once the order is marked order status has been marked 'Complete'.
Below are the settings page for both FedEx and UPS in WooCommerce. The screenshots show you how to Enable Shipment tracking, in order to do so you will have to navigate to WooCommerce > Settings > Shipping > Plugin Name (UPS/FedEx).

In UPS the shipment tracking is located below the service table.

In FedEx, the shipment tracking setting option is located in Label Generation under Settings.
As you can see below, the Shipment tracking number will get be populated in the Order Notes section of the order and will be found under UPS Shipment Tracking.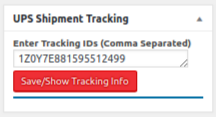 ---
Pickup & Saturday Delivery
Pickup
Both services provide Saturday Delivery as well as Pickup service but are on a scheduled request basis. Both UPS and FedEx will need for the following information in order to acknowledge the pickup request.
To enable pickup services in the WooCommerce FedEx Shipping plugin you will have to navigate to WooCommerce > Settings > Shipping > FedEx > Pickup, and enable the service. Upon doing so you will have to option to set an alternate pickup address, set the pickup start time and the close time, you're even able to pick the type of pickup service FedEx offers. (shown below)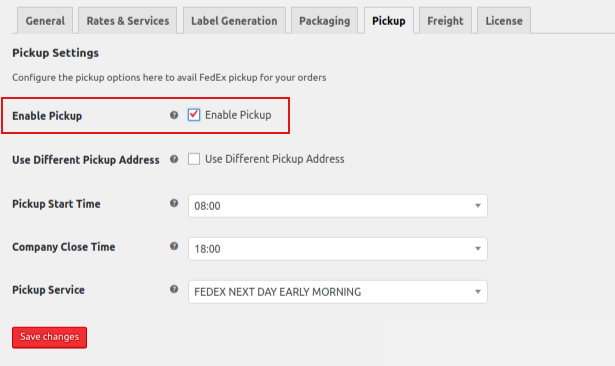 Whereas, in the WooCommerce UPS Shipping plugin, the option to Enable Pickup is available in the plugin settings page and to navigate here you will have to go to WooCommerce > Settings > Shipping > UPS > scroll to Enable Pickup. The options available here are the Pickup Start time, Close time and to set a Pickup date for the store.
Pickup Address
The pickup address is an important requirement because without the pickup address UPS and FedEx will not know where to retrieve the package from. The mandatory details to enter for a Pickup Address are:

Company Name

Contact Name

Address details (where the pickup address is)

Phone Number

To specify if the address for the pickup service is residential or a commercial address
Pickup Information
Pickup information will be pertaining to

The pickup locations opening time

The pickup locations closing time

Details about the shipment and special services

There's even an option to notify the shipper when the consignment has been picked up from the pickup point.
Package Details
The package details required are

Destination country

Number of pieces in the shipment

Service type

The weight of the shipment

Packaging type (pallet/skid in case of Freight)
Saturday Delivery
Saturday delivery is available to many major markets for an additional charge. With these plugins, you would be able to display real-time FedEx and UPS shipping rates to your customers. The shipping services along with the corresponding shipping rates are directly fetched from their respective FedEx and UPS APIs. As Saturday Delivery is at a surcharge, the option to set Saturday Delivery for a shipment would be to navigate to
WooCommerce > Orders > Select the Order > Scroll till UPS/FedEx Shipment Label
As you're about to generate packages, the option to set Saturday Delivery is available above Confirm Shipment, tick the checkbox and proceed.
---
Liability Coverage
Liability coverage is a benefit that is handed to shippers where UPS and FedEx will bear up to $100 for any damage to a Freight shipment or if the shipment has been misplaced or lost. The coverage is made available by default and additional coverage is available at a surcharge by contacting the shipping carrier. 
UPS Freight feels it is their liability to have $25.00 per lb per package.

Whereas, FedEx Freight has set a total of $2.00 per lb per package as liability coverage
Upon checking the goods and if found to be damaged or the pallet is missing one package then the following documents are required in order to raise a complaint.
Collect the necessary documents in order to file for a claim
Vendor invoice including the entire amount paid (post deductions and discounts)

Freight bill invoice (copy)

BoL (Bill of Lading – copy)

Repair invoices in the case where goods have been repaired
---
Delivery Coverage
FedEx Freight covers a larger area of the globe when it comes to Freight shipping. FedEx has both, domestic and International destinations that they serve.
These are:
Domestic

International

Canada

Mexico

130+ Countries across the world
UPS Freight covers a generally smaller area than FedEx and the destinations UPS serve are categorized into Domestic and International, these are:
Domestic

Alaska

Hawaii

Guam

Puerto Rico

U.S Virgin Islands

International
---
 Delivery Notification
UPS will provide you with the following delivery notifications, you can choose the following selections while processing shipments:
Delivery Confirmation: Delivery confirmations will be sent via Email and without a signature. 

Note: Similar information is available when you track your package online.

Signature Required: A signature will be obtained once the recipient has accepted the package and UPS will then provide you with a printed copy. You may also view the recipient's signature or electronic acknowledgment of receipt online.
Adult Signature Required: An adult signature will be obtained by UPS in the event where the shipment requires an Adult signature and can not be delivered to Minors. UPS will have the recipient's signature sent to you via mail. Adult recipients must be at least 21.
UPS Signature Mandates
All packages containing any alcoholic beverage/wine, the shipper must utilize the Adult signature delivery confirmation and a signature for each package containing alcohol must be signed for.

The Shipper must use Delivery Confirmation Adult Signature Required service for each Package containing a firearm (including handguns). UPS, in its sole and unlimited discretion, may require the Shipper to select a UPS Next Day Air® delivery service for any Package containing a firearm. Handguns will be accepted for transportation only via a UPS Next Day Air delivery service.
FedEx has the following delivery confirmation methods in place:
Indirect Signature Required: FedEx will obtain a signature in one of three ways:

From someone at the delivery address

From a next door neighbor,  building manager or another person at a neighboring address

The recipient can sign a FedEx door tag or utilize FedEx Delivery Manager to authorize the release

 of the package without anyone present. FedEx can then just leave the package on the doorstep. If delivery cannot be completed in these ways, FedEx may reattempt delivery.

Direct Signature Required: FedEx will obtain a signature from someone at the delivery address. If no one is at the address, FedEx may reattempt delivery.
Adult Signature Required: FedEx will obtain a signature from someone at least 21 years old (government-issued photo identification required) at the delivery address.  If there is no eligible recipient at the delivery address, FedEx may reattempt delivery.
FedEx Signature Mandates
For Firearms 

If your shipment contains firearms, select the Direct Signature Required or Adult Signature Required Delivery Signature Option.

Firearms shipments are not eligible for signature release, driver release or indirect delivery.
When shipper's tender multiple-package shipments processed together using a FedEx electronic shipping solution, any FedEx Delivery Signature Option that you select will apply to all packages within the shipment. For Hold at Location shipments, Indirect Signature Required and Direct Signature Required charges may not apply, but Adult Signature Required charges will apply.
---
 Final Thoughts…
Choosing the right Freight service is probably one of the most complicated tasks for eCommerce business owners. However, the United Parcel Services (UPS) and FedEx are two of the major and most reliable carriers in the United States.
The article takes you through the features available in both the services as well as delivery coverage, delivery confirmation, liability coverage available for shipments and the required documents to carry out a seamless UPS Freight and FedEx Freight experience.
I hope you like this article and would love to hear back from you in the comments below. If you have any doubts or have any other queries regarding FedEx Freight or UPS Freight then feel free to contact our customer support.
Happy selling!