Customer support is a critical aspect of running a successful WooCommerce store. Providing excellent support to your customers can lead to higher customer satisfaction, increased sales, and improved brand reputation. To enhance your WooCommerce store's support capabilities, you can leverage various support plugins. In this blog, we will explore some of the top WooCommerce support plugins that can take your customer service to the next level.
On this page
1. LiveChat for WooCommerce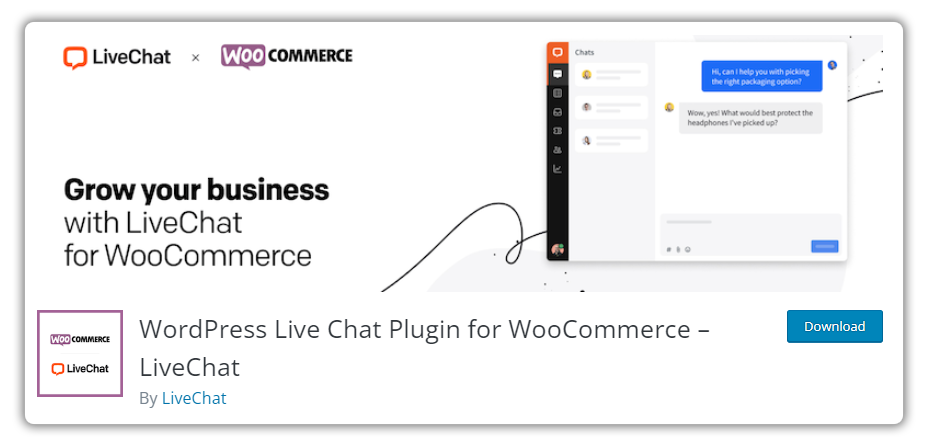 LiveChat is a powerful customer service plugin suitable for both small and enterprise-sized businesses? It features AI-automated chatbots that generate leads, answer customer queries, create offline tickets, and manage multi-channel communication.
Features:
Automated routing
Feedback management
Auto-responders
Queue management
Third-party integrations
Website visitor tracking
Performance metrics
---
2. SupportCandy – Helpdesk & Support Ticket System
SupportCandy adds a complete helpdesk ticket system to WordPress. The plugin aims to keep things simple, secure, and feature-rich through continuous improvement and innovation.
Features
Unlimited number of tickets and agents
Advanced custom filter and search functionality
Private notes for internal communication
Custom fields for additional ticket information
Guest ticket support with OTP login
Rich-text editor and email notifications
---
3. ThriveDesk- WooCommerce Support
ThriveDesk is more than just a run-of-the-mill help desk software; it is the ultimate WordPress-powered customer support and live chat solution that has been meticulously designed with eCommerce in mind. Seamlessly integrating with WooCommerce, the leading eCommerce platform, ThriveDesk unlocks a world of possibilities for businesses aiming to thrive in the competitive online marketplace.
At its core, ThriveDesk offers a powerful set of features tailored specifically for WooCommerce, making it the ideal choice for any eCommerce venture. With a shared inbox, live chat capabilities, and a knowledge base, it provides the perfect tools for businesses to efficiently manage their online stores and connect with customers in real time.
Features:
Customer history and performance metrics
Lead collection and order management
Ticketing system with an autoresponder
Multiple store connections and saved replies
Integration with WooCommerce and Easy Digital Downloads
---
4. WSDesk – ELEX WordPress Help Desk & Customer Support Ticketing Plugin
WSDesk is a WordPress help desk ticketing plugin that aims to significantly transform the management of customer queries and support requests. This plugin allows you to easily manage all customer support issues, inquiries, and complaints on a single, centralized platform, straight from the dashboard of your WordPress website. This plugin eliminates the inconvenience associated with the management of customer support across several channels and incorporates an integrated solution that optimizes the support procedure and decreases response times.
Features:
An unlimited number of tickets and agent profiles can be created
Seamless integration with ChatGPT for contextual auto-generated responses
Customizable ticket forms to match your branding
Email notifications for support agents
Email restrictions and blocking
Agent performance reports
Assign priority to tickets to ensure that they are handled quickly
Automation of tasks such as assigning tickets, sending notifications, and closing tickets
---
5. Facebook Messenger Chatbot for WooCommerce
The Facebook Messenger Chatbot for WooCommerce enables businesses to automate customer support and improve customer engagement. The chatbot offers predefined queries and options for quick and suitable responses.
Features:
Automated customer support with Chat
Chat replies in text, URLs, or postback form
Set multiple postback replies
Enable product, category, or post search in Chat
Show Chat bubble on various store pages
Connect the associated Facebook page
---
6. Customer Support for WooCommerce
Customer Support for WooCommerce is designed to help businesses provide effective and quick customer support directly from within their WooCommerce store. It simplifies customer support by containing all the necessary features within the plugin itself.
Features:
Simple and efficient customer support
Easy communication with clients
User-friendly interface
Access to order information
Keep track of orders
---
7. Richpanel Helpdesk & Live Chat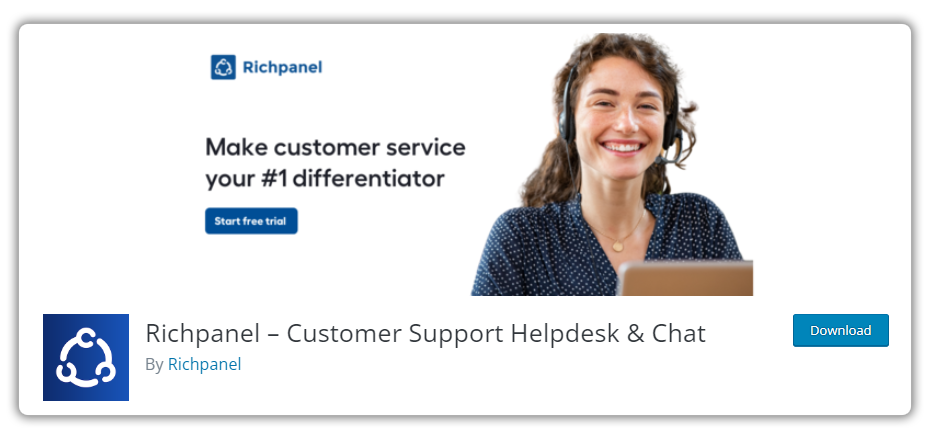 Richpanel streamlines customer support by automating self-service through a user-friendly portal. It consolidates channels and customer data in one place, making it easier for agents to resolve queries.
Features:
Eliminate repetitive support tasks with guided self-service
Manage all customer messages from one place
Integration with various tech stacks and platforms
Proactively engage visitors through live chat campaigns
Measure the ROI of customer service
---
8. Support Genix – WooCommerce Support
Support Genix is an all-inclusive WordPress support ticket plugin that streamlines customer service. It enables seamless management and tracking of ticket requests right from your WordPress dashboard. With standout features like team-based ticket transfers, timely email notifications, and email redirection, this plugin significantly boosts efficiency and enhances customer engagement. 
In addition, this exclusive WooCommerce support ticket plugin also offers email-to-ticket conversion, ensuring that all incoming emails become trackable tickets, reducing the risk of overlooking any communication. Designed for businesses with an online presence, including eCommerce stores, digital agencies, and service providers, Support Genix is the ideal solution for those prioritizing top-notch customer support and efficient ticket management.
Features:
Unlimited tickets, agents, and users.
Ticket transferring feature between teams and departments
Seamless Email Piping & Email Notification
Agent Control
Ticket handling feature on Behalf of Users
5+ Integrations (Integration with WooCommerce, WPForms, Webhook, Envato, Elite Licenser)
---
Conclusion
Enhancing your WooCommerce store's customer support is crucial for long-term success. By leveraging the power of these WooCommerce support plugins, you can streamline your support operations, engage customers effectively, and provide exceptional customer service. Carefully evaluate the features of each plugin to determine which one best aligns with your business needs and goals. Implementing the right support plugin can be a game-changer in improving customer experiences and boosting sales in your online store.