Whether you own a physical, brick-and-mortar store or want to start an online retail business, an online store can help build a strong brand and generate impressive profits if done correctly.
A WooCommerce-connected WordPress website is one of the most popular options for building an online store due to its simplicity and range of helpful plugins.
This short guide will discuss how to connect WooCommerce with WordPress to build a fully-functional e-commerce website. We will cover features such as WooCommerce subscriptions and how to accept payments. We'll also highlight several recommended plugins to provide a great experience to your customers.
---
On this page
Steps to Connect WooCommerce to WordPress
---
Steps to Connect WooCommerce to WordPress
WooCommerce is a free, open-source platform built for WordPress websites, allowing users to create e-commerce stores. As an easy-to-use online store builder, WooCommerce has become one of the most popular e-commerce solutions thanks to its powerful features and collection of integrated plugins.
Connecting WooCommerce to WordPress is extremely simple and can be completed in just five steps.
---
Installation
Choose your hosting
The first step is to choose a web hosting package that suits your needs and budget. Many hosting providers offer pre-installs of WordPress and WooCommerce. Some hosting options also come with features such as free domain names and SSL certificates, an essential security detail for any website.

WooCommerce can easily be downloaded and installed from the official WordPress plugin directory, or it can be pre-installed depending on your hosting package.
Install WordPress
If you opted for a hosting package that does not come with WordPress pre-installed, then you will need to install it. Most hosting packages provide a one-click, automatic installation of WordPress. However, if you choose to install it manually, you can follow the official WP installation guide here.
Install and activate WooCommerce
Next, you need to install WooCommerce and activate it in the plugins section of the WordPress dashboard. You must also create your free account by following the simple prompts.
---
Configuration
Now the WooCommerce plug-in has been installed and activated, it is time to set up your online store via the platform's simple setup wizard.
Access the Setup Wizard
Once installed, you will be met with a prompt to launch the setup wizard. This is of course optional but we would recommend that you go through the steps to configure important settings and give yourself a solid platform to build your eCommerce store.

In the first step, you will be asked to enter basic information regarding your new store, including details such as its address, the currency you wish to use, and the type of product you plan on selling (digital or physical). Should anything change later down the line then do not worry as these settings can be changed.
Choose how Payments will be processed
Next, you will be asked to decide what payment options you would like to enable for your online store. The default options are Stripe and Paypal, as well as offline payment options such as sending a cheque or cash.

To add more payment options, simply select them from the list of payment types including credit/ debit card, Google Pay, and Apple Pay. If you require different options, then you can use the relevant extensions to add them later.
Configure Shipping
The shipping screen is relatively straightforward and, of course, can be amended later on. Here you can choose how much your customers will be charged for the shipping of products, with the option of choosing a set rate for your preferred location, and another rate for customers who are in a different location. Free shipping can also be offered to customers who are in your preferred area (zone).
Recommended Add-Ons
Now the fundamental settings have been configured, it is time to consider a few add-ons to add extra functionality to your store. On the next screen, you will see a number of add-ons recommended by WooCommerce which include:
Storefront (Theme) – A free theme for your store, providing a clean and user-friendly design and layout.
Automated Taxes – A feature that makes automated tax calculations whenever a product is purchased.
MailChimp – A plugin for the Mailchimp platform to create automated and targeted email campaigns to be sent to your subscriber list.
Facebook – Add a number of Facebook features to your website, including pixel tracking, catalog sync, and Instagram shopping.

Of course, none of these add-ons are compulsory and you may find alternatives that are better suited to your needs. However, installing the Storefront theme is ideal if you are looking to get your store up and running quickly.
In the final screen of the setup wizard, you will be asked if you would like to install the Jetpack plugin. Again, this is optional but this is a very popular WordPress plugin that provides a wide range of functionality such as improving site security, creating backups, and boosting speed.
---
WooCommerce Dashboard
You are now ready to begin building a customizing your store, including tweaking the design of the website, adding products, and creating blog posts.
Pick your theme
WooCommerce's simple interface means you can begin creating your store immediately with a compatible WooCommerce theme, providing the overall layout and design for your online store. As mentioned in the previous section, Storefront is a free and popular theme that is easily customizable.

If you are not confident about building your own eCommerce store, you may want to hire a developer to do this for you. An experienced developer can build on the WooCommerce platform to create a store that perfectly suits your customers' needs. You can expect to pay between $40 to $60 an hour for an experienced freelance front-end developer.
Add Products
To start adding products, go to Products > Add New on the side menu. At the top of the page, you can give your first product a title and short description before moving further down the page to add more specific details, such as price, shipping information, the number of products you have in stock (inventory, and whether the product can only be bought individually.

You will also see a number of tabs relating to more detailed aspects of the product. The shipping tab allows you to add the weight of the product, its dimensions, and the shipping class. Meanwhile, the Linked Products tab allows you to include related products to upsell and the Attributes tab is where you can add detailed characteristics about the product. The last tab is the Advanced tab where you can give the product a fixed position on the shop menu, enable or disable reviews, and other handy options.

Note: For digital products, the product will need to be uploaded so that customers can purchase it and download it directly from your store.
---
WooCommerce Extensions
WordPress and WooCommerce remain popular platforms because of the wealth of add-ons that have been created for them by an active community of developers. To add extensions go to WooCommerce > Extensions in the side menu.

On this page, you will see a large number of available extensions that can be sorted by category.
Here are some of the categories for which you can get the plugins for free:
In this section, we will run through some of the most important plugins that will help you build a working online store, including tax calculation, product management, and Google Analytics.
WooCommerce Tax: There are a number of free WooCommerce plugins available that help you automatically calculate sales tax, and shipping tax, and help you in getting tax compliant for different countries.

WooCommerce Google Analytics: Integrating Google Analytics is made simple with this plugin, allowing you to monitor a range of metrics such as user traffic, page exits, user demographics, click-throughs, and more.

WooCommerce Payment Gateways: WooCommerce can manage your payments both online and in a physical store, allowing you to track revenue and monitor all payment activity within your WooCommerce dashboard. Checkout conversion is maximized with various payment methods, including credit cards, debit cards, Apple Pay, Google Pay, and PayPal.
Read more: WooCommerce Payments
Product Recommendations – Achieve smarter upselling and cross-selling with recommended products and 'frequently bought together' items. This also makes it easier to measure the success of upselling to determine what works and what doesn't.

WordPress Gutenberg Editor– Customize your web pages further with a wide range of Gutenberg Blocks that can add extra content such as text, images, videos, quotes, and more. This extension is perfect for anyone looking to avoid any coding and requires a simple web page builder.

WooCommerce Cataloging– Let your customers find your products by brand by adding, assigning brands to individual products, and listing available brands on your pages.

WooCommerce Gifts and Rewards – Create a reward system and offer discounts to customers to boost loyalty and offer incentives. The more a user shops with your store, the more points they accumulate, and the bigger the discount.
---
WooCommerce Premium Plugins
Here are some of the best WooCommerce Premium plugins that you can consider installing to further improve and optimize your store. Many of these plugins can also be used to automate your site's various functions.
---
1. WooCommerce Bookings Plugins
WooCommerce Bookings and Appointments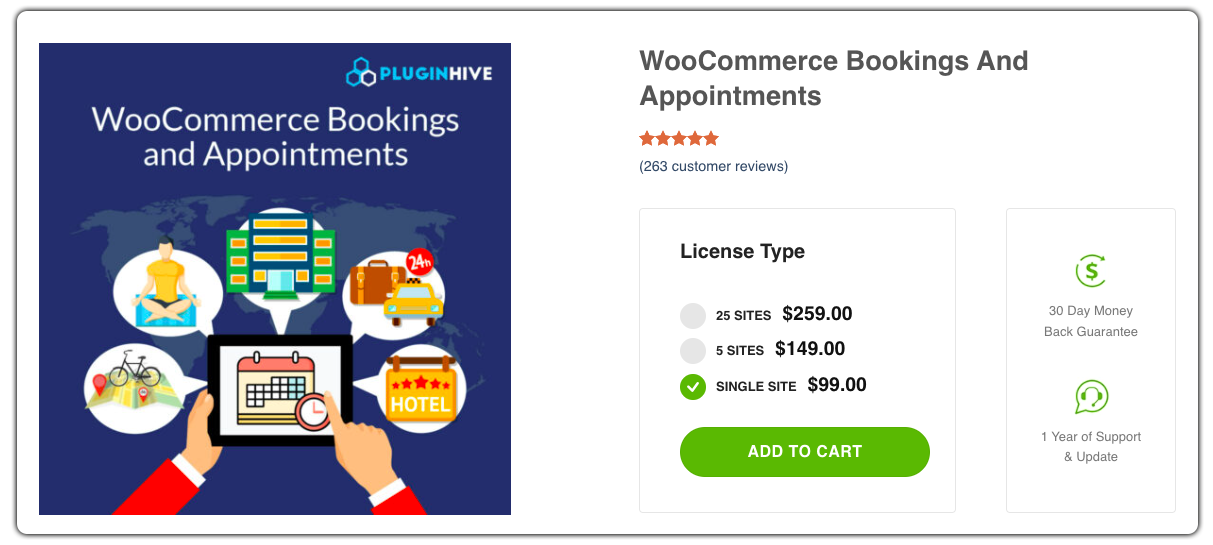 The WooCommerce Booking and Appointments plugin by PluginHive empowers your online store to offer booking and appointment services. It enables customers to schedule and reserve products, services, or appointments directly from your website. With its intuitive interface and flexible customization options, managing bookings becomes effortless, ensuring a seamless user experience.
---
2. WooCommerce Website Builder Plugins
Custom Product Tabs for WooCommerce
Custom Product Tabs for WooCommerce is a versatile plugin that allows you to enhance product pages by adding custom tabs. It enables you to provide detailed information, specifications, FAQs, or any other content relevant to your products. With easy setup and customization options, you can create a personalized shopping experience for your customers.
---
WooCommerce Product Add-Ons
The WooCommerce Product Addons plugin enriches your online store by enabling customers to personalize their purchases. It facilitates the addition of customizable options, upgrades, or additional services to products, enhancing their value and customer satisfaction. With its user-friendly interface and extensive customization features, you can effortlessly offer a tailored shopping experience.
---
Product Bundles
The Product Bundles plugin empowers store owners to create customizable product bundles. It enables you to bundle multiple products together, offering customers a convenient way to purchase related items in one package. With flexible pricing options and intuitive configuration, you can increase sales and offer value-added options to your customers.
---
3. WooCommerce Shipping Plugins
WooCommerce UPS Shipping Plugin
The WooCommerce UPS Shipping Plugin with Print Label simplifies your shipping process by integrating UPS shipping services directly into your online store. It offers real-time shipping rates, label printing capabilities, and shipment tracking. With this plugin, you can streamline your shipping operations and provide a seamless experience for customers.
---
WooCommerce FedEx Shipping Plugin
The WooCommerce FedEx Shipping Plugin with Print Label optimizes your shipping workflow by integrating FedEx shipping services into your WooCommerce store. It provides real-time shipping rates, label printing functionality, and shipment tracking. With this plugin, you can efficiently manage your FedEx shipments and ensure smooth shipping.
---
4. WooCommerce Multilingual Plugins
WooCommerce Multilingual & Multicurrency with WPML
The WooCommerce Multilingual plugin is a powerful solution for running WooCommerce multilingual online stores. It seamlessly integrates with WooCommerce, allowing you to translate products, categories, and other store content into multiple languages. With its user-friendly interface and comprehensive translation management, you can effectively reach and engage customers from different language backgrounds.
---
5. WooCommerce Shipment Tracking Plugins
WooCommerce Shipment Tracking
The WooCommerce Shipment Tracking Pro plugin by PluginHive offers advanced shipment tracking capabilities for your online store. It enables you to provide real-time tracking information to customers, ensuring transparency and improving customer satisfaction. With features like automatic tracking updates and customizable tracking pages, you can streamline your shipping process and deliver a seamless post-purchase experience.
---
6. WooCommerce Marketing & Upsell Plugins
AutomateWoo
AutomateWoo is a powerful automation plugin for WooCommerce. It allows you to automate various marketing and operational tasks, such as personalized emails, follow-ups, cart abandonment recovery, and more. With its intuitive interface and robust features, you can optimize customer engagement, increase conversions, and save time on repetitive tasks.
---
MailPoet
This is WooCommerce's official email marketing solution, allowing users to create eye-catching, interactive emails to help grow your brand. Tailored content can help to build long-standing customer relationships, while targeted campaigns can effectively win back sales when a user has previously abandoned their cart.
---
7. WooCommerce Multi Vendor Plugins
Dokan WooCommerce Bookings Integration
The Dokan WooCommerce Bookings Integration plugin empowers your multi-vendor marketplace with booking and appointment functionality. It seamlessly integrates with the Dokan plugin, allowing vendors to offer bookable products and services. With easy setup and comprehensive booking management, you can enhance your marketplace by providing a diverse range of bookable options.
---
Product Vendors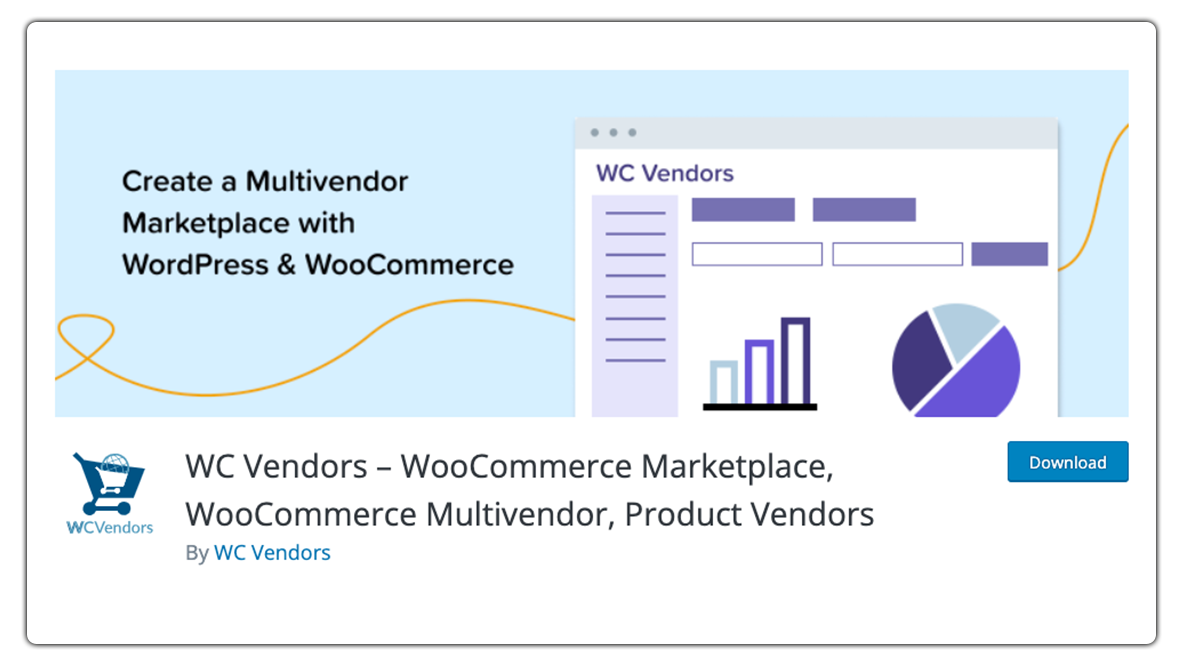 The Product Vendors plugin for WooCommerce transforms your online store into a multi-vendor marketplace. It enables multiple vendors to sell their products on your platform, creating a diverse product catalog and expanding your business. With features like vendor management, commission settings, and customizable vendor stores, you can effectively manage and grow your marketplace.
---
8. WooCommerce CRM Plugins
HubSpot
The HubSpot plugin for WooCommerce seamlessly integrates your online store with the HubSpot CRM and marketing automation platform. It enables you to track customer interactions, sync contact data, create targeted email campaigns, and gain valuable insights to drive personalized marketing strategies and enhance customer engagement.
---
9. WooCommerce Subscriptions
WebToffee WooCommerce Subscription
With WebToffee's WooCommerce Subscriptions, you can seamlessly create and manage subscription plans tailored to your business needs. Whether you sell physical products, digital downloads, or offer services, this plugin provides you with the flexibility to set up recurring payments, and trial periods, and even sync with your existing payment gateways for a hassle-free checkout experience.
---
Conclusion
WooCommerce is an e-commerce platform that is purpose-built for WordPress websites. Thanks to WooCommerce, entrepreneurs can build fully-functional and well-designed online stores capable of handling everything from payment to shipping.
Adding WooCommerce to WordPress is very simple, and your online store can easily be upgraded with a range of free and premium plugins that can offer extra functionality, including improved SEO and multi-language options.