In this guide, we are going to answer the question 'what is FedEx SmartPost'; and help you understand the entirety of it. We will take you through cool shipping solutions like WooCommerce FedEx shipping plugin and Shopify FedEx App, and show you how they could be the next best thing for your online store.
What is FedEx SmartPost?
FedEx SmartPost is an economical shipping service used for the deliveries to residential addresses. It's a part of FedEx Ground network that can be acquired only on a contractual basis. Meaning, you will have to contact FedEx in order to enable the SmartPost service for your FedEx Account.
FedEx SmartPost is FedEx's answer to UPS SurePost. It is one of the most widely used shipping services in the U.S. after USPS itself. It's most suitable for business owners looking to save money on shipping. Here's a solid comparison between FedEx SmartPost and UPS SurePost.
How does FedEx SmartPost work?
It's a consolidated special delivery service that relies on the logistics provided by both FedEx and USPS. If you want to save money on shipping but still want to use FedEx, you have the FedEx SmartPost on the plate.
Understanding the FedEx SmartPost shipping process
FedEx SmartPost is a contractual service. Based on your average daily shipping volume, FedEx creates a personalized shipping structure to get your packages from your facility to its distribution facilities for same-day sorting.
Right after sorting the packages at a FedEx facility, they are then transported using FedEx Ground shipping network. When these packages arrive at the destination hub, they are sorted and moved to the USPS bulk mail center. Sometimes, depending on the location, FedEx may move packages to a USPS local post office.
As the final step, USPS picks up the packages for the final delivery and delivers to the final destination.
Features of FedEx SmartPost
FedEx SmartPost provides its users with a list of features. Here are a few of them.
FedEx SmartPost service is available for locations within the U.S. It can deliver packages from and to any of the 48 contiguous states including Alaska, Hawaii, Puerto Rico, Guam, U.S. Virgin Islands, U.S. territories, P.O. boxes, and military APO, FPO and DPO destinations.
FedEx doesn't offer SmartPost services for international shipments. You can read about

FedEx international shipping

to know more.
It can deliver packages from Monday to Saturday typically between 2-7 business days. The exact delivery time depends on the shipment destination.
Saturday delivery is possible by USPS but there is no FedEx surcharge applicable.
Each package offered for FedEx SmartPost should have a maximum weight restriction of 70 Lbs. In addition, each package should not cross the length of 130" in length plus girth.
Special FedEx services not applicable to FedEx SmartPost
FedEx cannot offer its complete list of special services as the final delivery is done by USPS. Here are the FedEx special services that are not offered by FedEx SmartPost.
Collect On Delivery (C.O.D.)
Money-back guarantee
Declared Value
Signature Proof of Delivery
Evening or Appointment delivery
Hazardous materials service
Fees and Additional shipping charges for FedEx SmartPost
Any item weighing less than 20 lbs. and measuring more than 84 inches (but not more than 108 inches) in combined length and girth.

FedEx SmartPost® (by lb.), FedEx SmartPost® Returns

Per list package base rates at 20 lbs. (including any discount)

A delivery area surcharge will apply to FedEx SmartPost shipments destined to select U.S. ZIP codes.

All services

Contiguous U.S.: $1.30 per package Contiguous U.S. Extended: $1.85 per package Alaska: $1.85 per package Hawaii: $1.85 per package

Delivery Confirmation service gives you the date, ZIP code and time your package was delivered

FedEx SmartPost (by oz., 1–16), FedEx SmartPost (by lb.), FedEx SmartPost® Bound Printed Matter, FedEx SmartPost® Media

Per list package base rate (including any discount)

Non-Machinable Defined as,

a) Any item with one dimension measuring more than 27 inches

b) Any item with any two dimensions each measuring more than 17 inches

c) Any item weighing over 35 lbs

d) Any item packaged in a cylindrical shipping tube

All services

$2.90 per package

Any item measuring more than 108 inches but not more than 130 inches in combined length and girth.

FedEx SmartPost (by lb.), FedEx SmartPost Returns

Per list package base rates (including any discount)

A per-package surcharge will be assessed on packages that do not conform to specifications that require over label or hand key

All services

$0.60 per package
Weight and dimensions restriction for FedEx SmartPost services
It's clear by now that FedEx is not the one who performs the final delivery. So there are some restrictions to the packages/boxes delivered. Below are the weight and dimensions restriction for the packages shipped using FedEx SmartPost.
For Standard Mail, Bound Printed Matter, and Media the following dimensions restriction applies:

Dimensions: No more than 84″ in combined length and girth (L+2W+2H).
No one dimension greater than 60″.
Minimum dimensions are 6″ x 4″ x 1″.

For Parcel Select the following restrictions apply:

Dimensions: No more than 130″ in combined length and girth.
No one dimension can be greater than 60″.
Minimum Dimensions are 6″ x 4″ x 1″.
Benefits of using FedEx SmartPost
Cheaper shipping cost is the reason why most business owners prefer using FedEx SmartPost. However, there are other potential benefits of using FedEx SmartPost.
You can use regular pickup options: FedEx SmartPost does not require out of the box treatment for pickups or drop-offs. Shipments can be easily combined with a typical FedEx pickup service.
Shipment tracking can be provided from the point of pickup until final delivery: FedEx provides its users with the ability to track packages and yes, you utilize it in the SmartPost service as well.
FedEx SmartPost can be easily integrated with a shipping software: The key idea behind managing large shipments is having SmartPost integrated with your shipping software. WooCommerce FedEx shipping plugin and Shopify FedEx App are two prime examples.
Manages the expensive section of the shipment: As stated above, the most expensive part of the shipment is the last/final leg where the package is delivered by the USPS services. This makes up 28 percent of a shipment's total costs — nearly 1/3rd of the overall shipping cost. With the help of SmartPost, this high cost is taken care of and FedEx has created a more cost-efficient option for sellers who ship large volumes of packages.
Saturday delivery: With FedEx SmartPost, most packages are handed over to USPS for the final leg of delivery. Delivery of packages over the weekend is made possible and is not at any additional fee as the cost for Saturday delivery is included in the service by default. This is an important benefit as weekend delivery normally balances the drawback of SmartPost being a slow service.
Shipping to multiple addresses is now possible: On a regular day, FedEx does not deliver to P.O. boxes, depending on your business, this may or may not be a sticking point. It is good to remember that since SmartPost is a hybrid FedEx and USPS service. The flexibility to reach more geographic locations that regular FedEx services are unable to reach is one of the hidden advantages of using FedEx SmartPost.
A few other noteworthy benefits
Deliveries are made to residential addresses and packages are generally lightweight (less than 10 Lbs)
FedEx SmartPost guarantees that the deliveries made would normally take between 2-7 days to arrive at their destination. However, that is not the case, a few users have reported that SurePost would result in an average of a 3-day delay when compared to typical FedEx services.
Due to the fact that packages have to be transferred from one carrier to another, the shipment sent via SmartPost is generally delayed but is also the main source of a reduction in the cost. It is important to consider the benefits and the drawbacks of SmartPost in order to determine what is right for your business.
Problems associated with FedEx SmartPost
Compared to FedEx Ground, FedEx SmartPost service may take a little longer to deliver the package. This can be a pain for store owners who are looking to provide faster deliveries.
Making the last mile more efficient does slow down the delivery process slightly. The FedEx delivery agents have to pass on the package to USPS who in-turn sort these packages appropriately so they get to their correct addresses respectively. Is it cost effective? Yes. But it is a lot slower than regular services.
FedEx SmartPost for your WooCommerce store
As you know, WooCommerce does not cover FedEx shipping by default let alone FedEx SmartPost. But by using the WooCommerce FedEx shipping plugin, however, you can have FedEx SmartPost rates displayed on your Cart/Checkout page.
About WooCommerce FedEx shipping plugin
WooCommerce FedEx shipping plugin comes equipped with the ability to fetch real-time FedEx rates from the FedEx API. Along with that, it can allow you to print FedEx shipping labels, enable shipment tracking for your customers, schedule FedEx Pickups, handle FedEx Freight shipments, and much more.
Since FedEx SmartPost is a contractual service, it is recommended to obtain the contracted API key. This way when the plugin sends the request to FedEx with the weights and dimensions, FedEx sends a response with the available rates for FedEx SmartPost.
You need FedEx Production credentials in order to implement FedEx shipping on your WooCommerce website. Once you have them, you can fill in the details under the FedEx credentials options displayed below. Follow the guide to FedEx Production credentials here.
To sum up, you need the following information to get started.
FedEx Account Number
FedEx Meter Number
Web Services Key
Web Services Password
The fields shown above have to be filled with the appropriate contracted account information. Only upon completing this will you be able to secure FedEx SmartPost rates and services within the plugin.
Setting up FedEx SmartPost on your WooCommerce store
Now that the account has been set-up, proceed to the store and add a product into the cart. Make sure the weight and dimensions of your products meet the required limit for SmartPost. Only then you would be able to fetch the correct shipping rates for it.
In the example below, we have moved an item into the Cart. We have enabled both FedEx Ground and FedEx SmartPost services.
As you can see, FedEx SmartPost rates are cheaper than that of FedEx Ground. However, the estimated delivery date displayed by SmartPost is April 20 compared to April 19.
Now let's proceed to the Order details page in the back-end of the store to process the packages and generate shipping labels.
In the Order page, you can download the shipping label with the Print Label option. Here, you can also cancel the shipment by clicking on Void Shipment.
The tracking number for the FedEx SmartPost shipment gets populated automatically in the order notes section of the Order page (shown below).
The FedEx shipping label will specify the origin and destination, the weight of what is being shipped and the relevant tracking numbers for both the carriers. Here's a sample FedEx shipping label for a FedEx SmartPost shipment.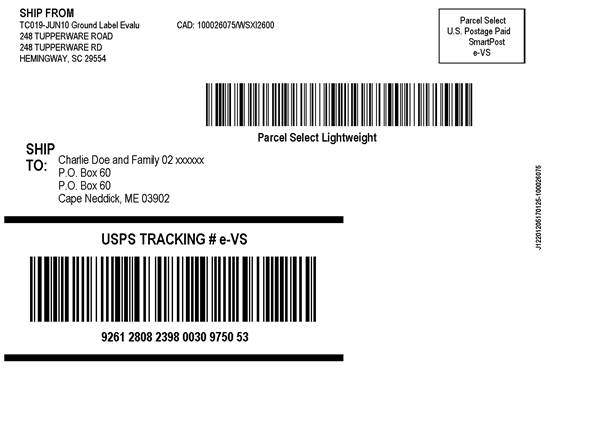 The label comes pre-loaded with both, the FedEx tracking number as well as the USPS eVS (Electronic verification system). You will also be notified in the label about who will carry out the delivery during the final leg of the shipment; be it FedEx or USPS.
FedEx SmartPost for your Shopify store
Shopify is a great e-commerce platform to run an online business. With Shopify shipping, you can set up basic shipping capabilities by displaying Flat rate shipping, and shipping rates from carriers like UPS, USPS, and DHL. However, you don't have FedEx shipping so you won't be able to handle FedEx SmartPost by default.
About Shopify FedEx App
For Shopify users, you have the Shopify FedEx App to handle all your FedEx shipments. You can provide real-time FedEx shipping rates, print FedEx shipping labels, schedule FedEx pickups, and offer FedEx SmartPost shipping.
The Shopify FedEx App works directly with the FedEx API and all the shipping rates are fetched directly from FedEx. So in order to use FedEx SmartPost, you need to have the FedEx Production credentials with you. Check out the FedEx Production Credential guide.
Setting up FedEx SmartPost on your Shopify Store
Once you have set up the App, you will have to enter the credentials to have the shipping rates displayed on the Checkout page. Under the account setup page, you can select the COD collection type as well.
The Shopify FedEx App also allows you to enable or disable the shipping services. As you can see in the image below, you can choose to enable the service and also, adjust the shipping rates. Have a look at the following image below.
Now let's enable only FedEx SmartPost and FedEx Ground as we did in the earlier section. And again, let's move a sample item into the cart and see the shipping rates on the Checkout page.
Conclusion
FedEx SmartPost allows you to save a lot of money over traditional Ground services like FedEx Ground and UPS Ground. We saw how the WooCommerce FedEx Shipping plugin and Shopify FedEx App helps you set up FedEx SmartPost as a shipping method.
Now, if you have an enterprise-level business and require an end-to-end solution, then StorePep's WooCommerce FedEx shipping solution is for you. StorePep is a Saas-based eCommerce shipping solution that is currently leading the market and catering to customers all across the globe.
We hope this guide would have helped you. If you have any query regarding setting up shipping on your store or anything else related, then feel free to Contact PluginHive Customer Support. They will help you set it up on your website.
Happy selling!