FedEx has given way to small businesses that adhere to going big. Encouraging them to serve customers even beyond international borders. With its fast and reliable shipping services, FedEx provides a constructive set of shipping privileges to users. One of them being FedEx shipping rates.FedEx shipping rates like FedEx One Rates, Account Rates, and Freight Rates are some really important shipping parameters. Each rate is intended to be used in a specific business scenario. And the 'one for all' shipping rate does not apply here. That is, even more, the reason why you should know about them in detail. In this article, we will go a little deeper into this topic and see how FedEx shipping rates are determined. We'll also explore a few viable approaches that make FedEx an ideal shipping carrier for your business.
---
What are FedEx Shipping Rates?
Shipping rates are price estimates that carriers provide when you hand over a parcel to them. The definition remains the same in case of FedEx. On top of what you're probably imagining now, you don't always have to visit a FedEx center to calculate the cost. You can do that sitting at your office chair.Many e-commerce solutions allow users to display FedEx shipping rates to their customers. In case of WooCommerce, the WooCommerce FedEx Shipping plugin provides real-time shipping rates on the Cart/Checkout page. We will discuss later in this article.If you go to the FedEx rate calculator page, you will find various fields where you can enter the shipment details. This page will help you calculate the estimated shipping rates for your shipment(s).
---
---
Keep in mind that these rates are not accurate and you need to have a FedEx account to do that. Here's a guide showing you how to get your FedEx production credentials.
---
Reasons why some FedEx shipping rates are cheaper while others are costlier
As one would imagine, shipping rates depend upon the weight of the package and its destination. But that's simply not the end to it. There are various other factors that play a crucial role in determining these rates.Let's take an example.
FedEx Ground and FedEx International Economy Freight are two completely different services by FedEx. The Ground service ships items (less than 150 Lbs) domestically, whereas the other ships freight shipments out of the U.S.

Shipping with FedEx Ground requires minimal input from the shipper. In fact, it's probably the easiest way to ship an item domestically. As a result, shipping prices are the cheapest among all the services compared.

Shipping an item out of the country, on the other hand, is a different story altogether. It requires shippers to complete a list of formalities and unless they do them correctly, their chance to ship outside becomes slim.

Since FedEx International Economy Freight deals with Freight shipments only, the shipping rates are quite high.
Other corresponding FedEx rates are determined in a much similar fashion. You can find out more about FedEx services and their characteristics on their official website. You can even read this article on FedEx Express services to know more.
---
How are the FedEx shipping rates calculated?
Calculation of shipping rates isn't as convoluted as many people imagine it to be. If you recently began exploring shipping services then you'd happy to know that FedEx provides a wide range of shipping services. You can find the most appropriate one based on your shipping budget.As discussed before, shipping rates are not just determined based on package weight and distance. So here are factors that help in determining the shipping prices for your packages.
Package weight

Dimensions of the FedEx package (like FedEx PAK, FedEx Envelope, FedEx Tube, etc.,)

Weight and dimensions of your custom package (your packaging)

FedEx shipping service (like FedEx First Overnight, FedEx Ground, FedEx SmartPost, etc.,)

Package item type (like hazardous, dangerous goods, etc.,)

Destination city or country

Country restrictions (in case of international shipments)

Customs and other related paperwork

Special rates like FedEx One Rate, FedEx Account Rates, FedEx List Rates, etc.,

Delivery signature, Insurance, FedEx Pickup, FedEx Saturday delivery and pickup, FedEx Door Tags and other special delivery options

FedEx Liftgate pickup and delivery, FedEx Inside pickup and delivery, Freight shipping class, etc., (in case of freight shipments)

And a few more!
As you can imagine, these factors are really important for shipping price calculation. So, you should definitely figure out your packages and shipments thoroughly before going in deep.But apart from the factors listed above, there's another important parameter which contributes to FedEx shipping rates. This parameter is commonly known as FedEx surcharges.
---
What are FedEx surcharges and how do they affect shipping rates?
A delivery surcharge is an additional cost that is added to your base shipping cost. This additional amount is determined based on factors that apply when a package exceeds FedEx's expectations. Meaning, if your package does not comply with the provisional packaging rules then you may need to pay additional amount.Let's go through some of the common rules that may apply to your shipments.
Dimensions: Additional surcharges may apply to your FedEx shipments only

if your package weighs more than measures greater than 48 inches along its longest side.

measures greater than 30 inches along its second-longest side.

Weight: In the case of package weight, surcharges will apply only when the package has an actual weight greater than 70 lbs.
Package's physical condition: FedEx applies additional costs if the package's physical conditions do not meet their criteria. They will increase the shipping rates if the package is,

not fully encased in an outer shipping container.

encased in an outer shipping container not made of corrugated fiberboard (cardboard) materials, including but not limited to metal, wood, canvas, leather, hard plastic, soft plastic (e.g., plastic bags) or expanded polystyrene foam (e.g., Styrofoam)

encased in an outer shipping container covered in shrink wrap or stretch wrap

packed with a soft-sided pack (e.g., courier packs, poly bags, and bubble mailers) that exceeds 18 inches along its longest side or 13 inches along its second-longest side or 5 inches in height

cylindrical, including (without limitation) mailing tubes, cans, buckets, barrels, drums or pails

bound with metal, plastic or cloth banding, or has wheels, casters, handles, or straps (including packages where the outer surface area is loosely wrapped, or where the contents protrude outside the surface area)
---
What is FedEx One Rate and how to use it?
It is a part of FedEx shipping that deals with the calculation of the shipping prices of the relatively smaller packages and operates in the US. This feature helps customers to predict the pricing and choose the shipping method according to their needs. The process of opting the right shipping pricing value is very easy to execute, and the service via FedEx is highly reliable.Underlying the list of the main features, one of the unique options is that there is no weighing or measuring of shipments under 50lbs. This means that you don't have to worry about the weight qualification of the orders.Thus, there are no extra fees like the fuel, residential and delivery area surcharges. Moreover, it does not alter the base rate for the shipment which is very convenient for both business owners and customers.
---
What are the FedEx packages supported by FedEx One Rate?
The FedEx One Rates work only with the FedEx Standard Boxes, including the two weight categories:
Use the following FedEx packaging up to 10 lbs

Use the following FedEx packagings up to 50 lbs

PAK
Tube
Small Box
Medium Box
Large Box
Extra Large Box
---
How's FedEx One Rate calculation any different?
FedEx One Rate is a Single Package Service. In simple words, you will be able to ship all your products in a single package up to the weight limit.In the case of Envelopes:
Up to 10 lbs, everything will be packed in a single envelope

Above 10 lbs, the package will be rerated and the shipping will be calculated based on FedEx Standard Rates
---
In the case of Other Packages:
Up to 50 lbs, everything will be packed in a single box

Above 50 lbs, the package will be rerated and the shipping will be calculated based on FedEx Standard Rates
---
Can you display FedEx shipping rates on your WooCommerce?
Yes, but only with a supported WooCommerce FedEx shipping plugin. With the help of WooCommerce FedEx Shipping plugin, you can add this feature.You will be able to configure your FedEx account, have live FedEx Ground shipping rates appear on the storefront, generate and print shipping labels for your shipments, and display real-time order tracking to your customers.
---
How to set up and display FedEx shipping rates on your WooCommerce?
Once you have installed the WooCommerce FedEx Shipping plugin on your store, you need to further enter the FedEx credentials in. If you don't have them then you should check out this guide.
---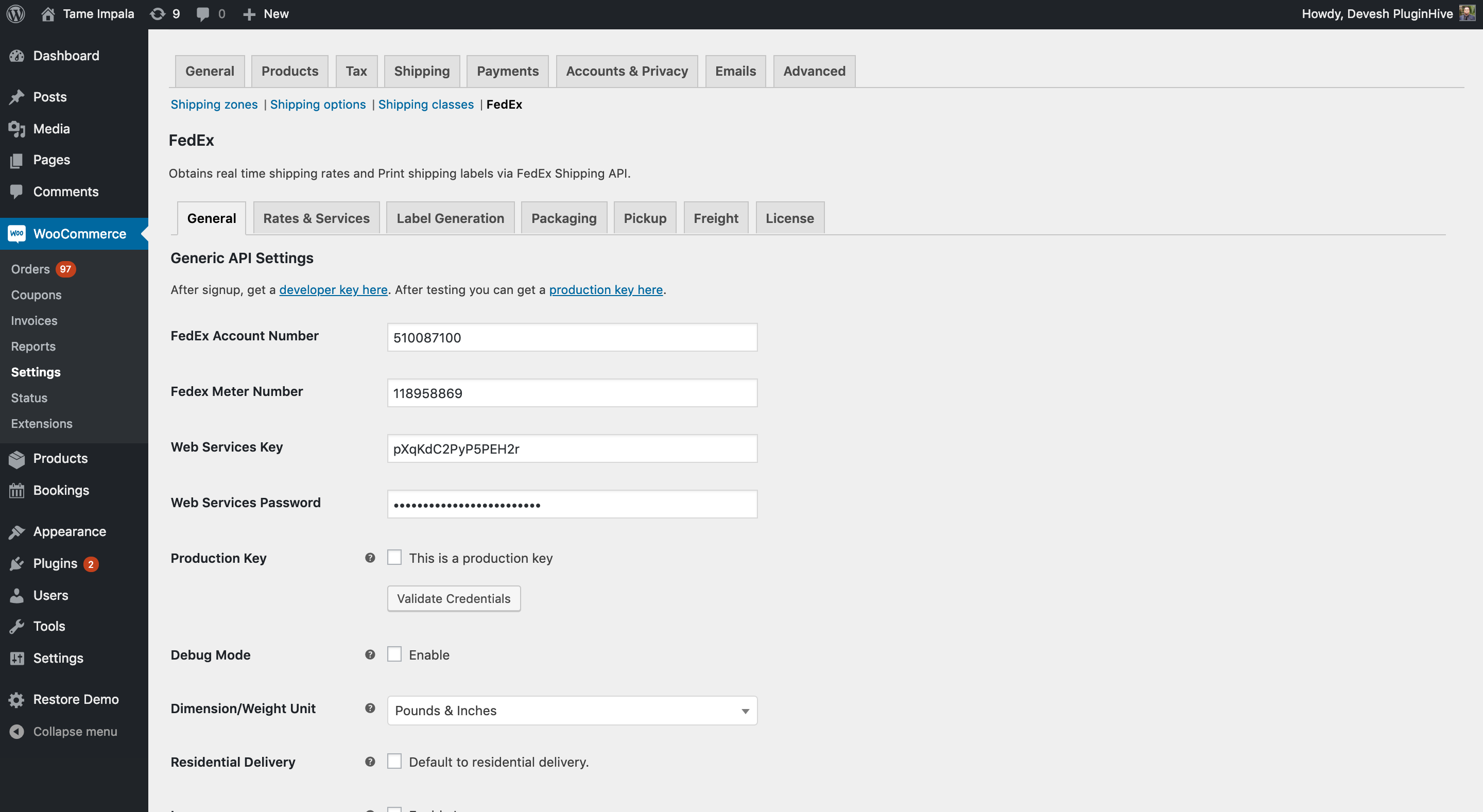 ---
Selecting the shipping services
As soon as you finish configuring the WooCommerce FedEx plugin with your account, you need to go to the Rates & Services tab and scroll down to the list of services. Here you can select the services you want and don't want. You can even adjust the shipping rates as indicated by the arrows in the image below.
---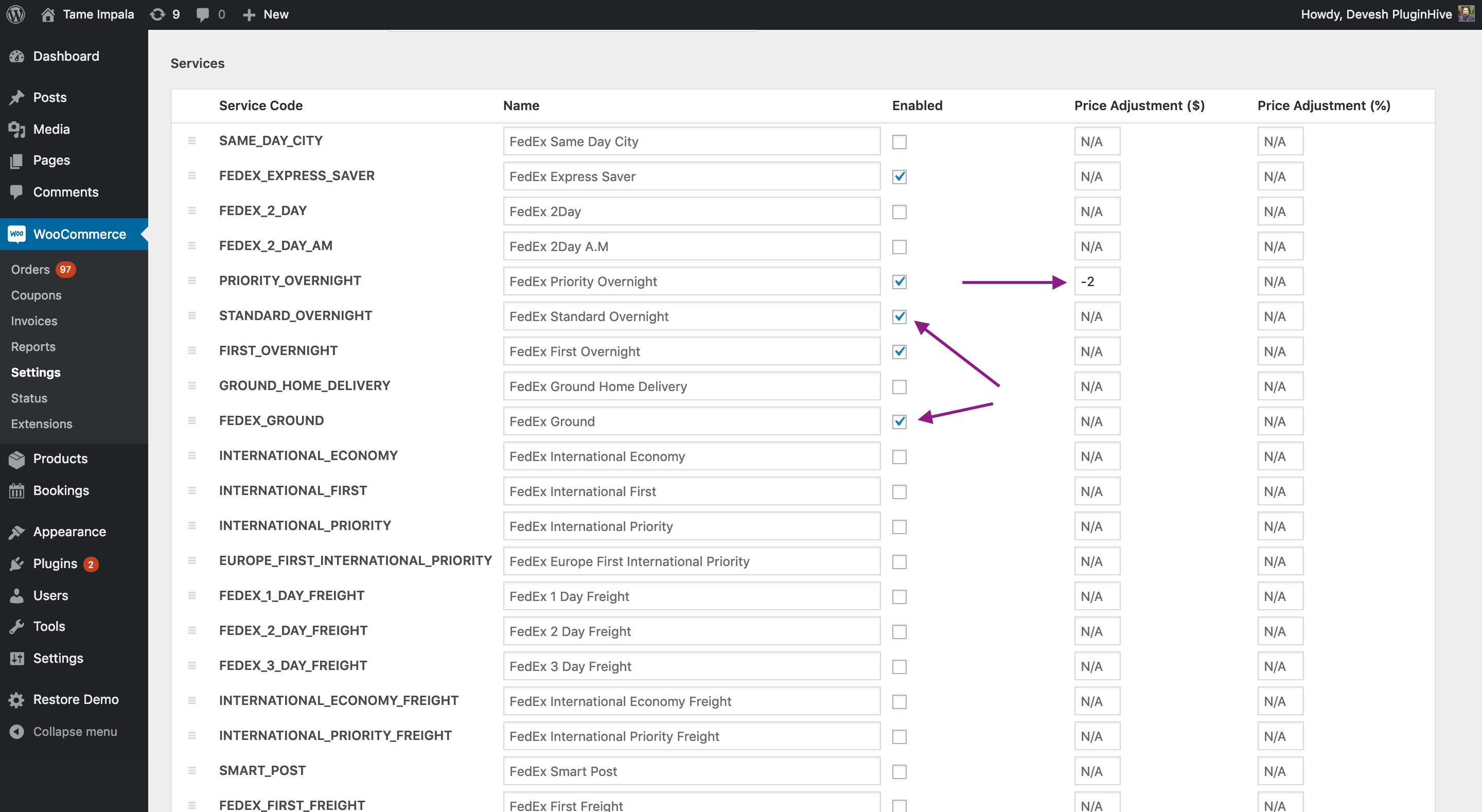 ---
Exploring various parcel packing methods
The WooCommerce FedEx plugin also comes with three parcel packing methods—Weight-based, based on both weight and dimensions, and pack items individually. Based on your selection, the shipping rates will be determined right on the Cart/Checkout page. As you can see in the image below, you have the option to select the packing method you want.
---
---
Let us take an example and see how the rates differ when selecting Weight-based and individual packing methods simultaneously. Upon selecting the weight-based packing method, we selected 2 quantities of the same item weighing 1Lb each. The shipping rate for FedEx Ground from New York to Atlanta turns out to be $10.64.
---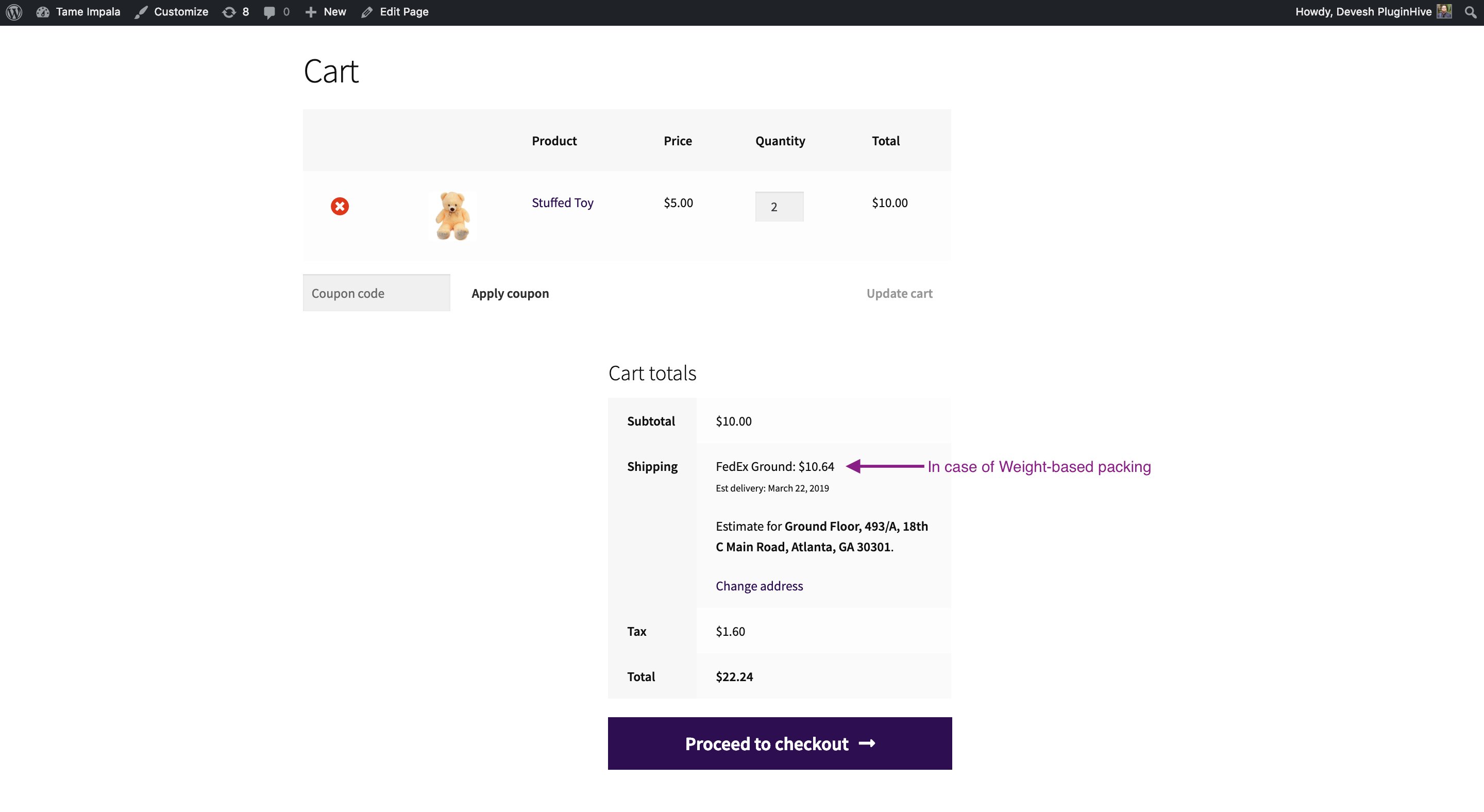 ---
Now let's select the pack items individually method for the same shipment. As you can see in the image below, the shipping rates are really high compared to that of the Weight-based packing method. Stating one of the reasons why it's the recommended parcel packing method.
---
---
Now let's go ahead and try placing an order with the FedEx Ground service. The process is quite simple. Once your customer places an order, WooCommerce will notify you with a New-order email. When you go into your order page, you should be able to see the new order. When you go in this order, you should be able to see the following screen.
---
Enabling FedEx One Rate
You can enable the FedEx One Rate option in the WooCommerce FedEx Shipping plugin to display FedEx One Rate on the Cart/Checkout page. Here's the option which lets you do that.
---
---
Other FedEx shipping options
Apart from the above shipping options, you have various shipping options. You can read "FedEx Pickup and Special Delivery Options for your WooCommerce Shipments" and know more about them. It shows how you can enable those options under the plugin settings.
---
How to fulfill a FedEx Package from your WooCommerce?
Now let us place an order with FedEx Ground and see how this WooCommerce FedEx plugin helps you fulfill it. Here are the necessary steps required after an order is placed.
---
Creating FedEx shipments
The WooCommerce order will contain the shipping service name (FedEx Ground) right under the product name "Stuffed Toy". As mentioned earlier, we are using the FedEx Ground service, and the corresponding shipping rate can be seen next to it.
---
---
You can scroll below and click on Generate Package which will generate the package show the further option to create the shipment. Have a look at the following image.
---
---
Here, you can enable the Saturday Delivery option which will enable the Saturday delivery for this service. You can even add enable Cash On Delivery option and add additional packages to the order if required. These features are really useful when creating order and can save a lot of your time.
---
Printing FedEx shipping labels for your shipments
Once you have reviewed your order and generated the packages successfully, you can now click on Create Shipment. Doing this will place an order in your FedEx account requesting to deliver this order. FedEx, in return, will validate the request and if everything is good, they will give you the corresponding shipping label(s).
---
---
You can now print the shipping label by clicking on the Print Label option as shown in the image below. Also note that you have the option to Void the shipment, which can be used when you want to cancel an order.
---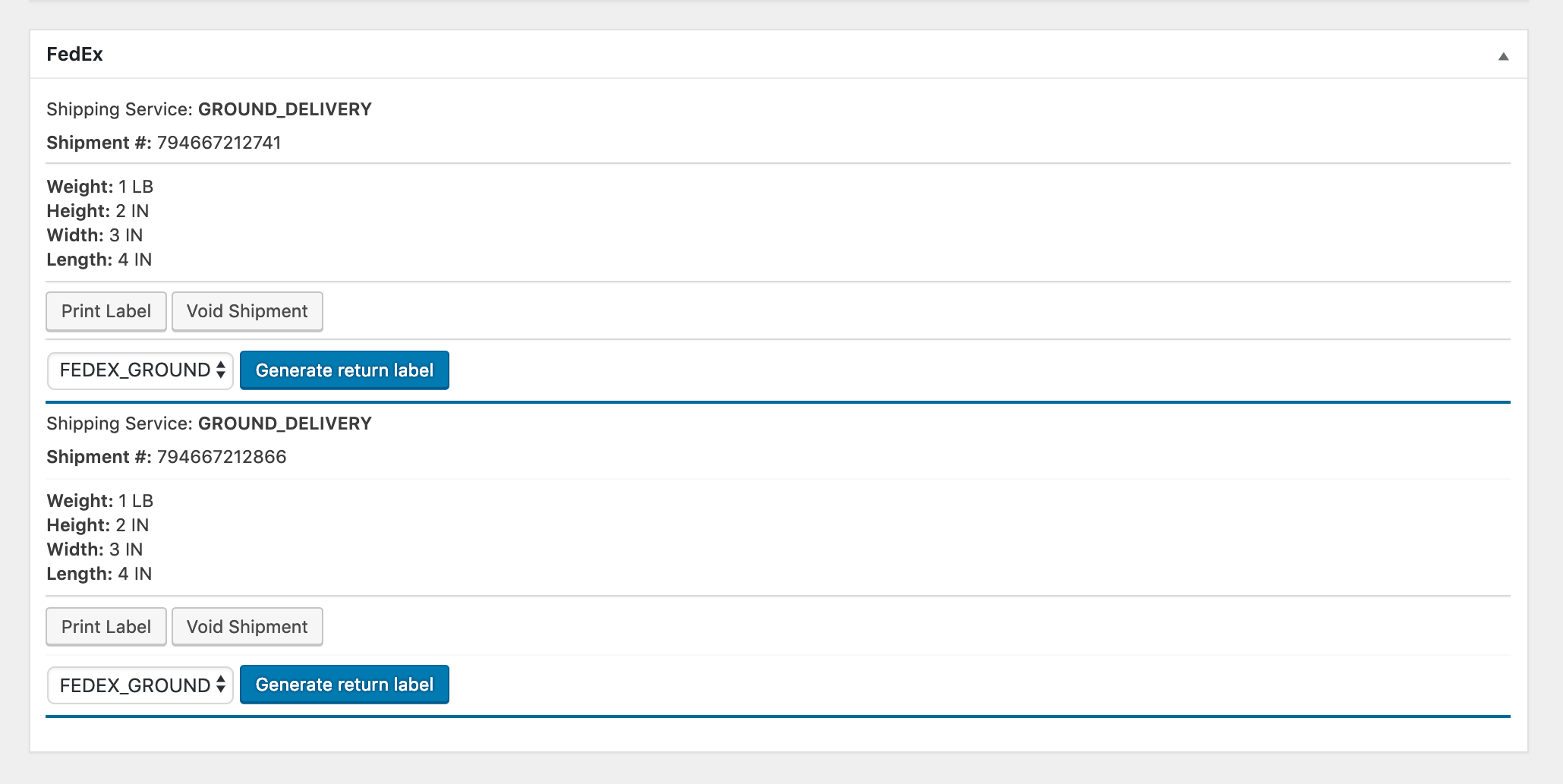 ---
Now if the customer's location is a residential location, you would be able to print the FedEx Home Delivery shipping label. Here's a sample label you can check out.
---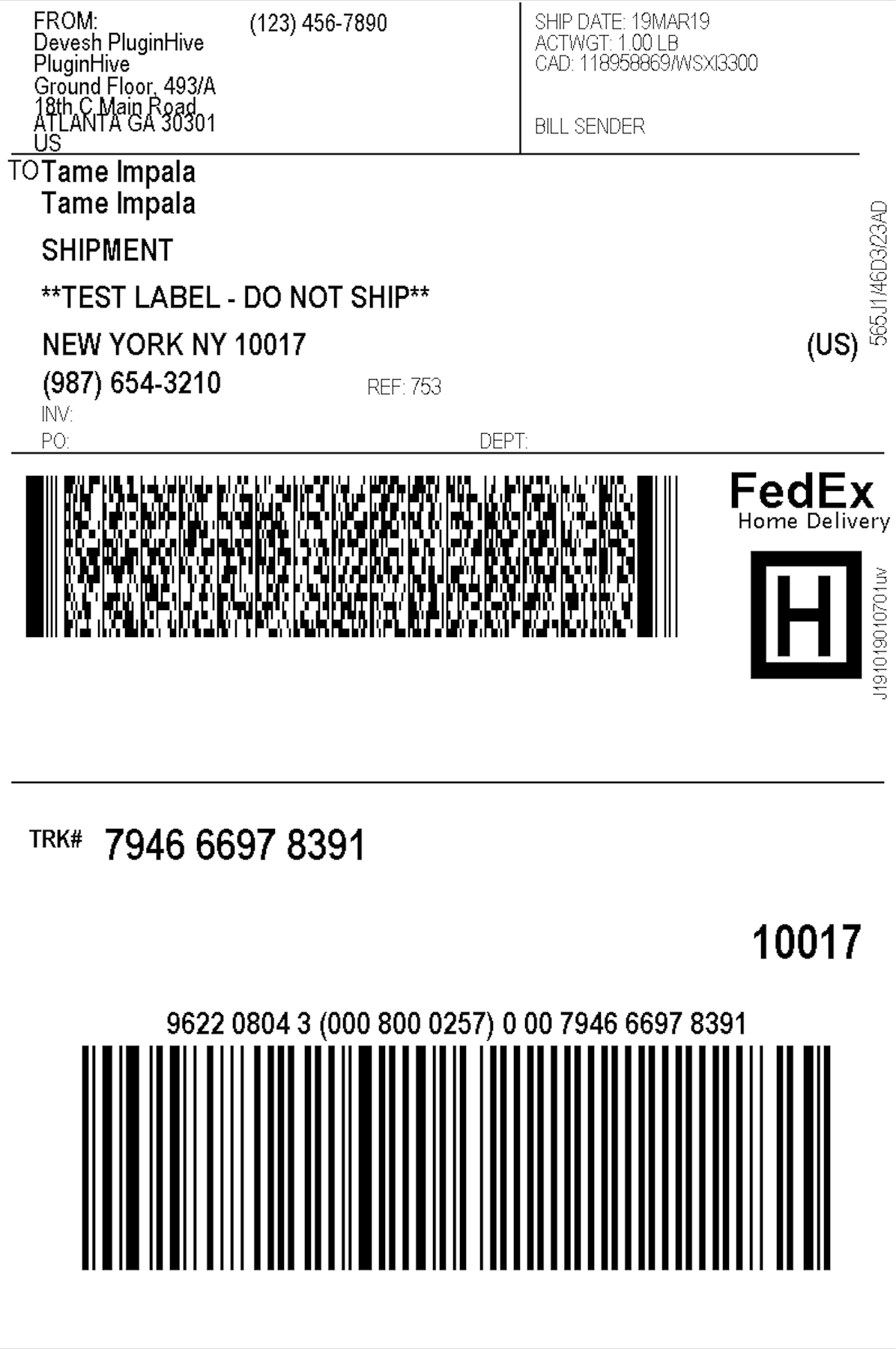 ---
Other amazing features by WooCommerce FedEx shipping plugin
The WooCommerce FedEx Shipping plugin with Print Label is the #1 FedEx shipping plugin for the WooCommerce store owners. It is an automated shipping solution which provides,
Live FedEx Shipping Rates for domestic as well as international shipments
Support for FedEx Express, FedEx Ground, FedEx Freight, FedEx SmartPost, and FedEx SameDay shipping services
One-Click FedEx Label Generation and Download for Bulk Orders
Live FedEx Tracking from within the WooCommerce store
Support for Commercial Invoice and FedEx Pickups
Read more about the amazing features of the WooCommerce FedEx Shipping plugin.
---
Conclusion
This article covers FedEx shipping rates and explores various FedEx shipping options. It also shows you how the WooCommerce FedEx Shiping plugin with Print Label can be used to display the FedEx shipping rates on your WooCommerce store.This FedEx WooCommerce plugin is the best tool to accomplish all your shipping needs with ease. It covers all the FedEx shipping rates and services availability, live shipping rate calculation, label generation within the WooCommerce store, live shipment tracking, and much more!
---
If you have any query regarding this article or the integration of WooCommerce FedEx Shipping plugin, feel free to share your views in the comment section below. We will be more than happy to help you understand how this plugin can work together in fulfilling your shipping requirements.And if you have any query regarding the plugin or WooCommerce shipping then feel free to contact our customer support. They should be able to help you out.