Specifying Dangerous Goods using WooCommerce Shipping Plugin for FedEx
With the WooCommerce Shipping Plugin for FedEx with Print Label, it is very easy to ship dangerous goods. But how do you specify it to FedEx? In the very article, we will tell you how to do that.
It is a fact that, by using WooCommerce as your online store platform you can sell any product to anyone. And if you want to ship your products using FedEx, then the WooCommerce Shipping plugin for FedEx is a great choice for you. Using this plugin, you can sell both virtual (downloadable) and physical products to your buyers. By using our plugin, you can specify your packages to FedEx.
To put it simply, if you deal with items that qualify as FedEx Dangerous Goods and Hazardous Materials, the plugin lets you do that. Let us check out a scenario where one of our customers faces an issue while selecting the Dangerous goods option.
Venjemen: We got an order with a regular product and a "dangerous goods" product and got an error (all perfumes need to be only ground shipping). We had to do the FedEx shipping/pickup manually.
To select an item as Dangerous goods, you need to go to the product's Data tab. To do that, just go to the item page and click on the Edit product option at the top portion of the screen as shown in the image below.

After going to the Product data tab, you need to scroll down and click on the Shipping option under that product. You would be able to see the following screen.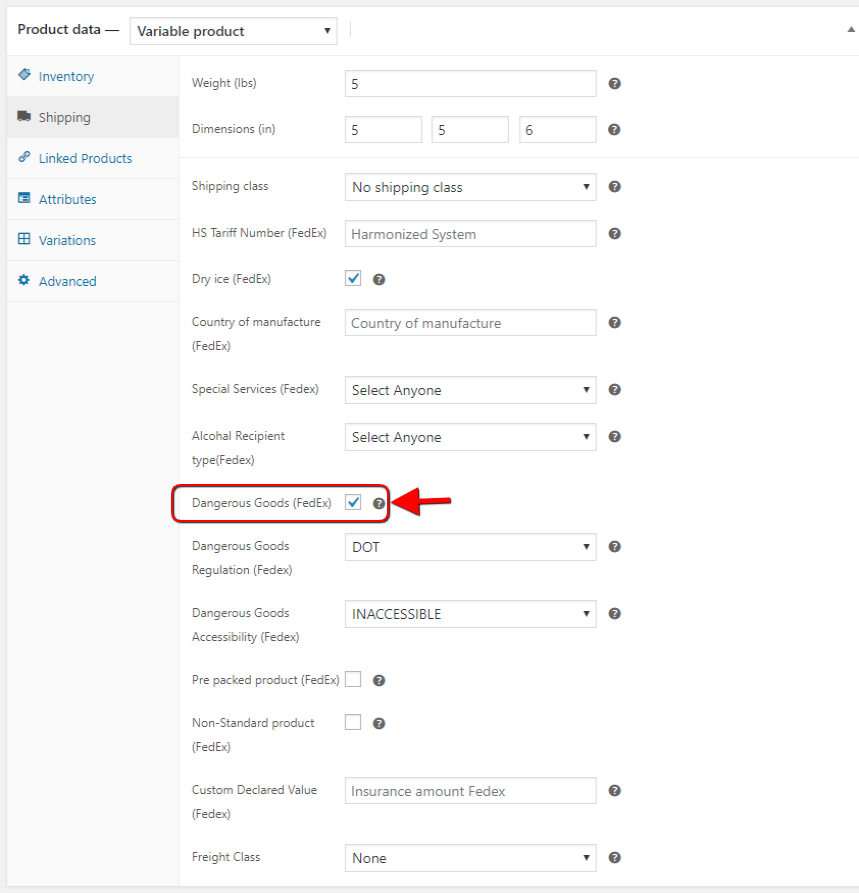 Here, just select the Dangerous Goods (FedEx) button. This will allow the plugin to identify the product as a dangerous item, everytime the customers add it to the cart page. Now, you need to set the following option in order to ship this product via FedEx as Dangerous Goods.

Dangerous Goods Regulations
The dangerous goods regulations allow FedEx to identify the source of regulation for the hazardous commodity. These are the following valid options that you need to specify for this option.

DOT – U.S. Department of Transportation has primary responsibility for overseeing the transportation in commerce of hazardous materials, commonly called "HazMats"
ADR – European Agreement concerning the International Carriage of Dangerous Goods by Road
IATA – International Air Transport Association Dangerous Goods
ORMD – Other Regulated Materials for Domestic transport only

Dangerous Goods Accessibility
This option helps FedEx identify whether or not the products being shipped is accessible or inaccessible during delivery. The following are the valid selections for this option.

Accessible – The cabin crew can access the dangerous goods package
Inaccessible – The cabin crew cannot access the dangerous goods package
Once you have set up these options, just click on update and your settings will be saved. Below is the image of the shipping label for a product that is eligible for Dangerous Goods Shipment.