How to Book Gaming Slots Online with WooCommerce Bookings Plugin
In this guide, we will tell you how you can set up and book gaming slots using WooCommerce Bookings plugin and take a real-life example to help you understand how it's done. Read along.
The Business Case:
Josh has set up a WooCommerce online gaming site where he allows his customers to book '3D Mini Golf' on hourly bases. The game runs from 10 AM to 10 PM and at max 8 people can book for every hour.
Below are his pricing structure for every hour:
Adults (16+): $25
Kids (5 to 15): $18
Concession (Concessions apply to people with either a current Federal Pension Card or WA Seniors Card, school student concession for children up to and including year 12's): $18
Family Pass (2 adults + 2 children): $76
Step 1: Create a product "3D Mini Golf" on an hourly basis. Set the Max bookings per block as 8 because no more than 8 people can book for any given hour.
Step 2: Set the booking period from 10 AM to 10 PM.

Step 3: Provide the Participants pricing under the Booking Participants tab. And enable the "Consider each participant as a separate block" such that 4 people book at a time, it will be considered as 4 different bookings and only 4 will be left out of 8 seats for that said time block.
Enable "Charge ber block" as the pricing will be calculated for every hour.
Step 4: For Family Pass, where you for each booking 4 participants will be considered, we need to install Bookings-participant-group add-on. This add-on will work in such a way, that for every 1 family pass entered by the customers, the number of seats that will be a consideration is 4.
Refer to know more about the installation and setting up of the add-on.
Step 5: Voila! Josh will now be able to allow his customers to book for his game "3D Mini Golf" as illustrated in the screenshots below: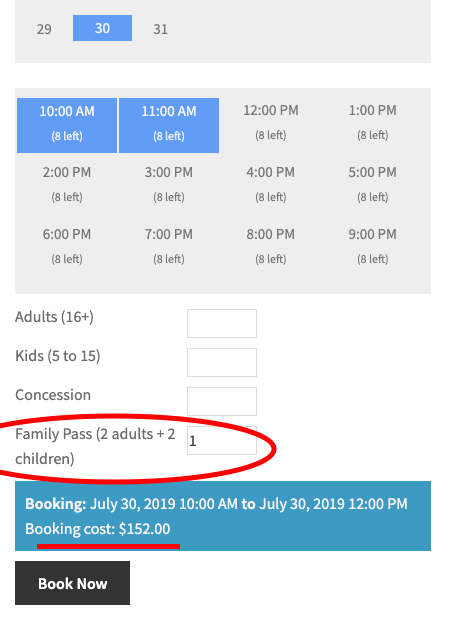 Conclusion:
There you go! That's how easy to set up an online gaming platform using WooCommerce Bookings plugin from PluginHive.
If you have any doubts or need help setting up Bookings on your WooCommerce-based website then feel free to Contact PluginHive Customer Support. Our support team should be able to help you out.