WooCommerce Shipping Pro- Chapter 4: Usability Features
In this article, we will tell you some of the usability features of WooCommerce Table Rate Shipping Pro. There are many features bundled with WooCommerce Shipping Pro to make shop owner's life easy! Plain text summary of the shipping rule configured.
Many users struggle to set up shipping rules and it takes many hours of testing to complete the setup without any errors.  Here comes our first help!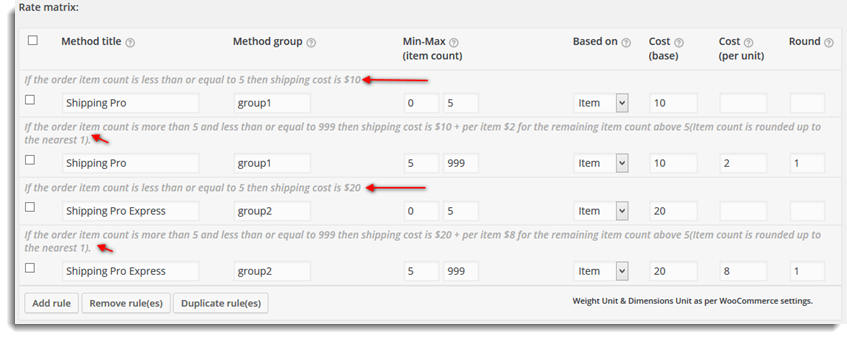 After setting up multiple shipping rules, A text translation of the business rule will be displayed just under the row. Normally it would have taken hours of testing to understand exactly the shipping rule behavior, which is now available as Plan Text!  WoW! is n't it amazing?
Hide the column(s) which are not used
Not all the columns in the Rate Matrix are used by all business.
Let's take a case where you don't need following columns for your business
No Country/State/Postcode criteria to configure shipping rule.
No Price/weight: Shipping rate calculated based on Quantity.
No Shipping class or Product Category based shipping.
You can hide above listed columns and use only the columns which are important for your business.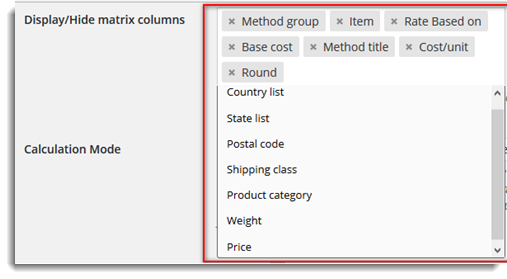 It is convenient to display only the needed columns for business. And did you see the Display/Hide matrix columns has selected only 7 columns now? You can select the remaining columns whenever your business demands them.
International shipping using Rest of the world & Rest of the country & Any Country & Any States selection
After setting up shipping cost for few countries now you would like to setup single rate for the rest of the world and sweating thinking about setting up shipping rules for 100+ countries!! No way.

Similarly to set up shipping cost for all countries "Any Country" selection will be useful.
Rest of the Product Categories & Rest of the shipping classes & Any Shipping classes & Any Product Category selection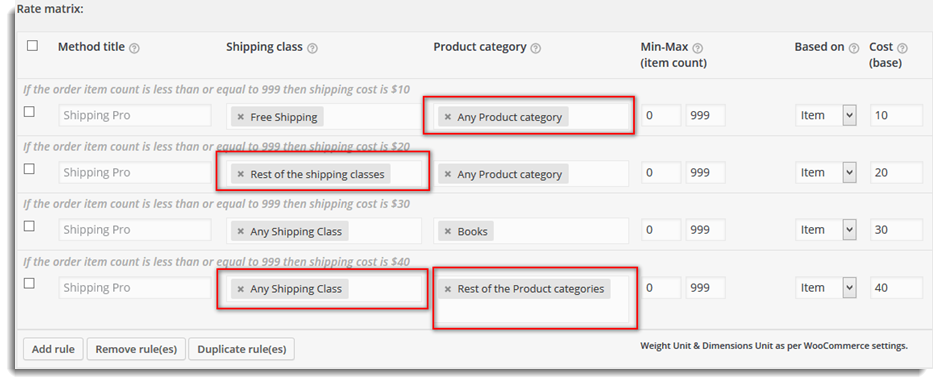 Copy shipping rule
If you need to set up a lot of shipping rules and if you wish to have a copy row option, there is one!

Remove (Free) shipping Text from the Checkout
If the shipping cost is Zero and you would like to display 'Contact us for shipping quote' message and you don't want to see the default '(Free)' text. Select 'Remove Free Text' option in the settings screen.

Let's have a look at how free shipping appears in the checkout: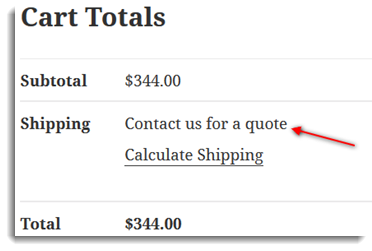 WooCommerce Shipping Pro replace free shipping, flat rate shipping, International shipping
Woocommerce Shipping Pro Plugin is advanced and easy to set up compared to other woo commerce shipping plugins in the market and importantly this plugin can replace woo commerce free shipping, flat rate shipping, and International shipping modules.
Thanks for reading!!
Check out WooCommerce Shipping Pro with Table Rate Plugin page