How to Legally Ship Alcohol Products via FedEx

Items like clothing materials, toys, books, and electronic products can be easily shipped with FedEx, with almost no restriction. Although you're allowed to ship most items with FedEx, there are a few that require special permission. For instance, to ship alcohol items, you need to follow certain strict guidelines provided by FedEx. You have to fulfill their requirements and fill up necessary forms to ship spirits, wine bottles, or any other alcoholic items.
This guide will help you uncover the mysteries surrounding alcohol shipping. You will find the necessary steps and information which would help you ship alcohol items to your customers legally. You will see how you could automatically create shipping labels for your FedEx alcohol shipments.
---
---
We will also introduce you to two e-commerce shipping solutions WooCommerce Shipping plugin for FedEx and Shopify Ship, Rate, and Track for FedEx. They have built-in features that allow you to ship alcohol directly from your online store. So, read more and get to know about them.
---
Follow these basic guidelines to ship alcohol
The first step in shipping an alcoholic item is to check whether you're allowed to have a shipping permit or not. For that, you may need the valid approval of your local state board. There's no way you'd be allowed to ship alcohol otherwise and shall be considered illegal if you choose to do so.
---
How to get the permit from your local state board?
As mentioned before, it's important to know whether you're eligible for the permit or not. You need to be more than 21 years old to ship alcohol (rules will depend on the local state board). Check eligibility here.
If you're qualified to ship alcohol, you have to find out the type of alcohol you plan on shipping. Following is a small list of alcohol license types:
Restaurant Retail Liquor
Club Liquor—Classes I and II
Retail Beer (on or off premises)
Liquor Wholesale
Wholesale Beer
After selecting the type of alcohol you have to contact an executive from the alcohol board and then apply for the license. He/she will guide you through the complete process and help you get the final permit/license.
---
How to sign the FedEx agreement to ship alcohol?
Since you know you can now ship alcohol legally, you have to agree to the terms and conditions laid out by FedEx. For that, you'll need a valid FedEx account number before you can further proceed. If you don't have a FedEx account then kindly follow this link. After that, you have to provide a copy of the alcohol license from a state or local licensing board to FedEx.
Note—FedEx does not allow consumers/individuals to ship alcohol. Alcohol can only be shipped from one licensee to another licensee. Therefore, both the shipper and recipient should be either licensed wholesalers, licensed dealers, licensed distributors, licensed manufacturers, or licensed importers.However, you may be allowed to ship wine and some other types of alcoholic items directly to the customers.
After getting the copy from the board you have to complete the FedEx Alcohol Shipping agreement. This agreement can be obtained by contacting your FedEx account executive. He/she will help you complete the authorization process.
Note—FedEx Alcohol Shipping agreement may be required each time for every shipment containing alcohol items.
---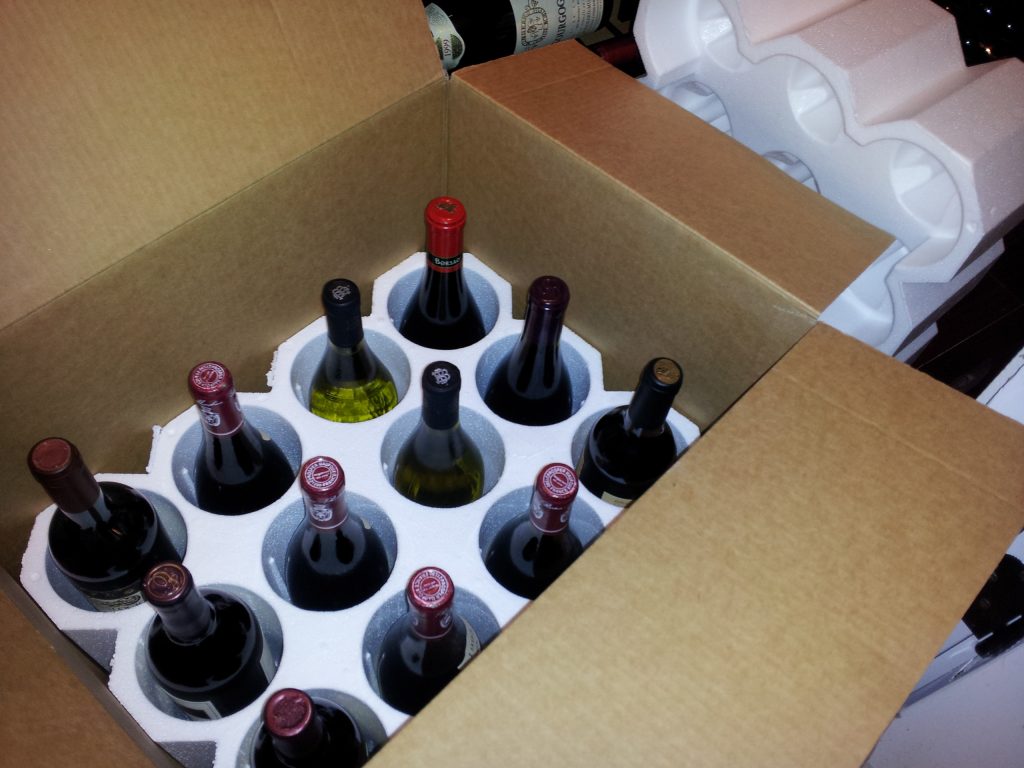 ---
How to Pack the Shipments Correctly?
In the next step, you should plan and pack your alcohol shipments using FedEx-approved packing materials. FedEx recommends you use molded polystyrene for alcoholic and wine items.
FedEx will also allow alcoholic shipments packed with pulp dividers and die-cut corrugated units. You can wrap the outside section of the box with heavy corrugated cardboard.
---
How does the WooCommerce FedEx Shipping plugin helps to ship alcohol?
The WooCommerce FedEx Shipping Plugin is the complete solution for all your shipping needs. By using this WooCommerce shipping plugin, small shop/business owners can ship alcoholic items to their customers easily.
---
Choose recipient type at the product level
Users can either choose to ship alcoholic beverages to the licensee or customer (if required). Under the Shipping section of the Edit Product page, you'll find an option to select the recipient type. You can choose from two options—CONSUMER and LICENSEE. Refer to the following image.
---
---
You need to enable the 'Delivery Signature as Adult' option in the FedEx plugin settings page. This option is essential for the final delivery of the package. By enabling this simple option, the parcel will not go into the hands of someone who's not over 21. Moreover, FedEx will need proper identification and the signature of the receiver. You can refer to the following article to know more about how to ship with FedEx.
---
Print shipping labels signifying that the package contains alcohol
After you have chosen the Delivery Signature as Adult, you need to click on the Create shipment option and then print the shipping labels for the same. Please refer to the following video for the complete process.
---
---
In the video shown above, you can see that the shipping label clearly signifies that the parcel contains alcohol products. In the label, the term ASR corresponds to Adult Signature Required. This way FedEx can easily figure out the package contains alcoholic items.
---
You can check out the sample label generated by the WooCommerce shipping plugin for FedEx plugin.
---
---
How to use Shopify Shipping App for FedEx to ship alcoholic items?
Shopify Shipping App for FedEx is an end-to-end FedEx shipping solution for your Shopify-based store. With the help of this App, you can show real-time shipping rates on your Checkout page.
You can mention any of your products as an alcohol product. For that, you can enable the Alcohol option as shown in the image below. And as you can see, you have the option to choose the receiver type as well.
---
---
Based on your product weight and dimensions, and shipping destination, this App fetches postage rates from your FedEx account for both domestic and international shipping services. As you can see in the sample screenshot below, the FedEx shipping estimate is displayed along with the estimated delivery date.
---
---
Shopify Shipping App for FedEx generates professional shipping labels of different sizes automatically as soon as the customer completes an order on your Shopify store (which you can print with a single click). This is one of the best features of this Shopify Shipping App.
The App sends shipment details to your FedEx online account and generates the shipping label (PDF or PNG), which you can download by clicking the Download Label button. Postage is automatically paid on these labels using your FedEx account. Have a look at the following screenshot which shows the options to change the settings for FedEx Shipping labels.
---
---
It integrates with FedEx Shipping Label APIs to print domestic or international shipping labels with a tracking barcode. These are professional labels with address validation (city, state, and postal code) for addresses in the United States.
The order tracking number is returned from FedEx (fedex.com) while generating the label. Both you and your customers can track orders by clicking on View your order in the Order Shipped email.
---
Final thoughts
Although there are a lot of restrictions surrounding the shipment of alcohol, you can still manage to ship via FedEx. All you have to do is follow the necessary guidelines and make sure the package is secured all the way.
When it comes to printing shipping labels, both the WooCommerce FedEx Shipping Plugin and Shopify App for FedEx seems to simplify the process. In addition, you also get other amazing features such as displaying live shipping rates, showing estimated delivery dates, offering shipment tracking, FedEx Pickup, and much more.
---
FAQs on FedEx Alcohol Shipping
How to ship alcohol with FedEx?
First, it is important to ensure your eligibility. To use the FedEx shipping network for alcohol you need to be a licensed alcohol shipper who has entered into an alcohol shipping agreement with FedEx, and adheres to all necessary labeling, packaging, and returns regulations. For more information about how to become authorized to ship alcohol in the United States and other countries or territories, please review the FedEx authorization process.
---
Can I ship alcohol as a gift to my friends?
Shipping alcohol as a gift can be a bit tricky, as there are certain rules and regulations. Before shipping alcohol, it's important to check the laws of both the state you're shipping from and the state you're shipping to. Also, use a reputable carrier that is authorized to ship alcohol like FedEx. If you're unsure about how to properly ship alcohol, consider using a shipping solution that specializes in shipping alcohol. These services can help you navigate the laws and regulations and ensure that your package arrives safely and legally.
---
Is it legal to ship alcohol?
The legality of shipping alcohol varies depending on several factors such as the state, the type of alcohol, and the destination. In general, shipping alcohol across state lines is regulated by both federal and state laws and requires compliance with certain rules and regulations. Additionally, if you're a business that holds appropriate alcohol licenses (licensee), you could be eligible to ship alcohol.
---
Can I ship alcohol with FedEx?
Yes, you can ship alcohol with FedEx, but there are certain rules and regulations that must be followed. FedEx allows the shipment of alcohol only by licensed entities, such as licensed wholesalers and retailers, and not by individuals. This means that individuals cannot simply pack and ship alcoholic beverages with FedEx.
---
If you have any questions about this article, please don't hesitate to share your thoughts in the comments section below. We would be delighted to assist you in comprehending how this plugin can collaborate to meet your shipping needs.
Or in case you are wondering what more the two solutions have to offer, check out the WooCommerce Shipping Plugin for FedEx and Shopify App for FedEx.
If you need assistance regarding our plugins, you can also contact our support team. We are always happy to help.
Happy selling!