Sell both WooCommerce Digital products and Physical goods

With this guide, we'll tell you the best way to sell and ship both WooCommerce Digital products and Physical goods. We'll use the WooCommerce Canada Post Shipping plugin along with WooCommerce Dynamic Pricing and Discounts plugin in order to do so.
---
What are WooCommerce Digital Products?
WooCommerce digital products are nothing but items that are sold over the internet without having the need to manage them physically. These products are available to download from websites and/or shared via email or similar methods.
Digital products include items like audio/song files, photos, e-books, PDF or docs files, zip files, videos, games, software keys, etc., They don't require stock management and are easy to set up.
---
How to Sell WooCommerce Digital Products and Physical Goods?
Before we begin, you need to understand how digital products are processed by WooCommerce. Check out this guide for that.
For the sake of understanding, let's consider the following real-life example.
John is from Canada and is keen on starting an online education portal. He has a list of courses in Web Designing and decides to use WordPress as his CMS(Content Management System). Once the course is enrolled by a customer, he plans to send/ship a hard copy of the respective reference book.
John can achieve the solution by creating two separate WooCommerce products – a digital and another physical.
---
WooCommerce Plugins required
As a first step, John has to create a virtual product with the course name. He will be selling this item as downloadable content.
Next, to ship the book with every order, he needs to attach the shipping label and then proceed with the shipping.
John figures out that he can fulfill the order using a dynamic pricing plugin and any of these WooCommerce Shipping Plugins.
WooCommerce Canada Post Shipping Plugin(since John lives in Canada)
Dynamic Pricing and Discounts Plugin for WooCommerce
---
Creating the two products types
WooCommerce Digital Products: The first product he has to create is the online course product that is marked as a virtual product, as shown below.
---
WooCommerce Physical Goods: Similarly, the second product is a book(physical item) and is marked as a simple product, as shown in the image below.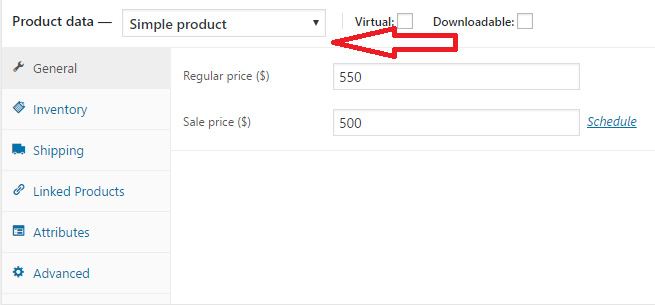 ---
Using the Dynamic Pricing plugin to skip the virtual product during shipping rate calculation
Using the WooCommerce Dynamic Pricing Plugin, John can create a rule under "Buy and Get Free (Offers)" as shown in the screenshot below.

This helps John to automate the shipping of the book when the online course is selected. So if a customer selects the product "Course" in the cart, then automatically, one quantity of the product "Book" will be added to the cart. This way, customers can easily checkout with these two products in the cart.
---
Using the WooCommerce Canada Post Shipping plugin to ship the physical product
Once, the order is confirmed, John can conveniently generate a WooCommerce Shipping label for the product "Book" using the WooCommerce Canada Post Shipping Plugin as shown below.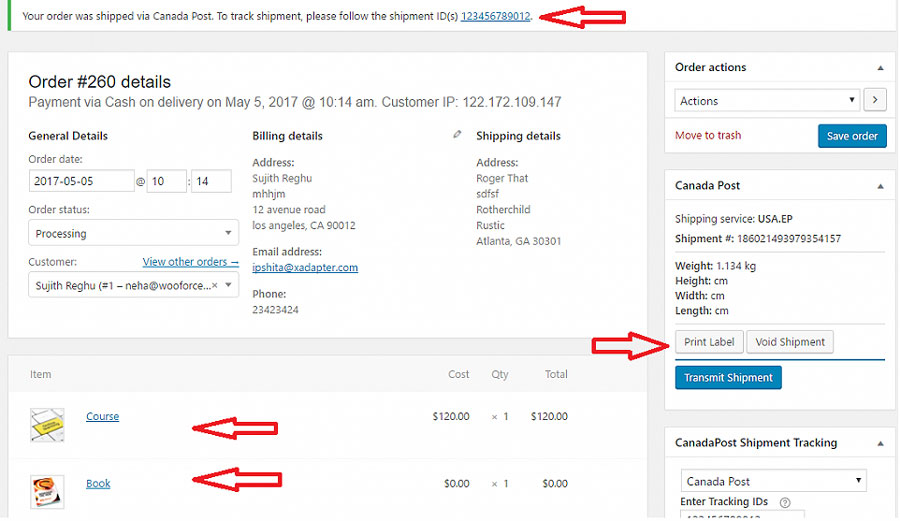 Note: The virtual product is automatically skipped by the WooCommerce Canada Post plugin during label generation.
---
Conclusion
Now, you can easily handle a combination of these products in a seamless fashion. We hope this guide would have helped you. Check out WooCommerce Canada Post Plugin to know more.
If you have any issues or need help then feel free to Contact PluginHive Customer Support. Our team should be able to help you set up shipping on your WooCommerce store.
Happy selling!