Print WooCommerce FedEx Labels with Multiple Boxes for the Same Order
In this article, we will discuss WooCommerce Shipping Plugin for FedEx with Print Label and how using that plugin you can print shipping labels for multiple packages in the same order.
WooCommerce allows store owners to sell multiple products from the online store. This way there is a high chance that the customers may buy more than one product. However, when it comes to multiple products, there may be cases when the store owner might need to ship more than one package. According to Adam, a WooCommerce store owner,"…We sell electronics and it is very common for us to ship more than one product to the customers. I was wondering how does the plugin works when there are multiple products packed in multiple boxes..? What do I do if I need to make shipping labels for multiple boxes for the same order..?"
---
Printing Shipping Labels for Multiple Boxes
WooCommerce Shipping Plugin for FedEx with Print Label allows store owners to get real-time shipping rates from FedEx. This way store owners can charge accurate rates for their customers and print shipping labels based on the shipping rates. However, in case there are multiple boxes that need to be shipped, the procedure of printing shipping labels remains the same.
When an order is complete, store owners need to generate packages by clicking on the Generate Package option. In the case of multiple boxes, more than one package will be created. The image below shows the multiple packages on the Orders page.
---
After the packages are generated, you need to click on Confirm Shipment. This will allow the plugin to create shipping labels based on the number of packages, their weight, and dimensions as well as the shipping method. You can easily see multiple shipping labels are generated for an order.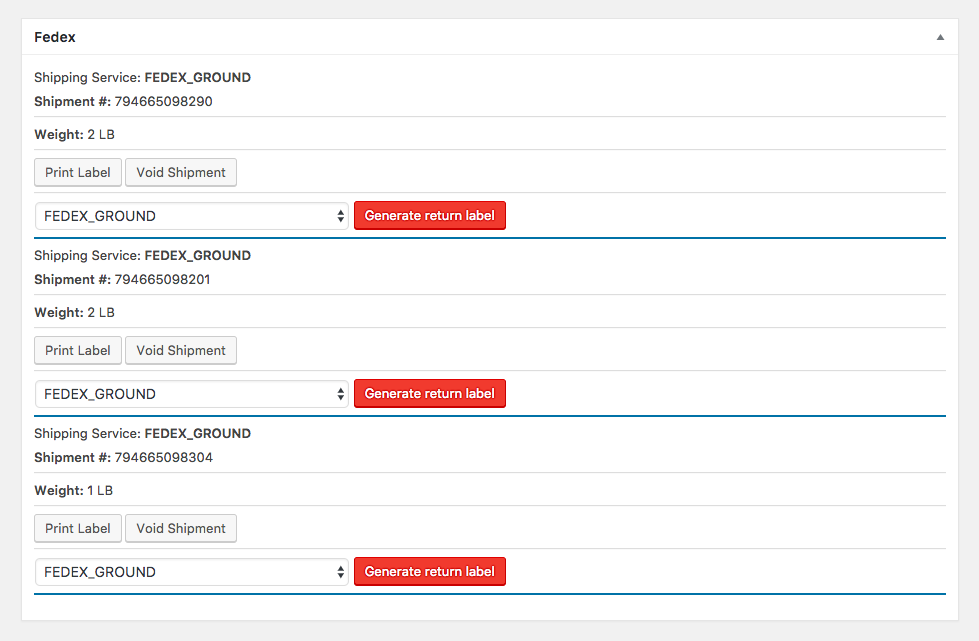 ---
Summary…
So this article covers WooCommerce Shipping Plugin for FedEx with Print Label. This article shows how you can easily pack multiple items in multiple boxes and using the plugin you can generate shipping labels in case there is more than one package for shipping. With the help of this plugin, you can create shipping labels for every package in one go.
---
If you have any suggestions regarding the article, feel free to share your views in the comment section below. We have also attached some details about the plugin that we discussed in this article.
About the plugin…
WooCommerce Shipping Plugin for FedEx with Print Label

Get real-time accurate FedEx Shipping rates
Add extra handling charges to the shipping cost
Provide discounts on shipping cost
Generate shipping labels
Track your FedEx Shipments
Premium Version Cost – $69