WooCommerce Order Fulfilment -Carriers Model vs Dropshipping.
In this guide, we are going to explain which WooCommerce order fulfillment process is best for your business. We will see how a few WooCommerce Shipping plugins can help shoot up your sales.
---
---
WooCommerce is probably the best place to sell products online. You can easily set up your store with some or no knowledge of programming.
There are a lot of options when it comes to WooCommerce Shipping. But if you end up installing the wrong order fulfillment plugin then it might mess up your complete business strategy. So it's important to choose the right one.
To help you decide better, we will show you the pros and cons of using dropshipping and using carrier-specific shipping services.
---
What are Carrier shipping services?
It is highly unlikely that you haven't heard of the shipping carriers like UPS, FedEx, and USPS. They are shipping companies that offer shipping solutions to the general public as well as to various businesses.
The above carriers are far more experienced & dedicated than any other type of delivery service. All of them have an organized structure that follows a continuous loop of fulfilling various shipping needs.
FedEx, for example, offers a service called FedEx SameDay. If your business delivers perishable items then this service will help you deliver them to the final location within a day.
---
Benefits of using a carrier-specific WooCommerce Shipping Plugin
The need to integrate such shipping carriers into your WooCommerce store has become highly essential nowadays. By shipping products to your customers using these carriers will ensure quality, safety, and on-time deliveries.
You don't have to spend unnecessary time calculating and displaying shipping rates or printing labels since these plugins would provide you with everything. Since these carriers cover almost all parts of the world, you would have an added reach and ability to cover more audiences.
For instance, for complete end-to-end FedEx shipping, people go with WooCommerce Shipping Plugin for FedEx. It helps them tackle tricky shipping-related issues like return shipping labels, FedEx alcohol shipping, dangerous and hazardous goods shipping, etc.,
If you have a warehouse and an order management system then you can easily opt for these services and enjoy the pleasure of shipping with peace of mind. Moreover, these services have pickup vehicles that can come up to your warehouse and pick up the shipments.
---
Things that hold them back
If you're new to online business and don't have a proper order management system and storage space, you may face minor problems. Since these carriers have a very strict timetable, you may have to get used to their schedule and organize your shipments beforehand.
Another issue is that you won't be able to save much shipping costs at the beginning of your online business journey. It takes some time and a lot of trust to let carriers like UPS and FedEx start offering your negotiated/discounted rates.
---
Best Carrier-specific WooCommerce Shipping Plugins
If you consider a business that deals with customers daily and needs to deliver orders on time, then services like FedEx, UPS, and DHL, prove to be the best. By making use of WooCommerce shipping plugins, store owners can ship their products to their customers using various services.
These services are well known for their superior and robust delivery system. They are also reliable and offer their services to almost all countries.
---
Following are the two best WooCommerce Shipping plugins for your online store.
If you are looking for a complete end-to-end shipping plugin that is dedicated to FedEx shipments, then you should go for this plugin. It has every feature that you would need to manage your orders.
To name a few, you get to offer live shipping rates to your customers, you can automatically print the shipping labels in various formats and configure the parcel packing methods. You can even send the tracking info to your customers via email and choose the services that you would want to offer. In addition, you can manually adjust the shipping rates based on your business strategies.
---

---
You should check out the WooCommerce Shipping Plugin for FedEx to find out the complete set of features.
---
---
WooCommerce UPS Shipping plugin helps you to get shipping rates from UPS APIs based on product weight, zip code, and other relevant details. Based on the postal codes and other parameters, all available shipping services along with the rates are listed for the customers to choose from.
You can also generate and print the shipping labels along with postage. This plugin has a UPS shipment tracking capability which automatically works right after the label is generated.
---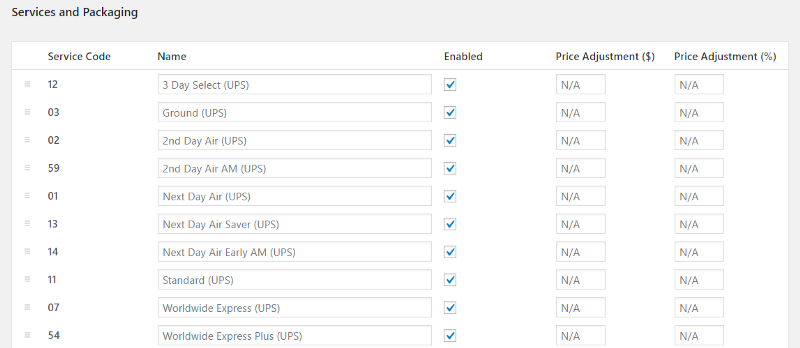 ---
The shop owner has the option to enable Daily rates which will give the same rates as the official UPS calculator. Just like the WooCommerce FedEx Shipping plugin, you can define the parcel packing methods as well. Moreover, you can even enable/disable, edit the names of UPS services, and add handling costs to each one of them.
Download the WooCommerce UPS Shipping Plugin now.
---
What about Dropshipping?
It is the type of order fulfillment process where the store owner does not have to keep the items in their warehouse. Instead, they allow customers to place an order and the shipment is directly shipped from the manufacturer. This way the shop owner does not have to interfere with the shipping process.
---
Benefits of choosing Dropshipping
This type of order fulfillment process can prove to be cheaper and have low risk. It does not involve handling fees, warehousing fees, or any other shipping-related charges.
Dropshipping lets you have peace of mind since you don't need to keep your goods in stock or own a warehouse. Most of the early-budding companies make use of this order fulfillment method.
Managing fewer and smaller orders is usually budget-friendly. Moreover, it gives you the flexibility of a comparatively easier order management system.
---
Common problems while dropshipping
Dropshipping can be really troublesome when you start getting more orders. It can become difficult for you and your team when you have to initiate multiple orders every day. You would have to eventually end up setting up an inventory system to minimize the error.
Another important thing is the possibility of leakage of confidential information. Usually, your suppliers would not do this but if they soon become your competitors, then the news is not good. They may start selling their own products using the hints from your business strategies. They could choose to do this when they see your financial progress and might wish to overtake you to beat you in your own game.
It's very difficult to expand your business since you won't have many scaling options. This results in stagnant income and more dependence on the original store.
---
Dropshipping solutions in WooCommerce
If you are wondering how would you integrate dropshipping with WooCommerce, then you need not worry. You just have to find a supplier who is ready to ship items to the customers directly. Then you need to find a good WooCommerce plugin that would help you move the order to the supplier for the further fulfillment process. Below are the best two Dropshipping plugins for WooCommerce.
---
WooCommerce Dropshipping Extension
This is the official plugin from WooCommerce that gets the job done. This plugin will automatically send order notifications to the suppliers. This way they can start with the necessary order processing steps. By using this plugin you can automatically attach a PDF of the packing slip along with the order completion email. It also allows the manufacturer to include a print of the package in the shipment. Furthermore, by using a CSV file, you can import the inventory of a drop shipper to your WooCommerce store.
---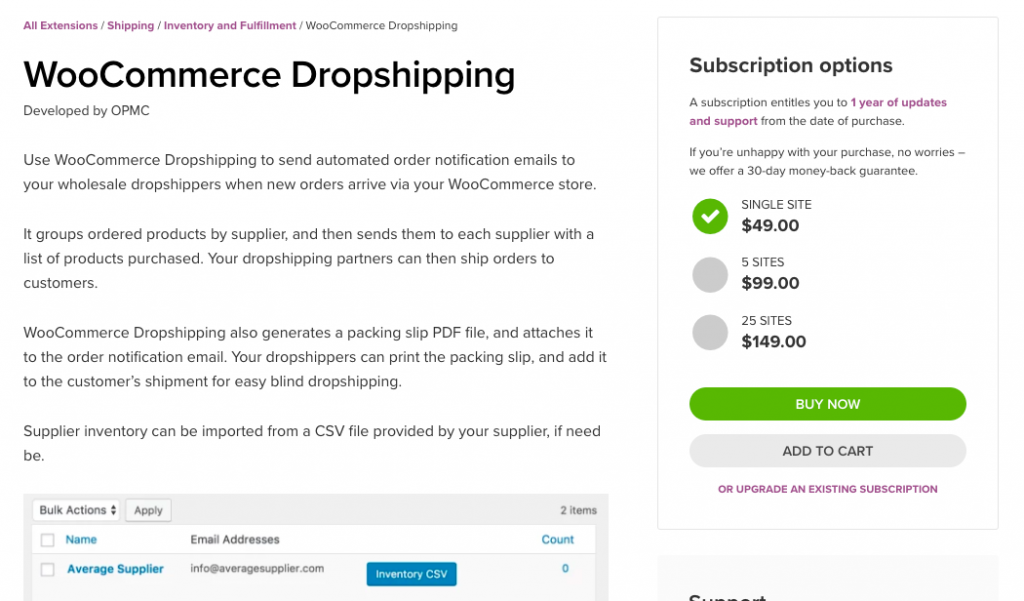 ---
In addition, you can also customize how you want the email notification to appear to suppliers. The single site subscription of the extension would cost you $49. For 5 site subscription, you need to pay $99, and $149 for 25 site subscription.
---
WooDropship
AliExpress is a very famous drop shipping company that deals with a great variety of products. If you are looking to expand your audience by reaching out to other countries then this AliExpress is the one to go with. The WooDropship is an excellent plugin that combines WooCommerce with AliExpress and makes the entire dropshipping process simple and automated.
---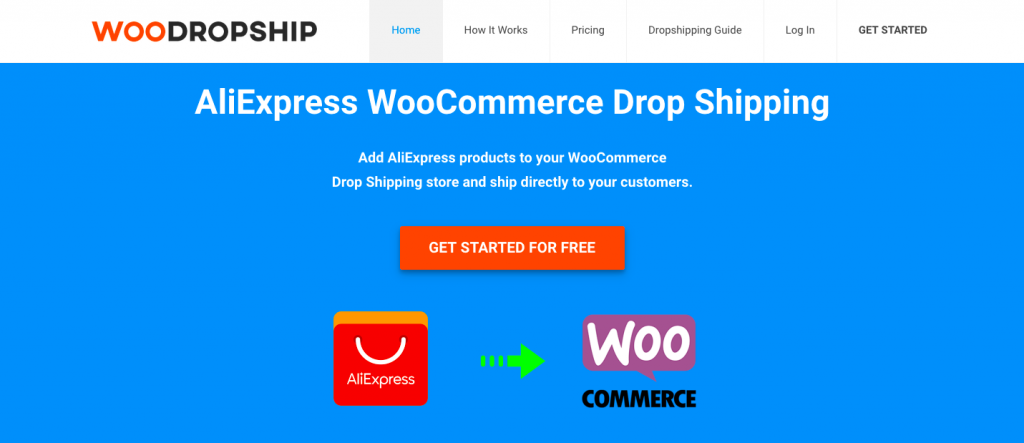 ---
AliExpress dropshipping is a profitable dropshipping option tried by many, and you can easily manage to automate the process using WooDropship. The integration of WooDropship helps you import AliExpress products into your WooCommerce store pretty easily. When you search for AliExpress products, you can actually view the ePacket availability as well.
Furthermore, it offers features like product customization, pricing automation, and automatic order fulfillment. With the basic package of WooDropship, you can import 3000 product variants, and fulfill 100 orders per month. It would cost you $14 per month.
---
Which one should you choose?
Deciding the right order fulfillment method for your WooCommerce store can feel like a tough job. To make it easier, you just need to evaluate them based on their pros and cons. They will help you access and choose the right method.
But based on our shipping experience, we recommend you go with the carrier-based shipping process. It offers much more value to your business and can even help more money and grow your business in the future.
---
In case you are wondering what more the PluginHive FedEx and UPS plugin serves, we would request you to kindly visit the official product page of the WooCommerce Shipping Plugin for FedEx and WooCommerce UPS shipping plugin.
If you need assistance regarding our plugins, you can also contact our support team. We are always happy to help.