Ship from the US to Puerto Rico with WooCommerce UPS Plugin
In this article, we will be using the WooCommerce UPS Shipping Plugin to ship items from the United States to Puerto Rico. We will also clarify some common doubts and misconceptions that people have regarding the same. So read along and find out more.
---
About Puerto Rico
Puerto Rico is defined as an unincorporated territory and according to United States law, an unincorporated territory is not part of the United States. It is however controlled by the United States government which brings in a bunch of important clauses that play important roles in determining how business works around Puerto Rico.
As a result, there is some obvious confusion among store owners who are looking to ship their items and products to this territory. And likely so many big shipping and logistics companies like UPS and FedEx have made special changes in their overall shipment method. Have a look at the query that one of our customers had regarding the same.
---
Customer: For some reason shipping rates are not displaying for a Puerto Rico address. UPS is giving a shipping estimate for Puerto Rico but it is displaying an international shipping rate. Puerto Rico is a U.S. territory so I believe that domestic shipping rates should apply.
---
UPS on their website has clearly mentioned the shipping services that ship to Puerto Rico. UPS 2nd Day Air, for example, is one of the most popular services and they have prepared the following web page.
When you look at WooCommerce you would find that they treat Puerto Rico as a separate country. This means that customers cannot find it in the United States and hence, there lies the confusion.
---
Have a look at the following screenshot of the WooCommerce Cart page.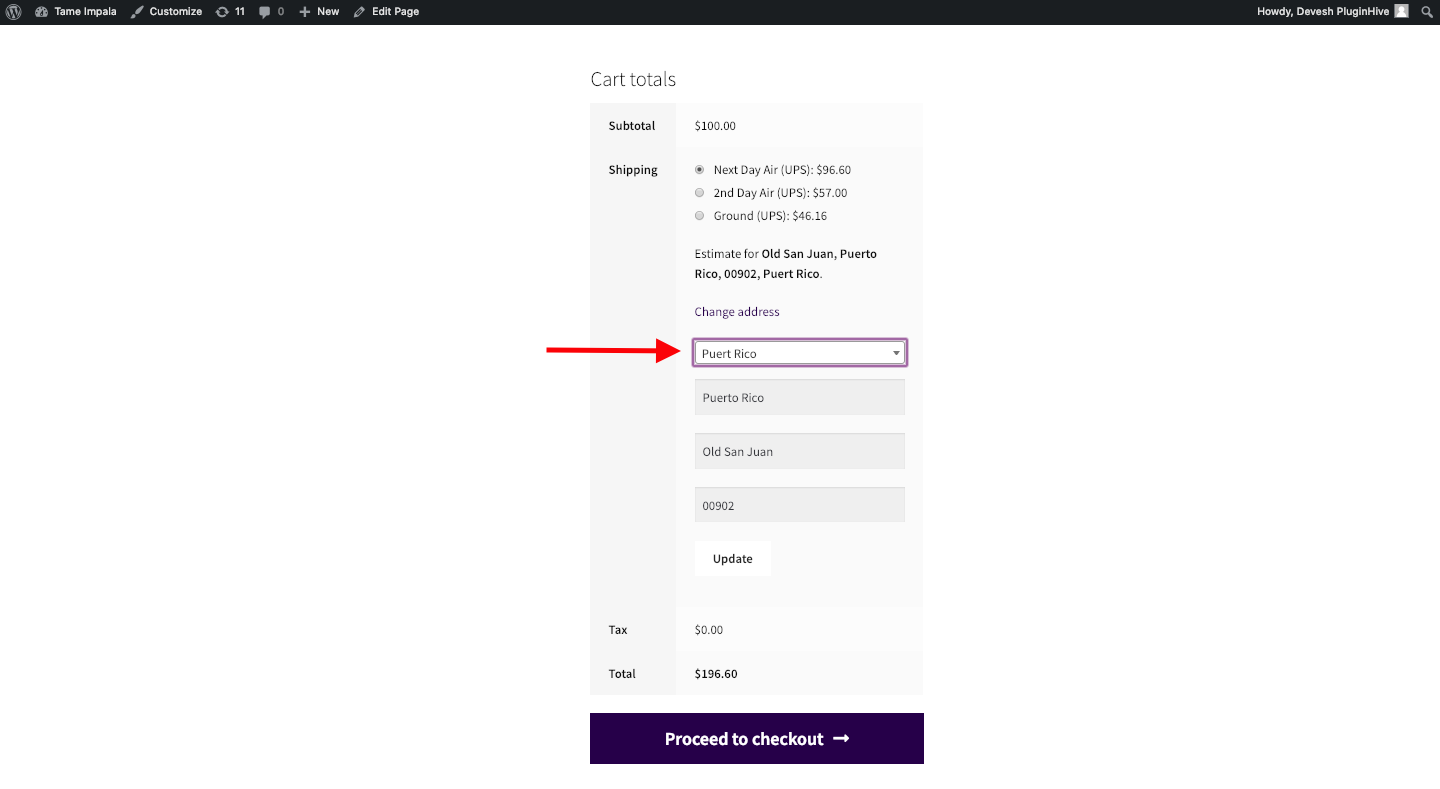 As you can see in the above image, a customer from Puerto Rico has to select the country first and then enter the State/Country as Puerto Rico, mention the city name(for eg,. Old San Juan), and finally the pin code in order to see the shipping services and the corresponding rates.
Our WooCommerce UPS Shipping Plugin fetches the shipping services and rates directly from the official UPS API. So you can see the domestic services like the UPS Next Day Air, UPS 2nd Day Air, and the UPS Ground for Puerto Rico address as shown above.
---
Now let's go to the official UPS website and see how they show the shipping services and shipping rates.
---
Another important thing to note here is that the shipping rates are going to be domestic. You can check for valid shipping services on the official UPS website. Have a look at the following image:
In conclusion
So as you can see, both UPS and WooCommerce consider Puerto Rico as a separate country when calculating the shipping rates. However, UPS still offers its domestic services to customers who are looking to ship items from the United States to Puerto Rico.
Now, if you are having trouble shipping items to Puerto Rico when using the WooCommerce UPS Shipping Plugin then feel free to drop your queries to our customer support portal. They will help you out.
Meanwhile, you can try the plugin demo for yourself: WooCommerce UPS Demo