Shopify FedEx Labels with Zebra Printer
Printing product names, barcodes, and SKU numbers on labels is effortless with ZPL printers. Only you need to have a label printer that supports Zebra Programming Language.
This article discusses how to print Shopify FedEx ZPL labels with Ship, Rate & Track. It also covers the benefits of using ZPL printers over conventional printers.
---
Print FedEx ZPL Labels on your Shopify
To get the best quality FedEx ZPL labels within your Shopify follow these steps:
1. Set up the printer
Download Zebra Browser Print & keep it running on your PC until all your labels are printed. Refer to this image below:
---
---
Open Shopify Ship, Rate & Track & under Documents navigate to Label Settings, and select the Image Type: ZPL II as shown:
---

---
Select any of the Print Label Size from the drop-down with options marked as For Thermal Printer Only:
---
---
2. Print Shopify FedEx ZPL labels
Now, head over to Settings> Documents> ZPL Print Settings> Search ZPL> ZPL Printer & choose the printer for printing your labels:
---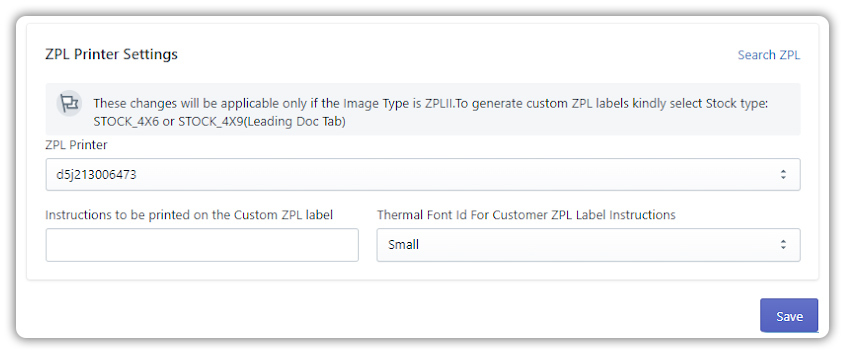 ---
Here have a look at the sample FedEx ZPL label attached below:
---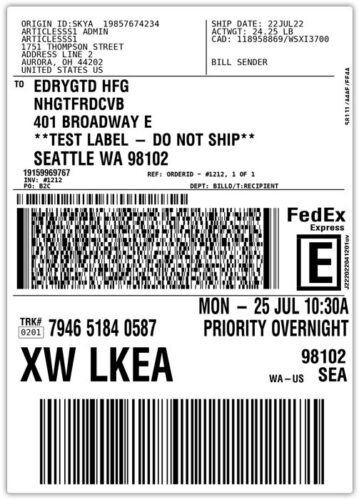 ---
3. Customize FedEx shipping labels
If you want to put additional information, you can customize your ZPL labels & add instructions under Instructions to be printed on the Custom ZPL Label
---
---
Note

To generate custom ZPL labels kindly select Stock Type: STOCK_4X6 or STOCK_4X9


---
You can also decide where you want to display the additional information on the label. Enable Display Information on Doc & choose any of the options from the Label Print Orientation drop-down:
Top Edge of Text First
Bottom Edge of Text First
---
---
If you want to print ZPL labels for UPS, Canada Post & other carriers, check out our PH MultiCarrier Shipping Label App.
---
Benefits of using Zebra Printers
Fast printing
Thermal printers print around three times faster than any other printer.
Cost-effective
As there are no ink or other refill costs ZPL is comparatively more cost-effective.
Error-free clear labels
Since ZPL printers only use heat the labels never smear & provide clear labels without mistakes.
---
Learn more about how PluginHive can help you scale your online business by meeting your shipping needs. Feel free to reach out to our team of experts to know more about ZPL labels & other shipping-related queries.
---